Can kitchen tile be painted? The rules that make or break tile painting
This is what the experts say about whether you can paint kitchen tile – and how to get a good finish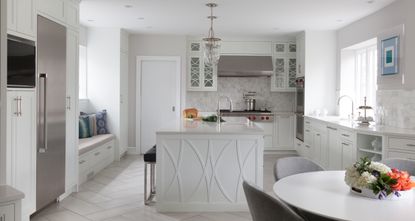 (Image credit: Melinda Kelson O'Connor Design/Wendy Concannon)
Kitchen in need of a revamp? Then you might be asking: can kitchen tile be painted? Tile is a prominent part of many kitchen designs and therefore its finish is a major influence on the room's overall aesthetic, so it's worth knowing if it can be painted to change its look and, if it can, how to do so successfully.
The long and short of it if you're ready for new kitchen tile ideas? Typically kitchen tile can be painted. But for excellent results, there are rules you need to follow, whether you're thinking about a change to kitchen backsplash ideas, walls, or floors.
We asked the experts to share the secrets of painting kitchen tile for this guide and here is their advice.
Can kitchen tile be painted?
Kitchen wall tile can typically be painted, but it does depend on the type of tile. Kitchen floor tile is far less likely to be successful. 'You can paint most types of tile except for those with a heavy glaze,' says Andre Kazimierski, CEO, Improovy Painters Chicago. Think ceramic, porcelain, glass, and stone. And it isn't just wall tile that can be painted: floor tile can be painted as well as wall tile. What's crucial, however, is that tile paint is used, and that it's specified for the particular surface, be it wall or floor.
Be mindful, too, that while painting kitchen tile will save the time and expense involved in laying new tile, it does have a shorter lifespan. 'Painting tiles should be considered a short term option for a tile refresh, with the main goal of replacing the tiles within three to five years depending on how much wear the tile gets on a regular basis,' says Heather Mastrangeli, principal designer of Innovatus Design. 'Painting kitchen tiles is a great option for a quick refresh of the space, before planning a larger project in a few years.'
These are the rules that make or break tile painting.
Kitchen tile painting rules from the experts
Find out what the experts recommend for a finish that looks good and lasts when you're painting kitchen tile.
1. Always use tile paint
As for any home decorating job, it is vital to pick the right paint. In the case of tiles, this means tile paint. 'Regular wall paints are not effective for kitchen tile,' says Dorothea Hudson, a home decor expert with Insurance Providers.
Always check, too, that the paint is compatible with the specific material from which the tile is made. And think surface as well. If you want to paint a tile floor, pick a tile paint made for floors.
What happens if you don't use the right paint? 'Applying the wrong type of paint can cause it to peel and flake off over time,' says Matt Teifke, founder and CEO of Teifke Real Estate. Equally, the wrong paint type might not adhere well to the tile surface.
2. Make repairs before painting
Tiles may need a little attention before painting if they have developed any fine cracks. Use a little clear epoxy to fill them – you can apply this with a toothpick. Note that if grout is loose, it should be removed before regrouting.
3. Clean tile and grout before painting
Preparation is essential to the successful completion of any home decor project, and painting kitchen tile is no different. 'It's important to make sure your tile is clean before painting it, as dirt and grease can prevent the paint from adhering properly,' explains Jeanette Fusco, interior designer at HiHomePicks. Use an oil and grease cleaner. Be sure to clean the grout as well as the tiles.
4. Sand tile before painting
Another rule it's crucial to follow so that paint adheres to the tile is to sand the surface. Use 400 grit sandpaper to make the finish dull. 'You want to remove any glossiness that will be difficult for your primer to stick to,' explains Jon Wiest of Ripped Jeans Construction, a remodeling contractor specializing in bathroom remodeling and tile.
After sanding, it's important to remove the dust created, rinse the tiles and let them dry before painting.
5. Consider primer
There isn't a rule on primer because whether you use it depends on the tile paint you have selected. However, our experts are keen on it. 'A primer before painting isn't always necessary, but it will help the paint last longer,' says FLOOR360 interior designer Alyssa Trautman.
Interior designer Chris Alexakis, founder of Cabinet Select, agrees. 'I would suggest using a primer before applying the paint, as this will help ensure that the paint adheres to the tile better,' says Chris.
6. Accept grout lines will disappear
Painting kitchen tile generally means painting the grout, too. 'The least time and effort-consuming approach is painting the grout the same color as the tile, but you will want to make sure the grout is in good condition,' says Alyssa Trautman.
'If you do not want to paint the grout the same as the tile you can stain the grout to the color you prefer. This will take a lot more patience and effort on your part!'
Don't paint over silicone sealant, though.
Is painting kitchen tiles a good idea?
Painting kitchen tiles is a good idea if you want to update a kitchen without a big outlay. 'Painting tile can be a great way to give your kitchen a quick makeover on a budget, but it's important to know the pros and cons of doing so,' says Jeanette Fusco, interior designer at HiHomePicks. 'On the plus side, painting tile is a fairly inexpensive and fast way to update the look of your kitchen.'
As for the downside, be aware that although it can improve the look of kitchen tile, painting is not a long-term solution as it won't prove as durable as new ceramic tile.
Do you need to sand kitchen tiles before painting?
Kitchen tiles should be sanded before painting. It prepares the surface of the tile so that the paint adheres properly. 'The most important step before painting tile is sanding the tile, not only for the best finished look but for longevity,' says FLOOR360 interior designer Alyssa Trautman. 'Do not forget to wipe down the area after sanding and wait for it to dry before painting,' she adds.
Sarah is a freelance journalist and editor. Previously executive editor of Ideal Home, she's specialized in interiors, property and gardens for over 20 years, and covers interior design, house design, gardens, and cleaning and organizing a home for H&G. She's written for websites, including Houzz, Channel 4's flagship website, 4Homes, and Future's T3; national newspapers, including The Guardian; and magazines including Future's Country Homes & Interiors, Homebuilding & Renovating, Period Living, and Style at Home, as well as House Beautiful, Good Homes, Grand Designs, Homes & Antiques, LandLove and The English Home among others. It's no big surprise that she likes to put what she writes about into practice, and is a serial house renovator.