5 things in your kitchen cabinets to get rid of right now – for an organized, clutter-free space
Experts reveal what to purge from your kitchen cabinets to make more room for your must-haves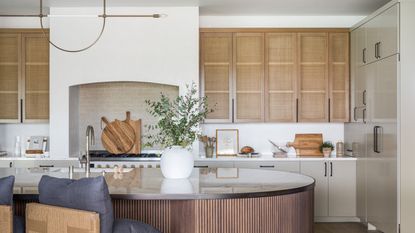 (Image credit: Lindye Galloway Studio + Shop/Chad Mellon)
Your kitchen cabinets are prime real estate for storage, but can easily get clogged up over time. Finding out which things in your kitchen cabinets to get rid of will help free up space and make using your cooking zone a less stressful experience.
Brushing up on decluttering tips and putting time into organizing kitchen cabinets is always a worthwhile investment. All too often, cabinets get backed up with sentimental items you never use (that travel mug from your favorite vacation) or out-of-date sachets and spices you just haven't got round to using. And who doesn't have a plethora of Tupperware boxes with missing or miscellaneous lids?
Well, it's time to purge the unused products and finally maximize your kitchen storage ideas by having a kitchen cabinet clear out. Don't know where to start? Follow our experts' advice to find out the first things to in your kitchen cabinets to get rid of.
5 things in your kitchen cabinets to get rid of right now
Follow these expert tips on things in your kitchen cabinets to get rid of for a pro-worthy decluttering session.
1. Tupperware
Organizing Tupperware has to be top of the list. According to Pamela Meluskey, co-founder of Luxury Home Organization firm, Settled: If it hasn't got a lid, get rid.
She says: 'Get rid of any Tupperware without a lid. Full stop, no exceptions. For some reason, people form attachments to Tupperware, and hold on to pieces way longer than they should.
'If you have Tupperware without lids, let go of them (or repurpose elsewhere). The space they are taking up is worth more than the item itself.'
She adds: 'You may consider migrating entirely to sustainable glass containers, an all around great choice.'
Following successful careers in merchandising and advertising, Pam (above right) and co-founder of home organizing firm Settled Larissa Bright (left) launched the New York City market of The Home Edit. Today, Pam works daily to enhance the lives of each of her clients.
And Michelle Urban, founder of The Organized House, concurs, adding: 'Food storage containers, water bottles, and travel mugs are what people have in abundance.
'There is often an emotional tie or significant connection to our water bottles and travel mugs, which can make it hard to part with. But food containers, not so much. It's time to edit down your stash.
'Believe it or not, you only need enough food containers to store the leftovers from a full Thanksgiving meal. That's it. So, to remove the access, start by purging warped, stained, or cracked containers. You can also eliminate lids that don't have containers and those that don't have covers.'
And if you find that your pan lids are getting a little messy, rethinking pot lid storage is always a good idea.
Based in Portland, Oregon, Michelle Urban founded The Organized House to organize for real life. 'Whether you're looking to organize your playroom, closet, kitchen, or garage, or you're looking for new ways to turn your home into a sanctuary that brings you calm and relief, we're here to help you reclaim your space,' she says. A big fan daily routines that make everyday life more manageable, Michelle's passion is bringing simplicity and ease to others' lives.
2. Damaged goods
If you can spot a chip in any of the products your keep in your kitchen cabinets, be strict and throw it out.
'Even if the chip or crack in your plate, bowl, bakeware, cup, or mug looks minuscule, you must toss it,' insists Michelle Urban. 'Not only are the sharp edges dangerous, but cracks in your dishes can harbor unpleasant bacteria.'
The Container Store's kitchen cabinet shelf organizers (below) work wonders for keeping your ceramics tidy and chip-free.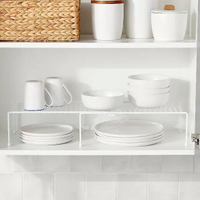 Expanding Wire Shelf, $14.99, The Container Store
Maximize the space on virtually any shelf is to divide it vertically. This expanding shelf is cleverly adjustable from 16-3/8in to 32-1/2in, allowing you to use it on just about any length shelf. The two pieces can also be used at right angles to each other to create a corner shelf in larger cabinets.
3. Expired spices
Did you know that expired spices actually lose their flavor? So out-of-date seasoning is actually not adding anything to your dishes, but do take up valuable space. So, it's time to rethink spice organization.
Michelle explains: 'Spices lose their flavor and potency over time so, if they expire, it's not worth hanging onto them.
'As you purge, list the spices you have tossed so you can replenish them next time you go grocery shopping.'
And, if you realize you're throwing practically full jars away, don't worry about the replacement - you don't use it enough to warrant taking up the room.
Pull down spice racks (like this one from The Container Store, see below) are a great small kitchen storage idea, while shelf wire spice racks (like this from The Container Store, see below) that you can attach to the inside of your kitchen cabinet door are also a brilliant space-saving organizing trick.
A general cabinet door organizer (like this one from Wayfair, below) or tiered cabinet organizer (like this one from The Container Store) are also ideal investments to optimize space and keep your kitchen cabinets tidy.
This three-tier, vinyl-coated wire spice rack can be pulled down to display spice jars and tins at eye level.
This wire spice rack features tightly spaced wires so small jars and tins won't fall out.
4. Product guides and owner's manuals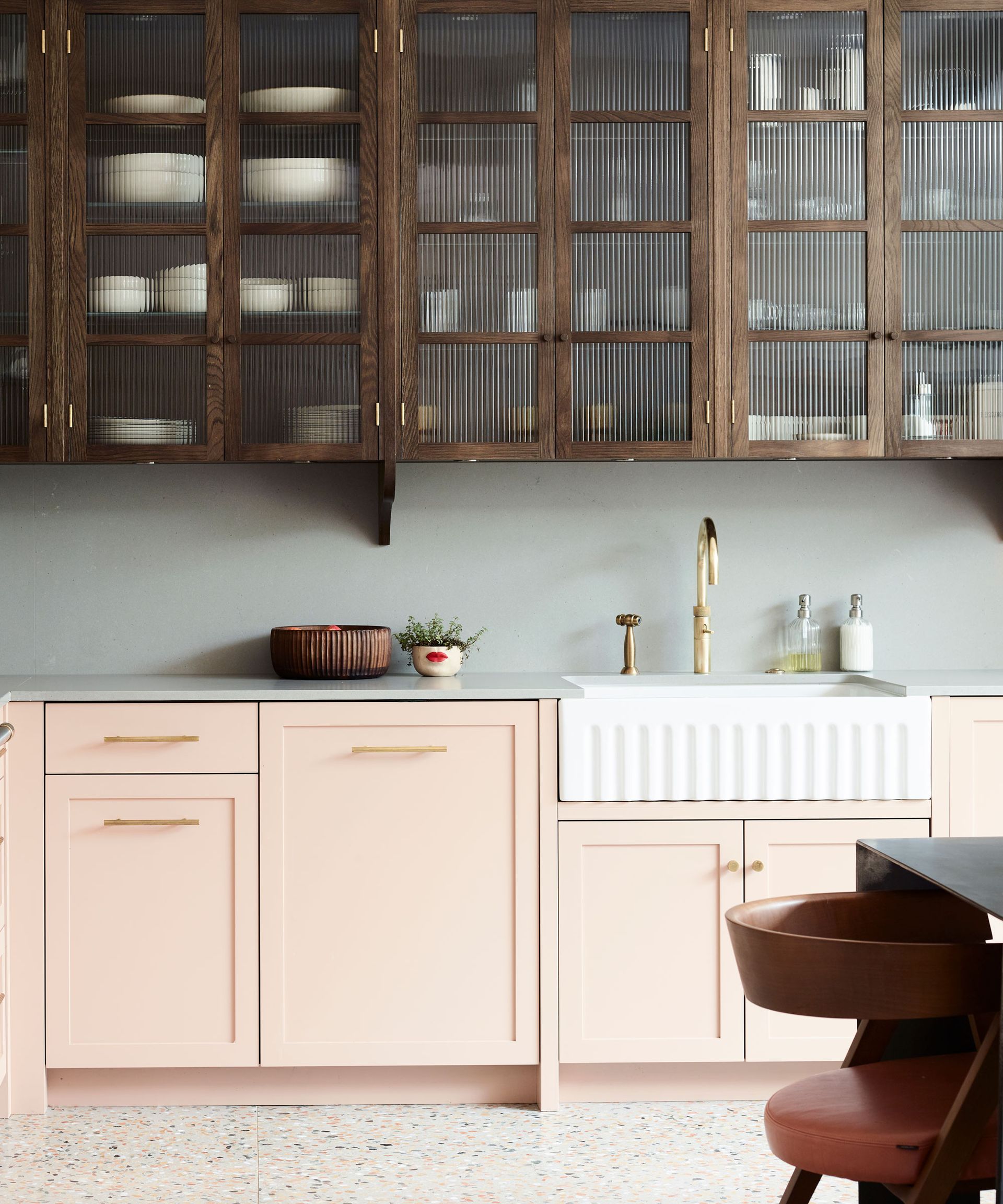 Don't let owner's manuals take up prime real estate in a coveted cabinet. This is also a good rule to follow when learning how to organize kitchen drawers.
Michelle says: 'When clients ask me what to do with their appliance and household manuals, I always recommend purging them if it's for a product they no longer have, a small, easy-to-use device, or if they can access the product information online.'
5. Duplicates
'Chances are you don't need three can openers, five ladles, and six wine openers,' points out Michelle.
'Most of us repeatedly buy something because we forget what we have one or cannot find it – not because we need excess.
'So, give yourself more kitchen storage space, purge out the multiple items, and only keep what you will actually use.'
FAQs
What should you not throw out when decluttering kitchen cabinet?s?
'During our decluttering sessions, I always tell my clients that if they truly love something and it sparks joy, there is no need to let it go,' says Michelle Urban.
'Keep the items that make you truly happy, and let go of things you are keeping out of obligation.'
Sign up to the Homes & Gardens newsletter
Decor Ideas. Project Inspiration. Expert Advice. Delivered to your inbox.
Ruth Doherty is an experienced digital writer and editor specializing in interiors, travel and lifestyle. With 20 years of writing for national sites under her belt, she's worked for the likes of Livingetc.com, Standard, Ideal Home, Stylist and Marie Claire as well as Homes & Gardens.