Things to get rid of for a minimalist kitchen – according to chefs and home organizers
Dreaming of a stress-free kitchen? This minimalist approach could make your cooking more streamlined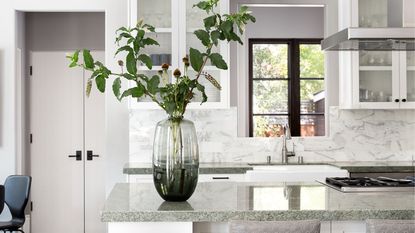 (Image credit: Susie Novak)
Sign up to the Homes & Gardens newsletter
Decor Ideas. Project Inspiration. Expert Advice. Delivered to your inbox.
Thank you for signing up to Homes & Gardens. You will receive a verification email shortly.
There was a problem. Please refresh the page and try again.
There is no room in the house that serves us quite like a kitchen does – from hosting friends to weeknight dinners to temporary offices, these rooms are often hectic, with storage full-to-bursting.
If you are looking for a slower approach to this household workhorse, however, then it may be worth considering a minimalist approach to the space. Beyond minimalist kitchen design, it is all about the things you get rid of for a minimalist kitchen, paring back the clutter for a sensible space.
Here, professional organizers have shared the seven things you should get rid of for a minimalist kitchen, from one-hit-wonder gadgets to bulky appliances.
Things to get rid of for a minimalist kitchen
Minimalism is often a scale, with extreme minimalism cutting your belongings down to the bare essentials bought form the best places to buy kitchen appliances, to a more Scandinavian kitchen approach, where everything you keep is practical and serves a purpose, but you can still hold onto things you find fun, or only use on occasion.
How far you decide to go can depend on your lifestyle and how you like to cook. The idea is to create a keen balance between your kitchen having enough space to be functional, and also having the right tools to keep cooking and hosting fun.
1. Uniform knife sets
To an untrained home cook, a kitchen knife set can seem like a great deal, helping you get everything you seem to need at one time. However, more often than not, these sets are a little over the top for what you need and will leave you with knives you simply won't use, warns Janice Carte, professional chef and founder of Tiny Spoon Chef. They are also often lower quality, too.
Instead, you should spend your money on the best kitchen knives you can, such as H&G's favorite Wüsthof Chef's Knife, from Amazon, and fewer of them. 'If you have a great chef's knife and a great paring knife you will be set,' Janice says. 'So long as you sharpen your knives and keep them stored correctly with covers in a drawer, you'll be well-served for years to come – and they will save you space!'
2. Everything on your counters
When trying to practice minimalism, decluttering countertops is vital – both to help cut back your clutter and keep your space visually clean to reduce stress.
This, of course, does not mean binning everything on your sides to make space, but finding places in cabinets for things you still use, and getting rid of things you don't, says Reba Basset, a professional organizer at Revelation Organizing.
'Really assess how much you use larger appliances or items – if they take up quite a bit of real estate, they need to earn their keep! I use the best, favorite, and necessary rules when going through the clutter, keeping things that meet these criteria, and getting rid of anything else. Think quality over quantity here.'
Reba started Revelation Organizing LLC after spending nearly 13 years in the healthcare industry to help others discover the space and peace they can have in their own home. She is also a part of the National Association of Professional Organizers.
3. Single-use gadgets
One thing that every home organizer and chef cries for us to get rid of in every kitchen decluttering checklist is single-use gadgets that we simply do not need.
'Any gadgets that have only been used once cannot be that great, and you need to get rid of them,' deplores Georgia Burdett, professional organizer and founder of For the Love of Tidying. 'Better yet, before purchasing these products, ask yourself if it is something that you can see integrating into your cooking routines and being used on a regular basis.'
4. Nonstick pans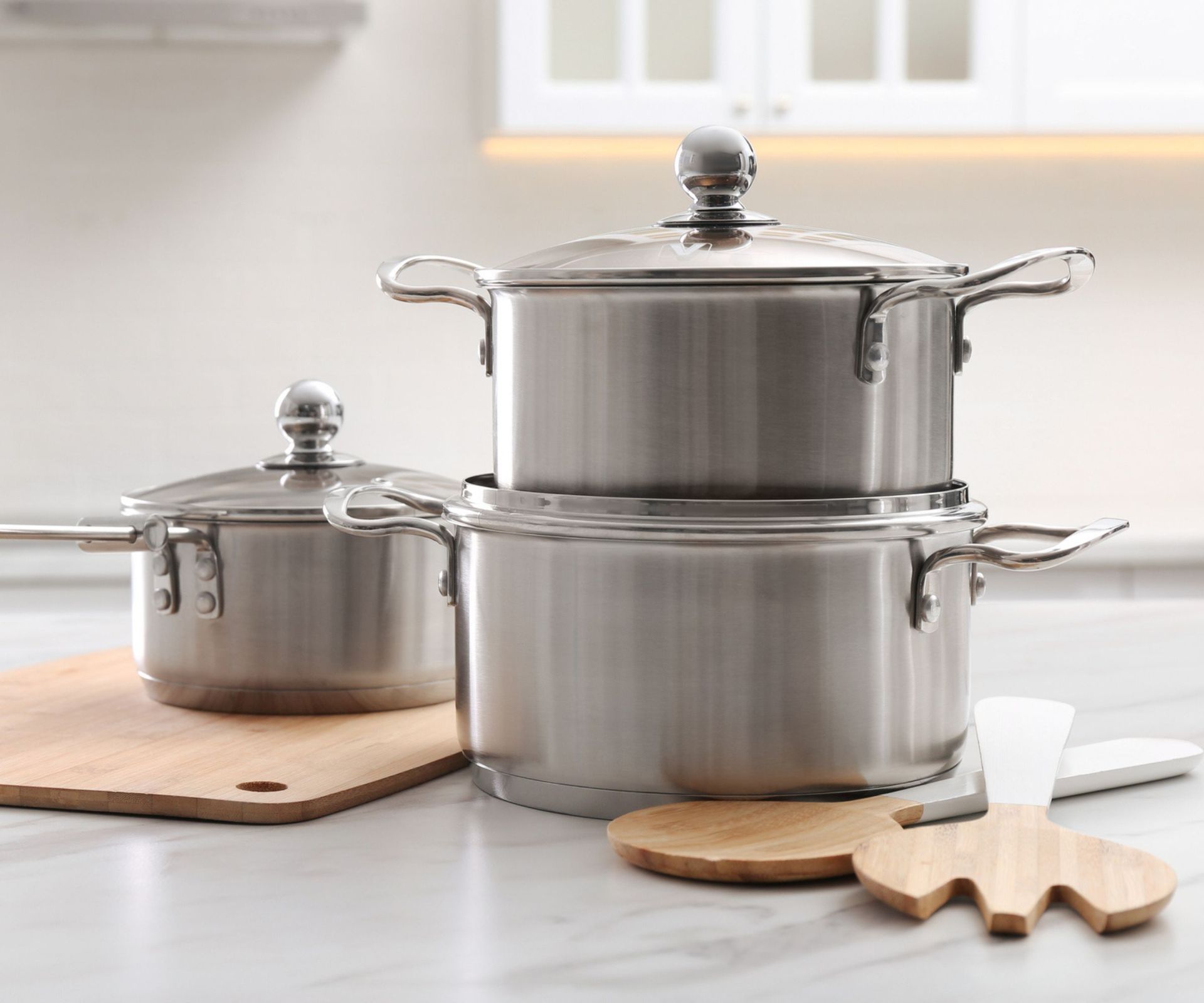 Nonstick pans are an alluring purchase for many home cooks that may not be confident working with stainless steel and cast iron, but they are some of the hardest pans to store as they cannot easily be stacked – taking up more space and causing more stress.
For a minimalist kitchen Janice Carte, professional chef, recommends ditching these in favor of a few good chefs' pans – hand-picking them again and avoiding bulky sets.
'Buy one, inexpensive cast-iron pan, such as the Cusinel Skillet from Amazon, and learn how to take care of it. An investment once will serve you for a lifetime.'
5. Physical cookbooks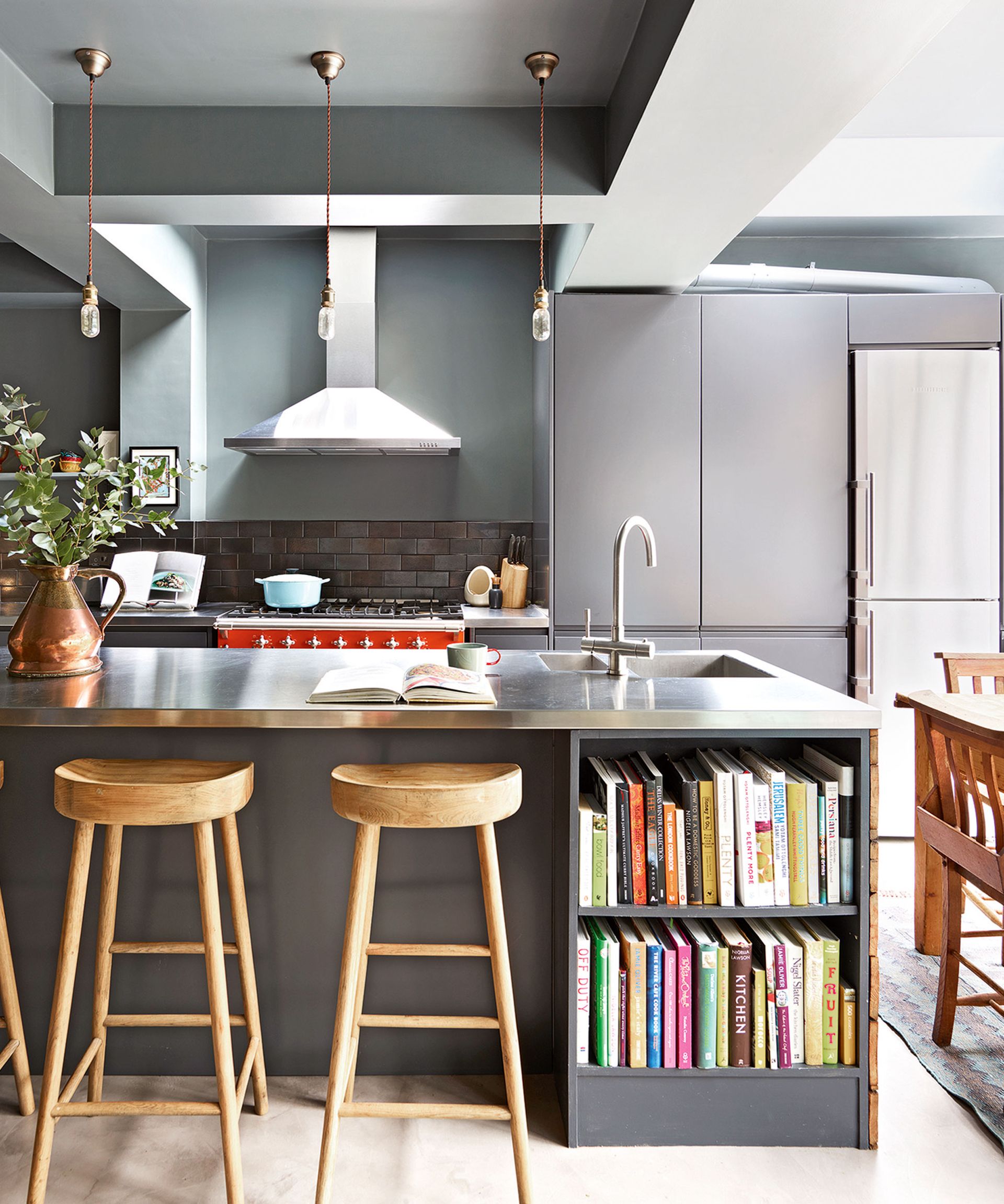 Cookbooks can be a great piece of kitchen decor but if you are looking for a really pared-back space, you should consider decluttering your books too – especially as we can so easily go digital, points out Arianna Foster, nutritionist and chef.
'With the availability of numerous recipe apps, cookbook ebooks, and online resources, it's easier than ever to access a wide range of recipes without the need for physical copies – just use a tablet with a stand case. This not only saves space but also reduces paper waste.'
6. Your microwave and toaster
Whether or not you really need a microwave has been the topic of debate for some time, but if you want a truly minimalist space, it could be worth getting rid of it and your toaster if you want to be extreme.
Reba Basset suggests that to truly subscribe to minimalism, you can afford to get rid of multi-function appliances like toaster ovens and rice cookers/steamers, as well as singular appliances like toasters, microwaves, coffee makers, and immersion blenders.
'These appliances all perform tasks that other appliances can, such as using the stovetop, such as toasting or reheating leftovers, which takes longer but always tastes better. Instead of a coffee maker, use a pour-over device, and use a good, multipurpose Vitamix blender that can be used for all sorts of foods, rather than a less powerful handheld blending stick.'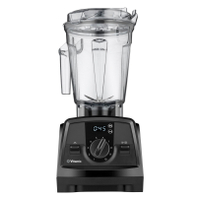 Vitamix V1200 Venturist Blender | $499.99 at Best Buy
This Vitamix V1200 Venturist is one of the finest 64oz. blenders with mix, purée, smoothie, chop and liquify modes, perfect for making a variety of juices, dips, and smoothies.
7. Excessive amounts of dinnerware
Of course, we need good dinnerware sets, and a good set of quality utensils too, but having more than one set can be too much for a minimalist space, Georgia Burdett cautions – and yes, this applies to excessive amounts of mugs too, she adds.
'Count up how many mugs you and others in your home use each day. How many times do you wash up? How often do friends visit? Then work out a suitable number of mugs you need in your cupboards – usually, people have far too many! Furthermore, do you need to keep the 26-piece dinner set that you have used for that one special occasion in the last five years? Have one, maybe two, good sets, and look after them. If you have a dinner party, you can always focus on your tablescaping for that impact instead.'
FAQs
What should a minimalist have in their kitchen?
Even when chasing minimalism, it is vital to still have at least one of every essential in a kitchen. These would be one of each type of saucepan and frying pan, knives, utensils, sets of plates, and the basic kitchen appliances. The idea will be to get rid of single-use appliances and gadgets that are more gimmicks than traditional kitchen tools (avocado deseeders, we are looking at you). Think about what you would and would not find in a professional kitchen, and get rid of anything a professional chef would turn their nose up at.
Is minimalism healthy?
Minimalism can be a healthier way to live as the practice can help to reduce stress, make it easier to deep clean spaces like kitchens, and save you time and money, making your life more enjoyable. That being said, it is not for everybody, as others find comfort in being surrounded by their belongings (even if they don not quite subscribe to maximalism). In busy spaces like kitchens and home offices, however, the benefits of minimalism far outweigh the negatives, making the spaces easier to use and more enjoyable to be in.
---
As Arianna Foster, nutritionist and chef puts it, minimalist kitchen promotes a 'more organized and efficient cooking process, with fewer items to navigate through.' It also encourages creativity and allows for better concentration on flavors and techniques.
Most important of all, a minimalist kitchen can help you feel calmer at home, a noble pursuit to consider, no matter how extreme you take it.
Sign up to the Homes & Gardens newsletter
Decor Ideas. Project Inspiration. Expert Advice. Delivered to your inbox.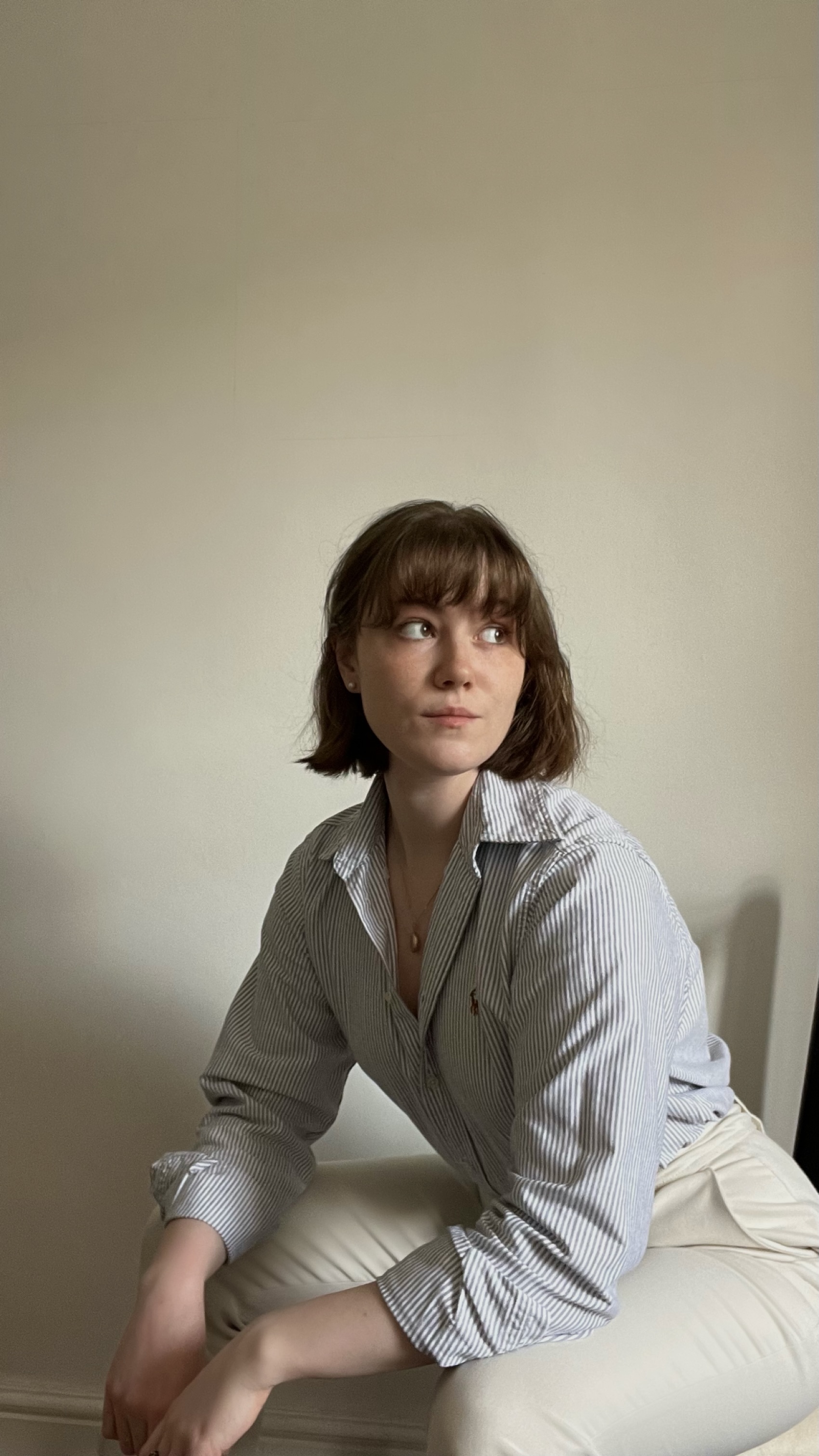 Chiana has been at Homes & Gardens for a year, having started her journey in interior journalism as part of the graduate program. She spends most of her time producing content for the Solved section of the website, helping readers get the most out of their homes through clever decluttering, cleaning, and tidying tips – many of which she tests and reviews herself in her home in Lancaster to ensure they will consistently deliver for her readers and dabbles in the latest design trends. She also has a first-class degree in Literature from Lancaster University.