Best places to buy artificial Christmas trees – many on sale right now
Investing in an authentic artificial Christmas tree is a great alternative if a real tree seems like too much work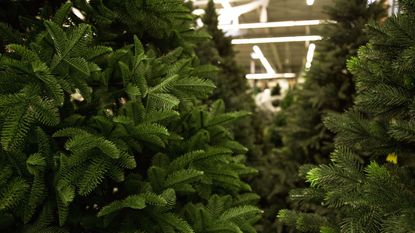 (Image credit: Alamy)
While nothing quite beats a real Christmas tree, there are some incredible artificial trees that match the aesthetics of the real deal almost perfectly – and they require a lot less care too.
Finding the perfect artificial tree can be tricky as most are found online. But buy your tree from one of the best retailers and you will find a Christmas centerpiece to be proud of.
With the Christmas sales nearly upon us, here are some of the best places to buy a convincing artificial tree at a great price for last-minute decorating or ready for 2023.
Where to buy the best artificial Christmas trees
We have done the leg work so that you don't have to. These stores are the best options for quality fake Christmas trees, to help realize your Christmas tree ideas year after year.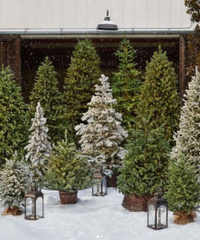 (opens in new tab)
Known for: Realistic artificial Christmas trees, holiday decor
Available at: Balsam Hill (opens in new tab)
Balsam Hill is one of the most reputable artificial Christmas tree retailers on the market with a variety of lit, unlit, tall, and small trees for every type of Christmas celebration. The online realtor has the largest assortment of tree styles of any of the stores on this list, making it the best one-stop shop for all of your faux Christmas foliage.
2. Amazon (opens in new tab)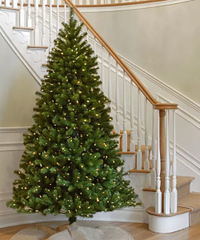 (opens in new tab)
Known for: a vast array of wares from homeware to fashion.
Available at: Amazon (opens in new tab)
Amazon's artificial Christmas trees are pretty realistic, with real user reviews and images allowing for a realistic view of the tree before you invest. Consider shopping The National Tree Company on Amazon (opens in new tab) for a tree guaranteed to deliver on both aesthetics and realism.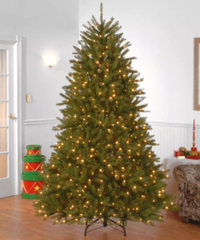 (opens in new tab)
Known for: An assortment of home decor, furniture
Available at: Bed, Bath & Beyond (opens in new tab)
Bed, Bath & Beyond offers a huge selection of festive firs at a range of price points for every budget, making it a more affordable choice over some of the more luxury options on this list. The lower prices don't signal a compromise on appearance either, with many trees under $200 still offering an authentic experience while still leaving some budget for presents.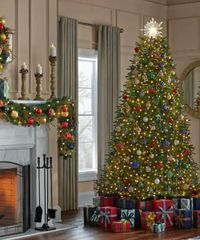 (opens in new tab)
Known for: Home improvement, furniture
Available at: Home Depot (opens in new tab)
It may not be an expected choice, but The Home Depot offers realistic trees as a part of their seemingly endless home improvement offers. The site offers in-depth detail for each of their trees allowing you to compare the smaller details such as the level of realism, the number of lights (if included), tree species, and even the tip count to demonstrate how densely packed your faux needles will be.
5. Macy's (opens in new tab)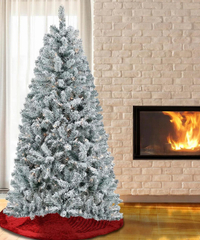 (opens in new tab)
Known for: Home furnishings, decor, accessories
Available at: Macy's (opens in new tab)
Macy's has long been a trusted store for a range of home and lifestyle accessories so it only makes sense that they are a good source of realistic Christmas trees too. The department store offers several Christmas tree brands all in one place allowing you to shop around for the perfect family tree without having to switch between sites. They even offer Christmas tree bags to help with your holiday decluttering and pristinely pack away your decor each year.
6. West Elm (opens in new tab)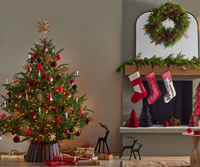 (opens in new tab)
Known for: Luxury home decor
Available at: West Elm (opens in new tab)
West Elm is the perfect stop for luxury Christmas decorations (opens in new tab) like authentic faux trees that are guaranteed to stand the test of time. The site's extensive filters allow you to pick your tree based on size, shape, and even color with a range of styles to complement every Christmas decor scheme. They also provide 'get the look' decorating sets with a pre-selected collection of ornaments so that you can recreate their storefront tree styles at home.
They even have an adorable two-foot tabletop tree that we can't wait to add to our home office desks.
Do artificial Christmas trees go on sale?
Artificial Christmas trees typically go on sale straight after the Christmas festivities are over, usually on the 26th December. This makes the days and weeks after Christmas one of the best times to get ahead with your Christmas decor shopping for the following year.
How much should I spend on an artificial Christmas tree?
If you are looking for a reliable artificial Christmas tree that will stand being taken in and out of boxes every year, then spending between $150 to $300 is a good idea to ensure quality.
Chiana is a junior writer for Homes & Gardens having joined Future plc as a new graduate in 2022 after achieving a 1st class degree in Literature at university. She first became interested in design as a child after spending her summers helping her parents redecorate her childhood home. As a long-time reader of Future's homes titles, Chiana is constantly finding new inspiration at work as she focuses on emerging trends, how-to's, and news pieces.