Cleaning with salt – how to use this natural product for stains and more
A cleaning expert explains why salt is a must-have item to have on hand when tackling certain stains, messes, and stuck-on food – and what to clean with it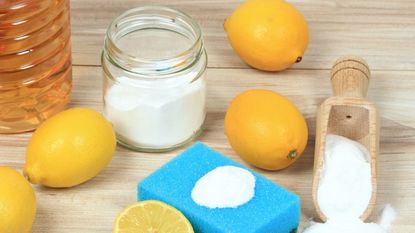 (Image credit: Getty Images)
We are always on the lookout for all-natural ways to clean our homes, and our latest experimentation has been cleaning with salt.
It turns out that cleaning with salt and salt water is not just an eco-friendly way to tackle a whole range of chores, it's also a great way to cut spending – and it's super-effective.
Often paired to boost the effectiveness of with cleaning with vinegar, salt has been used when cleaning with lemon juice as a scouring agent since medieval times. Love cleaning with baking soda? You can mix it with with salt and dish soap for cleaning kitchens and bathrooms. Indeed, you can use salt for everything from stain removal to tackling bacteria in your home. This is what it's effective for, according to professional cleaners.
Is cleaning with salt good?
Of all the pantry staples, you might be wondering why salt? Professional cleaner and organizer Jill Koch of Jill Comes Clean gave us a great explanation.
'First off, salt is all natural so it's a great, safe cleaning agent,' she says. 'Second, its structure makes it mildly abrasive so it's good for cleaning stuck-on messes. It's also absorbent, so it's great for soaking up spills and removing stains.'
And while you might want to give surfaces an extra wipe to clear off any lingering bacteria, Koch assures us that salt will handle some of that, too. 'Salt has antibacterial properties so it can help kill some germs while cleaning,' she explains.
Jill Koch is a mom, wife, nurse, and former news reporter who never really lost the sharing side of reporting, and thus her blog, Jill Comes Clean' came into being. She loves to share all her home cleaning and organizing trials, tests and hacks, to help you keep your home as neat as a pin.
Which is the best salt for house cleaning?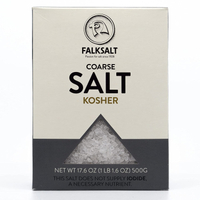 How to use salt for scouring
Salt is an ideal cleaning agent in your home for the same reason it's often included in exfoliating beauty products – it makes for a great scrub, especially when turned into a paste.
'Salt is mildly abrasive so it's great for cleaning and scrubbing loose any burnt food, or food that's stuck in the oven, on a pan, or in cast iron,' explains Koch.
This makes it ideal for cleaning a burnt pot, for example. To use, simply sprinkle the salt over the hardened food, let it sit, and use a spatula to lift it. You can also add a few drops of water and really scrub it into the mess if needed.
Above, you can see our TikTok of cleaning a cast iron pan with salt water.
How to use salt as a stain remover
Salt is often used as a stain remover for those extra-tricky spills like removing red wine stains, removing coffee stains, and oil – all very common problems if you have a tablecloth or runner set out. But if you think that it only works on hardier fabrics like cotton or linen, think again!
Simply dissolve salt in hot water and soak your fabric for a couple of hours. Once it air dries, you should be stain-free. For smaller stains, it's even easier. Just shake on some salt and let it sit. When you wipe it away, the stain should be gone.
What to clean with salt
Obviously, salt works wonders all on its own, but Koch says it can be even better when mixed with something acidic.
'Mixing salt with something acidic like lemon juice or vinegar is a great combination,' says Koch. 'They react well together to be a cleaning powerhouse and bust through stuck-on messes.'
Salt can even handle situations that might often call for a more intense chemical.
This is what Koch suggests you can make a paste to clean with salt mixed with vinegar or lemon juice:
Coffee stains: if you are cleaning a coffee maker, and perhaps want to remove stains from the jug or your favorite mug, you can do so with heavily salted water (four teaspoons of salt to one tablespoon of water). Simply swirl and leave then rinse.
Drains: cleaning a kitchen sink drain, for example, is easily done with salt and vinegar. Follow the same steps as when cleaning a garbage disposal. As with any drains, you should never pour salt down a drain regularly, however it is effective as a one-off.
Salt can 'remove rust when it's combined with water and cream of tartar into a paste,' says Koch.
Kitchen sinks and garbage disposals: salt can be used to both clean a kitchen sink and clean a garbage disposal, especially if combined with vinegar or lemon juice. Flush the mixture into the sink and allow to sit for 10 minutes before following it with very hot water to clear blockages and reduce odors.
Ovens and stovetops: simply sprinkle salt and allow it to sit before lifting it with a spatula; combine it with vinegar or lemon juice to create a more powerful cleaning agent.
Pots, pans and cast iron: especially those that shouldn't be cleaned in a dishwasher can be easily cleaned with salt and water – our TikTok (above) shows you how.
Precious metals: You can restore brass and copper by making a paste with 1 part salt, 3 parts plain flour and a few drops of white vinegar. Rub it on to the brass or copper, allow to dry then wash off with warm soap water and polish.
Refrigerators: you can clean a refrigerator hygienically with a damp mix of salt and baking soda, wiped across the surfaces with a sponge. Or you can swap the baking soda and water for vinegar, and apply a salt and vinegar paste to the fridge. Rinse both away with warm water. The vinegar smell will soon disappear and the fridge will be hygienically clean.
Watermarks can be removed from wood with a water and salt paste. Simply add a few drops of water to a teaspoon of salt, mix to a paste and use a soft cloth to rube the paste on the mark. Wipe the salt away and polish as usual.
Weeds: you can use salt to kill weeds. However, you need to do this in a targeted way on isolated weeds if you don't want to damage soil health and other plants nearby.
Wood and cutting boards: 'Salt plus acid also makes for a great, gentle scrub, especially for wood or a butcher's block. Salt is great for cleaning cutting boards, especially with vinegar or half a lemon,' Koch says. 'That's because it absorbs the juices that get into the grooves.'
FAQs
What does cleaning with salt do?
Cleaning with salt kills some, though not all, bacteria, breaks down grease, baked on food, and can dissipate bad smells. It is effective mixed with water, and will boost the cleaning properties of vinegar, lemon juice and baking soda, too.
---
There are so many ways to clean with salt. Our advice? Before cleaning anything always experiment on a small patch first, ideally on an area that's unseen. That way, you can ensure that anything you clean with salt won't be damaged.
Ashley Chalmers is a freelance writer for Homes & Gardens with over 10 years' experience as a digital writer and content creator. Ashley started her career in entertainment and fashion PR in New York, before moving to the French countryside and taking up travel blogging. Now, Ashley lives in London. Her passion for travelling is only matched by her love of making her house feel like a home, and she loves to include her finds from around the world in her decor.