How to move clothes on hangers – for simplified house moves and quick trip packing
Leaving the hangers in may make clothes a little bulkier, but can make packing and unpacking much smoother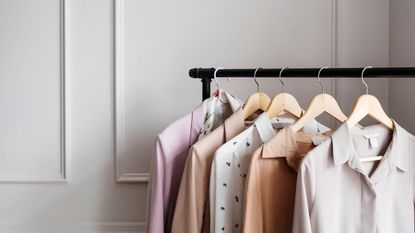 (Image credit: Getty Images)
Sign up to the Homes & Gardens newsletter
Decor Ideas. Project Inspiration. Expert Advice. Delivered to your inbox.
Thank you for signing up to Homes & Gardens. You will receive a verification email shortly.
There was a problem. Please refresh the page and try again.
Whether you are moving house, or packing for a longer trip, keeping your clothes on their hangers can make shifting your wardrobe a little simpler – and makes unpacking a breeze.
Although leaving the hangers on the clothing takes up more space in the removals truck, this method can make offloading your clothing at your destination infinitely simpler and saves you from having to find a way to package your hangers so they don't get tangled, or broken.
Here, professional movers and home organizers have explained how to move clothes on hangers to take this simple yet tedious task off of your moving house checklist.
How to move clothes on hangers
Folding clothes for packing is, indisputably, the best space-saving way to transport your wardrobe, but it can leave wrinkles that need ironing out, means you have loose hangers to organize, and adds the task of taking things off hangers and putting them back on again – something that can be infuriating when you are tired and stressed from travel.
So moving with the clothes on the hangers is one of the few times movers recommend using up a little extra space.
1. Bunch hangers together and use a garment box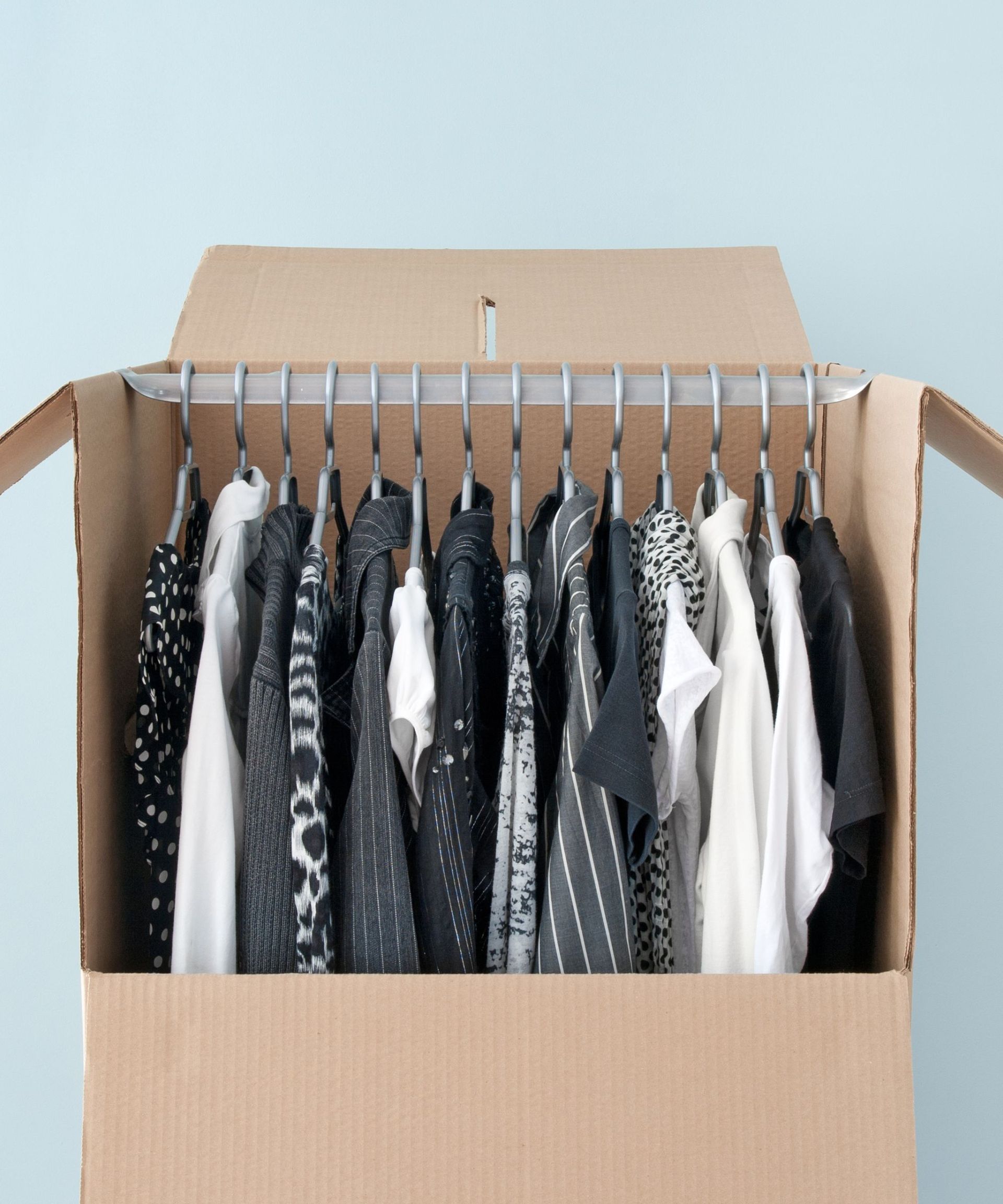 By far the most common way to move clothes long distances is to leave them on hangers and store them in an upright garment box designed for moving home, explains Ashley Braber, co-owner of Cool Hand Movers. 'These are brilliant, sturdy options for protecting your clothes and keeping them wrinkle-free,' she explains. 'The downside is that they can be expensive and unwieldy to dispose of once you have unpacked.
'I recommend asking your mover if they will include wardrobe boxes to use and remove on the day of your move. Alternatively, opt for a sustainable cardboard option, available at Amazon that, while not as sturdy, will still do the job and help when trying to cut house moving costs.'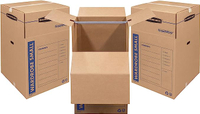 Wardrobe Moving Boxes | $32.99 for 3 at Amazon
These heavy-duty cardboard moving closets are perfect for relocating your clothing without crushing it. They are also simple to dispose of after the move.
2. Wrap your hanging clothes in a heavy-duty trash bag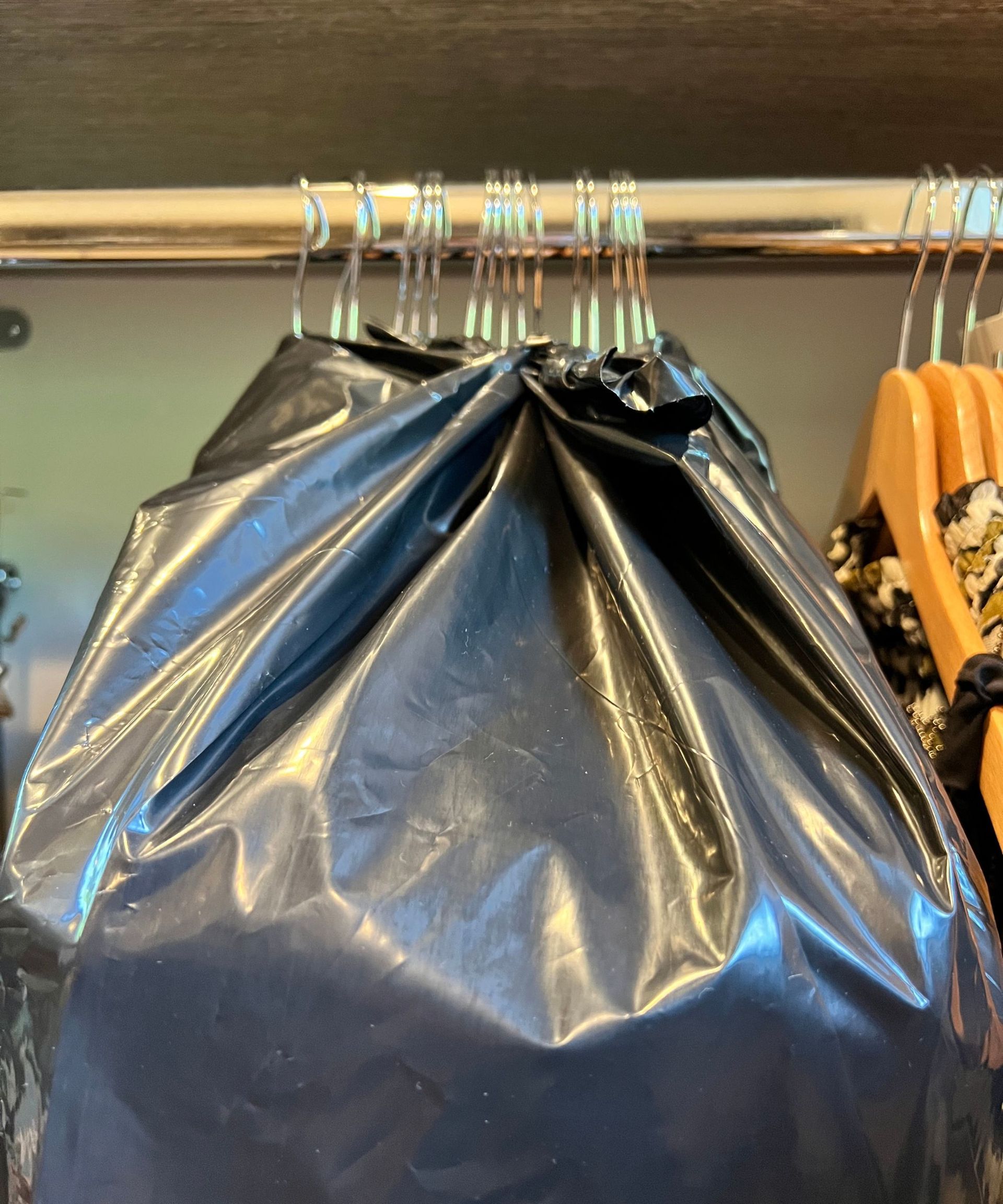 Given how much it costs to move house right now, a cheaper option is to use a generic garment bag, or even a large, heavy-duty trash bag like these from Walmart, to help bundle your clothing together instead. Amy Berryhill, owner and founder of Spiffy Chicks, home organizers recommends this cost-effective method.
'This is a super quick trick we use when packing up a house,' she says. 'You can leave all your garments on the rail before opening up a clean trash bag and bringing it up around the clothes, tying it at the top around the hanger hooks.
When using this method, it is best to lay your clothing flat during transport to keep the clothing on the hangers, reduce bulk and prevent damaging your clothes.'
Amy's pursuit of a better life balance led her to step away from the corporate world into professional organizing. Her deep passion for helping others and organizing spaces made this career the perfect fit! Today, Amy's neat and tidy nature and ability to share her personal story make it easy to connect with her clients.
3. Use heavy-duty hangers to ensure they remain sturdy during the move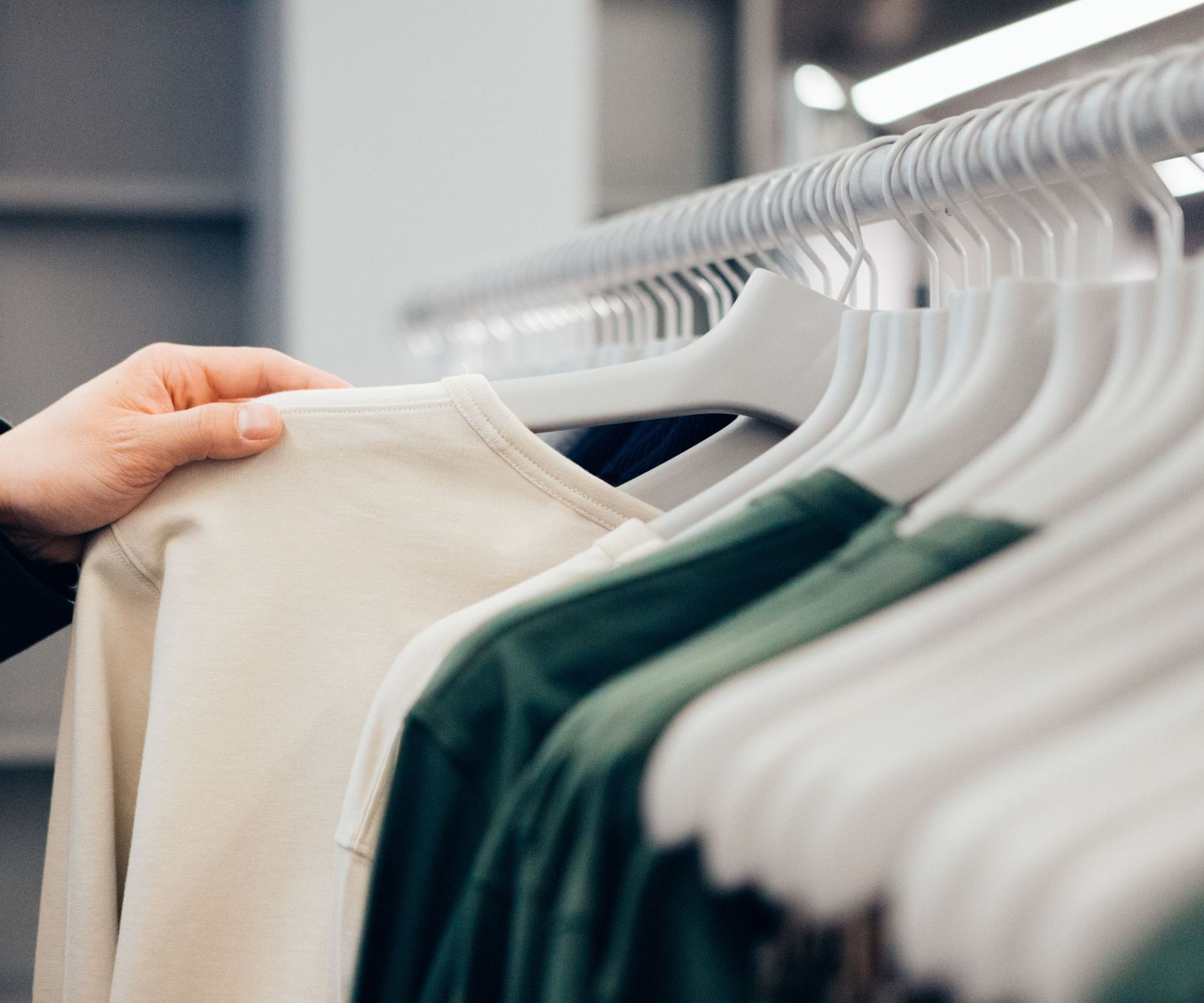 A common clothes storage mistake is not using hangers strong enough for the garments you own – but picking out sturdy hangers is particularly important when it comes to moving to prevent them from sagging and snapping, points out Nicole Gabai, a professional organizer at B.Organized.
To limit how many hangers you have to buy, you can also buy hangers that have several sets of clips, at Amazon, which 'allows you to hang multiple shorts or skirts together vertically on one hanger,' she adds.
4. Label your boxes or bags to make unpacking simpler
As with packing kitchen items when moving, or storing your decor pieces, it is always a good idea to label your bags and boxes with which clothing is inside before packing it into the truck, reminds Emma Rostron, organizing expert and general manager at One Less Thing. This is particularly useful if moving multiple people's clothing to ensure each wardrobe finds its way to the right person's new room.
Even when moving alone, it's a good idea to group your hanging clothes by category, like shirts, dresses, jackets, etc., she adds. 'This way, unpacking and organizing your new closet will be a breeze. You can use different-colored ribbons or labels to mark each category or alternatively add a secure tag or label to the exterior of the packaging.
5. Declutter before you pack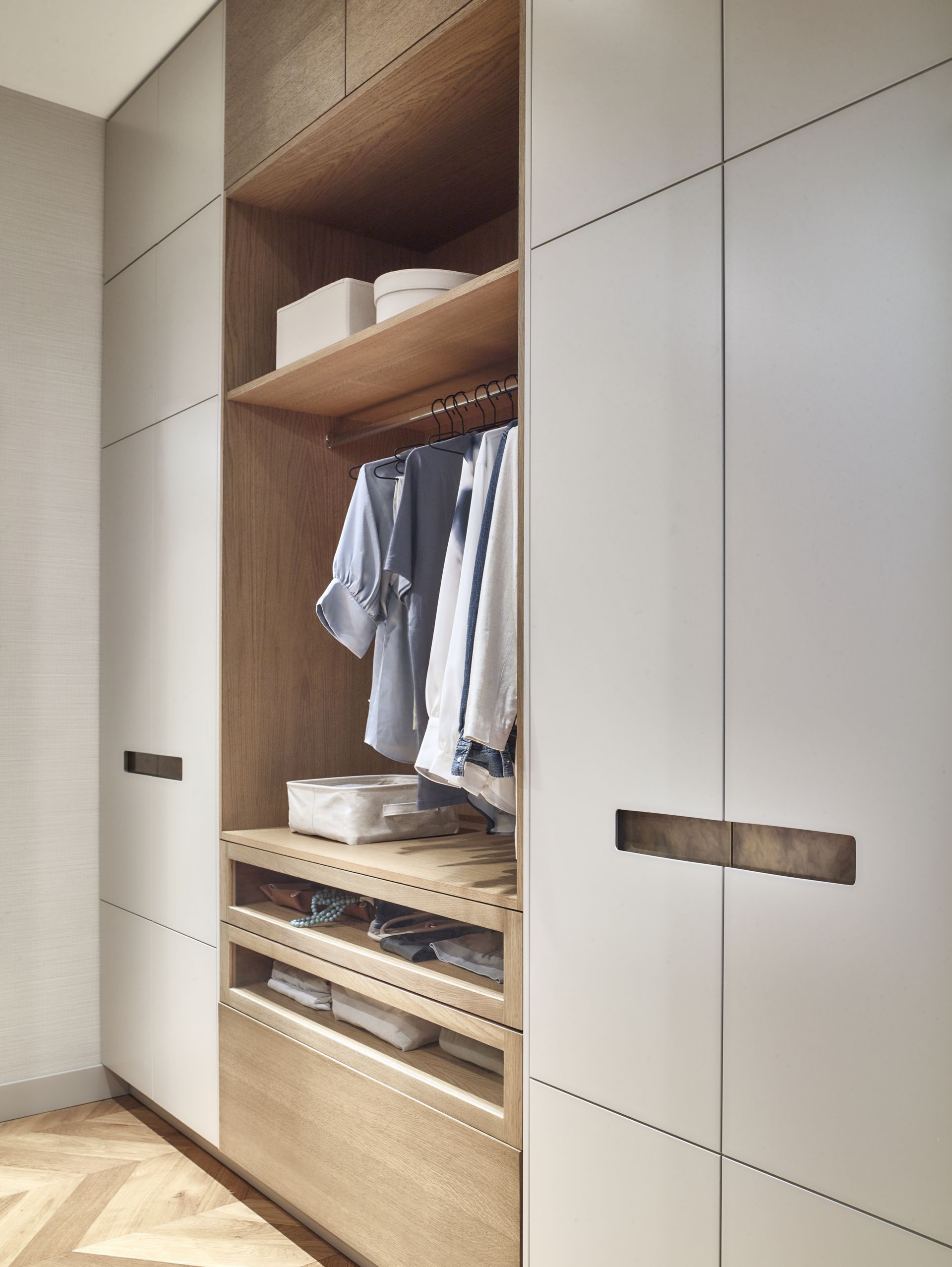 Decluttering before moving is essential to make it easier to shift your stuff, with some clever lessons to be learned from the ways professional organizers declutter before a move.
Sorting through your wardrobe and decluttering your closet before you even think about packing makes the process more manageable, says Joshua Haley, founder of Moving Astute. You don't have to get rid of anything you love, of course, but consider downsizing to allow for a fresh start in your new space. You can donate or otherwise sell anything you no longer need, helping to raise a few funds for the relocation.
FAQs
How do you store hangers smartly?
If you have loose hangers, then you can keep them held together by banding them tightly together with zip-ties, rubber bands, or twine and keeping them inside another container such as a box or bag. This will help prevent them from being warped when traveling or becoming tangled or broken.
What are the most space-saving hangers?
If you are looking to save space in your closet or take up less space when moving clothes on hangers, the velvet slimline hangers are your best bet. While not as sturdy as thick wooden hangers, they take up far less space and will stop clothes from slipping off as frequently, making them a favorite of professional home organizers.
---
If you only have a small wardrobe or have plenty of empty boxes and suitcases left over, then folding clothes may work just fine. But for anyone with lots of clothes – especially delicate items that may be damaged if squashed into a case – keeping your clothes hanging could be hugely advantageous.
Sign up to the Homes & Gardens newsletter
Decor Ideas. Project Inspiration. Expert Advice. Delivered to your inbox.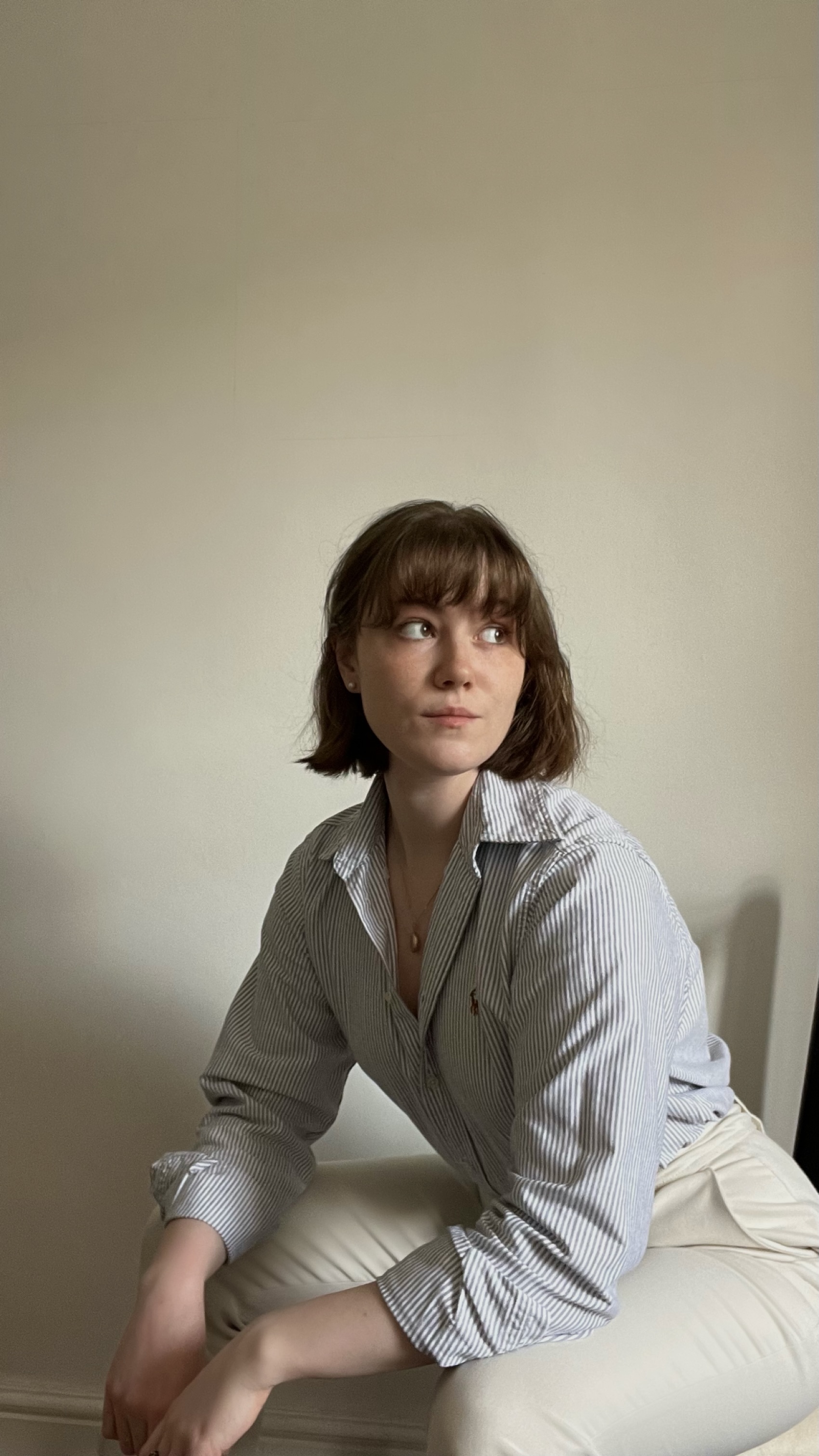 Chiana has been at Homes & Gardens for a year, having started her journey in interior journalism as part of the graduate program. She spends most of her time producing content for the Solved section of the website, helping readers get the most out of their homes through clever decluttering, cleaning, and tidying tips – many of which she tests and reviews herself in her home in Lancaster to ensure they will consistently deliver for her readers and dabbles in the latest design trends. She also has a first-class degree in Literature from Lancaster University.