7 space-saving closet techniques I actually use – as an interiors editor
I spend my time writing and reading about the best organizing and decluttering tricks – here are the ones you need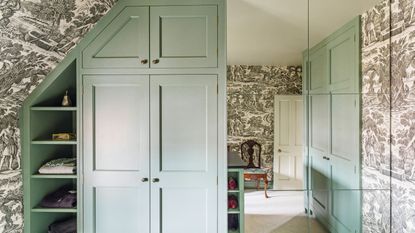 (Image credit: Future PLC)
An organized closet can change your life – or at least make getting ready in the morning mildly less bewildering. I always say that if you organize right the first time, you'll never have to organize again, and it is a principle I live by and hope to share with all our readers. After all, I come across all kinds of closet organization ideas as a section editor at Homes & Gardens.
Some, I simply wouldn't bother with, like adding lighting to the inside of a closet, and others just don't apply to me – I have about five pairs of shoes so shoe storage isn't a huge dilemma.
And then there are the closet organizers that I wouldn't be without.
Space-saving closet hacks I actually use
In my current home, I have one closet with shelves, and another with some hanging space. For socks and underwear, I use a small chest of drawers.
I've moved house eleven times in the last ten years, and apart from the one miraculously large built-in closet in Bologna (take me back), I've always had to work with a small space. It's never the first thing we want to spend our free time doing, but decluttering and adding some new space-saving products to your closet can help you see your clothes with fresh eyes and feel more excited about putting outfits together.
Millie Hurst is Section Editor at Homes & Gardens, overseeing the Solved section, which provides readers with practical advice for their homes, from organizing and decluttering to spring cleaning. Millie has written about and tried out countless cleaning and DIY hacks in the six years since she became a journalist, and has worked in both London and New York. She is currently completing a diploma in interior design with the Interior Design Institute.
1. IKEA SKUBB organizers
These IKEA SKUBB drawer dividers, at Amazon, are the fundamental foundation of my clothes organization and the easiest way to tidy up a chaotic closet or chest of drawers. I rest some larger square bins like these storage bins, at Walmart on their side on a shelf, and use them to store jeans and sweaters. The top faces outwards to I can see all of the folded jeans and sweaters at a glance.
Then, I use the SKUBB dividers for T-shirts (separated into those I actually wear outside and the older ones for around the house). Ialso use SKUBBs for smaller items like sports bras and leggings so everything is visible and easy to access.
I stack my running T-shirts in the long, rectangular ones, which I stand up vertically. This means I have absolutely no excuse not to go on my evening run because I have everything right there, neatly folded and ready to go. I also use these genius little drawer dividers in my underwear and sock drawer, although I often shove things in there a little more haphazardly.
Order some SKUBB dividers, read up on how to fold shirts and how to organize an underwear drawer and you'll have instantly made so much space in your closet, I promise.
2. Good quality hangers
I bulk-ordered a load of these clothes hangers, at Amazon when I first moved in and it was a great decision. They were recommended to me by Suzanne Roynon, an interiors therapist and feng shui expert, who came and helped me declutter when I moved in. I've used up almost all of them now and it looks so much better having them all the same color and material, and they won't damage or stretch my clothes.
3. The Marie Kondo 'sparking joy line'
Even though neutrals dominate my wardrobe (my day-to-day uniform is the adventurous combination of jeans and a black T-shirt) I arrange items by color. Marie Kondo recommends grouping clothes by color because then you don't have to think about where to put your clothes back.
The 'sparking joy line' involves creating a 'line' that goes up to the right, with darker items on the right and lighter items to the left. It makes sense to organize by color, and arranging items going from light to dark makes my closet look more aesthetically pleasing when I open the door.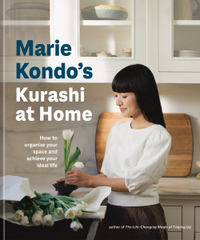 Kurashi at Home by Marie Kondo | $19.69 on Amazon
Marie's book explains the Japanese concept of Kurashi, or 'way of life,' that you can celebrate in your home. Her teaching invites you to visualize your best life from the moment you wake up until the end of each day, and we're adding it to our basket right now.
4. Regular decluttering
It's intensely boring compared to the thrill of buying new organizers, but so often we struggle to organize our spaces because we've simply got too much stuff. Our kitchen cabinets and closets are crying out for a decluttering session that no number of Lazy Susans could fix.
I find it hard to declutter sentimental items of clothing, like the ripped jeans I wore to death at Uni, and just don't wear anymore. But regular clear-outs create empty space for new items that fit my style now, and it's good to think of donated clothes finding a better home, and raising money for charity.
5. Clothes hanger connector hooks
I have ordered some of these hanger connector hooks because they look so simple and effective, maximizing vertical space. I think they'd be ideal for layering white shirts and black T-shirts together, meaning they take up less space horizontally.
I recommend them for organizing a hallway closet as they just give you that bit more wiggle room. You can also get them in different colors for some The Home Edit-style color coordination.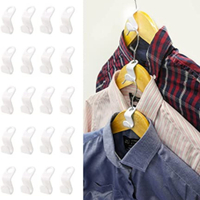 Clothes Hanger Connector Hooks | Was $12.99, Now $7.99 at Amazon
These small hangers are ideal for stacking clothes in small closets, preventing the need to fold, relocate, or force clothes into small spaces.
6. A clothes rail
In my old flat, I used a clothes rail, like this rail at Amazon, and I loved being able to see my clothes and found it sparked more ideas when putting outfits together. This isn't for everyone and it did make my bedroom feel more 'busy,' but if you enjoy planning out your outfits for the week ahead, or want to create a capsule wardrobe for spring, I'd highly recommend it.
This clothes rail would also work in the dressing room, as a practical clothes storage idea in a kids' room, or in a larger entryway if you wanted to put it somewhere else later down the line.
7. Storing away seasonal items
Last but not least, I always store away seasonal items. Linen pants and summer dresses get stowed away once the weather turns colder, and soon I'm hoping I can switch things around and store my heavier knitwear up out of the way to free up extra space.
---
I hope these space-saving closet hacks have inspired you to get organized, even if you just tackle your sock drawer. Set a timer for 25 minutes and take before and after photos if you're struggling to get started.
Sign up to the Homes & Gardens newsletter
Decor Ideas. Project Inspiration. Expert Advice. Delivered to your inbox.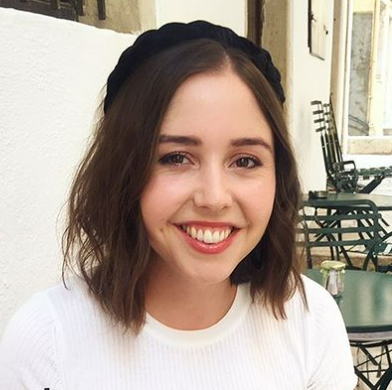 Millie Hurst is the Solved Section Editor at Homes & Gardens. She has six years of experience in digital journalism, having previously worked as Senior SEO Editor at News UK in London and New York. She then gained experience writing for women's magazines before joining Future PLC in January 2021. Millie has written for an array of homes brands including Livingetc and Real Homes and was formerly Senior Content Editor at Ideal Home before taking on the position of Section Editor with Homes & Gardens. She has written and edited countless features on home organization, decluttering and interior design and always hopes to inspire readers with new ways to enjoy their homes. She lives in Sheffield, South Yorkshire and loves to weave nature-inspired decor and nods to time spent in Italy into her own home.