Cyber Week Nespresso sales – top deals on the best coffee machines on the market
Can't live without coffee? With all the Cyber Week Nespresso sale deals available now, there's no better time to upgrade your coffee machine for 2022.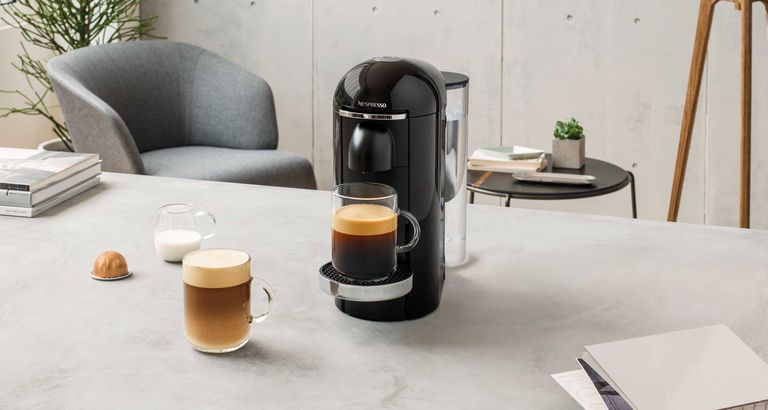 (Image credit: Nespresso)
Fed up of average coffee? Then take advantage of the various Cyber Week Nespresso sales across the internet to upgrade your setup to coffeehouse quality coffee, at home. After all, if you crave a rich and creamy cappuccino or long for a classic mocha, Nespresso machines will help make it happen.
This year the deals are simply brilliant during Cyber Week, and we've rounded up the best offers available and listed them below. In general, all Vertuo machines and select Original machines are 25% off. We'll be updating this page throughout the season in case anything changed, or if you can't find what you want, maybe it'll come on sale later, but there's always our best coffee makers to discover to find the best machine for you.
So if you – or someone you know – has added a Nespresso to their holiday, birthday, wedding or housewarming wishlists, then there's no time like the present to invest in a Nespresso coffee machine, at a great-value price.
For more of the very best buys, from cookware and home accessories to the latest sale edits, visit our Cyber Week home sales hub. Otherwise, keep scrolling to see the best of the Nespresso sale.
Best places to find Cyber Week Nespresso sales
Know exactly what you're looking for or have a preferred retailer? Head directly to their Nespresso sale deals using the handy quick links below.
Best Nespresso coffee machine sales
We've collated our favorite Nespresso deals on coffee machines, here
Breville Vertuo Next Espresso Machine with Milk Frother | $229.95 $172.46 (Save $57) at Best Buy (opens in new tab)
With a sleek new design made from 54% recycled plastics and stylish chrome accents, Vertuo Next will fit any kitchen and go the extra mile, even connecting to Wi-Fi and Bluetooth to ensure its software is always up-to-date.
Vertuo Next Luxury Teal Limited Edition | $199 $149.25 (Save $50) at Nespresso (opens in new tab)
Be still our hearts, with this limited edition Vertuo Next machine in Luxury Teal with rose gold accents, now 25% off. Other colors are on sale too, including more Black Friday Limited Edition colors including Rich Brown and Glossy Black.
Nespresso Vertuo Next Coffee and Espresso Machine by De'Longhi, Gray| $169.99 $26.75 (Save $43) at Target (opens in new tab)
Not picky about color? Well after price comparing all around, this seems to be the cheapest price (at time of publication) of the Vertuo Next, especially with an extra 15% discount code on all small appliances at Target.
DeLonghi Vertuo Chrome Coffee Maker and Espresso Machine with milk frother by Breville | $259 $194.96 at Best Buy (opens in new tab)
Complete with an Aeroccino device that will froth milk quickly and easily, this machine boasts a large 40 oz water reservoir so you won't have to refill it too often. It also makes five different coffee sizes from an espresso to a 14oz Alto. Act fast, as Best Buy deals are flying off the shelves.
Nespresso Creatista Plus Espresso Machine by Breville| $599.95 $487.46 (save $112) on Amazon (opens in new tab)
Everyone we know who has come across the Creatista Plus LOVES how easy it is to make expert-level espresso beverages, and can't help but comment how good it lookss on display. Experience maximum versatility with 8 different beverages, 11 milk temperatures and 8 milk froth textures.
Nespresso Pixie Coffee and Espresso Machine by DeLonghi with Aeroccino| was $279, now $201.75 at Amazon (opens in new tab)
Small in size, but mighty in flavor. When coupled with an Aerocinno milk frother, the pint-sized Pixie makes effortless milky beverages and espressos, and now you can save over $75.
Why buy a Nespresso coffee maker?
We rate these highly and they've been part of our coffee maker testing regime for a while. Nespresso coffee makers are perfect if you want the perfect cup of coffee fast – all their four models deliver great coffee via a capsule or pod – see stockists for those below – plus the settings are sensitive enough so that you can get your brew just how you like it.
Where do I buy Nespresso pods or capsules?
Capsules, both the original size and the Vertuo pods, can be purchased either in one-off packets or, if you rely on your morning coffee to get you through the day, it's probably worth signing up for a coffee subscription so that you never run out.
You can buy these online via Nespresso.com (opens in new tab) or via Amazon (opens in new tab).
Jaclyn is an eCommerce editor at Future Home Interest, where she oversees sleep content including mattresses and bedding– in fact, she has passed our five-step certification process to become a verified customer advisor on mattresses. She regularly scouts out the best of the best for buying guides to help you fill your home with only the best. She joined the team in January 2021. She has previously worked with Apartment Therapy, The Kitchn, The Spruce, The Spruce Eats, and MyDomaine. When Jaclyn's not working, she loves browsing real estate listings, unwinding with a chilled glass of Rosé, and entertaining her Cavapoo puppy, Reese.