Nespresso Black Friday and Cyber Monday deals – best prices on tested coffee makers
We're constantly finding Nespresso Black Friday and Cyber Monday deals to save you money on the best coffee makers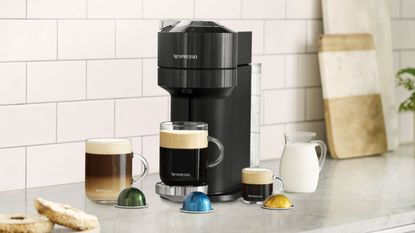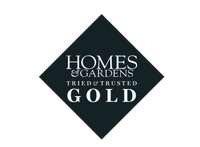 (Image credit: Nespresso )
If you want to make perfect, barista-quality coffee at home and save money, the latest Nespresso Black Friday and Cyber Monday deals are for you.
An icon of the coffee making game, Nespresso is renowned for tasty, fair-trade coffee and sustainable and smart products. Nespresso practically invented the premium instant coffee machine, and for decades they've sold some of the very best coffee makers you can buy. We've got hands on to test the best Nespresso coffee makers and confirm that they're still on top of their game. Plus, our ecomms team has its eagle eyes on Nespresso Black Friday and Cyber Monday deals, so you can grab a premium coffee maker at an affordable price.
From high-tech, barista-style models, to simple and compact designs that fit snuggly on your countertop, there are many excellent Nespresso Black Friday and Cyber Monday deals out there to explore.
If there's a Nespresso on your wish list wish list, then there's no time like the present to make the most of the best Nespresso Black Friday and Cyber Monday deals
Best places to find Nespresso Black Friday and Cyber Monday deals
The best Nespresso Black Friday and Cyber Monday deals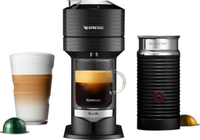 (opens in new tab)
Nespresso Vertuo Next Espresso Machine with Milk Frother | was $239.95 now $167.97 at Best Buy (opens in new tab)
Our tests prove that this is the best Nespresso coffee maker. Scoring a perfect 100%, it produces the best single-serve coffee this side of Italy. You can get $70 off a bundle deal including the exceptional Aeroccino frother.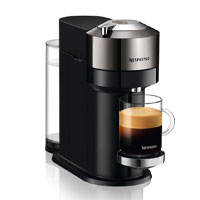 (opens in new tab)
Vertuo Next Deluxe Dark Chrome | was $209.00 now $146.30 at Nespresso (opens in new tab)
If you take it strong and black and don't need a milk frother, you can save a little money by buying just the machine. Stylish and compact, this single serve coffee maker is everything you need for americanos and espressos. The Vertuo Next Deluxe comes in a range of different colors and will fit neatly onto countertops in kitchens of all sizes.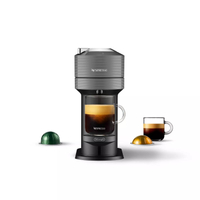 (opens in new tab)
Nespresso Vertuo Next Coffee and Espresso Machine by De'Longhi, Gray | was $169.99, now $125.30 at Target (opens in new tab)
A beautifully sleek design, this Nespresso Vertuo Coffee and Espresso Machine is exclusively compatible with Nespresso Vertuo capsules and can make single or double coffee and espresso in three different sizes.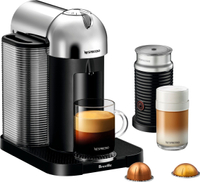 (opens in new tab)
Nespresso - Vertuo Chrome by Breville with Aeroccino3 - Chrome | was $269.95, now $188.97 at Best Buy (opens in new tab)
The forerunner of the VertuoNext, this stylish coffe maker still makes the same high-quality single serve coffee. Bigger than the later model, this machine boasts a large 40 oz water reservoir and extra waste coffee pod storage. This deal from Best Buy comes complete with the Aeroccino frother for perfect cappuccinos and lattes.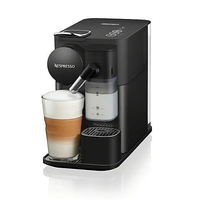 (opens in new tab)
Nespresso Lattissima One Original Espresso Machine | was $399.99, now $279.00 at Bed Bath & Beyond (opens in new tab)
Take your lattes automatic with the Lattissima One, which delivers hot Cappuccinos, Lattes or Espresso Macchiatos straight into your cup. Simply fill the milk jug, froth, and enjoy. It's one of our best espresso machines (opens in new tab) of the year.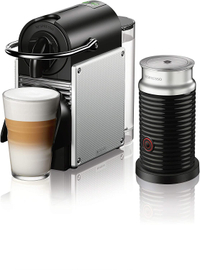 (opens in new tab)
Nespresso Pixie Coffee and Espresso Machine by DeLonghi with Aeroccino| was $279.00, now $242.07 at Amazon (opens in new tab)
Small in size, but mighty in flavor. Coupled with an Aerocinno milk frother, the pint-sized Pixie makes effortless milky beverages and espressos, and now you can save over $75.
Which Nespresso machine is best?
Best single-serve coffee maker
Specifications
Coffee type: Single-serve
Dimensions: 16.97in. x 5.5in. x 12.52in.
Brew sizes: 5oz, 8oz, and 14oz
Warranty: 1- year
RRP: 189.99
Reasons to buy
+
Smallest Nespresso maker yet
+
Made with sustainable materials
+
Can brew five different cup sizes, plus an 18 oz. carafe
+
Can be purchased with or without milk frother
+
Many color options
Reasons to avoid
-
Pods create waste
-
Smaller pod capacity
We've reviewed many Nespresso coffee makers, so you can trust us when we say that this is the very best. Our eCommerce staff writer Louise Oliphant struggled to find a reason why you shouldn't buy one. Her tests found that the Vertuo Next is 'sleek, stylish and perfectly practical'. It's simple to use and makes perfect coffee. It's one of the very best single serve coffee makers in the world, and you can save money this Black Friday.
You can read Louise's full review of the Nespresso Vertuo Next for more in-depth analysis.
Where do I buy Nespresso pods or capsules?
Capsules, both the original size, and the Vertuo pods, can be purchased in either one-off packets or, if you rely on your morning coffee to get you through the day, it's probably worth signing up for a coffee subscription so you never run out.
You can buy these online via Nespresso.com (opens in new tab) or via Amazon (opens in new tab).
Which Nespresso pods to buy and which are best?
The question of which Nespresso pods to buy and which are best is hugely subjective. A poll of our team gave a variety of answers since everyone's taste is so different. That said, everyone agree that whatever the roast, the result was great quality. The answer to this also varies by year, with seasonal coffees like the limited edition gingerbread pod that's launched just in time for the holidays.
If you are undecided and still haven't fixed upon your favorite Nespresso coffee pod, we suggest their Variety Pack (available at Amazon) (opens in new tab), which includes 100 pods in nine different flavors; once decided, you can use the same link to buy your favorite pods only.
Are Nespresso pods recyclable?
Yes, you can recycle Nespresso pods. To do so, you can drop them at your nearest Nespresso Boutique, waste collection center or partner store. You can also load them into your Nespresso recycling bag and give them to your mailman when he delivers your next order.
Which Nespresso pods are decaf?
Nespresso offer both Fortado and Altissio decaffeinato pods if you're looking to take it easy.
Can Nespresso make iced coffee?
Yes, Nespresso has introduced its own line of iced coffee pods to buy (opens in new tab); simply make and pour over ice.
Can Nespresso make hot water?
Nespresso can make hot water for tea. Original Nespressos, such as the Nespresso Pixie, Lattissima Touch or Creatista Pro are all designed to deliver hot water with no pod; however, you might want to run the machine a couple of times to flush out any coffee caught in the parts. For our top pick, the Nespresso Vertuo (opens in new tab), you'll need to run a cleaning cycle to get hot water.
Why buy a Nespresso coffee maker?
They're among the best - it's that simple. Nespresso coffee makers offer incredible quality coffee at bargain prices, so you can have barista-quality coffee in seconds.
What is Black Friday?
Often hailed as the biggest shopping day of the year, Black Friday falls on the last Friday of November, which this year means Black Friday falls on Friday 25th November 2022.
The term Black Friday originated in the US to denote the first day following Thanksgiving when retailers would cut prices to draw holidaymakers to shop their store's sales. Driven by global brands, the price-slashing event soon became a worldwide phenomenon, and now Black Friday, closely followed by Cyber Monday, has become one of the globe's biggest consumer extravaganzas.
The event has also spread to encompass more than one day, with many retailers starting their 'Black Friday' events earlier and earlier to try to get ahead of the competition.
What is Cyber Monday?
Cyber Monday falls directly after Black Friday and is the conclusion of the shopping event, with many online-only deals. This year, Cyber Monday falls on Monday, Nov. 28th.