Peek inside Christie Brinkley's whimsical kitchen, complete with a cozy fireplace and gorgeous views of nature
The supermodel exclusively invites H&G to tour her fabulously unique kitchen while spilling the latest on her vegan prosecco line, Bellissima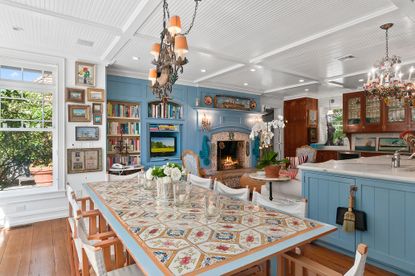 (Image credit: Christie Brinkley)
Christie Brinkley is saving you a seat at her kitchen table. The legendary supermodel invited Homes and Gardens into her stunning Hamptons, New York estate for an exclusive tour of her magical kitchen – a space that she has spent more than 22 years living, loving and entertaining in.
Located more than two hours east of the city that never sleeps (New York City), Christie's sprawling Bridgehampton compound has served as the star's longtime sanctuary between her adventures around the world.
'This home is the one place that I've lived the longest in my entire life,' Christie tells H&G. 'In my career, I traveled a lot. I actually found this house when I was pregnant with my baby, Sailor, and tried to get it ready in time for us to be here when she was born. And I pretty much did that.'
Of her oasis, the 67-year-old former Sports Illustrated swimsuit model describes its overall aesthetic as 'eclectic,' but when push comes to shove, Christie plays favorites. 'My house, our whole house, all the different rooms are special. But the kitchen is the heart of the house. As much as we have other rooms that are really stunning and beautiful, we gather around the kitchen.'
See: Kitchen ideas – decor and decorating ideas for all kitchens
Read on for an exclusive tour of Christie's kitchen– and check out her Instagram feed for more style inspiration.
Heart of the home
The television host's kitchen is more than a place to cook and entertain in – the space serves as a landing gallery for the star's unique collection of treasured belongings. Most striking? Christie's custom kitchen table, made with materials discovered on a trip to Europe with her ex-husband Billy Joel.
'I was in Rome with Billy. It was back when I was married to him. And whatever city we'd be in for his tours or my jobs, we'd always hit the antique stores. We were always looking for interesting items, she explains. 'And I spotted a pile of tiles with these beautiful pink flowers on them. And I thought maybe we can use them somewhere there. So we bought all the tiles, shipped them back and tried them everywhere. We didn't quite have enough to really be a floor. And I said, "You know what? Let's turn them into a table."'
See: Kitchen countertop ideas – worktop inspiration in marble, granite and composite materials
The table, which Christie says has a very 'European feel', has proven to be a versatile piece in her home. 'I move it outside in the summertime. And one year, I left it out there just a couple of days too long. And the cold weather came in and cracked some of the tiles, and I was just heart sick. I had a special restoration person help try to patch them back together, and I think he did a really good job. What I do in my home is whenever anything cracks or dings, or gets a nick, I just say it's patina. You pay extra for that at Ralph Lauren,' she jokes.
According to Christie, the kitchen, which features spacious countertop space and modern appliances, is always a work in progress. 'It's really a space that gets redesigned and reworked a lot. Because we're in there so much I like to keep it fresh. I'll switch out the tables, sometimes I'll switch out what flanks the table, and sometimes I'll really overstuff the kitchen.'
She adds: 'I have fun mixing it up and moving it around, and doing all of that stuff. The second I find one thing new, whether it's a little painting, it's a chain reaction with me. It's like, I'm going to hang this here. That means I have to move that there. That means I'm going to shuffle this over here. That means that ooh, that would look better with this chair, let's change the pillows.'
The mighty maple
One of the Broadway performer's most treasured elements of her kitchen actually lives on the other side of a stunning wall of windows. 'We call it our great kitchen tree. It's hundreds of years old – a giant old maple tree. I've strung it with lights, the kind of environmentally sensitive lights that are on a wire. It's so gorgeous at dusk, I can't even tell you. You have the sky lights, and then you have those lights go on. And the wind moves that tree around. It's all like magical – magical fairy lights all dancing on the wind, in the branches,' she gushes.
Christie isn't alone in her love of nature – family and guests marvel at how her views of lush greenery help the kitchen come to life. 'The branches reach right over to our kitchen door. In the summer, we throw those doors open and the tree branches come right to our kitchen door. And it kind of makes the room continue right out under those branches and straight out onto the patio there. Currently, we put sort of a little bonfire container right there. We can gather around the little fire on the terrace there as well.'
See more backyard ideas in our dedicated guide.
Family first
For the past two decades, the best-selling author tells us that her favorite memories spent in her kitchen all center around time spent cozying up by a roaring fire and connecting with her three children: Alexa Ray Joel, 35, Jack Paris Brinkley-Cook, 25 and Sailor Lee Brinkley-Cook, 22.
'During quarantine, I've had all three of my kids home and their significant others with me. We all still want to cram into the kitchen. We get that fireplace going and the television is also next to the fireplace, so we can all be by the fire and watch the TV. We cook, and eat, and do everything we want to do right there.'
With a full house, the Dancing with the Stars alum, who also is a mom to three dogs, says space in her kitchen is hard to come by these days. 'It's pretty funny. We've got the three dogs leaping around on the couches. We've got generally speaking, six or seven people here. Sometimes people have to go off back to the city to do a job or whatever, and then they'll filter back in. But for the most part, we've all been here. And so we're all crammed into that kitchen. We just don't want to leave it.'
Fireside chat
The coziest part of Christie's spacious kitchen is her beautifully appointed fireplace, which she helped modernize. While pregnant with her daughter Sailor, Christie collected seashells and stones and created a frieze around the edges of the historic piece.
'The fireplace is the heart that we gather around. It's the warm spot. It casts a glow to the kitchen. It gives the light, it warms the room, and gives it that glow. And then we can rely on the fairy lights in the tree to give us the sparkle from that side,' she says. 'We always have lots and lots of candles around as well. The lighting in there in the evenings is really quite magical.'
Christie explains that splashed across the bottom of her fireplace, you'll find text that reads 'Tower Hill' – a historical reference to the original homeowners. The home, which dates back hundreds of years, was built and owned by the Gardiner family. The name Tower Hill is a nod to the top of the star's home, which boasts a tower, like a castle turret.
'From the tower, you can see all over Long Island. You can see out to Montauk, across to Connecticut. It's really a great view. The oceans to the south and the bay to our north, and it's all visible from there. It's an old house. It's very beautiful.'
When the National Lampoon's Vacation actress enjoys alone time in her kitchen, she's far from bored. 'Next to the fireplace, there's some bookshelves filled with books that I can grab. if everybody's all out and about, I'll grab one of the gardening books. I have all kinds of gardening books because I'm constantly trying to learn how to really be a good gardener.'
See: Christie Brinkley's dining room shows her love of Bridgerton-inspired Regencycore
Shine bright
As a professional model and actress, Christie knows a thing or two about good lighting. The star's kitchen is outfitted with several beautiful chandeliers that she spent years procuring. Of the quirky fixtures, the entertainer told H&G: 'They're all slightly different, but they fit into a theme. I have two chandeliers over the kitchen counter and one in the dining room, which is all purple grapes, but the ones in the kitchen are colorful grapes.'
Christie, who lives close to the sea, went on to say: 'I have a thing for old clipper ships. And I have a couple. I've managed to find two old chandeliers that have that vibe of the old ship. And I don't know, there's just something so... You just think of the old seafaring days and all the adventures out at sea, and all the stories that you read as a child and stuff. And those kinds of ships just bring me back to all of that.'
See: Kitchen lighting ideas – to set the scene for cooking, eating and entertaining
Fresh florals
It's no secret that adding fresh flowers can add liveliness and interest to a kitchen. The Michigan native loves to play around with vibrant floral arrangements which adorn her kitchen's center island – making adjustments with each passing season.
'I collect different kinds of vases, and I have everything from like 1940s statuettes of women with hats that you can actually fill up the brim of their hat with flowers and decorate them, which are fun to either line straight down the table,' she explains. 'I have giant loving cups that are all filled to the brim with bigger branchy things and bigger blossoms. I have a lot of fun decorating the kitchen with floral bouquets.'
The happiest hour
Adding to Christie's already impressive credits, the entrepreneur has dipped her toes into the world of wines and spirits. The star's Bellissima collection of Prosecco and sparkling wines offers an array of organic, vegan, and zero sugar options. As a life-long vegan and a health-conscious person, Christie proudly notes her line is non GMO and avoids the use of harsh chemicals commonly sprayed on fruits and vegetables.
See: Nigella Lawson's kitchen is inspiring the return of this very retro kitchen feature
What's more, Christie likes to welcome dinner guests to her home with a glass of their favorite adult beverage. 'Prosecco really lends itself to entertaining. It's a very social drink. It's not going to wallop you and make you exhausted and send you to leave the party to go to bed early. It's one of the up kind of drinks. It makes you bubbly as well.'
Sign up to the Homes & Gardens newsletter
Decor Ideas. Project Inspiration. Expert Advice. Delivered to your inbox.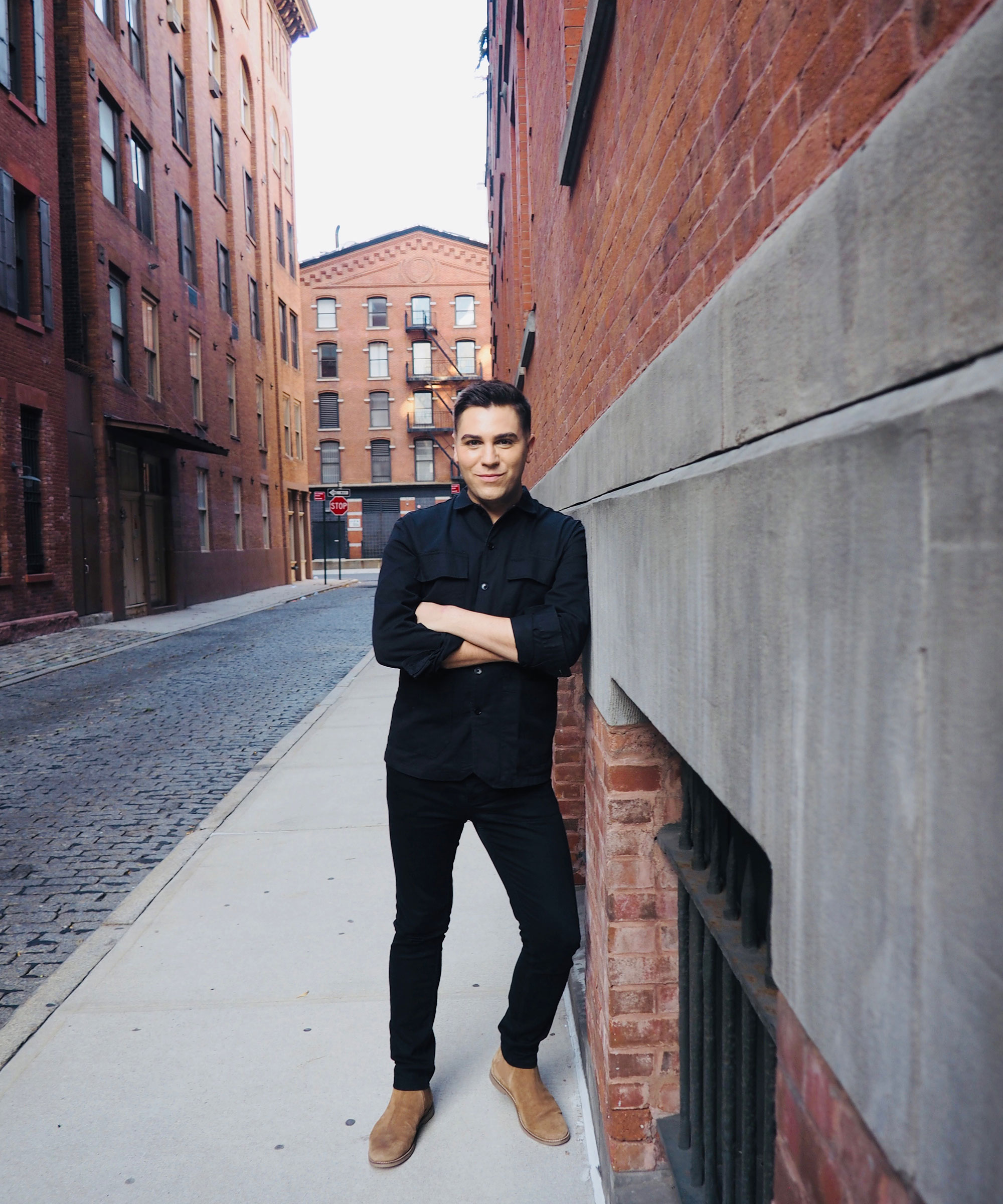 Marc Lupo is an entertainment writer, producer, and host. In addition to contributing celebrity content to Homes & Gardens, Marc serves as a weekly co-host for iHeart Radio's 'Naughty but Nice' podcast. Throughout his career, Marc has conducted hundreds of interviews with celebrities including Helen Mirren and Hugh Jackman. A native New Yorker, Marc has covered some of entertainment's biggest events, including The Grammys, Met Gala, MTV's Video Music Awards, VH1's Trail Blazer Honors and Variety's Women of Power luncheon.