The double pantry is 2021's next big thing – here's everything you need to know
Practical as well as pretty, double pantries are the new kitchen must-have (but, shhh! Don't tell the kitchen dresser...)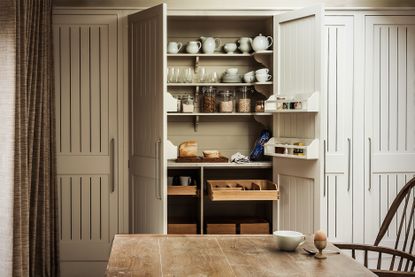 (Image credit: Plain English)
The double pantry is the ideal blend of both practicality and personality, creating flexible storage as well as statement visual impact in the kitchen. It's a room that should be as beautiful as it is functional, after all.
See: Pantry ideas – versatile storage that's equally suited to modern life
Tom Howley, Design Director of the eponymous kitchen design company, says: 'Smaller than a walk-in pantry, a double pantry is a great place to hide all the everyday chaos.'
Jamie Blake, Creative Director, Blakes London, agrees, saying: 'A double pantry has become a much-coveted staple for the middle-class kitchen. Open plan living has increased our desire to hide away appliances from the prime real estate that is the kitchen countertop.'
While George Miller, a designer at Neptune, says double pantries are set to steal the traditional kitchen dresser's crown.
5 double pantry design tips
We've asked three kitchen experts to share their top tips on double pantry design below.
1. Where to put your double pantry
'Effective storage is of course the primary function of the pantry, this comes down to not only the internal working of the cabinet but also where to incorporate it into a kitchen design,' says Tom Howley.
'Where possible it's always useful to keep the pantry adjacent to your fridge, meaning that your food storage is all zoned in one area and it also looks neat. With a bespoke kitchen designer, you will be able to design floor to ceiling units that give maximum storage as well as being able to tailor the internal components to your storage needs.'
2. Choose the right double pantry door style to suit your needs
If space is an issue, you may want to consider compact bi-fold doors for your double pantry.
Tom Howley says: 'Bi-folding cabinet doors offer a neater, more usable access to the contents of the cupboards without blocking other cabinets. The space inside is expansive, often with work surface space for smaller appliances such as your kettle and toaster. It's also a great place to store your cereals, crockery, tea, coffee and cookbooks.'
If you need extra storage shelves, however, a classic look may be a wiser choice.
'The way the doors interact with the rest of the cabinet can be a stand-out feature,' says Alex Beaugeard, Creative Director at Lanserring. 'Pocket or bi-fold doors, mean that you can easily access the whole double pantry and see everything at a single glance. On the other hand, traditional doors can contain shelves for extra storage.'
See: Pantry doors with glass – everything you need to know about the new trend transforming our kitchens
3. Continue the countertop into the double pantry for a multifunctional space
Like to keep your 'breakfast bar' hidden? A double pantry is the perfect place to hide the paraphernalia.
'Beyond acting as storage for your dry goods and groceries, a double pantry can also be a work station in its own right,' says Alex Beaugeard. 'We often conceal toasters, blenders and coffee machines making them the perfect breakfast cabinet. And we often clad these in marble to keep produce cool.'
Jamie Blake agrees it's the ideal place to pack away the condiments, adding: 'Cleanliness trumps clutter when your kitchen doubles up as a family living space. For this reason, the double pantry has become a popular place to hide away appliances that are used daily.
'By continuing the worktop through into the pantry you can maintain that practical wipe-clean element and place your must-have appliances such as the toaster and coffee machine on the countertop.'
4. Consider adding the right lighting
You don't have to install lighting into your double pantry, but experts highly recommend it. What type of lighting is the most suitable?
'Lighting is very important in a double pantry,'says Alex Beaugeard. 'We recommend LEDs for task lighting as they produce a bright light without heat, keeping the food within at the right temperature.'
5. Don't be afraid to get creative with double pantries
Whether it's using statement wallpaper as a backdrop to a complementary-colored double pantry, or painting the pantry itself an impactful hue – don't be scared to go bold.
'The visual benefits of a double pantry are that they can look elegant and read as freestanding, which can create a gentle, less formal language,' says Alex Beaugeard. 'They are also an unexpected place to have a bit of fun, with clients choosing contrasting internal colors, like the lining of a suit.'
George Miller, Home Designer at Neptune Fulham adds: 'Whilst a pantry is one of the most practical additions to the kitchen for keeping organised and clutter-free, it's also a statement piece that rivals the traditional kitchen dresser.
'We have seen double pantries become more and more popular, with freestanding units like our Suffolk double cabinet or the Ardingly that can be placed anywhere to add instant impact and flexible storage.'
Ruth Doherty is an experienced digital writer and editor specializing in interiors, travel and lifestyle. With 20 years of writing for national sites under her belt, she's worked for the likes of Livingetc.com, Standard, Ideal Home, Stylist and Marie Claire as well as Homes & Gardens.