A florist reveals how to keep flowers fresh in a vase – your fruit bowl could be to blame for wilting blooms
These expert tips will change the way you display flowers, especially in the kitchen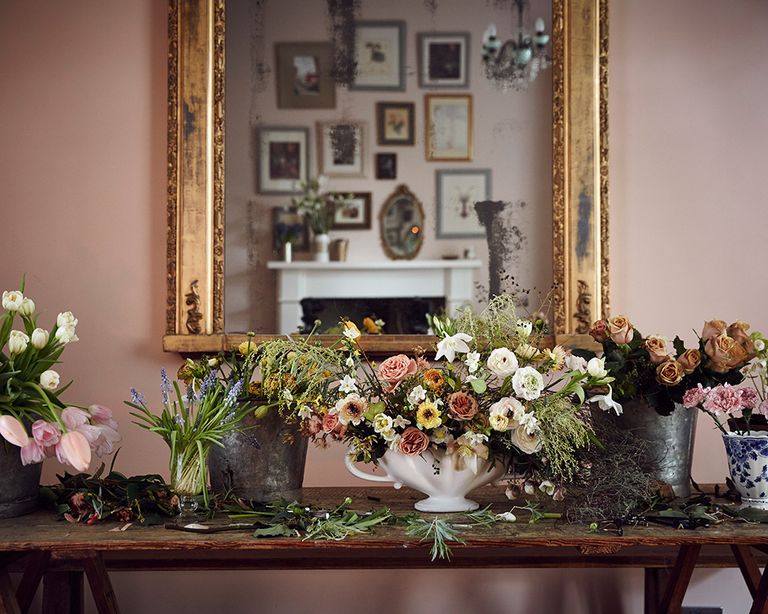 (Image credit: Alun Callender)
By Megan Slack published
Your fruit bowl could be limiting the lifespan of your flowers, florists Interflora has revealed.
It may sound unlikely, but the contents of your fruit bowl could be one of the reasons why your Valentine's bouquet has already wilted.
So, with Mother's Day approaching – and Easter, of course – we've taken a look at how to keep flowers fresh in a vase for longer.
See: Floral trends 2021 – chic new ways to bring the outside into your home
1. Keep flowers away from the fruit bowl
Your fruit favorites, including apples, bananas and tomatoes, all produce high levels of ethylene, a gas that interferes with the production of ethylene in flowers. In turn, this speeds up signs of ageing and shortens their life.
'Avoid keeping your flowers next to the fruit bowl,' revealed Bethany Day from Interflora, re-emphasizing the effects of ethylene on your plant, 'Fruits release gasses that make flowers fade fast. Strange but true!'
2. Give stems 'breathing space' in the vase
Interflora expanded further on the impact that display has on your flowers, as In-house Florist Vicky Wilson revealed how finding the right-shaped vase will also preserve your plant's life. 'If the vase is too narrow, the stems might get squished. Damaged stems equate to a short vase life,' Vicky revealed.
The florist continued: 'If the mouth of your vase is too wide, the arrangement will lose all shape. A pro-tip is to ensure that the stems fit nicely into the mouth of the vase'.
See: Dried flower arrangements - 6 gorgeous ways with dried flowers
3. Trim the flowers' stems
Flowers use capillary action to bring the vase water up to the blooms, and simply cutting the stems shorter will make it easier for them to collect the water.
And, if they've been sitting in a bucket at the florists for a while, it might be that their stems have become damaged at the bottom – cutting them off by a couple of inches will create a fresh opening for water to rise through. Cut the stems at an angle and under water then pop them straight into the vase of water for best results.
4. Remove the leaves
Leaves that sit in water rot, and this rot will cause bacteria to flourish, which will in turn damage the blooms over time. So, it's best to snip off leaves that will sit below the water line before you put them in the vase.
5. Make the water flower-friendly
The first thing to check is that your vase is clean – washing it out with warm water and dish soap before you fill it will again minimize bacteria. Ideally, fill the vase with filtered water that's lukewarm, let the water sit a while as you cut the flower stems, then, when you're sure all the bubbles caused by the tap running have risen to the top and disappeared, you can put the flowers into the water. This will help with water absorption – and keep your flowers fresh for longer.
And, if you really want to keep flowers fresh in a vase for as long as possible, you need to change the water every day.
Caring for an orchid? While the care of each flower depends on its individual species, Vicky concluded by offering a specific tip that will expand the lifespan of your orchids. 'Ice cubes straight from a small or medium-sized ice cube tray are a great way to water orchids,' she shared.
Why use ice cubes? Well, using ice cubes will improve absorption, prevent root rot and avoid overwatering.'
6. Feed your flowers
Flower food, often supplied taped to the stems, isn't just about nourishing your flowers – it also contains antimicrobial ingredients that will inhibit the growth of bacteria to keep the water clean, and citric acid, which helps make the water acidic, which in turn keeps the flowers healthy.
7. Keep the flowers in a cool place
A sunny windowsill or hot living room may be where you really want to show off your flowers, but it will make them decay faster. Ideally, keeping them somewhere cool will make flowers live longer – and if you're out all day, popping them outside in a sheltered cool (not freezing) spot, will extend their life further.
Megan is a News Writer across Future Plc's Homes titles. She has a background in national newspapers in the UK and has experience in fashion and travel journalism, which she previously practised whilst living in Paris and New York City. Her adoration for these fashion capitals means she particularly enjoys writing about upcoming styles and trends for Homes & Gardens. Megan also loves discovering vintage pieces in her spare time, meaning her decor is largely influenced by the beauty of the jazz age.