Marie Kondo's top 5 home office tidying tips – conquer paperwork forever
The tidying up guru Marie Kondo has a ruthless system – but is forgiving of a little clutter when it looks good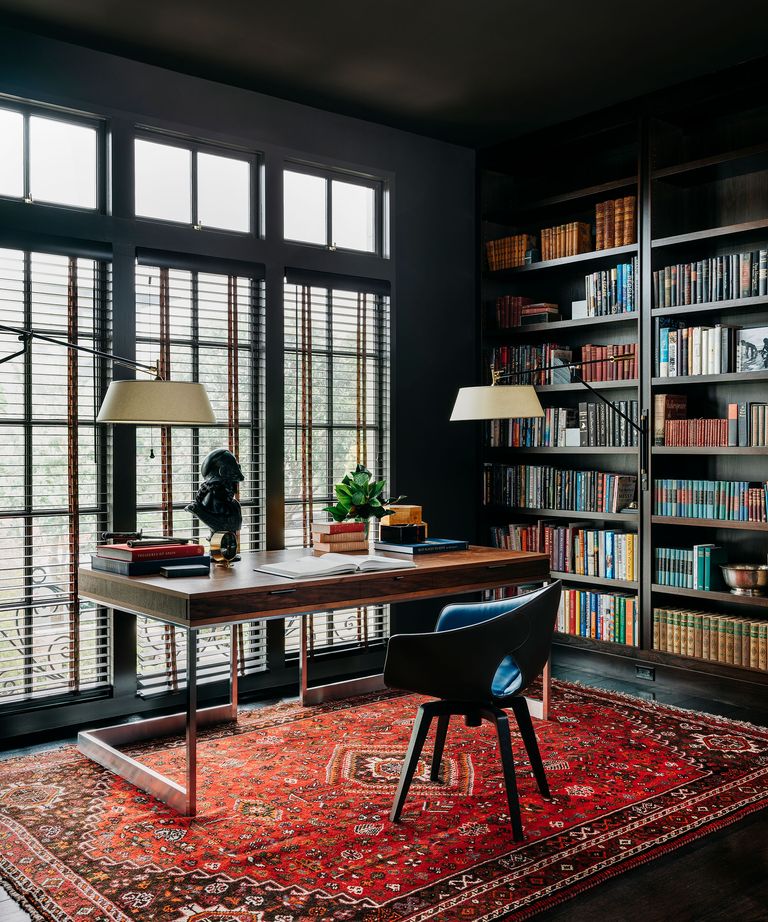 (Image credit: Christopher Stark)
By Lucy Searle
Marie Kondo has been on our minds while we've been working from our home offices lately – it's probably all the talk of her collaboration with Container Store these past few days.
More likely, though, it is largely due to the unmanageable state of our home offices. With all of us who are able to working from home, many of us in lockdown and a huge number of us looking for creative ways to focus our energies, we have been wondering how to juggle all this clutter-building productivity and keep our home offices the neat, restful havens we need them to be right now. 
And it's here we turn to Ms Kondo and her KonMari method – which has really come into its own in saving our sanity – for neat home office ideas, particularly around organization and storage. 
So, we are taking note of her tips on week 4 of her 8 Week Tidy Challenge, which cover everything from taxes (ugh) to creating a 'pending' tray. 
1. Gather your papers and divide by three
Marie Kondo's top tidying tips include keeping her paperwork in check with a strict three sub-category system – and we've totally bought into it. They are: currently in use; needed for a limited period of time; and keep indefinitely.
She suggests you start by gathering all your paperwork together and sorting it by these categories before moving on. Everything else can be discarded.
2. Tidy odd pieces of paperwork in one hit
Marie Kondo calls these misfits and says, 'we're looking at you, extra-long CVS receipts!'. She suggests sorting all those odd printed materials that come through the letterbox, end up in our purses and wallets or just find their way home – from coupons to business cards to junk mail. 
Again, sort them into three piles, but expect to say 'sayonara' to the majority.
3. Organize important paperwork together
Marie Kondo calls these 'VIPs' (Very Important Papers). She's talking tax returns, financial records and legal documents. Using the rule of three above, sort these carefully. Marie acknowledges that the majority will need to be kept in neatly labelled files – but those you're throwing out must be shredded.
4. Let go or keep?
Warranties and course materials, says Marie Kondo, can be let go if they're no longer useful. As for greeting cards, which we all struggle to part with, Marie's advice is to 'discard those that are more than two years old, except those that spark joy'. 
5. Make a 'pending' box – with a difference
This, says Marie Kondo 'is essential for keeping your papers tidy', and it's what you might once have had in your work office and called an 'in-tray' or 'pending tray' before everything went online. 
The purpose of the pending box is that it's only filled with paperwork that requires action – whether bills that need paying or forms that need filling to go back to school with your kids, for example.  
The difference between Marie's pending box and an old fashioned in-tray? She suggests stacking paperwork the KonMari way – in other words, on its end so that nothing ever gets pushed to the bottom of the pile and forgotten.
Our advice is to categorize them as you file them, too, so that you can have a 'bill paying afternoon, a school form hour... and so on.
Marie Kondo's home office organizing idea
However, tidying everything away is not always the best option for making a house feel like a home – and Marie Kondo seems to agree – to the confusion of some of her Instagram followers.
A case in point: a recent post from Marie Kondo about home office wall organization that sparks joy but, more importantly, creativity, too. The post, below, highlights how not everything has to be perfect to be, well, perfect. She demonstrates, in fact, that just a little carefully curated clutter can actually be a joyful display that begets creativity in itself. 
This wall grid with pretty watercolors by @yeeleng_t is a happy mix of practicality and display, clutter and clear space. So whether you're using your home office – or the corner of any room – to work from home or tackle more creative projects, such as writing, crafting, drawing or painting, this is a wonderful example of what you can do. 
'Are you the type who can tap into your creativity more easily once you've tided up, or the type who is more creative in the midst of clutter? No matter which you are, the tidying process will help you discover the kind of joyful workspace that makes your creativity bloom,' says Marie Kondo below her post of this picture.
This left many of her followers wondering if the workspace above was a 'before' or 'after' shot – with some deciding it was 'before' Marie had reorganized it. If you ask us, it's perfect as it is – and that's what we took Ms Kondo to mean, too.
My first job was writing a DIY column for a magazine for the over 50s (which seemed a long way off back then). I then moved to a DIY magazine as deputy ed, then freelanced my way around the homes departments of most women's magazines on the market before working on Your Home and Family Circle magazines as homes editor. From there, I went to Ideal Home magazine as associate editor, then launched 4Homes magazine for Channel 4, then the Channel 4 4Homes website before going back to freelancing and running a social media business (you can see where I had kids from the freelancing gaps!). I was tempted back to the world of big business by the chance to work with the great team at Realhomes.com, where I was Global Editor-in-Chief for two and a half years, taking it from a small website to a global entity. I've now handed the reins of the website to our American managing editor, while I take on a new challenge as Editor-in-Chief of Homes & Gardens.