Nate Berkus and Jeremiah Brent share their tips to easily elevate your home office
The secrets to designing a functional, yet aesthetically pleasing home office? Nate Berkus and Jeremiah Brent reveal them exclusively to H&G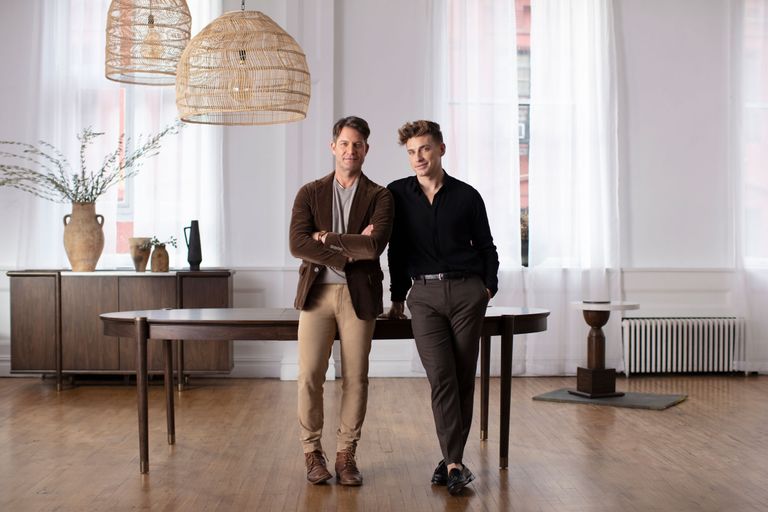 (Image credit: Nate Berkus + Jeremiah Brent)
Have you taken a second look at your work-from-home space recently? You're not alone. Celebrity interior designers Nate Berkus and Jeremiah Brent sat down with Homes & Gardens to share their surprisingly simple tips and tricks to instantly elevate any home office space.
The Nate & Jeremiah By Design stars, who have spent the last year working remotely due to restrictions brought on by the pandemic, know a thing or two about designing a home office. 
The pair, who are helping clients reinvent their own spaces through their newly launched spring collaboration with Living Spaces, understand the importance of working in a serene and inviting environment, 'I definitely gravitate towards a much more monastic kind of clean design,' Jeremiah explains to H&G. 'Nate is much more rooted in history. He's definitely drawn more to traditional lines. When we sit down to design a collection, we're trying to find a way to articulate our vision in a way that not only feels unified, but also fresh and new, that's really what I think you're getting with the collection.'
Below, Nate and Jeremiah share their home office design tips. For more home office ideas, don't miss our inspiring gallery of rooms.
1. Rethink your space
The 49-year-old former talk show host suggests looking at your office through a fresh lens. 'We know so many people are trying to carve out a niche or carve out a space that they can leave their work things set up overnight – so that they're not packing their things away, and so the room doesn't look terrible,' says Nate. 'A console could easily go against a wall with a dining chair at it, or a desk chair. Add a pair of lamps or a single lamp and you're set up for your computer workstation.'
2. Purchase versatile furniture
The Jeremiah Brent Design founder, who says the couple retrofitted a cabinet in their home to accommodate a workspace, finds value in under-utilized or overlooked nooks and crannies of a home. 
'I'm all about the versatility of pieces that allow you to work, and then close work off. If there's a way that you can travel to your work station – even putting that workstation in a different part of the house or in a corner of an area that you don't particularly use —it goes a long way,' he explains. 'The ceremony of checking in and then also checking out goes a really long way in creating a balance, he said. 'I like the idea that once you're done with working, the piece and area takes on an entirely different energy.'
See: 7 ingenious hidden desks – small home office ideas meet clever, creative thinking
3. Accessorize with intention
'I think decorative objects tend to have a little bit more power when they're grouped in multiples,' the Things that Matter author says of accessorizing your workspace.
'So one box is lovely to have, but a collection of four of them on a side table under the lamp tells a story that shows that you are interested in that. Think about groupings of pottery, whether that's terracotta or chalky white ceramic, or minerals like geo, pyrite, and crystals. And there's always these sub categories within each category of object.'
4. Showcase your personality
Nate says that simple design swaps can add a lot of life to an otherwise-dull work space. 'Do you like orange? Do you like tortoise, do you like Murano glass? Start looking for decorative objects that you can mix in with your books on your bookshelves. Look for vintage picture frames, vintage lamps and replace shades with printed ones from Etsy.'
See: 7 must-know home office design tips – from the world's top designers
5. Think outside the box
Jeremiah suggests utilizing framed art and simple accessories to conceal unsightly electronics while adding interest to the room. 'Leaning a piece of art in front of the computer when I'm not using it goes a long way in creating a separation from work, and also putting a candlestick in front of [the art] or on the same corner. I think if you put everything away, along with finding interesting ways to conceal them, it helps with checking out.'
See: Nate Berkus and Jeremiah Brent reveal their secrets to designing a cozy bedroom sanctuary
6. Take your time
Rome wasn't built in a day – Nate would say the same about creating a home office aesthetic. 'I think it's really about spending some time not buying everything you see, but really doing a good job in editing and giving yourself some direction. Maybe you start with just one category and start looking for them, keeping your eyes open when you're out shopping or when you're online shopping.'