Ooni Volt 12: domestic pizza comes in from the cold
The Ooni Volt 12 proves why Ooni's #1 in the pizza game, fixing one of their biggest problems.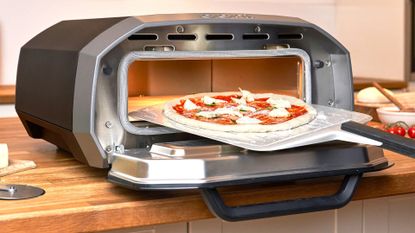 (Image credit: Ooni)
Sign up to the Homes & Gardens newsletter
Decor Ideas. Project Inspiration. Expert Advice. Delivered to your inbox.
Thank you for signing up to Homes & Gardens. You will receive a verification email shortly.
There was a problem. Please refresh the page and try again.
While we adore a good pizza oven, they suffer from a simple problem that's easy to overlook. Most domestic pizza ovens need to be used outdoors. If you live somewhere warm and sunny, that's not a problem. If you've stuck out the wintry weather of the past few weeks, you might think differently. For a lot of the world, pizza ovens present a big investment that can't be used for a decent chunk of the year.
Though we love Ooni - believe me, there's a reason they take up both #1 and #2 spots in our guide to the best pizza ovens - there's been one big problem with their ovens: all of them need to be used outdoors. Until recently, there's only been one indoor pizza oven worth buying. Breville got a head-start on the competition with their Smart Oven Pizzaiolo, currently sitting pretty at #3 in our rankings.
Enter the Ooni Volt 12, Ooni's first combination indoor/outdoor pizza oven. Kristian Tapaninaho, Ooni's founder and Co-CEO, says that 'this oven embodies a decade of pizza oven product development, and delivers a superior pizza-making experience.' In this preview, I'll investigate this claim, giving you a first look at the Ooni Volt 12 and whether or not it stacks up to the competition.
As our Head of eCommerce, Alex spends his days finding, testing, and reviewing the very latest homes and gardens products. With plenty of experience testing kitchen appliances and garden equipment, he's tested a lot of pizza ovens over the years. His personal favorite? The Ooni Fyra 12, after it made a perfected wood-fired pizza that hit the spot after a long hike.
What's new?
The obvious innovation of the Ooni Volt 12 is that it uses a new fuel source. Where other Ooni products need wood fuel or gas, which can be fiddly to set up, the Volt 12 just plugs into a power socket. It's that simple, and it could be game changing. Other than getting the hang of launching pizzas onto the stone, the biggest critique of pizza ovens is that you have to practice the knack of lighting wood pellets or hooking up the gas. Plugging straight into mains takes seconds, and in the long run saves you the cost and bother of buying gas or pellets.
This new fuel source therefore means that you don't need any outside space to use the Ooni Volt 12. That's a big deal if you live in an apartment block or a small home without a garden or front porch. Ooni Co-Founder and Co-CEO, Darina Garland says the Volt is a way to 'offer the Ooni experience to a new group of fellow pizza-lovers'. Ooni's products have previously been limited to backyards, which means they've largely kept to the suburbs. An indoor oven means you can make high-quality pizza right in the middle of a city.
However, this also means a new price point. Deep breath: the Volt costs $999.99. To be fair, this is the same as Breville's Smart Oven Pizzaiolo, and an indoor pizza oven was never going to be cheap, but it's a little eye watering. When you compare it to our Ooni Karu 16 (see our review), our current favorite, it's $200 more expensive, and a whopping $650 more expensive than the Ooni Fyra 12 (see our review), our runner-up.
The Ooni Volt 12 full specs are below:
Dimensions: 24.2" x " x 20.8" x 10.9" (61.7cm x 52.9cm x 27.9cm)
Weight: 39.2lbs (17.8kg)
Cooking surface area: 13.27" x 13.27" (33.7cm x 33.7cm)
Cooking surface: 0.4" thick (10mm) cordierite baking stone
Materials: Oven body made of powder-coated carbon steel and stainless steel
Max temperature: 850°F/450°C
Heating time: 20 minutes
How does it compare?
Fuel type: electric
Dimensions: 24.2" x " x 20.8" x 10.9"
Weight: 39.2lbs
Oven temperature: Up to 850°F (450˚C)
Pizza size: 12 inch pizzas
Pizza cooking time: TBD
Use: indoor and outdoor
Modes: 1, boost
For
Indoor cooking
Simple fuel source
Breville Smart Oven Pizzaiolo
Fuel type: electric
Dimensions: 18.1" x 18.5" x 10.6"
Weight: 45.6 pounds
Oven temperature: Up to 750°F (400˚C)
Pizza size: 12 inch pizzas
Pizza cooking time: as little as 60 seconds
Use: indoor
Modes: 7
For
Fully adjustable
Easy to store
Use it indoors or outdoors
Not hot to touch
Temperatures you'll struggle to achieve in a wood-fired oven
Against
Very expensive
Lacks the charm of a traditional oven
You can see above that there's not much separating the two. Both are electric, both cook 12-inch pizzas. However, it it looks like the Volt 12 might just edge it. It's slightly lighter to carry around, and it reaches 100°F hotter than the Breville, which should mean faster cooker times.
However, a big factor in Breville's corner is the number of settings. The Smart Oven Pizzaiolo has 7 dedicated settings to make it easy to use. It can sit at 350°F or 750°F, and has settings for frozen, pan, New York, thin and crispy, and wood-fired pizzas. You can also set the lightness and darkness of the leopard-spotting on your pizza, which is control that the Volt 12 may not offer.
The Volt 12 has just one extra setting - boost. This isn't a pizza setting, but could be an important innovation. It means that you can boost the heat in the oven after you open the door. A minor hitch with most pizza ovens is that you lose a lot of heat when you open the oven, which takes a while to come back. This boost function should get that heat back in under a minute.
The biggest difference, however, is that Ooni's oven can be used outdoors, and Breville's can't. If you've got a back garden, you don't want to be ferrying pizzas from the kitchen to the garden every time you want to eat. The Volt 12 offers the best of both worlds — pizzas outside in summer and inside in winter when the weather turns. It's an advantage over every other oven on the market.
Expert opinions
I'm a huge fan of Ooni ovens, and have enjoyed testing and using the Ooni Fyra over the last two years,' says Beth Murton, Head of Gardens at Homes & Gardens. 'However, there have been times when as much as we've wanted to cook in the pizza oven, the weather just hasn't been on our side. Cooking in the rain and cold just doesn't have the same appeal, no matter how much you want that pizza! So having the option of a pizza oven that can be used both indoors and out is a winner in my book, especially if you live in a climate that isn't blessed with year-round good weather. As the new Ooni Volt is electric, I wonder if it will deliver the same amazingly authentic pizza taste as the wood-fired Fyra, but Homes & Gardens will be putting it to the test soon to see if it's up to the job.'
For the past 20 years, Beth has worked for and contributed to a number of leading magazines and websites in the UK, including Real Homes, Ideal Home, Period Living and Grand Designs. She was the Editor in Chief of Gardeningetc.com for nearly three years and is now the the Head of Gardens at Homes & Gardens. Beth's own garden is a really important part of her family's home, and she loves spending time tending to her veg patch or entertaining friends and family at a summer BBQ or alfresco pizza night.
My first slight quibble with the specs is Ooni's claim that it 'weighs just 18kg' so you can 'easily move around the home'. 18kg is about 40lbs; gym goers will know that that weighs a little under a plate, and bakers will know that that's a little heavier than a stand mixer. While it's hardly a ton, I wouldn't call it lightweight. If you have mobility issues like arthritis, this could be tricky to take in and out of storage, or move from your kitchen to your deck or patio.
While we're on the topic, I also predict storage might be an issue with the Volt 12. It measures 24.2" x " x 20.8" x 10.9", which is a pretty large footprint for a kitchen appliance. I measured it up against my kitchen, and if I wanted it out on the countertop year-round it would mean sacrificing my kettle and multi-cooker. If you drink as much instant coffee as I do, that's a no-go. What's more, it would only barely fit in a single one of my kitchen drawers, and only if I moved all of my pots and pans out of the way first.
However, while I didn't test it for H&G, I've tested Breville's Smart Oven Pizzaiolo for another publication, and all those potential criticisms of the Volt 12 are also true for the Pizzaiolo, so they're flaws of indoor ovens in general, not the Volt specifically. If it's anything like Ooni's other ovens, it will be a formidable appliance.
Verdict
To wrap up, I need to reiterate that this is just a preview - our full review of the Volt 12 is coming ASAP. With that said, it looks like a very good pizza oven. I'm not sure that it'll take top spot, but it could knock Breville out of #3. That would mean Ooni take the entire podium of our best pizza ovens, which is very rare indeed. Until we've reviewed it, I wouldn't advise buying it, but if you can't wait, it's a gamble that could pay off.
You can buy the Ooni Volt 12 at Ooni.
Sign up to the Homes & Gardens newsletter
Decor Ideas. Project Inspiration. Expert Advice. Delivered to your inbox.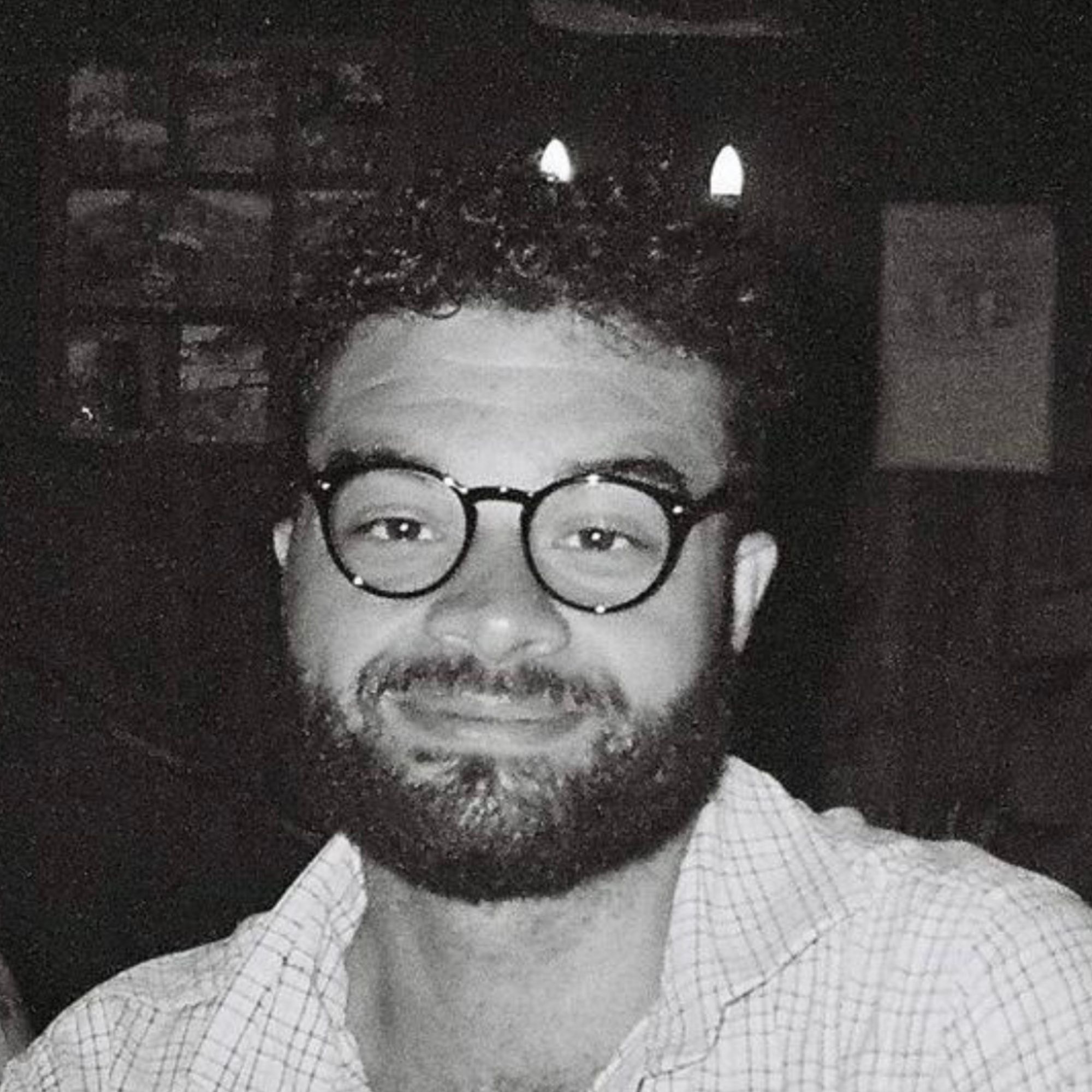 As Head of eCommerce, Alex makes sure our readers find the right information to help them make the best purchase. After graduating from Cambridge University, Alex got his start in reviewing at the iconic Good Housekeeping Institute, testing a wide range of household products and appliances. He then moved to BBC Gardeners' World Magazine, assessing gardening tools, machinery, and wildlife products. Helping people find true quality and genuine value is a real passion.