The top 3 powder room colors that will add value to your home – and those to avoid
The right powder room color may seem like a small detail but it can be mighty when it comes to selling your home. Paint yours the right color to add value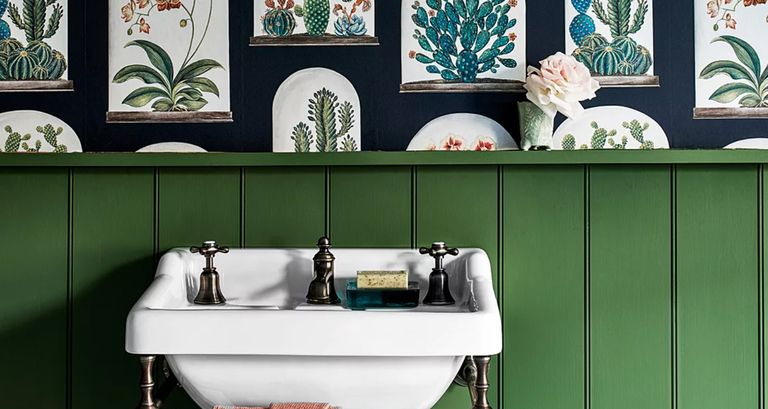 (Image credit: Future)
Powders rooms may be small, but they add value to your home if they look beautiful. It's well worth thinking about powder room ideas if you're updating your home before selling, because real estate agents all agree: choosing powder room colors well works magic on potential buyers. 
What these colors are will probably not surprise you – rather, it will confirm what you instinctively would choose when painting a powder room. 
Blue rules for powder rooms
Blue is really having a moment in our homes this year, and it's an especially attractive color for powder rooms.  Chuck Vander Stelt, real estate agent and founder of the real estate website Quadwalls says: 'Light blue is always a winner for kitchens and powder rooms. Light blue is subtle, crisp, and clean. Also important is the versatility of blue. Blue easily matches with many other colors commonly found in powder rooms.'
So, think a light blue combined with chic copper fixtures, for example, for an elegant and classic look. Charles McMillan, a businessman and founder of Stand With Main Street, confirms that a soft blue is preferred by buyers because it is both eye-catching and comforting: 'In a tiny bathroom, a soft and airy blue provides a sense of tranquility to any area and produces a pleasant, spa-like feeling.'
Eric Nerhood of Southern California's Premier Property Buyers helps with the numbers: $5,400 is the extra price buyers will be prepared for a beautiful blue or periwinkle powder room. 
The color key is in the name
If you've seen a little too much blue and want to try a different color, stick with subtle, powdery shades for powder rooms – as the name siggests. 
David Shell, Founder and CEO of a home design and construction publication TradesmenCosts, recommends gray and pink for powder rooms. 
'Gray is a great choice because it pairs up with almost every other shade and is easy to clean. Make sure to use contrasting shade/s on your floor and ceiling.' Pink has more of a dramatic impact, he says, and 'will make anyone feel prettier than ever.' 
Marjorie Tornatore, a licensed real estate salesperson for Douglas Elliman, is also betting on gray as a great value-adding choice for powder rooms, especially warm dove gray shades that will 'make spaces appear larger and brighter.' 
Bored of pastels? Try a jewel tone
If pastels just aren't your thing, however, there are some bright colors that will work for powder rooms – and won't put off potential buyers. The best color to try, according to Chuck Vander Stelt, is a deep, jewel-toned green: 'There is just something classic about a deep heavy green in a smaller bathroom which makes it work.'  
What is a good color for a small powder room?
A soft light blue is, in our opinion, the best color for a small powder room. As we said above, it is the color most likely to add to your home's value, it reflects light, looks clean, promotes a spa-like feel and enhances space. 
The colors to avoid in a powder room
Although powder rooms are safer for experimentation than other rooms due to their small size, there are a few colors that won't do you home value any favors. Eric Nerhood recommends avoiding a plain off-white powder room – it can decrease the value of your home by approximately $4,000.
See: Bathroom color ideas – for a scheme that is bright and beautiful
The other extreme – overly dark and dramatic colors – is also to be avoided if you are trying to sell your home, according to Vander Stelt: 'avoid yellow, red, purple, and browns in powder rooms. These colors in these areas are not as appealing to homebuyers. A homebuyer who right away thinks he or she will be doing work to the home will offer the seller less for the home.' 
Marjorie Tornatore also urges homeowners to avoid on-trend colors 'such as orange, because they tend to go out of style and lose value over a short period of time.'
So, keep a powder room soft and light, but don't settle for white.