Revealed: the secret to growing big vegetables
Big Veg author and Twitter-famous gardener Gerald Stratford reveals how he has such success with growing big vegetables and fruit. He also has advice for those just starting out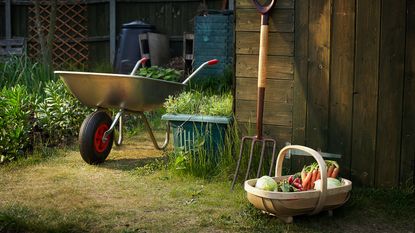 (Image credit: Getty)
Many of us discovered the joy of growing our own vegetables over the past year. One person with plenty of knowledge on the topic is Twitter-famous gardener Gerald Stratford.
Gerald and his wife Elizabeth are almost self-sufficient with their home-grown vegetables. The gardening lover spends time tending his veg every day, and says that giant veg really is a bonus.
'It's an off-shoot, growing big veg, to just being a gardener,' he says. 'A little extra thing at the end. Some people take it to extremes, I don't do that.'
However, Gerald is famous for his success in growing huge vegetables. So we asked the retired fisherman, known as the 'Veg King' about how to grow big veg.
He also shared his best advice for those of us growing veg for the first time – handy if you're looking for ways to give your vegetable garden ideas a boost.
The secret to growing big vegetables
So, what's the secret to growing big vegetables, whether huge carrots, celery and rhubarb? It's not as dramatic as you might think
'You've got to start with the right seed,' Gerald says. 'Any seed won't grow big.' He explains that large veg is a different gene from the standard-sized seeds.
Look up the larger varieties of the vegetable you're growing if you're thinking of branching into big veg. For example, if you'd like to try growing large carrots, Imperator 58, Carrot Seeds (opens in new tab) can grow to around 9 inches.
If you're planning a kitchen garden, growing vegetables for the first time, or even looking for fun vegetable container garden ideas, Gerald says that gardening success comes down to enthusiasm.
'Try not to do anything you don't really want to do. That's something you do in another life,' he says. 'Enthusiasm breeds confidence. Try not to plant something complicated – pick something simple, like radish.'
Back in May 2020, Gerald shared a handful of photos of himself and his harvest of potatoes on Twitter, taken from his sunny Cotswolds garden. The post soon racked up thousands of likes, while earning him a legion of loyal fans.
'I put them on Twitter, early afternoon with the caption, "My first early rocket," Gerald recalls. 'Well, please! My phone starting bleeping and buzzing and bouncing around, and I thought, "What's going on?" I didn't really understand it.'
My first early rocket very pleased pic.twitter.com/TbWHZAnkNwMay 17, 2020
See more
Today, he posts regular videos on his Twitter (opens in new tab) sharing his gardening advice, and spends hours a day replying to questions from his 300,000 followers. He also has a book, Big Veg (opens in new tab) coming out on September 2nd, to help people learn and enjoy growing their own.
'I want to make it an encouraging book, a book people can carry around with them for reference. That's what I'd like to think might happen.'
Millie Hurst is Section Editor at Homes & Gardens, overseeing the Solved section, which provides readers with practical advice for their homes. She has been in the world of digital journalism for six years, having previously worked as Senior SEO Editor at News UK both in London and New York. She joined the Future team two years ago, working across a range of homes brands. Millie formerly worked as Senior Content Editor at Ideal Home, taking care of evergreen articles that help and inspire people to make the most of their homes and outdoor spaces. Millie has a degree in French and Italian and lives in North London.