Skirted chair trend – the decorating look that designers are falling back in love with
From frilly finishes, scalloped edges and neat pleats – it's all about the skirted chair trend for 2022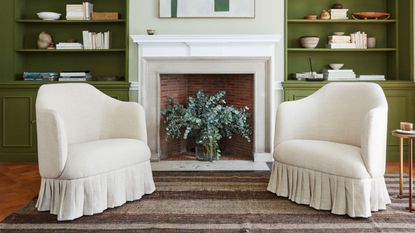 (Image credit: Love Your Home )
With a light ruffle here and a neat pleat there, the skirted chair trend with frilly edges have been popping up more and more. Throughout history, designers have often opted for this more decorative look, one that allows for whimsy layering within an interior.
Although it's not the first time round for this trend, the skirted chair somehow feels surprisingly contemporary and somewhat cutting-edge. There was a time that a chair skirt would have been frowned upon, yet now, one may feel ashamed if a chair leg is on show.
This decorative look has transformed the latest approaches to interior design, as many consumer tastes adopting this more traditional aesthetic. We've gathered our favourite designs and asked the experts for to their interior design tips on how to live with these coveted seats.
Skirted chair trend – the must-have piece of furniture for 2022
The experts give us some ideas as to why the skirted chair is a continuing interior design trend.
1. Opt for a loose cover for style and practicality
It's worth mentioning that aside from the frills and spills that a skirted chair can offer, opting for this style can be a practical choice, too. Often, this relaxed style of chair has a loose cover, meaning it is easy to clean and simple to update, should you tire of the fabric design.
As someone who knows a thing or two about decorative details, Lulu Lytle, Co-Founder and Director of Soane Britain, advises: 'They are not only practical but can instantly transform a piece of furniture, whether permanently or temporarily, with a seasonal change of fabric. I particularly like the loose covers associated with atmospheric country houses: great squashy sofas and armchairs piled invitingly with cushions and perfect for a doze by the fire or curling up with a child – or dog'
The rather charming Panther chair, $8384.39/£6,300, shown with loose cover in Trianon Stripe, Soane Britain, is a wonderful example of how elegant a skirted chair can be. The Panther is offered with a tailored loose cover to fit the tight upholstery but can be easily removed when required.
The skirted chair is by no means a new trend, as Lulu explains: 'These versatile covers have been made since Medieval times; initially, they were approximately sized, simple muslin or lightweight canvas covers used in grand European homes to protect furniture – or other items of value – from damage caused by dust, sunlight fading, insects, etc. They were a practical solution for an infrequently used guest room, uninhabited wing or out of season summer or winter palace. By the eighteenth century they had evolved into more tailored covers, often left on furniture that was in use.'
2. Choose a playful shape for extra impact
This year, we saw British design duo, Campbell-Rey, launch its inaugural furniture range, available at The Invisible Collection. The debut collection is bold and vibrant, inspired by 20th century European design, mixed with Campbell-Rey's exuberantly joyful aesthetic.
The Fabrizia cocktail chair, from $6132.58/£4,608, Campbell-Rey at The Invisible Collection, has been upholstered in Dedar's Amoir Libre fabric that oozes sophistication. The shape has been given an ogee arched back, lending a sense of history and longevity to the design.
With a great shape, the styling options are endless, as Charlotte Rey, Co-Founder of Campbell-Rey explains: 'A skirted chair feels dressed up and formal like a couture ruffle, so it's nice to pair it with a more modern and sleek side table, or have two skirted chairs for balance and symmetry, so it doesn't feel like a gimmick and becomes too silly.'
Duncan Campbell, Co-Founder of Campbell-Rey, adds: 'What's not to love [about a skirted chair] – it's smart but playful, and adds a touch of opulence to any room. The Dedar silk moiré fabric we used worked really well for a skirt so we felt it was a given.'
3. Go for a classic fabric to stand the test of time
If you're someone who is cautious about trends, it's worth considering an upholstery fabric that feels classic or a design that won't date – like the staple stripe, for example.
Victoria Ceraudo, Co-founder of Ceraudo, reflects on her early considerations when adding a skirted chair to the brands collection. 'We've always been inspired by the likes of Colefax & Fowler and particularly their influence on interiors during the 80s and 90s. We wanted to reinterpret this country house style for our customer who could apply it to any space, even if a city flat.'
She adds: 'A skirt is an easy decorative detail to add to your furniture and just makes the space feel a bit more considered and put together. With maximalism very much in full swing, it's a simple, yet effective way to create that layered interior aesthetic. Skirts can be pleated, gathered or have an extra trim or piping detail. We particularly like a simple gathered skirt on an armchair or living room sofa in a natural fabric like a heavy-weight linen; this – combined with scatter cushions in different prints and fabrics - creates a lovely decorative and textured space.'
Earlier in the year, Ceraudo introduced the Giulia chair, shown in Citron Sonia Stripe, $1171.15/£880, she shares what's to come from the firm in 2022: 'We're introducing a valance into our next collection – a much more pared back version of a skirt.'
4. Introduce the trend to different rooms
It's easy to assume that a skirted chair is limited to a bedroom or living room corner, yet opting for a more tailored finish can work just as well in a dining space. Choosing an upholstered dining chair is a good way to bring style and comfort to your dining room, in equal measures. However, sometimes upholstered seating can look a little dated so it's worth considering your style options.
Interior Designers, Todd Nickey and Amy Kehoe, Co-Founders of Nickey Kehoe, feel the trend is a celebration of a nostalgic past: 'There is a warmth and comfort to the skirts – it feels like a different era – and while it's decorative, there is still an element that is casual and every day about it.'
The firm designed the Cove dining chair, $2,100/£1576.90, an elegant design with neat proportions and a simple scalloped edge. The Cove dining chair is a great example of how to welcome the skirted chair trend into your dining room with ease and style.
5. Think about the finish – tailored or laid back?
It is fair to say that when discussing the skirted chair trend, we are by no means suggesting this is a new decoration detail, as Interior Designer, Flora Soames, points out. 'I think a skirted chair never went away, but that nod to a looser, more whimsical look is certainly of-the-moment.' Flora is the designer behind the fantastically floral Maud slipper chair, shown in Dahlias parchment printed linen, $3060.97/£2,300.
The designer advises that it's worth considering the different skirt finishes available when shopping for a skirted chair: 'Either with a gathered or box pleat skirt, one has the option of going for a more tailored or looser look. It balances out straight lines and the sharper outline of an armchair or sofa with castors on show, for example. And creates generally a more relaxed overview.'
When asked about upcoming product launches and whether or not we can expect more skirts, she adds: 'We are expanding our line of designs with various mark chairs and sofas being introduced over the coming year. Style depending, the option of a skirt very much features. Where appropriate, it has become part of our DNA.'
6. Consider the overall proportions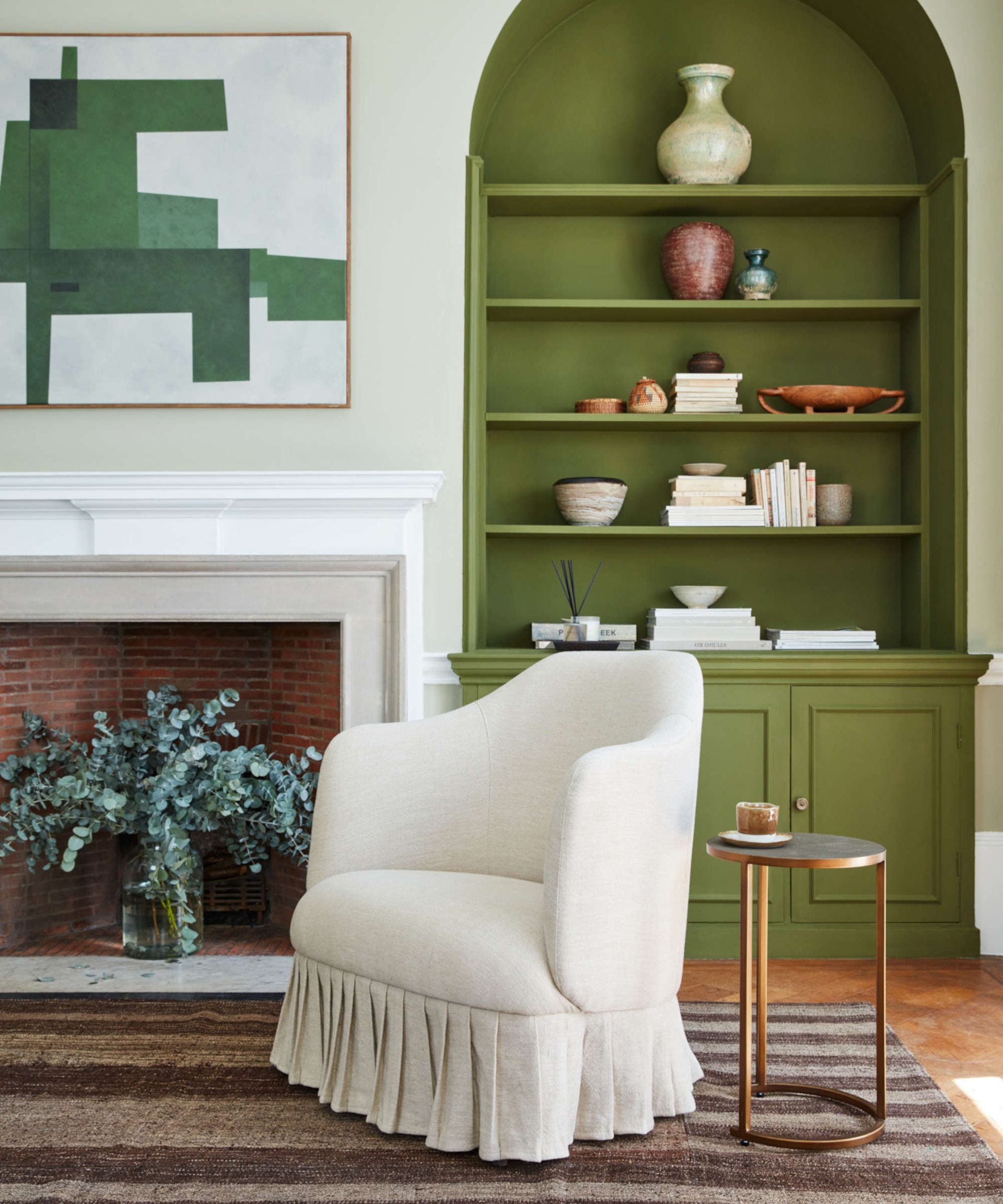 It's often thought that chair skirts are reserved for a slipper chairs, a way of adding detail to a dainty profile. So, when you come across an armchair with a skirt it's an exciting moment. Recently, Love Your Home has introduced the Mabel armchair, from $1325.53/£996, which succeeds in offering a chair with neat proportions and slim arms that can still hold its own within a living space.
The firm describes the Mabel as 'Incorporating traditional details with clean, modern design. Derived from the Latin amabilis, Mabel means lovable and dear, and we couldn't think of a more fitting name for this characterful chair.
Sign up to the Homes & Gardens newsletter
Decor Ideas. Project Inspiration. Expert Advice. Delivered to your inbox.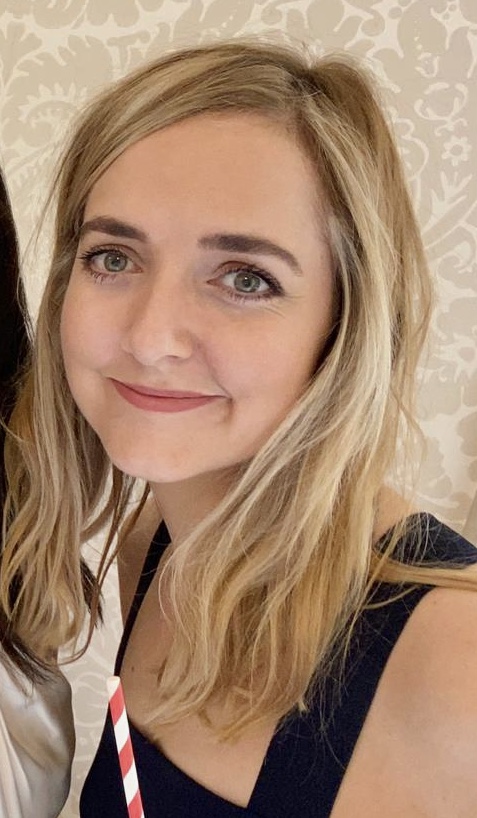 Jo Bailey has been Deputy Editor of Homes & Gardens since late 2021, overseeing all features for the print edition. Previously, she worked as the News & Shopping Editor across H&G and Livingetc - one of Future Plc's sister brands - this is where she learnt to discover the best news stories, latest trends and honed her understanding of Homes and Gardens' over 100-year-old brand.
Before joining Future Plc, she worked as an interior stylist for over ten years, specialising in commercial photo shoots for luxury clients such as; Design Centre Chelsea Harbour, The Romo Group, Christopher Farr Cloth and Heal's. She has worked closely with Homes & Gardens and Livingetc for over a decade, having styled and produced editorial shoots and events for both titles over the years.