The two-tone kitchen trend will transform your space – here are 5 ways to use it in your home
Dual-colored kitchens are a design-savvy choice for your next transformation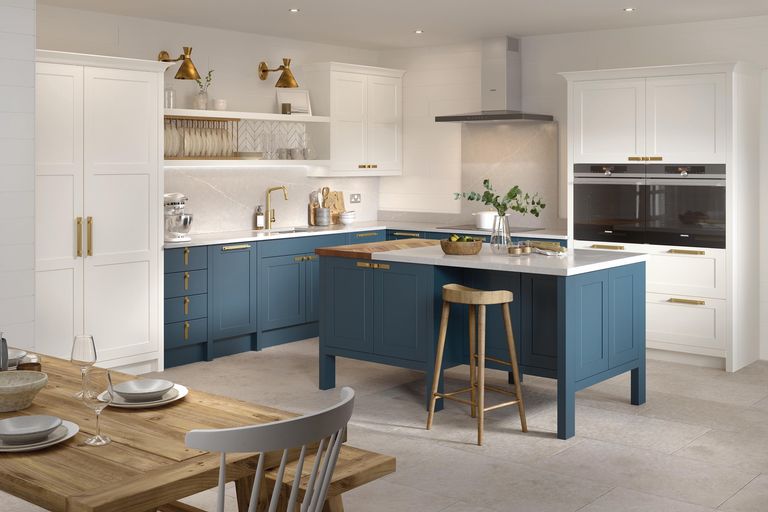 (Image credit: Life Kitchens)
Whether you're looking to do a full renovation or simply update your decor, a two-tone kitchen is a simple yet effective way to breathe life into the space.
It means you can incorporate a splash of bold color with a calmer one, as well as making it easier for you to choose between your favourite colors – simply include more than one.
'The color palette in your home should flow into your kitchen just as it would in any other room, but that doesn't mean to say that your kitchen should stay as one color,' says George Miller, Home Designer at Neptune Fulham. 'By using two shades, not only does it allow opportunity to pose two colors from your preferred palette, but it also lets you change the pace of your scheme. By incorporating a more familiar, unexpected shade like white, you can be more adventurous with your cabinet accent color.'
See: Kitchen ideas – decor and decorating ideas for all kitchens 
What is a two-tone kitchen? 
Graeme Smith, Head of Retail & Commercial Design at Life Kitchens, explains: 'A two-tone kitchen is when a design incorporates two shades. This 'dual color' approach is a popular and great way to enliven a space and add visual interest without being too overpowering – as well as allowing you to highlight specific areas of interest or difference. '
See: How to design a kitchen – an expert kitchen planning and layout guide
Two-tone kitchen design tips
But, don't worry, if you're not sure where to start, we've got experts on-hand to help navigate your choices and offer top design tips for your new two-tone kitchen below.
1. Look out for natural materials
'When thinking of going for a two-tone kitchen, look at using more natural materials for the floor like timber – the visual and textural appeal here can help draw attention away from the combined color and add some balance to the overall design,' suggests Graeme. 
2. Balance with patterned flooring
He continues: 'Patterned flooring is another way to maintain balance – we are seeing a lot of herringbone flooring with large planks of wood. The use of pattern helps break up the space and you can employ similar hues on the tonal spectrum in your design. '
See: Kitchen flooring ideas – for a floor that works with the rest of your kitchen

3. Take a subtle approach to color
Finally, says Graeme, if you have a smaller kitchen, it is better to opt for a lighter shade instead of dark hues due to the minimal expanse of space. He explains: 'Lighter colors will draw in natural light, illuminating dark corners and in turn make the space seem quite larger than it might be. Go for warm earthy tones or pastels if you still want to incorporate color into a small kitchen. Taking a more subtle approach to color will bring interest into the space without making the kitchen feel enclosed.'
4. Add color at eye level
Over at British Standard by Plain English, Adrian Bergman, Senior Designer, says the 'tideline' effect is chic, easy and increasingly popular. He explains: 'One of our favorite effects is the 'tideline' – adding one color at eye level in a continuous line around the room – it is guaranteed to add character to a kitchen, with the welcome reassurance that it does not need to be a permanent design statement.
'This could be two differing colours or the same color in different finishes, eggshell and gloss for example. '
5. Contrast color for a maximalist finish
And, of course, if you're feeling bold, you can unleash your creative flair and opt for statement contrasting yet complementary colors for a joyful, engaging and maximalist look.