A house price rise – and further delays – are ahead, Rightmove warns buyers
The UK housing market is not about to slow down, according to the latest Rightmove House Price Index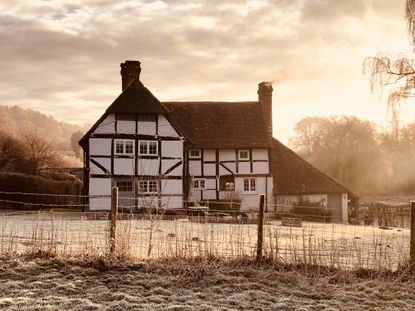 (Image credit: Unsplash)
The latest Rightmove house price index comes with a warning for prospective property buyers: expect UK house prices to go up even more this year, and for delays to house sales to continue.
While last year's housing market forecasts were full of uncertainty, the property experts at Rightmove appear to be certain that UK property isn't heading for a downturn.
Even with the impact of coronavirus and the looming stamp duty holiday deadline, prices are still expected to keep rising – by four per cent year-on-year, according to Rightmove's Director of Property Data, Tim Bannister.
As Tim explains, 'with Rightmove's unique leading indicators of buyer and seller behavior we are confident that the housing market will continue to outperform general expectations next year as it did this. Our 2021 forecast of a four per cent price rise is more conservative than the unsustainable 6.6-per cent national average seen this year.'
While four per cent may not be unsustainable, it's still high, although some sellers may 'reduce their offers to a degree to compensate for the higher tax' following the end of the stamp duty holiday on the 31 March, which is likely to lead to a temporary lull in house sales in the second quarter of 2021.
However, this is as much of an effect on the housing market that the stamp duty holiday deadline is likely to have. The much-feared cliff-edge fall in demand simply won't happen, because all evidence is pointing to a very strong demand for housing that shows no signs of subsiding.
Around 130,000 sales were agreed over the last month, up by a remarkable 44 per cent on the same period in 2019. The total number of house sales in the property market pipeline still stands at a colossal 650,000, with the same number of new sales agreed replacing the number of those that have fallen through in the same time period.
Add to this the fact that the number of properties coming to market for the year to date down by 0.6 per cent on the same period in 2019, and the number of sales agreed up by 8.3 per cent, and you have a record low number of properties available for sale, while demand keeps hitting through the roof. This supply and demand gap will continue to bolster house prices.
The housing market will also be propped up by first-time buyers returning to the market thanks to historically low mortgage rates and mortgage lenders reintroducing low-deposit mortgage deals.
As Tim points out, 'these two factors will help to oil the wheels for home purchases by the 'accidental savers' who have collectively saved £100 billion that they couldn't spend during the pandemic restrictions.'
And – as soon as life starts getting back to normal in the second half of 2021, many people will be keen to move on, a 'fresh start mentality' that Rightmove believes will give both rural and urban housing markets a much-needed boost.
'There are sound reasons for continued positive market sentiment that will outweigh the economic, political, and health challenges ahead. Rural, countryside, and coastal demand will remain high for those re-appraising their lifestyle, but more normality will also help the recovery of those aspects of city-living that have seen a dip in their appeal.'
Sign up to the Homes & Gardens newsletter
Decor Ideas. Project Inspiration. Expert Advice. Delivered to your inbox.
Anna K. Cottrell is now a freelance writer, having previously been a Content Editor for Future's homes titles. She writes about interior design, property, and gardening. On H&G, she specialized in writing about property – buying, selling, renting – sustainability and eco issues.