'It is well worth the money': Emma's $99 Foam Pillow is fantastic for every sleep position
The Emma Foam Pillow is not only customizable but designed with excellent support in mind too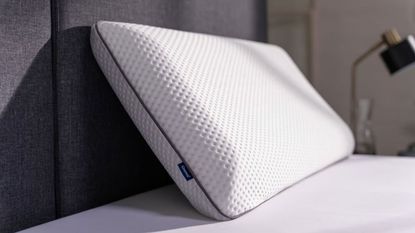 (Image credit: Emma)
The Emma Foam Pillow is not too plump and not too soft, making it perfect for troublesome neck pain and spine alignment
Reasons to buy
+

Comes in a convenient delivery box to your door

+

Suitable for all sleep positions

+

Helped reduce snoring

+

Height can be adjusted for the sleeper

+

Made with hypoallergenic, vegan materials
Reasons to avoid
-

Firmer memory foam may not be for everyone

-

Takes a long time to off-gas

-

On the more expensive side

-

Only comes in one size
You can trust Homes & Gardens. Our expert reviewers spend hours testing and comparing the latest products, helping you choose the best for you. Find out more about how we test.
Sign up to the Homes & Gardens newsletter
Decor Ideas. Project Inspiration. Expert Advice. Delivered to your inbox.
Thank you for signing up to Homes & Gardens. You will receive a verification email shortly.
There was a problem. Please refresh the page and try again.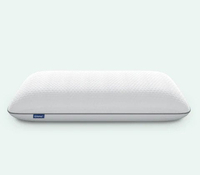 Emma Foam Pillow | Was $99, Now $79 at Emma
Emma are often running incredible sales. At the time of publishing, the Emma Foam mattress is reduced from $99 to $79.
Memory foam pillows have a bad reputation as immovable slabs, only good for those of us who slept firmly on our backs all night. That has changed with the Emma pillow, however.
Although best known for their mattress offerings, Emma's pillows should not be underestimated. Made from three independent layers of shaped memory foam, it is perfectly customizable – and is a contender for one of the best pillows in the memory foam category.
I have tested the pillow over the course of one month, giving a spare pillow to both my partner and my mom for their opinions too, and will go over my findings in this review.
Tested by
Chiana is our Junior Writer, and spends most of her time producing content for the Solved section of the website, helping readers get the most out of their homes through clever decluttering, cleaning, and tidying tips. She reviewed this mattress over a month in her home in Lancaster.
Who will the Emma Foam Pillow suit?
A range of sleeping positions: Like the Emma Original Mattress I reviewed, the Foam pillow is a firm pillow that is suited for a range of sleeping positions. The fully stuffed pillow perfectly cradled my head when lying on my back, but had the perfect balance of structure and give to not put pressure on my ear or collapse under the weight of my head when lying on my side or back.
Those looking for a personalizable pillow: The Emma Foam pillow is made of three individual layers of memory foam encased in a moisture-wicking cover. This allows sleepers to take out a layer of two if required for a slightly flatter sleeping position if required, for example sleeping on their back or stomach, without craning their neck.
People who want more support: The Emma Foam Pillow is on the firmer side, making it ideal for those of us that want our head and neck to be supported throughout the night with no sagging putting pressure on our spines or shoulders.
Specifications
Firmness: Firm
Type: Memory Foam
Construction materials: Memory foam
Sizes: Queen (16" x 28")
Height: 5"
RRP: $99
Unboxing and assembly
I received two Emma Foam Pillows, and both were individually wrapped in convenient cardboard boxes which had endured the shipping process immaculately. I was happy to see that the majority of the packaging was fully recyclable, with the boxes and the internal supporting structures all made of cardboard. The only plastic in the boxes was the plastic bags used to hold the pillows in a tight roll for transportation.
I opened the pillows on my dining table and allowed both of them to rest, curled side up, for two hours before coming back to check on their progress. Within those two hours, the pillows had completely flattened themselves and risen to a height of 4.7 inches. One thing that had not changed, however, was the strong memory foam odor.
This smell stuck around for over 24 hours without any treatment on my end. In the end, I resorted to using Emma's advice and sprayed the memory foam down with a scented linen spray, unzipping the cover and applying the spray directly to the foam itself. The online manual also suggests washing the pillow covers if the smell persists, but I found spritzing the pillows and leaving them unzipped to air out for a few hours was enough to remove most of the smell to the point where I was comfortable sleeping with them.
One thing to note is that the cover can be a little tricky to slide back onto the foam inserts. I only peel the cases back a little way to spray between the foam layers but found that trying to reposition it was difficult as the independent layers kept moving around. I got it closed and zipped back up soon enough, but it was a little fiddly and required some dexterity.
What is the Emma Foam Pillow like to sleep on?
Overall comfort and firmness
The Emma Original pillow is definitely one of the firmer pillow options on the market but I found that that really helped with the shoulder tightness I'm used to from other pillows. As primarily a side sleeper, I have always found it difficult to find a pillow that did not flatten completely and leave all of my weight on my shoulder. The Emma Foam pillow offers exactly that, compressing only slightly when I laid my head against it, but giving easily when I applied any pressure.
I initially tried laying down on both of the Emma foam pillows I had but found it far too high. In the end, I only needed one foam pillow, a reduction from my usual two.
The website recommends using three layers for side sleeping, two layers for sleeping on your back, and one layer for sleeping on your stomach. I used all three layers for the duration of my trial as I primarily sleep on my side but flip onto my back during the night or when reading before bed. As someone with rather broad shoulders, the loft of the pillow with three layers was ideal for me and offered me my most comfortable night's sleep in a long time.
My partner did not have the same positive experience with the Emma Foam Pillow, finding it too firm for a comfortable sleep. While he had no qualms about the size or height, he simply preferred a cushier pillow that had a bit more give to fall back into.
My mom, on the other hand, agreed that it was one of the best memory foam pillows she had tried. Having been through a few foam pillows in the past, the Emma pillow delivered on comfort, moderating temperature, and kept its shape while fitting perfectly in the pillowcase.
According to my dad, it even helped to reduce her snoring! He also agreed after borrowing it from her for a night or two that his arthritic shoulder felt less painful when he woke up in the morning.
Having tried it, they both agreed that it is something they would purchase themselves, which is significant given that the price would have initially put them off trying it out had they been looking at the product themselves.
Breathability and Cooling
I expected a memory foam product to sleep hot, but I found that I had no trouble regulating my head and face temperature while using Emma Foam pillow. I have always had a very hot head (and I am not on about my temper) so it was nice to not wake up and not feel flushed.
My mom said the same, as it helped her to regulate her temperature through hot flushes too, helping her to get a more comfortable and complete night's sleep.
Shape and Size
The Emma foam pillow is one of the best pillows I had had for keeping its shape once slept on and after being stuffed into a pillowcase. At 28 x 16 inches, the pillow is around average for its size and fits into all of my existing bedding perfectly.
The pillow holding its shape was something that was super important to me, as I was tired of trying to reshape older pillows and fluff them up to resemble what they were when I first bought them. I made sure to flip the pillow over every few nights to make sure the pillow wore evenly, like when flipping a mattress. The manual does not mention needing to do this, but I wanted to make sure it will last. The good news is the pillow was just as comfy on either side.
Emma Foam Pillow design and construction
The Emma Original pillow is made up of three memory foam layers inside one moisture-wicking cover, designed for quick removal to make washing your pillows simpler.
The top and bottom layers of memory foam layers are made of High Resiliency Extra foam and are designed to support your head while preventing extreme sinking. Their main priority is to offer support for your head in any position and is the softest of the layers.
The middle layer is Visco memory foam, and is added to help distribute weight and pressure, making sure your head is held comfortably no matter where you place it on the pillow – be it perfectly central or further to one edge.
These layers are then encased in an elastic cover. This is super soft and makes putting on an additional pillowcase and washing your bedding far easier. Betty yet, the pillow is also completely vegan, with no animal derivatives used in the production process.
Ordering and Delivery
The Emma Foam Pillow comes with free delivery and is shipped from their warehouse to your front door using either UPS or FedEx. The site says this process takes approximately 2-5 business days nationwide.
You can also opt for scheduled delivery in selected parts of the US should you wish to pay for it. If you order a mattress, they also offer a home set-up service ideal for those of us who don't fancy, or physically cannot, lug large or heavy items around our homes.
Warranty and trial period
Emma offers a three-year warranty for its pillows, covering any damage sustained in spite of dutiful care.
It also comes with a 60-night trial period to give you time to adjust to your pillow and decide if it is for you or not. The site mentions that they recommend trialing the pillow for three consecutive weeks before making a decision, however, to give your neck and body time to adjust to the change. Should you decide it is not for you, Emma's support team will coordinate a pick-up service for your pillow and arrange a refund for you.
How does the Emma Foam Pillow rate online?
Out of more than 1,350 global reviews on Amazon, the Emma Foam pillow has an average rating of four stars. Top reviews from verified purchasers all highlight the pillow's firmness but ability to provide comfort with 'responsive memory foam', the way it holds its shape to offer support, and the noticeable improvement in sleep. One review went so far as to say the pillow was 'life-changing in a very positive way'
Reviews on the lower end also talk about the pillow's firmness, but in a not-so-positive light. For other people, such as my partner, the pillow can be a little on the uncomfortable side, especially if you are more accustomed to a plush-down pillow, for example.
All in all, this pillow seems to be a love-or-hate product that really benefits from the 60-night trial to help customers get accustomed to the new sleep experience.
Is the Emma Foam Pillow worth it?
If you are in the market for a firmer pillow, are looking for a little more support, or are intrigued by the idea of a fully customizable sleep experience, then the Emma Foam Pillow is certainly worth the investment. With a 60-night trial, the risk is taken out of ordering bedding online too.
Ideal for all sleeping positions and almost all joint and muscle complaints, the pillow is a worthy contender for one of the best pillows on the market right now and, in the words of my very impressed mother, 'it is well worth the money!'
Where to buy the Emma Original Mattress
About our reviewer
Chiana's Sleep Stats
Sleep position: Usually side, but I move a lot in my sleep
Insomnia?: No
Sleep problems: bad back
Average sleep time: 7-8 hours/night
Chiana's review of the Emma Foam Pillow is based on her first-hand experience with the product, which was provided by the brand free of charge. She slept on the pillow for just over one month before writing the review, and she plans to keep it, which gives up the opportunity to return to update the review with insights on how to product fares over an extended period of time.
Sign up to the Homes & Gardens newsletter
Decor Ideas. Project Inspiration. Expert Advice. Delivered to your inbox.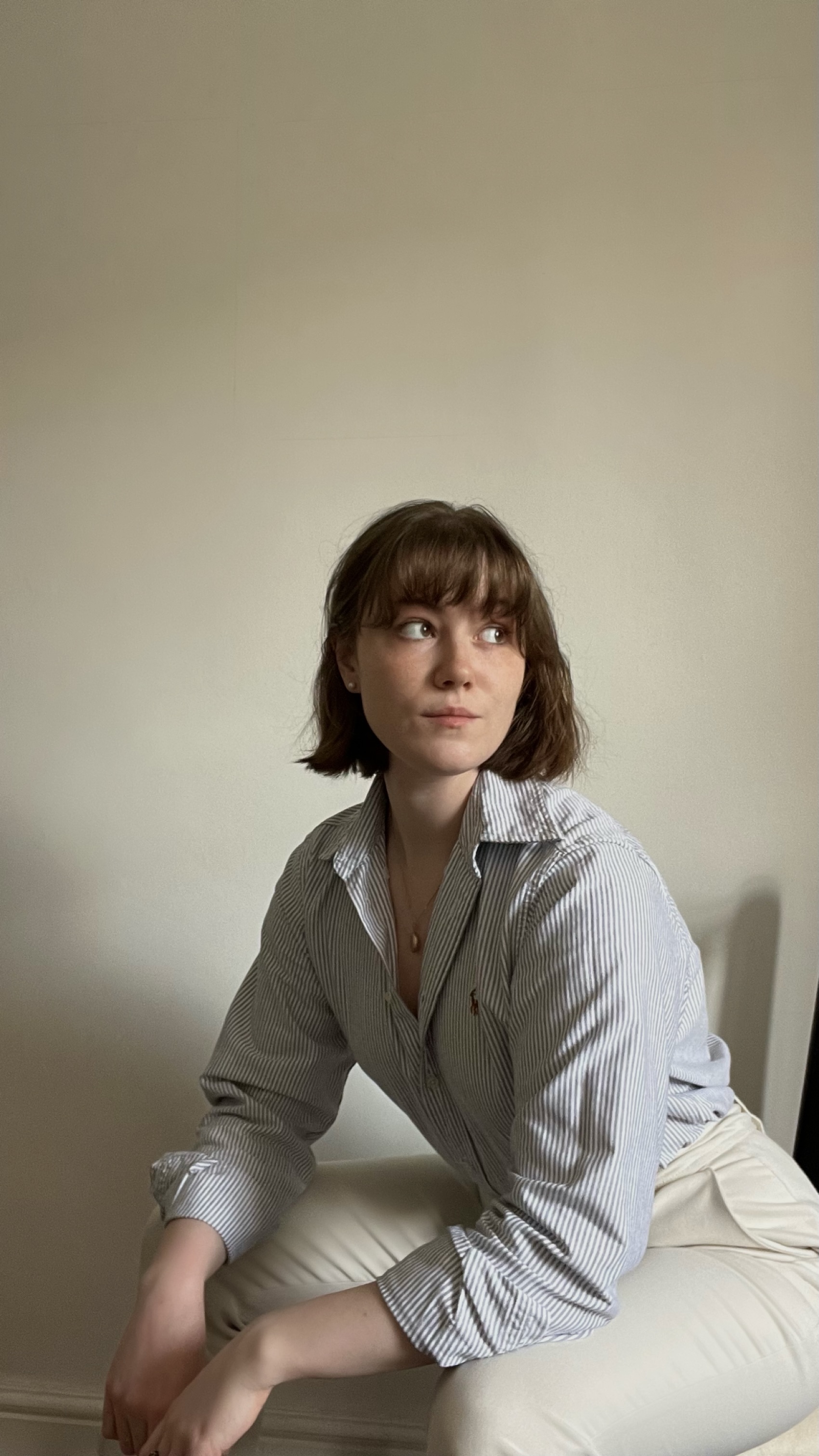 Chiana has been at Homes & Gardens for a year, having started her journey in interior journalism as part of the graduate program. She spends most of her time producing content for the Solved section of the website, helping readers get the most out of their homes through clever decluttering, cleaning, and tidying tips – many of which she tests and reviews herself in her home in Lancaster to ensure they will consistently deliver for her readers and dabbles in the latest design trends. She also has a first-class degree in Literature from Lancaster University.