Beast Blender review: the most beautiful blender you'll actually use
We put the Beast Blender + Hydration System to the test, making delicious smoothies and infused water in no time at all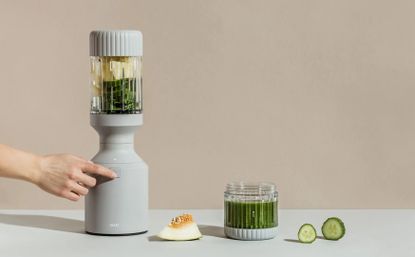 (Image credit: Beast)
Modern and powerful, the Beast Blender + Hydration System makes the best smoothies, and looks great while doing it. Leaving no chunks of ice behind, every concoction comes out smooth and delicious.
Reasons to buy
+

Eye-catching and beautiful

+

Crushes ice as promised

+

Makes way more than smoothies

+

Comes with useful accessories
Reasons to avoid
-

Heavy

-

Difficult to remove thick contents due to ridges
You can trust Homes & Gardens. Our expert reviewers spend hours testing and comparing the latest products, helping you choose the best for you. Find out more about how we test.
The all-new Beast blender is worth raving about, which is probably why it made Oprah's 'Favorite Things' list. A great way to get your greens in, or simply cut down on spending, this blender system is where it's at. It's no wonder the Beast has gone viral on Instagram, and after seeing ad after ad, naturally, I was curious.
I rely on the best blender for breakfast most days, and have a keen appreciation for sharp blades and crushed ice. When I had the chance to review the Beast + Hydration System, I couldn't wait to test it out.
If you enjoy drinking breakfast on the go, the Beast Blender can tackle this, no problem. With an intuitive blending cycle, the Beast will whip up a smoothie in 60 seconds flat. Crushing ice with no effort, the speed automatically adjusts as it senses the consistency of the contents.
Did I mention it's dishwasher safe? The old me would have tossed a dirty blender in the sink and left it for days, because nobody likes cleaning those chunky things. The Beast can be rinsed out in no time and washed on the top rack. Cue a very happy mom of three! Keep reading to see why this blender is my favorite gadget of 2022!
What's included?
You can choose the Beast in three colors: white, black, and grey. All three look the part, with a ribbed BPA-free plastic blending chamber that's comparable to the Zwilling Enfinigy Countertop Power Blender in style.
When you buy the Beast complete hydration set, it comes with everything you need to make a delicious smoothie, store the leftovers, and infuse some water while you're at it. Prefer something a little more savory? The Beast is also brilliant at making a spicy salsa or avocado crema.
When the designers over at Beast created this beauty, they left no small detail behind. For those concerned about aesthetic appeal, fear not. This is a seriously impressive appliance that's beautiful to look at, too. My day-to-day blender is a Vitamix, which I first fell in love with in a suburban Costco aisle. It may not be the most attractive appliance, but it's been there for me through thick (smoothies) and thin. It takes a seriously mighty blender to de-throne it, but the Beast Blender may have done just that.
Included in the box, you'll find:
Powder coated aluminum base
Blade assembly
500ml vessel
1000ml vessel
Glass vessel with drinking lid and carry cap
Infusion chamber
You can buy the Beast Blender with just the 1000ml blending vessel, with the 800ml and 500ml blending cups sold separately in some stores.
If you choose to buy the blender without the accessories, additional vessels can be purchased through Beast. I found that the extras came in handy, particularly with pancake batter. Thanks to the storage vessel, leftovers were just as good two days later. We all know how messy pancakes can be, and I'm happy to report the leak-proof seal didn't disappoint.
Specs
Dimensions: 4.92 x 4.92 x 15.75 inches
Included: base,
Colors: white, black, grey
Design: corded
Weight: 9.97 pounds
Watts: 1000W
Blending ability: blends ice cubes and frozen fruit with ease
Dishwasher safe: all removable parts are top-rack safe
For the last three weeks, the Beast has taken the place of my Vitamix blender– and those are some big shoes to fill. So, did it succeed? Definitely.
I'm a creative type. Give me a blender, and there's a good chance I test out something not in the instruction manual. I highly recommend restaurant-style salsa, which, by the way – turned out incredible. Equally incredible are the cold smoothies and hot soups the Beast blends up.
Here are the recipes I tried:
Smoothies
Pesto
Salsa
Pancake batter
Yorkshire pudding batter
I must confess, for chunky sauces and dips, I still prefer a food processor, but the Beast is a suitable substitute.
Using the Beast Blender
I'll be honest, the first use was a little intimidating. It's so simple, you wonder what you're missing. Turns out, you're not missing anything– there's one button and one button only.
There's a method to the madness, and the Beast includes a cute little reminder card. It's recommended you use 25% liquid, and add ingredients in the following order:
Liquids
Ice
Produce (such as banana)
Leafy greens
Powders, seeds, and nut butters
Making a smoothie
Once all ingredients are in the vessel, it's important to seal tightly – especially if you're blending hot liquids. Lock it into the base, and press the little button until it begins. Once the Beast starts to blend, it senses the consistency of all ingredients, working in 60 second cycles.
After making a strawberry banana smoothie using frozen banana, I can attest the Beast is, well…a beast. It took one cycle, and turned out silky and smooth. No lingering ice cubes or chunks of fruit. Yum!
Crushing ice
Crushing ice is the true test of any blender. It can be a little noisy and take some time, but the aim is to create an icy powder that can be used in cocktails or fresh drinks.
Because you're dealing with very solid and dry ingredients, how a blender handles ice is usually a good indication of how well it can blend and crush nuts or frozen fruit in smoothie bowls.
The Beast blender performed surprisingly well given its small size. A personal-size blender will usually struggle with crushing ice because it may struggle to reach every ice cube, but the Beast did a very impressive job of making a fine dust-like crushed ice consistency.
Other noteworthy features
Safe: the Beast monitors the temperature of what's inside. This prevents overheating and expanding liquids.
Ultra-smooth blend: the proprietary ribbed vessels are textured to create turbulence. The friction creates the silky texture and assures no ice cube is left behind.
Pulse option: in addition to minute-long blends, the user can pulse food and ice as well, producing a chunkier result.
Intuitive blending: each cycle is 60 seconds. After 20 seconds, the Beast slows down to let ingredients settle before blending again. This prevents ingredients from blending on the bottom but not the top.
Sleek: fits comfortably on countertops, and looks good while doing it. Perfect for anyone who values stylish home goods.
Should you buy the Beast Blender?
If you're on the market for a new blender, the Beast Blender is a brilliant choice. It may be targeted to health-conscious smoothie lovers, but the Beast can do so much more. Anything that requires blending can be tossed in the trendy vessel, including frozen fruits and vegetables. The proprietary 12-rib design assures a smooth blend every time, leaving no ice behind.
Added bonus – with the Hydration System you can kick plastic water bottles to the curb. Spruce it up with fresh fruit, or my personal favorite – cucumber, and call it a day. The BPA free, stainless steel infuser is the perfect touch to the Beast glass bottle.
Although this modern blender is compact, it's not cordless. If you plan on toting your device with you, I'd recommend opting for a top-rated portable travel blender. These portable appliances bring a sigh of relief to busy days, and will fit comfortably in your gym bag or desk.
The Beast Blender + Hydration system is a durable device that also happens to be strikingly beautiful. Like the Beast crowd will tell you, 'Blend it up, drink it down'. You won't be disappointed.
About this review, and our reviewer
Midwestern freelancer Courtney Irwin is a working mom of three who loves nothing more than convenience and a good deal. Equal parts entrepreneur and family-person, she believes hard work deserves to be celebrated – often times in the form of a new gadget or sun-filled vacation.
When she's not on the hunt for the next big trend, you can catch her in her kitchen, which is her favorite room in the house. Courtney has spent years curating home renovation and beauty content, and is excited to bring real reviews to real readers. All products are tested in Courtney's home for accurate representation of use.
Sign up to the Homes & Gardens newsletter
Decor Ideas. Project Inspiration. Expert Advice. Delivered to your inbox.
Midwestern product tester and writer Courtney Irwin is a working mom of three who loves nothing more than a good deal. Equal parts entrepreneur and family-gal, she believes hard work deserves to be celebrated. Oftentimes in the form of a new gadget or sun-filled vacation! When she's not on the hunt for the next big trend, you can catch her in her kitchen, cooking and testing appliances.