Everdure Fusion review: the perfect modern grill for my small outdoor space
The Heston-approved Everdure Fusion grill is modern and well-made, but with everything you need for classic charcoal cooking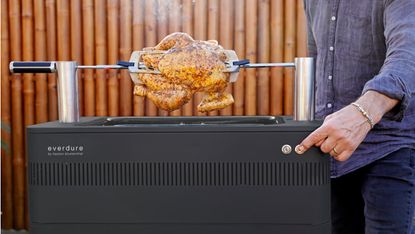 (Image credit: Everdure)
The Everdure Fusion is a fresh take on the classic charcoal grill. Assembly was speedy and cooking was even, although the rotisserie function was less stable than we'd have liked.
Reasons to buy
+

Speedy assembly

+

Easy to clean

+

Can be portable

+

Electric ignition

+

Rotisserie function included
Reasons to avoid
-

Can't use the lid during cooking

-

Power cord is a bit short

-

Rotisserie pole wobbled on highest setting
You can trust Homes & Gardens. Our expert reviewers spend hours testing and comparing the latest products, helping you choose the best for you. Find out more about how we test.
Created in Australia, Everdure has been carving an innovative path in the world of grills (or, as they'd call them, barbies) for 30 years. Pair that with the backing of Michelin Star chef Heston Blumenthal, and you've got a surefire recipe for success. The brand's been on my wishlist for years, but given how small my outdoor space is, I'd anticipated having to compromise on the style and capabilities of my grill to make it work for summer gatherings. That is, until I tried the Everdure Fusion.
The Everdure Fusion is what you get when you combine electric controls with classic charcoal cooking, hence the name: Fusion. It comes with a pedestal as well as short freestanding legs for use when traveling, and it even has space for an in-built rotisserie thanks to its thoughtful design. I tested the Fusion for a few weeks at my parents' house (my small yard is very much a work in progress) and was impressed by its easy assembly, user-friendly design, and the range of features on offer. As with any grill of this size, it's not an all-rounder, but it happily catered for a party of six and even cooked an entire rotisserie chicken in under an hour. Keep reading to find out why this is the best grill you can buy for charcoal cooking in small spaces.
Everdure Fusion Grill
Model: Everdure Fusion
Size: 29 x 16 x 35 inches
Fuel type: Charcoal, with electronic ignition
Features: Rotisserie tool, stand, freestanding legs
Cooking size: 248 square inches (16 burgers or 8 steaks)
Reviewed by
Millie Fender is Head of Reviews for the Future Homes titles. Before this she was in charge of Homes&Gardens' cooking appliance content, meaning she has reviewed hundreds of kitchen products, as well as a handful of pizza ovens and grills. She tested the Everdure Fusion for a number of weeks at her parents' house, but as soon as her yard is photo-worthy, she'll be moving it there to live with her in her London apartment.
Setting up
One of the many perks of testing grills with my family is that my brother can help me out with the assembly. I can manage the occasional IKEA flatpack, but some grills can take hours of fiddly and heavy assembly, which is definitely not my favorite pastime.
When I tested the Weber SmokeFire EPX6 Wood Fired Pellet Grill STEALTH Edition, the assembly took myself and my brother around two hours. With the Everdure Fusion, we were done in around half an hour. The main body of the grill comes in one piece, so it's just a case of inserting the removable charcoal tray and adding the grill on top.
This results in a very sturdy-feeling build, and despite the fact that we built the stand by hand, it didn't so much as wobble when we placed the relatively heavy main grill on top of it. It slotted into place beautifully, and my brother couldn't stop commenting on how impressed he was with the quality of the engineering that had gone into making this product.
There is a lid that sits flat on top of the cooking area, and this hinges on the back of the grill when you're using it. As it's controlled electronically, you can use the Everdure Fusion's 59-inch retractable power cord to get set up and make the most of its smart features when cooking.
One downside of the design is that it's not the most portable grill. Both the base and the grill itself are quite heavy (weighing a combined 79lbs) and there are no wheels to move it around your yard. I'd recommend carrying them as two separate pieces to make this a little easier.
Getting started
There are a few downsides to using electric-powered grills. One is that you'll naturally be a little wary of using it if there's even the suggestion of rain. Of course, you should absolutely use an extension cord that's suitable for outdoor use, but this also limits how freely you can move the grill around the yard. I ended up using mine on the patio of my parents' space, with a lead coming through the kitchen window.
You then need to add a thin layer of charcoal across the entirety of the grill. This takes around ten minutes to ignite (which you do by just pressing the power button). The ignition section is a small circle inside the grill itself, so it takes a while (and a little shimmying) to make sure that he coals are heating evenly across the entire grill. The instruction booklet offers guidance for how to distribute your coals depending on what you're cooking, which is a big help.
Once ready, the Everdure Fusion will make a beeping noise to signal that it's finished heating up. In theory, you could then unplug the grill and retract the power cord, but I left mine in just in case I though the coals needed a bit more heating.
Inevitably, the food that was towards the center of the grill began to cook a little faster. I resolved to leave the grill for a few minutes after it's finished igniting to allow the flames to spread for future uses. Still, my ribs and baby peppers were flame-grilled with delicious smokey flavor in under 30 minutes, and despite its compact size I was impressed with the amount of food I was able to fit onto the grill.
The Fusion claims to fit 16 small burgers. I cooked regular-size lamb burgers from Farmison, and I'd expect that the grill would fit 12 at a time, which is still plenty for even a large gathering.
Once the grill had had some time to heat evenly, it continued to cook for a good few hours. I was worried that the thin layer of coals would burn out quickly, especially because there is no overhead lid you can use to keep the heat in, but the grill was still crackling away long after we'd finished eating our barbecue.
How to use the rotisserie on the Everdure Fusion
One standout feature of the Everdure Fusion is that it comes with in-built rotisserie poles. These pop out the top of the grill when you press them down, and you then need to lift and twist them into place. There are three heights you can go for, depending on what you're cooking and how close you want it to be to the heat of the grill.
One of the smartest build features of the Everdure Fusion is that it has space to store the rotisserie inside the grill. My brother was seriously impressed at how intuitively this all stored away inside the body of the grill. You access it using a flap at the lower side of the grill, and the rotisserie forks clip onto the main bar instead of needing to be screwed into place, which can often be fiddly.
You extend the rotisserie rod by twisting the handle, and then swisting it back into place once it's fully elongated. This then inserts into the right rotisserie pole and the handle is cradled in left pole. By pressing the rotisserie button you can set your food to turn automatically, or you can twist it by hand using the heatproof handle.
I did encounter an issue with this function, because when lifted up to their maximum height the rotisserie poles wobble slightly. This meant that the rod was barely fitted into the right insert, and at one point my chicken rotisserie fell out and landed on the grill. Once I popped it back into place it didn't fall again, but I've noticed in uses since his first test that this is only a problem when using the highest setting.
Despite the troubleshooting, my chicken was incredibly juicy and cooked in just under an hour. The skin had a nice char but the meat was tender and evenly cooked, making for a delicious roast dinner.
Using the pizza stone
Everdure sent me their pizza stone to use with this grill, which was a surprise to me. I could see how it would work on the 4K, which has a raised lid that lifts up and down to create some ambient heat that could cook toppings as well as a pizza base. I couldn't see the Fusion being a rival for the best pizza ovens though, given its lack of lid and the exposed top of the pizza while cooking.
As expected, the base was a little too crispy by the time I was happy with the cooking of my toppings, and my cheese was far from browned and bubbling. I'd not recommend the Everdure Fusion if you want to use it as a pizza oven, but it did do an OK job on my margherita, so if you're considering buying a pizza stone as an afterthought to your purchase, it's worth a shot.
Cleaning the Everdure Fusion
Everdure advises that you clean the painted areas of the Fusion with 'a mild household detergent or cleaner and a clean cloth'.
'Rotisserie poles should be wiped down with a soft cloth to remove an oil or grit', the brand advises, noting that no water should fall down the storage holes where they it could potentially interfere with the machinery.
Fuel and ash needs to be fully removed after each use, after which point I found the grill easy enough to wipe clean. The only trouble I had was with the removable grill grate, which needed a very thorough scrubbing after I'd burnt all sorts of kebab and rib marinade onto it.
Should you buy the Everdure Fusion?
The Everdure Fusion gets a major thumbs-up from me for its savvy design and thoughtful features. Everything from the control buttons to the simple assembly is designed to make your life easier, but with no compromise on cooking quality and flavor.
There were a few hiccups in my testing. The rotisserie poles had a wobble when fully extended, meaning I'd need to keep an eye if I cook anything as large as a chicken again. The grill also took a little while to heat evenly, so the 'ready in 10 minutes' claim is not quite true. However, for my small outdoor space this is the perfect grill for entertaining or having simple family BBQs with no compromises. I can't wait to get a lot more use out of it next summer.
Sign up to the Homes & Gardens newsletter
Decor Ideas. Project Inspiration. Expert Advice. Delivered to your inbox.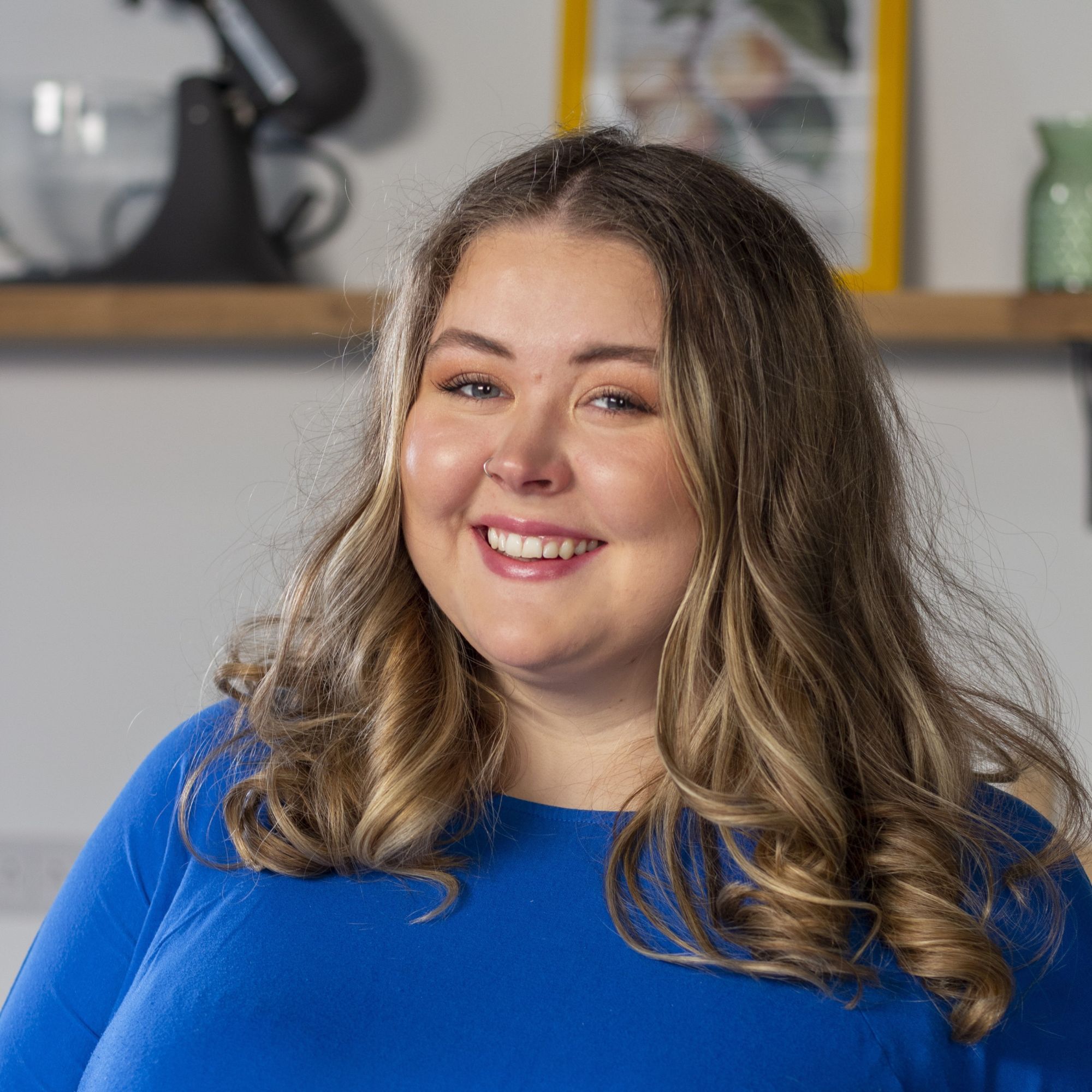 Millie Fender is Head of Reviews on the Homes and Gardens Ecommerce team. She specializes in cooking appliances, such as the best kettles, and also reviews outdoor grills and pizza ovens. Millie loves to bake, so she will take any excuse to review stand mixers and other baking essentials. When she's not putting products through their paces in our dedicated testing kitchen, Millie's reviews are conducted at home, meaning she uses these products in her own day-to-day life.