KitchenAid Espresso Machine review: the next best coffee maker
The KitchenAid espresso machine is the unlikely coffee hero you need to buy. It's stylish, easy to use, and, most importantly, makes incredible coffee.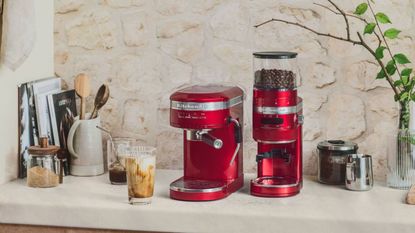 (Image credit: KitchenAid)
You might not associate KitchenAid with incredible coffee, but that's about to change. This stylish, premium espresso machine is easy to use. I made some of the best coffees of our tests with it and it's cheaper than lots of other models. There's a lot to love.
Reasons to buy
+

Great value

+

Really stylish

+

Makes great coffee

+

Easy to use
Reasons to avoid
-

Quite long

-

Have to froth your own milk

-

Splatters coffee a bit

-

No integrated grinder
You can trust Homes & Gardens. Our expert reviewers spend hours testing and comparing the latest products, helping you choose the best for you. Find out more about how we test.
Sign up to the Homes & Gardens newsletter
Decor Ideas. Project Inspiration. Expert Advice. Delivered to your inbox.
Thank you for signing up to Homes & Gardens. You will receive a verification email shortly.
There was a problem. Please refresh the page and try again.
KitchenAid springs to mind for a lot of kitchen staples, but espresso machines? That's new. The brand is best known for their iconic Artisan stand mixer, but they've fully stepped into the coffee sphere and I am welcoming them with open arms.
Their espresso machine is simple, but that's why it's brilliant. It makes great coffee with little else to distract you. The machine feels durable and yet it remains stylish too. It's the slickest machine I've tested.
Our experts have already tested KitchenAid's coffee grinder and it shot straight to the top 3 of our best coffee grinders roundup. After testing their espresso machine, it's earned its place amongst Breville and Gaggia in our best espresso machine roundup, which is no mean feat.
It's not without its quirks, but I'd be willing to live with them. This is the key to a caffeinated and calm morning, every morning.
Specifications
Swipe to scroll horizontally
| | |
| --- | --- |
| Dimensions | 6.38 x 13.15 x 11.26 inches |
| Model type | semi-automatic |
| Water tank capacity | 1.3 liters |
| Pressure | Italian 15 bar |
| Weight | 15 lbs |
| Material | Plastic and stainless steel |
| Wattage | 1460 |
Who would it suit?
The KitchenAid is unique, because it's well suited to a range of coffee drinkers. If you're a beginner, you can't make many mistakes with this machine. You'll need to practice milk-frothing, but this isn't hard to master. If you're an intermediate at-home barista, but you want a nice-looking machine that will brew a top-tier cup of joe, this is great too.
If you're getting really technical with coffee and you want to control infusion, brew time, and pressure, this might not be for you. KitchenAid have integrated sensors that adjust brew time depending on your coffee density and temperature. They'll also pre-infuse your shot to reduce the acidity, but you can't control these features. Handing this responsibility to the machine is some people's dream, but it's not for dedicated coffee-makers. It's also worth noting that this comes out quite far from the countertop, so if you have a small kitchen, you'll need to do some rearranging.
Unboxing
When unboxing, we always keep an eye-out for eco-friendly packaging. Brands tend to use lots of polystyrene and plastic to keep espresso machines in good condition. Thankfully, KitchenAid kept non-recyclables to a minimum. Bar a few plastic sleeves, the packaging was all carboard. It came with a premium 58mm portafilter; a tamp; a coffee scoop (which is the perfect size for the portafilter); a stainless steel milk jug; and four different portafilter baskets, perfect for pre-ground or freshly ground coffee.
To get it ready to brew, all I needed to do was fill up the water reservoir. At the top of the reservoir is an integrated handle, so lifting, carrying, and holding it whilst it's filling up is easy. This might sound like a trivial comment, but not every espresso machine uses a handle and it makes a big difference.
Once I plugged in the machine, it was ready to go in about 45 seconds. KitchenAid use a ThermoCoil system rather than boilers, and this impressive system massively speeds up the process. They've also thought to heat the top of the espresso machine, which makes the perfect storage space for espresso mugs.
Before making your first coffee, it's good to run water through the brew group and steam wand. This will remove any factory dirt and stop you from finding any unusual flavors in your first cup of coffee.
Test 1 - Espresso
The first thing I made was a double shot of espresso. I used the KitchenAid scoop to take 18g of fresh coffee grounds and add them to my portafilter. My full scoop collected 15 grams of coffee, so I'd recommend using coffee scales to get a more precise and consistent amount. I tamped my coffee grounds and locked the portafilter into place. With lots of espresso machines need you to be forceful when you lock your portafilter in. I'd normally recommend placing your other hand on top of the espresso machine to keep it steady. The KitchenAid is the first espresso machine I've tested in a while where this process is totally smooth. It felt very luxurious not to have to tug at the portafilter.
I'd seen comments that this is a loud espresso machine, but it actually isn't. Compared to market-leading brands, it's one of the quietest. I took a measurement of the average noise that it made, which was 62 dBA. That's about as loud as a normal conversation. The loudest noise I recorded was 72 dBA, which still isn't loud.
I measured my espresso shots, which were each 50ml, so on the large side, but they were the perfect temperature to drink. They had a nice crema on top and were well distributed between my shot cups. They tasted well-extracted, not too bitter or acidic, so I'd give this top marks for taste. I'd say I went from unboxing to espresso shot in less than five minutes, so it also gets top marks for speed too.
Test 2 - Americano
When it came to making an Americano, the process was equally easy. I pulled another shot in 15 seconds and then used the steam wand to add my hot water. This wasn't boiling, but that's much better for the beans. However, if you left it on the side too long, your Americano would be closer to iced coffee.
I noticed that the espresso had splattered up the sides of my cup, which wasn't helped by the powerful jet of water from my steam wand. I'm lucky that my mug was deep, but when I used small espresso cups, I could see splashes on the cream machine and on my countertop.
Test 3 - Cappuccinos and Lattes
Using both oat and dairy milk, I made cappuccinos and lattes. However, the milk wand is one of the few drawbacks with this machine, as it it took a while to get used to the movements. I'm used to being above to move it 360 degrees, and on this machine you only can move the steam wand forward and backwards. If you want to move it side to side, you twist the lower nozzle, rather than moving the whole arm. This keeps the machine compact, but it means that your portafilter gets in the way when you're steaming milk, especially if you're trying to take coffee pictures like I was.
The steam wand was quite slow to get started and heat up my milk, but that's really useful. If you want to make frothy milk, the more time you have, the better. It also stops you from burning your milk and ruining your coffee.
Both my oat and dairy milks were glossy and smooth. They weren't burnt and complemented my already well-brewed espresso really well. The pre-infused espresso shot was nicely balanced with the milk, so I was pleased with my aromatic cups of coffee. Before I poured my milk in, I could see the espresso drips splattered up the sides of my cup, but that didn't matter once I'd added my milk.
Cleaning
In between coffees, I noticed that my portafilter slowly dripped coffee. I tried tamping my coffee grounds with more pressure, but there was still some dripping. This meant that the drip tray filled up with espresso and waste water from my experiments a bit quicker than it normally would. However, it's really easy to slide out and empty and it will give you a warning when it's getting full.
Cleaning the rest of the espresso machine was easy. I would never recommend putting a portafilter or milk jug in the dishwasher, so I washed the metal parts and the metal drip tray in warm, soapy water. I use Ecover, which you can buy from Walmart, because it's a gentle and eco-friendly detergent, but you can use whichever you like.
I'd recommend cleaning the steam wand and brew head after use, too. The brew head just needs a cup placed under it and no portafilter inserted. Then, run an espresso setting and all the left over coffee grounds will come away. Similarly, wipe the steam wand after use and I would change the water reservoir every day too. I tested the KitchenAid in Almond Cream, so it also needed a wipe-over with a damp microfiber cloth, because there were some coffee splatters on the body.
Storage and maintenance
This is a simple and stylish espresso machine. I would happily make room on my countertops for it. However, it comes out quite far, so if you have shallow surfaces, you'll need to rotate it back against the wall place when you're finished using it. This might be a pain and a deal-breaker for you, but if you're looking for style, it's worth it.
You can run a rinse cycle and I would recommend that you do so every week. Also, use filtered water in your water reservoir and clean that once it's empty. Aside from that, you won't need to do much maintenance. It goes without saying, but always wipe and do a small steam of your steam wand after frothing milk, so that you don't have any dry milk clogging the wand. It's a classic mistake and it will ruin your coffee.
How does it rate online?
KitchenAid comes to mind for a lot of kitchen appliances, but not for espresso machines (yet). I thought people would be more sceptical about this machine, but reviewers were the opposite. Everybody had glowing reviews for the KitchenAid, often commenting on how easy it is to operate and how smart it looks. Lots of people made use of the mug warming feature on the top of the machine, which is a case to be made to other espresso machine manufacturers.
The common criticisms that people raised centered around what the KitchenAid didn't have. Some espresso machines have integrated grinders, which makes the whole process really easy. KitchenAid sell an excellent coffee grinder, which you can buy at QVC, but you need to buy it separately, which is an extra cost. I think it's a smart separation, because it keeps the espresso machine slick and small for your countertops and then you can pack the grinder away into your cupboards. People also found the steam wand takes some getting used to. If you previously had a 360 degree wand, it's a new style of movement, but it wouldn't stop me from buying the KitchenAid.
How does it compare?
There are two espresso machines that I would pitch this against. Firstly, because I like the KitchenAid so much, it's only right that I compare it to our current number one espresso maker, Breville's Barista Pro.
Both these espresso machines make great coffee. They require similar amounts of attention from you: you will tamp the coffee grounds, lock the portafilter and push a button. You'll also need to steam your own milk. Both machines feel really premium and use a 15 bar Italian pump to create the perfect pressure. They're both brilliant investments.
However, I'm keeping the Barista Pro at number one for a few reasons. It comes with an excellent integrated grinder. That makes this a more premium machine and you won't need to buy another appliance. You also don't need to move your mug when adding hot water for Americanos and the steam wand's 360 degree rotation is incredible. When you want to get technical, the Barista Pro will let you adjust settings, making the perfect coffee for your personal tastes. The Barista Pro lets you take more control, but it's worth noting that it doesn't have a mug warmer and it doesn't look as stylish.
The other similar espresso machine is the Smeg semi-automatic espresso machine, available at QVC. It's stylish, comes in a range of colors, is also quite long, and doesn't have a grinder. There are a lot of similarities. However, choosing between the KitchenAid and the Smeg is a no-brainer. Much as I love Smeg's Italian style, the quality of the KitchenAid surpasses the Smeg's. The KitchenAid was much more steady on the countertop, tall enough to fit big cups underneath, and the milk wand was more technical. It also made an objectively better coffee and that's what we're all here for.
Should you buy it?
If you're happy with a relatively hands-off espresso machine, this is an excellent investment. It's beautiful, feels premium, and makes incredible coffees. It's actually hard to go wrong with this machine.
KitchenAid might not be big names on the coffee scene yet, but they've already established a stellar reputation. I'd recommend investing in the grinder too if you don't already have one. Both machines look great together and they're top quality products. I'll say it one more time, this is an excellent espresso machine.
How we test
At Homes & Gardens, we take our coffee testing seriously. We're always on the look-out for the latest and greatest coffee machines, for a range of homes. If we find one that ticks our boxes, we take it to our dedicated test kitchen. Our team of experts will put it though its paces, testing the machine on everything from espressos to cappuccinos. If it has any special or stand-out features, we'll make sure to test them too.
We like to treat these espresso machines like we would in our own homes. Therefore, we'll also make notes on unboxing, storage, and maintenance, so that you know exactly what you're getting yourself into. If we don't think a coffee maker is much good, we will let you know and we'll advise you where to look for better options too. If you'd like to know more about how we test coffee machines, you can visit our dedicated page.
Sign up to the Homes & Gardens newsletter
Decor Ideas. Project Inspiration. Expert Advice. Delivered to your inbox.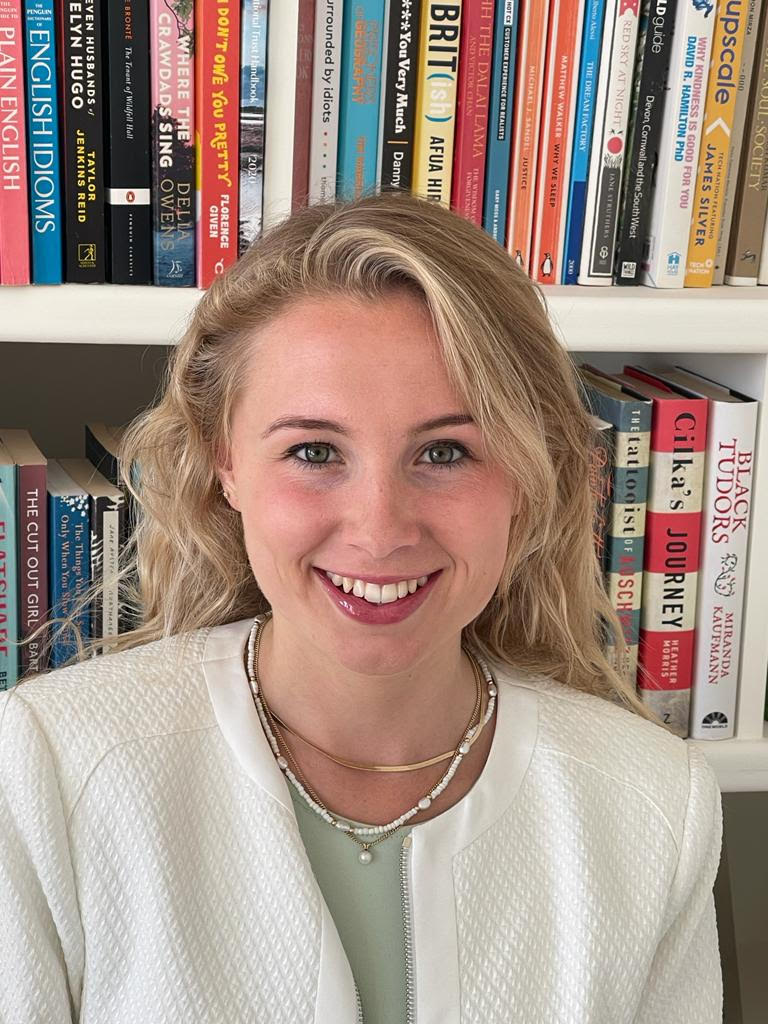 Laura is our eCommerce editor. Before Homes & Gardens she studied English at Oxford University. Alongside her studies, she qualified as a barista and trained as a master perfumer. This makes her our certified expert for all things coffee, candles, and fragrance. She has passed our five-step tests to become a certified Customer Advisor, making her our resident expert. Laura has worked for luxury retail brands, reinforcing the importance of quality and style over quantity and fads. She looks for products which have been designed with thoughtful finishes.