Naturepedic Chorus Mattress review
Made of high-quality, organic materials, the Naturepedic Chorus Mattress is a great choice for anyone who prefers a firmer mattress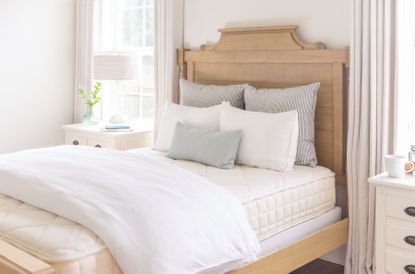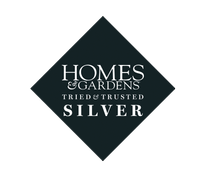 (Image credit: Naturepedic)
Built with 6 layers, the Naturepedic Chorus provides serious support. Included in those layers are 8" of encased coils and a 1.5in microcoil comfort layer – making this a medium-firm mattress, (leaning towards the firm side). Thanks to the ethically-sourced organic materials, there's no need to be concerned about scary chemicals, and no off-gassing.
Reasons to buy
+

Made without chemicals

+

No odor at all

+

Affordable

+

Minimal motion transfer
Reasons to avoid
-

Firmer than expected, not a medium comfort level mattress

-

Poor edge support

-

Not cooling
You can trust Homes & Gardens. Our expert reviewers spend hours testing and comparing the latest products, helping you choose the best for you. Find out more about how we test.
Without giving away my age, I'm unfortunately at that time in life where a firm mattress is recommended. I really didn't like the idea of giving my pillow top up just yet, but, waking up without aches and pains sounded tempting. Enter the Naturepedic Chorus Mattress.
Naturepedic Chorus Mattress At A Glance
Firmness: Medium-Firm
Type: Innerspring
Best for: ideal for all sleepers
Construction materials:
Sizes: Twin, Twin XL, Full, Queen, King, Cal King
Height: 10"
MSRP: $1,199-$2,499
Naturepedic joined the mattress market in 2003, so they're pretty experienced at what they do. With a laser focus on providing eco-friendly products, they boast an impressive line of organic mattresses, and also specialize in mattresses for infants and children. Everything from the batting, to the fill, to the microcoils are made from chemical-free ingredients. Even the support coils are free from glues and adhesives!
Speaking of the coils– they are individually wrapped, which provides really awesome pressure relief and support. The sheer number of coils makes the Chorus a number one pick for couples, thanks to its isolation of movement.
**I'd also like to begin this review with a short disclaimer. Under no circumstances should you unbox a king-size mattress anywhere but its final destination. If you do, I can only hope you have kind-hearted neighbors to help you carry the awkward oversized 120lb blob.**
Moving on…
Below, I'll tell you how the Naturepedic Chorus bounced back from its rough arrival and impressed me, making it one of the best mattresses around.
Who will the Naturepedic Chorus mattress suit?
Back sleepers: firm mattresses are the holy grail for you back sleepers, and the Naturepedic won't disappoint
Heavier individuals also benefit from a firmer surface, as it supports the spine much better than its pillow-y counterparts
Anyone health-conscious or who appreciates ethically sourced materials. There's nothing scary about the materials and substances used to build the Naturepedic Chorus, which is especially great for kids.
Anyone looking to avoid latex: With most organic mattresses featuring latex, some with serious latex allergies or those who do not like the responsive qualities of latex, will be well-suited to this latex free design made of cotton, wool and glueless coils.
What's the Naturepedic Chorus mattress like to sleep on?
Full transparency, it took a solid three weeks to win me over. The Chorus isn't as cushy as my previous mattress, a latex hybrid, which threw me off. It is much firmer and has little to no bounce– something I'm not used to.
Plot twist: I don't hate it. I've been waking up sans lower back pain, so I'm basically a new person.
Overall comfort and firmness
Naturepedic labels the Chorus a medium mattress, but I have to disagree. It feels much firmer than other medium mattresses I've slept on. It cradles the hips perfectly but feels a touch too firm for my shoulders as a side sleeper. I'd imagine a back sleeper would appreciate this more– as my back feels fully supported when laying flat!
Even though the Chorus is ultra-firm, it's still comfortable. You won't sink into it, but it offers pressure relief as soon as you lay down.
Pressure relief and support
The Chorus really came through on pressure relief, thanks to the microcoils! My bodyweight felt completely supported, with no sagging spots. Laying on my back, I physically felt less pressure on my hips and back.

Edge Support
Not great. I weigh in at around 120, and sitting on the edge of the bed required effort– I could have easily slid right off. I noticed an imprint once I stood up, as well. If you struggle getting in or out of bed, this may be a concern.
Is it cooling?
Not quite. The wool batting is intended to wick away sweat, but it doesn't prevent overheating. I'm a hot sleeper, so this was a noted pain point for me. For anyone not prone to night sweats (sorry, TMI), I'm certain the microcoil comfort layer does a sufficient job dispelling heat.
Motion isolation
This is where the Chorus mattress shines! Motion isolation is absolutely incredible. It's even better than my son's memory foam mattress. Red wine is pushing it, but I'd go so far as to trust an open water bottle on the opposite side of the bed.
If your partner is a mover or a shaker, worry no more. No one will be waking you up on this king-size mattress. In fact, you won't even know they're there. I tossed two decent size dumbbells on the bed, and the other side didn't budge.
To test motion transfer, we placed a paper towel over a cup of water to see how much water is displaced by movement. Don't go ditching your mattress protectors, but I'm happy to report– no water in sight!
Here's what it looked like after rolling around a good 5-6x:
Naturepedic Chorus mattress design and construction
The Chorus is made up of six layers:
Organic quilt made of organic cotton, wool batting and pla comfort layer- here's where the cooling and comfort come from.
1.5" microcoil comfort layer- microcoils are smaller, which make them inevitably more comfortable (because you can't feel them)!
Organic cotton batting
8" encased coils- 8" of individually wrapped coils are awesome for lumbar support
Organic cotton batting
Encasement made of organic cotton and fill
These materials, and mattresses, in their entirety, have met the rigorous standards of GOTS (Global Organic Textile Standard), MadeSafe to be free from any harmful ingredients, vapors, gases, or by-products that could impact human health, and UL/GREENGUARD certified for low emissions.
It's also significant to what this mattress does not have: There's no polyurethane foam or glue or adhesives that could contain any chemical traces. Since no foam is used, the organic design also eliminates the need for flame retardant chemicals while still meeting all federal and state flammability standards.
Ordering, delivery, and set up
Naturepedic arranged delivery through FedEx, which was fast and efficient. Tracking was updated right away (every type-A's dream) and it arrived within a week. Online ordering is fool-proof, and with a handy "find a store" option, there's a method for everyone. Mattresses are a significant investment, so the option of testing in-store really stood out to me!
Unfortunately, the box was placed against my garage door, which caused a dilemma. Not knowing how heavy it was, I attempted to carry it into the garage solo. At 120 lbs, it's a task meant for two or three.
If you're a single individual, be prepared to enlist the help of others. There's absolutely no way you're getting this box inside on your own!
Now, Please revert back to my initial advice from the intro: unbox your mattress in the room you intend to sleep in. King size mattresses are heavy, and I take back all the smack I've previously spoken about being a strong woman. I, in fact, have arms made of jello, that were not built to carry large mattresses up a flight of stairs.
With that being said, if you're practical and carry the box to the room it will be used in, I'm sure setting the Chorus up would be easy as pie. Opening the plastic was a bit of a challenge because it wasn't perforated properly, but it was still easy to maneuver. Once the plastic was removed, the Naturepedic mattress expanded quickly and was at its full 10" in less than thirty minutes.
I was fully anticipating a champagne-bottle explosion once the plastic came off, but it was actually controlled. Nothing (or no one) was injured in the unpacking process!
Because there was no off-gassing or smell, the Chorus could be slept on right away. This is a total bonus because waiting days or a week is a pain in the rear.
Had I been better prepared, this would have been a 5/5 experience.
Naturepedic Chorus warranty and trial period
Naturepedic offers a 10-year warranty on its mattresses and a 90-day money-back guarantee sleep trial. Note, the return period applies only to orders placed directly with Naturepedic, and not third-party sites like Amazon or Wayfair, in which you follow their own return policies.
How does the Naturepedic Chorus rate online?
Online reviews were overall great for the Naturepedic Chorus. After reading close to 100, I found the common denominator: firmness. Either sleepers appreciate the ultra-firm mattress, or couldn't get cozy.
Amazon has an average of 3.9/4, while Google shines a 4.8/5.
- "The best customer service, perfect experience so far"
- "My back pain is completely gone"
- "Comfortable but wish edges were reinforced"
- "It feels like I'm sleeping on a bale of hay."
Lots of customers are on their 2nd, 3rd, even 4th Naturepedic, which tells me the company is trusted with a great product. Many reviewers even credit their mattresses with eliminating back pain entirely– pretty amazing if you ask me!
Is the Naturepedic Chorus mattress worth it?
If a firm mattress is your jam, the short answer is yes.
If you prefer a more cushioned sleeping experience, I'd recommend passing on the Naturepedic Chorus.
After sleeping on the Chorus for over three weeks, it has relieved some of the pains I was experiencing and allowed me to sleep through my kids climbing into bed. If I had to sleep next to myself at night (a tossy turny)– I would totally invest in the Naturepedic Chorus!
As a mom of three, the materials I bring into my home matter. Knowing my kids aren't exposed to toxic chemicals is relieving. Most chemicals have never been tested for human safety, which is why Naturepedic uses only tested, tried and true materials. Even better, the host of environmental certifications that Naturepedic sought out to back up their product including GOTS, MadeSafe and UL/GREENGUARD certifications. This alone makes the mattress worth the money.
Where to buy
About our review – and our reviewer
Courtney's sleep stats:
Sleep position: I'm a ninja sleeper, always on my side with one knee hiked up, arms up above my head.
Insomnia: No trouble falling asleep, but once I'm up, I'm up.
Sleep problems: Sweaty-Betty and tossing and turning.
Average sleep time: 6-8 hours.
All our reviews, as in the case of the Naturepedic Chorus Mattress, are based on the real-life experience of using these products at home. Courtney slept on this mattress for a month before beginning this review. The products are given to us free of charge and we test them for as long as possible before sending them back to the brand unless we are able to keep them as we are with this mattress. This means that we can continue to use the product which gives us the opportunity to return to our reviews for updating, so you can keep up-to-date with how it's fared over a period of time.
Sign up to the Homes & Gardens newsletter
Decor Ideas. Project Inspiration. Expert Advice. Delivered to your inbox.
Midwestern product tester and writer Courtney Irwin is a working mom of three who loves nothing more than a good deal. Equal parts entrepreneur and family-gal, she believes hard work deserves to be celebrated. Oftentimes in the form of a new gadget or sun-filled vacation! When she's not on the hunt for the next big trend, you can catch her in her kitchen, cooking and testing appliances.