Ninja Creami Review: is the TikTok trend up to the fanfare?
Ninja makes excellent blenders, so it makes sense that Ninja Creami is a fantastic ice cream maker. Lots of influencers love their Creamis, but I'm not sure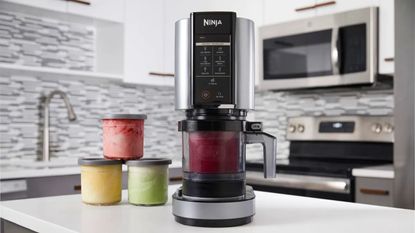 (Image credit: Ninja)
The Ninja Creami has a range of frozen settings, from smoothie bowls to sorbet. It's good, but you could spend less and get a better appliance; it's quick to cream, but slow to ice.
Reasons to buy
+

Versatile settings

+

Creamy results

+

Quick to blend

+

Dishwasher safe
Reasons to avoid
-

Heavy to lift

-

Loud

-

Difficult to store

-

Long time needed to prep

-

Expensive
You can trust Homes & Gardens. Our expert reviewers spend hours testing and comparing the latest products, helping you choose the best for you. Find out more about how we test.
If TikTok hasn't shown the Ninja Creami on your 'For You' page, you'll have probably heard about it from enthusiastic owners. This appliance has changed the way people make ice cream. Rather than churn for twenty plus minutes, the Creami delivers you soft-serve results in three minutes.
Naturally, this had me intrigued. I've tested some of the best ice cream makers on the market, so I wanted to see whether Ninja was any match for them. I took the Ninja Creami to task, making ice cream, vegan ice cream, sorbet, and frozen yogurt. I made notes on the whole process, right up to the clean-up.
Whilst the results of the Creami were as promised, there are a few catches. The Creami requires the longest freeze time and it's quite loud. However, there are a lot of ice cream enthusiasts who would take this in their stride.
Ninja Creami Specs
Swipe to scroll horizontally
| | |
| --- | --- |
| Dimensions | 6.52 x 12.07 x 15.95 inches |
| Dishwasher safe | yes |
| Number of programs | 8 |
| Weight | 14.4 lbs |
| Wattage | 800 |
| Container capacity | 3 pint containers |
| Sound | 105 dBA |
Unboxing
The Ninja Creami's box was damaged in transit, but thankfully, it was well protected. What I am not thankful for is the large amount of plastic used to package the Ninja Creami. Of all our ice cream makers, this had the most non-recyclable packaging by far.
The set up instructions are online, so you scan a QR code to get through to their website. This might be frustrating if you don't have a smartphone. In reality, I'm more of a video tutorial person. Luckily for me, Ninja have a comprehensive set of video tutorials for you to follow instead.
After I heaved the Creami onto the countertop, it looked smart. It's large, slim, and resembles a coffee machine. It's heavy and tall, so certainly isn't for everyone. You need tall cupboards, or, you'll have to keep it out on the countertop.
It's pretty standard to need to prep your ice cream makers in advance. The Ninja Creami calls for 24 hour preparation. This is because the Creami works backwards, chipping away and creaming your ice block until it's a smooth, frozen desert. This length of time can catch you off guard, so I made sure to get some ice cream in their dedicated tubs well in advance of testing. I would advise that you do the same, so that you're never caught out by ice cream cravings.
Who will it suit?
The Ninja Creami has an impressive range of settings and can quickly turn solid, frozen blocks of ingredients into ice cream and frozen desserts. It's a good option for those who want to make small portions of ice cream, sorbet, and açai bowls.
Lots of other ice cream makers require large amounts of freezer space for storing your ice cream bowls. For many, that's a problem. Ninja Creami's pint sized pots don't need nearly as much room and double-up as ice cream containers, so are a brilliant option. They also can make ice cream in under three minutes; as long as you did your 24 hour prep, this is a hasty, tasty ice cream maker.
If you don't have much countertop space, or want to make big portions of quality, soft serve ice cream, you should buy the Cuisinart ice cream maker or KitchenAid attachment instead. They're half the price with much better results.
What is it like to use?
There is a trick to using the Ninja Creami. Once I had mastered it, the process was slick. However, that skips over numerous reruns of the same Youtube video showing me how to assemble my Creami properly.
To start, I took my Ninja Creami pot out of the freezer. I slotted this into the outer, main pot. You'll need to insert a sharp blade into the lid of the main container. For a somewhat accident prone person like me, this was hair-raising. Don't do it with little ones.
Next, you'll slot the bowl onto the Creami base, click it in, twist it up and you're ready to go.
Vanilla Ice Cream
For a fair test, I used a standard vanilla ice cream recipe. This was the same one I used across all ice cream makers. I whisked one cup of whole milk with ¾ cup of granulated sugar. Once dissolved, I added two cups of heavy cream and two teaspoons of vanilla paste. Overnight, this froze in my Ninja Creami pint tub.
I set my ice cream in place, pressed the ice cream button and let the Creami run. It timed 2.5 minutes and automatically stopped when it was done. The 2.5 minutes were filled with a loud, unpleasant screech that registered as 115 dBA, about the sound of a subway. Afterwards, I lifted the lid off to find a very smooth, well churned ice cream. I didn't expect it, but I was impressed. There's a mix in option for any extras and this integrated my brownie chunks throughout the mix really well. The ice cream was dense, but really creamy. I didn't find any ice crystals or inconsistencies at all. I placed the ice cream in the freezer for a few hours and when I came back to it, the mixture was solid. The dense, velvety ice cream had become a rock.
Vegan Ice Cream
By this point, I had tested all of our other ice cream makers with vegan ice cream, so the Creami had big boots to fill. Non-dairy ingredients have a tendency to split, take longer to freeze, or be difficult to handle. Non-dairy ice creams have even more of a reputation. They often suffer worse from freezer burn and I've opened many store-bought ice cream tubs to find a disappointing, hard, crystallized mix.
After three minutes, I could see that the Creami had churned my ice cream. I lifted the lid to find a soft, smooth vanilla ice cream. As with the dairy ice cream, it was dense, not light, but it was impressive. I had a look online and found a collection of non-dairy, low sugar bakers raving about the Creami. Their solution to the rock-hard freeze was to place the pint pot back in the Creami to for a re-spin. After a few hours, I tried this, and it worked. As a dairy-free option, it scores highly.
Sorbet
I found a Ninja recipe using only blended frozen berries. I was intrigued. Sorbets can get very sweet, so this was the perfect opportunity to test a low sugar option.
I blended 450g of raspberries and froze them overnight. These only had 17 hours in the freezer, but I had blended frozen raspberries, so they started off colder anyway.
I sat my sorbet pot in position, pressed sorbet and ran the Creami. It created a beautiful, non-sorbet raspberry crumb. This tasted like sorbet and melted in my mouth. Underneath, I could see the beginnings of sorbet too, but the top was the texture of breadcrumbs. I ran the pot through again and had the same crumb texture. With a tablespoon of water and another run through, my sorbet was smooth, shiny, and well creamed. It looked like shop-bought sorbet. It didn't taste like it. It was really sharp – I'm definitely not used to sugar free sorbet. Aside from the sharpness, the sorbet was hard to fault.
Frozen Yogurt
I had seen people have issues with a crumbly texture in their Creamis and experienced it with the sorbet. I froze a tub's worth of normal yogurt inside the dedicated Creami pint pots the night before.
I used the gelato setting and found that the resulting fro-yo was a fro-no-go. It was just crumbly. I sent it through again with little success. After adding a tablespoon of water, the mix was back to being silky smooth. It was really nice and light, so a pleasing end result. There were a few ice crystals where the yogurt had not fully mixed through, but I think if you sent the Creami on a final spin, this would be sorted. However, you shouldn't have to do this.
Cleaning and Storage
I used this appliance after another one of our expert testers had put the Creami through its paces. They told me that it was easy to clean, as the tubs, lids, and paddle were all dishwasher safe. However, when I came to use the Ninja Creami, it was clear that the dishwasher had not done a good job. There are lots of small spaces that the frozen fruit had been forced into. I needed a small brush to properly scrub the Creami out before I could use it. For this reason, I used warm soapy water to give the Ninja Creami a proper clean when I was finished. Make sure to scrub every tight space on the lid, because when the residue dries, it shows. The Creami has many places for food to get stuck on, so I didn't find cleaning easy. It's not a huge feat, but I found all of the other ice cream makers that I tested a lot easier to clean.
As I said, this is a tall, heavy machine. However, other ice cream makers have huge bowls which you need to fit in your freezer. The Creami pint sized pots are much smaller than the large mixing bowls. With the Creami, you sacrifice countertop space to save on freezer space. The pint pots double up as ice cream pots, so they are really useful. Just buy a few extra, because two isn't enough.
How does it rate online?
The Ninja Creami went viral on TikTok, so there are lots of people with lots to say about its performance. Millie Fender, our expert Head of Reviews really liked the range of settings. With a small freezer, this was the best option for her household.
Among reviewers, this was well-rated, often achieving four stars at least. The functions are fun, Ninja supplies a good range of tasty recipes, and lots of customers like having ice cream in three minutes. It's much quicker than normal processes. The main community who particularly loved the Creami are those who made non-dairy ice cream or low calorie options. The high water content in these recipes make them crystallized and icy, but with the Creami, none of these negatives pull though.
Almost everyone commented on how loud and large the Creami is. It's lucky that this only runs for three minutes, because people didn't want much longer with the screech. Some had powdery sorbets or found that the Creami was very sensitive to ingredients, temperature, and freezing time. You can't get away with any shortcuts.
How does it compare?
The Ninja Creami wins big points for some improvements on domestic ice cream makers. The pint-sized pots are significantly smaller than the Cuisinart and KitchenAid freezer bowls, which need a lot of space in the freezer. The ice cream making process only took three minutes, which is a tenth of the time that most ice cream makers needed and it had lots more settings.
However, 24 hours worth of freeze time is the longest prep time of any ice cream maker that I tested. It was the heaviest and loudest by a long way. It is also double the price of most other appliances and it doesn't feel like double the value. It's well made, but expensive.
Should you buy it?
There is a very specific audience for the Ninja Creami. If you want to make ice cream quickly, in small batches, and you don't have much freezer storage, the Creami ticks a lot of boxes. However, you pay a premium for speed and storage. For an appliance this big, I would have liked the Creami to have a blend capacity, to run a little quieter, and to produce more soft-serve texture ice cream.
How We Test
We are dedicated to how we test all of our appliances. All of our experts are well-established product testers, bringing with them the expertise needed to discern whether these are worthy investments for your home.
For ice cream makers, we researched the best products on the market. We wanted to look for appliances that were good value for money with exceptional results. We took these to our test kitchen and, over the course of a few days, tested these on ice cream, non-dairy ice cream, sorbet, and frozen yogurt. We made notes on the whole process from unboxing to cleaning up to make sure that we didn't miss a thing. All of these ice cream makers were tested alongside each other, so we could make direct comparisons between them and their results.
Sign up to the Homes & Gardens newsletter
Decor Ideas. Project Inspiration. Expert Advice. Delivered to your inbox.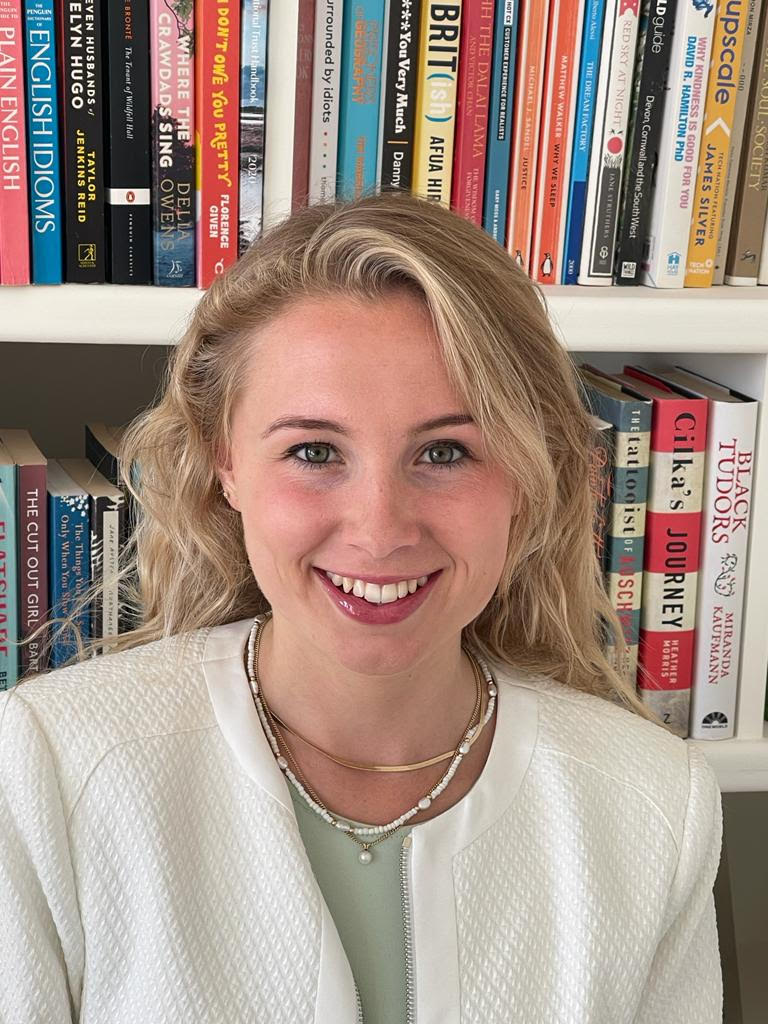 Laura is our eCommerce editor. As a fully qualified barista, she's our expert in all things coffee and has tested over thirty of the best coffee makers on the market. She has also interviewed Q-Graders and world-leading experts in the coffee industry, so has an intimate knowledge of all things coffee. Before joining Homes & Gardens, she studied English at Oxford University. Whilst studying, she trained as a master perfumer and worked in the luxury fragrance industry for five years. Her collection of home fragrance is extensive and she's met and interviewed five of the world's finest perfumers (also known as 'noses'). As a result of this expansive fragrance knowledge, she always puts quality and style over quantity and fads. Laura looks for products which have been designed simply and with thoughtful finishes.