Ninja Woodfire Outdoor Oven review – affordable, accessible, not quite right
This electric oven is budget- and beginner-friendly, but it can't meet the standards of the best pizza ovens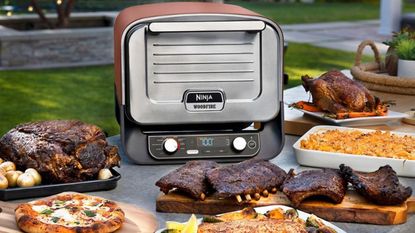 (Image credit: Ninja)
If you're tight on time and money, but you still want to make your own pizza, you'll appreciate this quick outdoor cooker. Just don't expect it to deliver the same depth of flavor as one of the best wood-burners or charcoal grills.
Reasons to buy
+

One of the more affordable pizza ovens on the market

+

Suitable for beginners

+

Deceptively large capacity

+

Creates crisp crusts with plenty of leopard-spotting

+

Easy to clean
Reasons to avoid
-

Struggles to dehydrate wet ingredients

-

Can't quite replicate depth of flavor you get from a wood-burner

-

Accessories cost extra
You can trust Homes & Gardens. Our expert reviewers spend hours testing and comparing the latest products, helping you choose the best for you. Find out more about how we test.
Once you've made your own pizza, you'll never go back to the store-bought stuff. With one of the best pizza ovens, you can make crispier crusts from the comfort of your own kitchen.
Some of the best outdoor ovens cost more than a thousand dollars, which puts them out of reach of the average American. Enter the Ninja Woodfire Outdoor Oven. You don't need to pay for wood pellets of bottles of propane: this machine runs on mains electricity and reaches temperatures of 700°F in a matter of minutes. It doubles as a smoker, a roaster, and a baker, too, but I tested it as a pizza oven.
But I'm sorry to say this multifunctional machine can't meet the high standards set by the best pizza ovens. The Ninja Woodfire Outdoor Oven makes great pizza bases, but it struggles to dehydrate wet ingredients, such as tomato sauce and mozzarella, which are pretty integral to a good pizza. Since it runs on electricity, it can't quite replicate the depth of flavor you get from a real wood-burner or charcoal grill. Don't get me wrong, it was still infinitely better than a store-bought pie. But compared to the very best out there, it's not quite right.
I put this machine through its paces right outside our dedicated test center. The Ninja Woodfire Outdoor Oven made decent pizzas, but ultimately failed to live up to the hype.
Ninja Woodfire Outdoor Oven Specifications
Swipe to scroll horizontally
| | |
| --- | --- |
| Dimensions | 21.5L x 18W x 15.1H" |
| Cord length | 55.12" |
| Plate size | 12 x 12" |
| Weight | 32.4lbs |
| Temperature Range | 105 - 700°F |
| Programs | Warm; dehydrate; smoke; bake; top heat; top heat; gourmet roast; max roast; pizza. |
| Portion size | 12" pizza or 2 racks of ribs or 2.5kg of chicken |
Unboxing the Ninja Woodfire Outdoor Oven
The Ninja Woodfire Outdoor Oven comes in a large cardboard box, which lifts off at the top for easy removal. There was no reaching down and fumbling around in search of a handle. All I had to do was separate the sides of the box from the base and ease the oven onto my countertop. Such limited lifting is ideal for customers who struggle with heavy weights, as well as anyone who lives alone.
Inside the box, I found a fair amount of polystyrene, designed to protect the oven in transit. Ninja are normally champions of sustainable packaging, so it was disappointing to see so much waste, right off the bat. The polystyrene was tricky to remove, thanks to the strips of hidden tape keeping it in place, so I had to fetch my scissors to set the Outdoor Oven free.
The Ninja Woodfire Outdoor Oven comes with a recipe inspiration guide and a user manual. I wouldn't throw these away, especially if you're new to outdoor cooking. Ninja offers tips and tricks for making thin crust and Neapolitan pizzas, as well as New York and pan pies. First-time grillers will appreciate Ninja's troubleshooting guide, which should help you solve common problems.
Measuring one foot tall, two feet deep, and weighing just over 30lbs, this pizza oven appears to be on the smaller side, but it boasts a deceptively large capacity. There's enough space to cook a 12-inch pizza, 9 lbs of pork shoulder, or even two large racks of ribs.
If you like to take control in the kitchen, you might prefer this adjustable electric oven to an unpredictable charcoal grill or wood-burner. You can set the Ninja Woodfire Outdoor Oven to cook at a wide range of temperatures from 105 - 700°F. If you want to keep control, but you love the smokiness you get from a real grill, then you're in luck. You can add woodfire flavor to your food with just a half-cup of pellets, sold separately on the Ninja site.
Speaking of cooking accessories: it's worth knowing that the Ninja Woodfire Outdoor Oven comes without an oven stand, an oven cover, a cast-iron pan, or even a pizza peel. I wasn't even sent a peel for testing purposes, so I had to make do with a baking tray. Ninja's Outdoor Oven might seem more affordable upfront, but the cost of those added extras soon stacks up.
Test 1: Cheese Pizza
When I took the Ninja Woodfire Outdoor Oven to our test center, I was catering for a team of vegetarians. To meet their needs, and to test a classic, I decided to make a cheese pizza.
As a pizza lover, I know that dough tastes best when it's made fresh. But I was pressed for time, with just a half hour to go until lunch, so I chose to make dough from the packet, instead. I poured my dough pellets into a bowl, added half a cup of water, and mixed until it reached my desired consistency: smooth and a little tacky to the touch. I floured my kitchen counter before kneading my dough and leaving it to prove for 15 minutes.
I rolled my dough into a rough circle and added an even layer of store-bought pizza sauce. Next, I tore off chunks of cheese and sprinkled them across the base. I used mozzarella, but you could easily substitute that for your own favorite cheese. Finally, I transferred my pie from the kitchen counter onto my makeshift pizza peel.
Meanwhile, the Ninja Woodfire Outdoor Oven was heating up. It took around 20 minutes to reach 700°F and beeped to let me know when it was ready to cook. Once the oven was up to temperature, I poured plenty of polenta onto my makeshift pizza peel to stop the dough from sticking, before launching my pie to the back of the oven.
We tried this on the 'Artisan' setting, and it finished in two-and-a-half-minutes. The pie looked good, and tasted good, too: we ate the whole thing in a matter of minutes. The dough had puffed up under pressure to create that leopard-spotted look you get from the best wood-burners. But unfortunately, this electric oven couldn't quite replicate the same depth of smoky flavor. Since Ninja don't include wood wood pellets as standard, we couldn't dupe it, either. I can't emphasise enough that it was still delicious, but it's simply not on the same level as the other ovens out there.
Test 2: Vegetable Pizza
The Ninja Woodfire Outdoor Oven had performed pretty well so far, and I was feeling confident going into the second test. I wanted to see how the oven tackled tougher textures and frozen ingredients. My team was in the mood for more pizza, so I decided to make a second Neapolitan pie, covered with frozen peppers.
I rolled out my second batch of dough and added a slightly thinner layer of sauce. The last pizza had been a little too wet, with mozzarella slipping off the slice, and I wanted to avoid the same mistake. I decorated with chunks of cheese and chopped up a few red and yellow peppers that I found in my freezer.
Since the oven was already at temperature, I was able to start cooking straight away. I launched my pie to the back of the oven and waited. With a cook time of two and a half minutes, the Ninja Woodfire Outdoor Oven isn't as quick as some of the best pizza ovens on the market, but it's still pretty speedy.
As soon as the oven beeped, I removed my pie and shut the oven door behind me.As I cooked, I'd noticed that the sides of the machine were warm to the touch, and the oven was hot on top.
As for the pizza, it tasted decent, if a little overdone in comparison to the first pie. That struck me as strange, since I'd used the same setting, and I'd removed my pizza before the fire started. Even though I'd used a thinner layer of sauce, this pie seemed even wetter than the first, with cheese and vegetables alike slipping right off the slice.
The dough, however, had puffed up nicely and charred to perfection. It seems that the Ninja Woodfire Outdoor Oven struggles to dehydrate wetter ingredients, even at temperatures as high as 700°F. In pizza terms, that means crisp and crunchy bases, but sloppy sauces. It's not a problem you find in wood-fired or even gas ovens.
Cleaning the Ninja Woodfire Outdoor Oven
Like all pizza ovens, the Ninja Woodfire Outdoor Oven needs to cool before you clean it. Otherwise, you're putting yourself at risk of serious burns. I'd recommend letting this oven cool for a few hours after cooking before attempting to clean. Even then, it's best to wear a pair of heat-resistant gloves to guard against hot spots.
When it comes to cleaning electric ovens, you don't need much: just some cleaning spray and a scraper to dislodge the debris. You can pick up a cleaning brush and some antibacterial spray for less than $20 at Walmart. All you need to do is wipe down the pizza stone and lay it out to dry for a day or two before using it again.
How does it rate online?
The Woodfire Outdoor Oven has dozens of five-star ratings on the Ninja site, praising its versatility and value for money. You can find more balanced reviews when you shop on Amazon. A few customers have noted lengthy cooking and heating times, as well as a faulty smoker function.
Some of the more negative reviews bemoan the absence of an oven stand, an oven cover, and a pizza peel, which are not included with the initial purchase. To be fair to Ninja, there's an option to shop for additional cooking accessories on the Ninja site. However, many of the best pizza ovens come with peels and pellets included. A peel is an essential to use an oven like this. You wouldn't expect an air fryer to show up without its basket.
How does it compare to other pizza ovens?
The Ninja Woodfire Outdoor Oven is affordable, and makes decent pies, but it cooks too inconsistently to meet the standard of the best pizza ovens. If you love pizza, and you're looking to splurge on the best oven, look no further than the Ooni Karu 16. It comes with a built-in digital thermometer to monitor internal temperatures, which is the key to consistent cooking. The Ooni Karu 16 seriously impressed on test, and made some of the best Neapolitan pizza our expert has ever tried.
For the everyday pizza lover, I recommend the Solo Stove Pi. It's budget- and beginner-friendly, with a quick cook time of two minutes per pie. Just bear in mind that it runs on a very particular type of wood pellets.
Should I buy the Ninja Woodfire Outdoor Oven?
The Ninja Woodfire Outdoor Oven retails for around $400. When you consider that you're getting a roaster, a smoker, a broiler, and a baker, as well as a pizza oven, it seems like pretty good value for money. But you've bought the oven stand, the oven cover, and the pizza peel, as well as any added extras, the initial price skyrockets.
Unfortunately, this multifunctional machine seems to be a jack of all trades and master of none. The Ninja Woodfire Outdoor Oven makes decent pizzas, but they're nothing special, and they can't compare to the pies you could make in one of the best pizza ovens.
About this review − and our reviewer
Emilia is one of our eCommerce Editors here at H&G. She spends her days trialling and testing some of the best indoor and outdoor appliances on the market. She loves nothing more than outdoor entertaining, and she tested the Ninja Woodfire Outdoor Oven right outside our dedicated test center. She put the machine through its paces before sending it back to Ninja, who kindly lent it to her for this review.
Sign up to the Homes & Gardens newsletter
Decor Ideas. Project Inspiration. Expert Advice. Delivered to your inbox.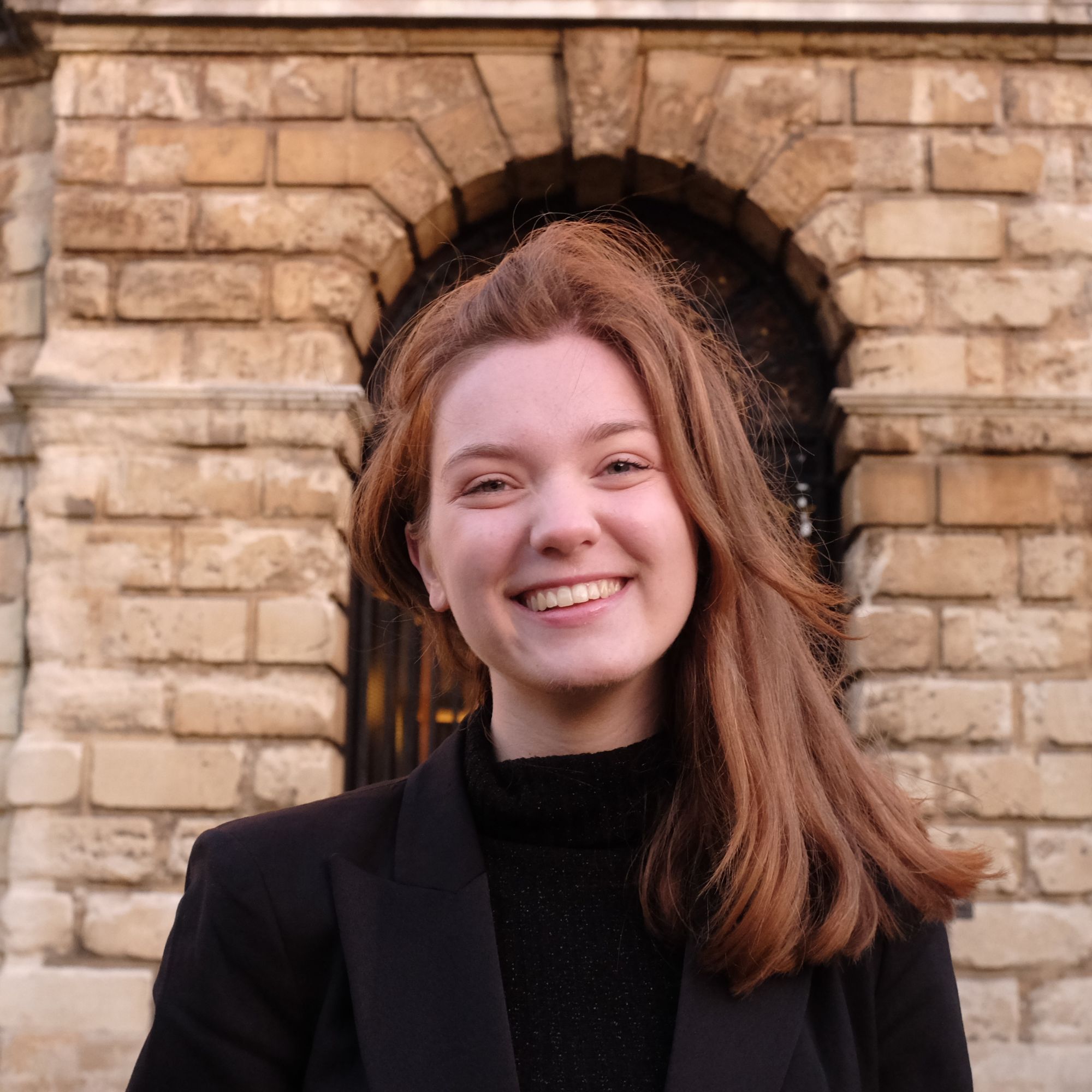 Before she joined Homes & Gardens, Emilia studied English at the University of Oxford, where she sharpened her critical writing skills. She also worked on the other side of the aisle writing press releases for regional newspapers and crafting copy for Sky. Emilia combines her business savvy with her creative flair as our eCommerce Editor, connecting you with the products you'll love. When she's not in the office, Emilia is happiest when entertaining friends al fresco or out in the country.