Samsung BESPOKE Cube Air Purifier review
Smart, stylish, and so quiet, you may even forget it's there... but is that enough?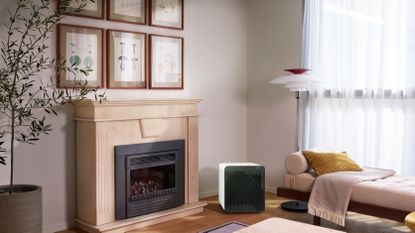 (Image credit: Samsung)
Samsung's BESPOKE Cube air purifier offers a sleek design and excellent filtration (with an emphasis on pet-friendly households), provides detailed insights into your air, and operates stealthily quiet, but its coverage range is not as far as competitors and regular maintenance is recommended.
Reasons to buy
+

Gorgeous, modern design

+

Several settings, including a wind-free and pet function

+

Works with Samsung Smart Things App

+

Some filters are washable
Reasons to avoid
-

Only covers spaces up to 350 sq. ft.

-

Involved set up

-

Requires continuous bi-monthly maintenance
You can trust Homes & Gardens. Our expert reviewers spend hours testing and comparing the latest products, helping you choose the best for you. Find out more about how we test.
I've waited nearly two years to try the Samsung Bespoke Cube Air Purifier. The first time I laid eyes on it during a virtual product launch, I was floored by its boxy look. At first glance, it doesn't even look like an air purifier, but rather a sculptural statement that is commanding looks. It was presented as a stylish successor to the Samsung Cube with higher-end features.
Good looks aside, it carries a pretty hefty $700 price tag, so now that I have my discerning review glasses on... I'm going to examine how it functions. It's more than just a pretty prop.
So I've put it to the test, running it continuously for nearly three months, during a span that also included lots of holiday cooking, a kitchen ceiling repair AND painting, and a dog, who is disturbed by the slightest inconvenience. No small feat. Here, I'll be analyzing its ease of use, design, and ability to purify my home to see what may make it one of the best air purifiers you can buy for your home.
About this review
About this review
Jaclyn Turner
Jaclyn is the US eCommerce editor across the homes titles at Future, including Homes & Gardens. She spends her days tracking the latest buzzworthy releases and testing a variety of products to determine whether they are worth bringing into your home.
As with all our reviews the Samsung Bespoke Cube Air Purifier has been tested first-hand in our home, using it just as you would so you know exactly what you are buying. Jaclyn spent nearly two months continually running it in her kitchen. We will also continue to use the product, which allows us to return to our reviews for updating, so you can keep up to date with how it's fared over time.
Samsung BESPOKE Cube Air Purifier: Design and Technology
Speed settings: 5 (Wind-Free, Smart, High, Pet, Sleep)
Detection: PM1.0 / PM2.5 / PM10, GAS
Filtration Type: HEPA and Activated Carbon
Noise: 21 dBa- 50 dBa
Max area size: up to 350 sq. ft
Dimensions: 14.4" x 17.2" x 15.0"
Weight: 27 lb.
Colors: Gray or Forest Green
Warranty: 2 years
RRP: $699.99
One of the most obvious reasons you may select the Samsung BESPOKE Cube is for its design-forward looks, and perhaps its smart integration with the Samsung Smart Things app, which works with all of its appliances. A lot of attention and detail clearly went into the design of the BESPOKE Cube, with a graphic herringbone front and back detail. They're presently available in two colors, Grey and Green, but they're designed to be swappable to switch up the panels as you choose.
The air purifier panes are removable on both ends, and it was honestly difficult at first to decipher which was the front and the back of the machine. They're made of plastic, but do not necessarily feel flimsy.
The machine has 360° purification and draws in and circulates air from five directions. The Micro Air Sensor can measures the level of air pollution precisely and detects the levels of dust particles of various sizes (PM10/2.5/1.0) in real-time, including ultrafine dust as small as 0.3μm. It also monitors GAS, which detects household odors, like ammonia and acetic acids, and organic compounds, like toluene and benzene.
Before being released as clean air, particles go through four levels of multi-layered HEPA filtration including a Dust Collecting Filter, Pet Deodorization Filter, Pre Filter, and washable Pet Filter. The mesh Pet filter is designed to be swapped out every two weeks, and it came with four replacements. I didn't love that I needed to remember to come back for maintenance
Samsung BESPOKE Cube Air Purifier: Set-Up & Features
Unboxing
The Samsung BESPOKE Air Purifier had one of the more involved setups of any air purifier I tried. While I definitely had to get the manual out right away before I even attempted to plug it in, it does require you to get acquainted with the parts of the machine, and in turn, gave me a better appreciation and understanding as to how everything worked.
The main filters were wrapped in plastic, with a small hanging piece of paper that alerted you before plugging in the machine. They all neatly stack in with each other, but careful not to get it out of order, though they all technically nest neatly together.
Of course, I had to start by figuring out the front side from the back side, as both panels come off. Fortunately, there is a small, powerful symbol that could identify the front. The back can also be differentiated as it protrudes slightly.
Ease of use
The beauty of an air purifiers is that they should be easy to use. A sort of set-and-forget-it type of product that absorbs into the background as you go about your life. Of course, the BESPOKE Cube accomplishes that. It's pretty easy to toggle between settings, or just leave it on smart mode.
Settings
There are six settings to notate wind strength: options are smart, high, wind-free, sleep and pet. In Pet mode, the purifier removes pet hair and odors from the air in your home so you can breathe cleaner air. High, you most likely won't use it very often unless you're actively trying to clear the air and is quite loud; meanwhile, the Smart mode adapts to the environment in real-time and senses impurities by continually analyzing the indoor air quality. It typically operates at an imperceptible level. The Wind-free mode also operates without speed or adding a draft, while sleep mode runs at a quieter level and ensures all lights are off.
A small icon can be tapped, you can also activate a child lock to keep small ones from tampering with settings. This is especially important if you're using the SMART setting, where the front panel adjusts its opening.
Range
The BESPOKE Cube covers a range of up to 350 sq. ft., basically, the size of a really small studio or a moderately-sized room sized about 18' x 18'. My downstairs is an open floorplan layout for the kitchen, breakfast area, and family room. It's larger than 350 sq.ft, and seeing that the kitchen is where we will have the most fluctuations in air quality, I reserved to placing it in between the table and countertop. I imagine, based on this size, the BESPOKE Cube would be best suited for a bedroom, office, or living room.
Smart Things App
The Smart Things app covers all Samsung appliances, not just the Samsung Cube. It can set schedules and coordinate your entire home, but the most useful feature of the app, beyond being able to control the air purifier unit via your device, is the ability to measure electricity usage (for instance, in November, I used 3.99 kWh with continuous use for a grand total of 45 cents to run), and activate settings like sleep mode, or welcome care, that will turn your air purifier on when you're nearly home if you choose to turn it off when you're not home. You can also see insights into your air compared to the surrounding outdoors. It also has a space to manage maintenance and usage history.
Now, my one nitpicks with the app, is when I go to search for it on my phone, I have to mentally remind myself that the program is called Smart Things and not Samsung.
Filters
The Samsung BESPOKE Cube has a 4-filter HEPA system, which at set up requires you to get acquainted with them. They are stacked as a Pet Mesh Filter to capture pet hair, the pre-filter for large dust particles, a Pet Deodorization Filter to reduce odors, followed by a Dust Collecting Filter to trap ultrafine dust before clean air is expelled from the front of the machine.
The Pet Mesh filter is supposed to be rinsed every week and swapped with one of four replacements. I'd check it periodically and it doesn't show too much dirt or pet hair, but also my dog does not shed very much. Both the pet mesh and pre-filter can be rinsed and reused. However, the Pet Deodorization Filter and the Dust Collecting Filter will need to be replaced (sold as a set for $80), of which the app will keep you posted on its lifespan.
How does it compare to other air purifiers
Air purifiers range greatly in size, design, cost, and features, so when comparing among designs, you'd want to base them most likely around price range and size. I'd categorize Samsung's BESPOKE Cube Air purifier among a class of premium designs, of which I've personally tested two other brands: Aeris by iRobot and Molekule.
All three offer apps to control, monitor, and find out intel about air quality. Both Samsung and Molekule are also able to give a number as to what kind of particles are in your air. However, as you will see in my Molekule Air Pro review, this beast can handle spaces up to 1,000 sq. ft. Its medical grade, though has a price tag pushing over $1,000. Likewise, its tabletop-sized Air Mini is about half the price and covers spaces up to 250 sq. ft.
On a similar note, as you'll read in our Aeris Air Lite review, which has a $500 retail cost, it can cover spaces up to 850 sq ft. Its app features are not as robust, but its round design uses a 360-degree design that pulls in air from the bottom and sends fresh air through a grate at the top. It uses a mesh cover design that is designed to be interchangeable for a fashionable look and washable that is treated with Swiss antimicrobial coating proven to capture and eliminate the spread of harmful pathogens like bacteria, mildew, mold spores, and viruses, too.
Then, there's also H&G's top choice air purifier, the Mila, which can cover 1,000 sq. ft, offers a good amount of smart features and costs around $400. It's also smaller in size, though still carries the same boxy shape of the BESPOKE Cube.
Should you buy the Samsung BESPOKE Cube Air Purifier?
The $699 price tag is definitely a little steep compared to others that can cover a wider range of space, for much less. In full transparency, I think you're definitely paying for design here, which as you can tell, I like the look of it. In recent months, I've noticed the Samsung BESPOKE Cube Air Purifier go on sale, for as much as half-price, which is exactly when I think you should be buying this air purifier.
Beyond the price and purification range, the biggest deterrent for me was the recommendation to check the pet hair filter every two weeks. Though in full transparency, with my daily and busy life, I'm not thinking about checking up on my air purifier, so I have gone longer than 2 weeks without washing the filter, and the good news is everything has been okay.
Overall, this is a premium machine, that runs very quietly, offers detailed insight into your air, and has unique settings built for your life and how you spend your time with special modes for pets or dedicated to conserving energy when you are away. I particularly like the wind-free option in winter, seeing that an air purifier tends to expel cooler air as a byproduct, which is much appreciated in the summer months but can be a deterrent in the winter with cold air blasting right at me while I sit at my kitchen table.
Jaclyn is H&G's eCommerce editor and oversees all things shopping. She's also a bonafide sleep expert, and previously managed all sleep content on Homes & Gardens and Real Homes– in fact, she has passed our five-step certification process to become a verified customer advisor on mattresses. She regularly scouts out the best of the best for buying guides to help you fill your home with only the best. She joined the team in January 2021. She has previously worked with Apartment Therapy, The Kitchn, The Spruce, The Spruce Eats, and MyDomaine. When Jaclyn's not working, she loves browsing real estate listings, unwinding with a chilled glass of Rosé, and entertaining her Cavapoo, Reese.