Smeg Drip Coffee Maker: 50s style with modern technology
The Smeg Drip Coffee Maker revives 50s style with modern, automatic drip coffee, but we've got a few quibbles with the rest of the design.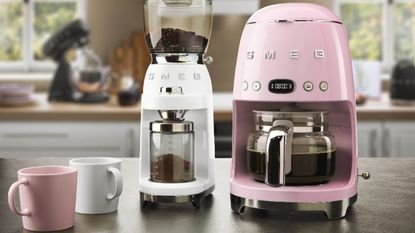 (Image credit: Smeg)
As expected, Smeg delivers on beauty. Albeit tall, this coffee maker looks fantastic. The 10 cup capacity is smaller than most, but the programmable timer makes it easy to have coffee ready when you wake up.
Reasons to buy
+

Looks stylish

+

Can make multiple cups at once

+

Programmable timer

+

Really quiet

+

Can adjust coffee intensity
Reasons to avoid
-

Quite large

-

Water reservoir is awkward to fill

-

Cup measure is small
You can trust Homes & Gardens. Our expert reviewers spend hours testing and comparing the latest products, helping you choose the best for you. Find out more about how we test.
There is no doubt that this is a Smeg Drip Coffee Maker as opposed to any other brand. Available in 9 different colors, It's all retro-chrome and curves. Mine is a bright primary red, and it makes a bold statement on a countertop. The ten-cup capacity, warming plate, and programmable timer place this coffee maker a step above some of the more basic models.
Testing this coffee maker was bizarre for me. As a barista, I'm used to grinding, tamping, locking, and frothing. The best drip coffee makers don't require any of this, especially Smeg's. All this coffee maker needed me to do was press a button. If I programmed it with my coffee routine, I wouldn't even need to do that.
If you're looking to make large maximum amounts of coffee with minimum effort, you might have found your match. You pay a little extra for the appearance, but it's worth it.
Smeg Drip Coffee Maker Review
Specifications
Swipe to scroll horizontally
| | |
| --- | --- |
| Model | DCF02 |
| Dimensions | 9.75 x 10 x 14.25 inches |
| Capacity | 1.5 qt (1.4 liter) |
| Power | 1050 watts |
| Material | glass |
| Automatic timer | yes |
| Weight | 7lb 8oz. |
| Filter | permanent |
| Sound | 46 dBA |
Unboxing the Smeg Drip Coffee Maker
Smeg used recyclable cardboard to package up the drip coffee maker. It's nice to see. There were some bits of plastic that aren't recyclable or recycled, but it's progress from polystyrene.
Lifting the machine out of the packaging, I realized just how big it is. If you have wall cupboards above your countertop, be careful as you might not fit all fourteen inches of this underneath. It's light enough to move around and store in a cupboard, but the LED light, timers, and presets make it clear that this is designed to be seen.
Lots of carafes are mostly plastic, so Smeg's glass carafe felt really premium. This was slightly offset by the plastic lid, but that makes cleaning easy. I was really pleased to see five holes in the sprayhead. Most coffee makers would give two, but five gives a more even water shower over the coffee. This means that you'll get smoother, more consistent brews. The filter is reusable, saving you the hassle of single-use paper filters. However, if you don't want to waver from smoother paper results, you can slot a paper filter in too. Overall, this felt premium and it certainly looked luxurious on the countertop.
Who would it suit?
If you often find yourself frustrated with coffee makers that can only handle one cup at a time, this will suit you. You can have up to ten cups worth of coffee ready in one go. Just note, Smeg measures their cups in 150ml. I poured a mug freehand and it was about 275ml, so ten cups is more like five. However, with these precise measurements, you'll never overbrew and waste coffee.
Drip coffee makers aren't for fancy coffee drinkers. If you are looking for froth, art, and a variety of coffee types, this isn't for you. Nor is it for you if you want to save room or money in your kitchen, as it's big and demands a fair amount of space.
What is it like to use?
Once you have set the time on your LED screen, you're ready to go. It's a very simple process. On the front, four buttons will light up: a very self-explanatory on and off button; a keep warm function to keep your coffee warm for twenty to forty minutes; an aroma button, for choosing a delicate or intense flavor; a four-cup button which brews enough coffee for four cups; and an auto start timer so your machine can automatically brew coffee.
You'll need to fill the water reservoir at the back of the maker. This is a slim gap, right by the hinge, so isn't easy to reach. I would recommend using a jug, because the reservoir can hold 1.4 liters of water, so you don't want to spill lots of water. You can check the water levels on the clear panel at the side. This will show you how many cups of water you have left.
I began the coffee process by lifting the lid and adding three tablespoons of coffee grounds. I closed the premium feeling lid and double checked the clear side panel. With ten cups worth of water stored away, I was ready to go.
Four cup setting
I wanted to start with the four cup setting, which brews the precise amount of coffee for four people. All I had to do was push the button. With a small beeping sound, the machine whirred into action. I heard some fizzing and boiling noises, but this never got louder than 46 dBA. That's quieter than a household refrigerator on the Yale University Decibel Conversion Chart.
After one and a half minutes, I had enough coffee for two cups. After three minutes, my four cups had brewed and the machine stopped with another small beep. The hot plate claims to keep coffee warm for twenty minutes. So I poured myself a cup of coffee, turned on the 'keep warm' setting and left the machine to it. Almost silently, the coffee maker kept working away. After twenty minutes, my coffee was too warm to gulp out of the cup straight away. There is a danger that the hot plate will burn coffee or make it taste stale, but this was perfect. Some coffee makers can keep your pot warm for an hour, especially those with thermal carafes, but this did a good job.
Programmable timer
Intrigued, I tested the programme timer. I set a specific time for the coffee maker to start brewing. I watched the clock and, perfectly on time, the machine started to brew my coffee. It's brilliant. At 46 dBA, I would happily have this brewing in the morning, ready to wake me up with some fresh coffee.
Aroma function
I was fascinated by the aroma button. I really wanted it to taste completely different, but, in reality, I couldn't really detect much flavor difference. I tried the difference between the normal coffee and intense aroma, which showed a picture of two coffee beans. Granted, the intense flavor did taste a little stronger, richer, and deeper, but it wasn't dramatic.The grounds I used were quite a dark roast, so perhaps it's hard to modify the tastes on a simple coffee machine. Nevertheless, it's good to have.
Overall, the taste was fine. It's impossible to compare this coffee to an espresso machine, French press, or pod coffee maker. Those are so much richer and more intense with their flavors. This was great for filter coffee, very clean and soft, not acidic at all. If you're after cafe-quality coffee, you might be disappointed.
Cleaning, Storage, and Maintenance
The cleaning process was almost as easy as the set-up. I took out the reusable filter and emptied the coffee grounds. These can go in the food waste, or, they make great garden compost.
You can clean the filter in warm, soapy water with the jug and lid. When I lifted the inside filter to clean, I did end up emptying a little coffee onto the countertop. Make sure it's fully empty before moving it too far away from the jug.
To rinse the machine, place the carafe on the warming plate and switch the machine on. At the press of a button, it'll run hot water through the machine. Mine was already pretty clear, but it's good practice to do this after use. The screen will flash and tell you when it needs to be descaled, which isn't often.
As I've mentioned, this machine is big. The presets and the clock make it pretty clear that this is designed to keep on your countertop anyway. It looks good, so just make sure that you don't have any low cupboards that might cause problems.
How does it rate online?
On most review platforms, this was given at least four stars. People loved the timer setting and big capacity, especially families or big households. The quick set-up and easy functions makes it friendly for a range of users. It came as no surprise that people also loved how this looked. The range of colors really appealed to home designers, who enjoyed featuring them in their homes and on their countertops.
I ran into a few problems. First of all, the size. Some people couldn't get it under their cabinets and found it too big for their compact kitchens. A number of people were frustrated by the descale sensor; it's more sensitive than it needs to be, so it alerts you a little too early. I found that my coffee maker dripped a little when I removed the carafe, which some users suggested was because the 'pause' or 'stop' function doesn't really stop the machine properly. This would be a good aspect for Smeg to develop.
How does it compare to similar models?
Overall, this is a more expensive model. At ten cups, the capacity is smaller than the average 12 cup machine. However, some of the presets make up for the small capacity.
We recommend the OXO 8 cup coffee maker in our roundup of the best drip coffee makers. Although eight cups is less than Smeg's, in reality, it actually makes more than Smeg's five. It's half the height of Smeg, so is much more space efficient. It met the Speciality Coffee Association's Golden Cup Standard for its brew, meaning that the water quality, coffee ratio, and grind distribution are all of a high standard. For $100, this is a practical investment.
However, this isn't programmable, so you lose the luxury of waking up to freshly brewed coffee. It's great not having to fuss over settings on the OXO, but Smeg's are really simple and really helpful. They stop you from over-brewing and wasting coffee and the stainless steel finish of the OXO shows marks a lot more than Smeg's base color.
Should you buy it?
If you're looking for a stylish drip coffee maker, this is the one for you. It's a little bigger and on the expensive side, but it covers the basics of a coffee machine really well. The coffee is smooth and has a good flavor. However, if you want specialty coffee and aren't put off by having to make coffees individually, it's worth looking at alternative coffee makers.
How we test
Before we review or recommend any product to you, we've tested it in-person as if it's an everyday product. We have a specialized process for how we test every appliance. I'm trained as a barista and a qualified Customer Advisor for coffee. This means that I've been through a number of processes to become an expert on all things coffee.
Before testing, we carefully research the claims that a brand makes about their product, so we know what we are looking for. We will also look at and test competitors, so we can place every product that we test on the market.
I took this Smeg drip coffee maker and tested it alongside automatic machines, espresso machines, and other coffee appliances. I used it in an everyday kitchen and made sure to test every function. At every stage of the process, from unboxing to cleaning up, I made thorough notes and observations.
Sign up to the Homes & Gardens newsletter
Decor Ideas. Project Inspiration. Expert Advice. Delivered to your inbox.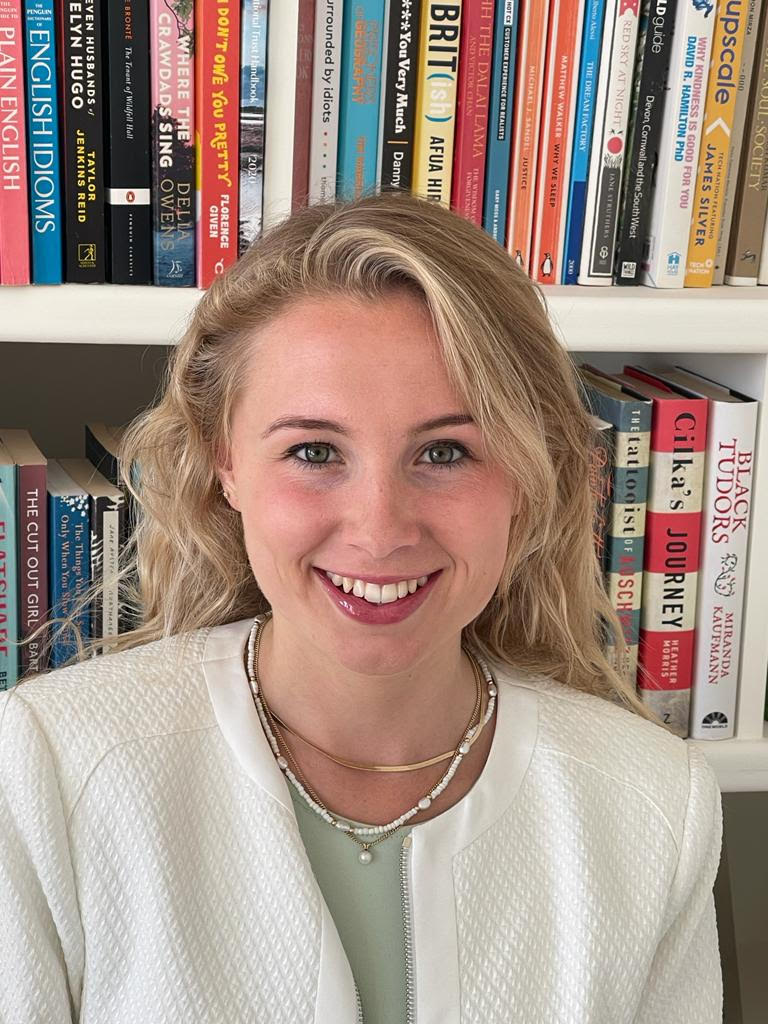 Laura is our eCommerce editor. As a fully qualified barista, she's our expert in all things coffee and has tested over thirty of the best coffee makers on the market. She has also interviewed Q-Graders and world-leading experts in the coffee industry, so has an intimate knowledge of all things coffee. Before joining Homes & Gardens, she studied English at Oxford University. Whilst studying, she trained as a master perfumer and worked in the luxury fragrance industry for five years. Her collection of home fragrance is extensive and she's met and interviewed five of the world's finest perfumers (also known as 'noses'). As a result of this expansive fragrance knowledge, she always puts quality and style over quantity and fads. Laura looks for products which have been designed simply and with thoughtful finishes.