Smeg Espresso Machine review: serving good looks and espresso, but is it worth the price tag?
A playful retro espresso machine that's simple to use and perfect for beginners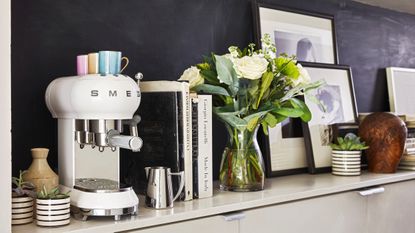 (Image credit: Smeg )
Espresso beginners will get on the best with this straightforward and great-looking machine, while for those looking for an authentic barista-style machine there simply aren't enough adjustable settings to impress coffee connoisseurs.
Reasons to buy
+

Easy to use

+

Takes ESE pods

+

Comes in seven colors

+

Compact

+

Preheats quickly
Reasons to avoid
-

Plastic construction

-

Not enough space for tall cups
Why you can trust Homes & Gardens Our expert reviewers spend hours testing and comparing products and services so you can choose the best for you. Find out more about how we test.
Smeg's retro-style appliances are iconic. There's no mistaking a Smeg appliance from its coveted old-fashioned refrigerators to its range of 50's inspired countertop appliances. With a rounded, bulbous, retro shape and a range of colors to choose from, these 50's style appliances offer something different from the norm.
The Smeg espresso machine is the only espresso machine in the 50's style range of appliances from the brand, and it comes in seven colors. Among the plethora of options when it comes to the best espresso machines, it's quite a basic, entry-level espresso machine with minimal adjustable settings. It can make single or double espressos using pre-ground coffee, or it can be used with Easy Serve Espresso (ESE) pods. Plus, there's a steam wand for frothing your milk or dispensing hot water.
I'm a coffee fan and I use an espresso machine daily to make two cappuccinos each for myself and my husband, or we switch to iced coffees if it's warm. I put my usual machine away and replaced it with this Smeg espresso machine, using it for a week to see how well it could produce my usual double shot espresso with frothy milk as well as trying out all the functions on offer.
Helen McCue is a freelance contributor who trained as a home economist. After starting her career in the food industry, she moved into home appliance reviews, utilizing her cooking skills and experience to put all kinds of products to the test, and over the years has reviewed hundreds of home and kitchen appliances for a variety of publications.
She's a reformed tea drinker who now needs a minimum of two coffees to start the day. She reviewed this coffee maker at home, using it every day for a week before sending it back to the brand.
Smeg Espresso Machine (ECF01) specs
Model: ECF01
Coffee type: Ground or ESE pods
Water tank capacity: 1 liter
Pressure: 15 bar
Weight: 10.4 lbs
Power: 1550W
Dimensions: 13"H x 5.9"W x 13"D / 330x149x329 mm
Coffee options: single or double espresso
Materials: stainless steel and plastic
Accessories included: Combination scoop and tamper, 3 filters
RRP: $529.95 / £329.95
Unboxing the Smeg Espresso Machine
The Smeg ECF01 might have a bulbous retro appearance, but it's actually lightweight and pretty compact. The first thing that strikes me on removing it from the box is that there's a lot of molded plastic on the exterior, which I guess contributes to the lightweight feel. But for me, it lacks the sturdy, robust quality that I'd like to see from a coffee maker at this price.
The portafilter is weighty though and feels sturdier than I expected in comparison to the rest of the machine. It comes with three interchangeable filters, one for single shots, one for double shots, and one for use with ESE pods. There's also a coffee scoop with a tamper on the other end, but again, it feels plasticky and nowhere near as heavy and well-built as the tampers I've seen provided with other espresso machines.
I was disappointed not to find a milk frothing pitcher in the box, this is something you'll have to purchase separately. I was also surprised that there wasn't a water softener filter included or any descaling solution to get you started. Both of these are often provided with other espresso machines as part of the starter pack.
First impressions
The initial setup is pretty straightforward. Once the water tank has been washed and filled, it slots into place at the back of the machine and a big plastic lid covers it to complete the retro look. Then, all you need to do is twist the empty portafilter into place and press the double espresso button to run hot water through the internal circuits. This has to be repeated five times before dispensing 100ml of hot water from the steam nozzle. After this, it's set up and ready to go.
There are some general settings you can adjust at this stage too. The manual walks you through how to use the three main buttons to access a settings menu – you do need the manual though; this isn't an intuitive process. I'd recommend adjusting the water hardness to reflect the water you're using, there are three hardness levels to choose from.
The automatic shut-off time can also be adjusted, choose between 9 minutes, 30 minutes, or 3 hours. It's very fast to heat up, so I chose for it to shut off after 9 minutes of no use, to save energy. Coffee temperature and the amount dispensed are the other adjustable settings, but it's worth making a few brews and assessing the results before adjusting these.
Smeg sent the cream color espresso machine to try, and in my old cottage kitchen, the retro style looks good. But it definitely won't suit every style of kitchen and in my opinion, it feels like a beginner's espresso machine rather than a high-end coffee maker.
What's the Smeg ECF01 Espresso Machine like to use?
Making Espresso
The instruction manual advises one level scoop of coffee for the single shot filter basket. I added a little more than that as it didn't seem full enough. I learnt pretty quickly that you can't tamp the coffee grounds too firmly, otherwise the coffee struggles to dispense. It takes 15 seconds to brew a single shot and the coffee came out at 162°F/ 72°C which is ideal for me.
A double espresso was dispensed at a similar temperature and unsurprisingly it took double the time. Two level scoops of coffee is the recommended amount, but for the double filter this was too much and it was tough to twist the portafilter into position, so I used about one and three-quarter scoops.
The double shot dispenses around 2 oz/ 70ml, which is standard and perfect for my morning cappuccino. But this can be adjusted in the settings menu to any volume you like.
Making espresso is simple enough, you can't go wrong once you've worked out how firmly to tamp the coffee grounds. But there are a couple of annoying details; when twisting the portafilter into position, the rest of the machine isn't weighty enough to stand up to the force, so you have to hold it to the counter with your other hand to stop it moving.
Secondly, there's not enough space for a standard mug on the drip tray, you can only fit a small cup around 3.1 inches tall. If you remove the drip tray, there's space to fit a 4.7 inch tall mug, but if your favorite mug is taller, you're out of luck – you'll have to dispense the espresso into a small cup and pour it into your tall mug. Furthermore, after dispensing the espresso, coffee continues to drip from the portafilter for a little while, so it's best to leave the cup in place for a minute or so.
Steaming Milk
Milk is best steamed in a stainless-steel pitcher to allow you to feel the temperature of the milk by cupping the outside of the pitcher, but you'll have to buy one separately. The steam function heats up in just 10 seconds and the steam lever on the side starts it up.
For me, the steam wand is a little too short and while the angle can be adjusted, it doesn't have enough adjustability. The milk heats up fast, but becomes very foamy and it's not easy to create the fine silky micro bubbles that make the perfect cappuccino. I did manage it, but not consistently.
The other point to note is that if you've just steamed milk, you can't immediately make another espresso without going through a process of dispensing water to cool the boiler down. So it's best to make all the espressos you need before steaming milk.
Making coffee with ESE pods

Easy Serve Espresso pods are like tea bags full of ground coffee and they pop straight into the portafilter. They're quick and mess-free, but will only dispense a single shot of coffee. I keep some decaf pods around for when I want an afternoon coffee or a Friday night espresso martini without the caffeine hit. They're very easy to use and the coffee dispensed had a good thick pale crema. But if you only want to use pods, you'd be better off looking at a single-serve pod machine instead.
Hot Water
Hot water is dispensed from the steam wand by moving the steam lever without first pressing the steam button. It comes out at 185oF which is ideal for herbal or fruit teas.
Coffee Quality
I don't grind my own beans, but I do have a coffee subscription (well, actually I have two). I receive freshly roasted and ground coffee every week in the mail, but the type and flavor profile differs each week. So for this review I used my regular coffee, because I know it's great quality and always tastes top-notch. This week's delivery was a medium roast Rwandan coffee with hints of chocolate-covered raspberry marshmallow.
The coffee I made in this coffee maker tasted fruity and well-rounded, it wasn't burnt or bitter and was pleasant to drink. But the crema on top of the espresso wasn't as thick and sturdy as my usual machine produces. And the milk was a bit too foamy, by that I mean the air bubbles were too big, so my cappuccino wasn't up to the standard I'm used to. But it was enjoyable, nevertheless.
I bought decaf ESE pods so I could make an afternoon iced coffee. And while it wasn't as rich and fruity as my ground coffee, it tasted fine for a coffee pod, which is always going to be a balance between convenience and flavor. Coffee pods vary drastically and it's always worth buying the best quality you can.
Smeg Espresso Machine Design
This espresso machine, like the rest of the 50's style range from Smeg, has a distinct look that sets it apart from the majority of coffee makers you can buy.
It's won a Good Design Award and a Red Dot Design Award, so it's not short of design credentials. Plus there's even a version designed in collaboration with Dolce & Gabanna, featuring a unique and eclectic pattern that'll be the talk of your kitchen.
The shape and style of the appliance will be one the biggest draws for some, but for me the plastic curved exterior lacks durability and quality. And I can't help feeling that it's more style than substance.
Cleaning the Smeg Espresso Machine
Daily cleaning is quick and simple. When the drip tray fills, a red float pops up to alert you to empty it and the whole tray can be removed and rinsed in the sink. After steaming milk, the steam wand can be removed with a simple twist and the rubber nozzle underneath pulls downwards to release. Both can be cleaned with a quick rinse and then replaced.
The portafilter didn't release the coffee granules when I tried to tap them out, so I had to remove them with a spoon before rinsing to wash away any residues. The rest of the machine can be wiped with a damp cloth to keep it clean. But you do have to pay particular attention to the mirrored backplate and the shiny cup tray as these can mark easily.
When it needs descaling the steam button will illuminate with an orange light. The process is similar to most other machines, whereby you need to add water and descaler to the water tank and start the automatic descaling cycle, followed immediately by an automatic rinsing cycle with plain water.
How does it compare to other espresso machines?
As espresso machines go, this is an entry-level option that's great for beginners. But if you've owned an espresso machine before or you want lots of customizable settings, you may be left wanting more.
For a top-of-the-range at-home espresso machine, I'd suggest looking at the Breville the Barista Pro which might be an investment but offers a built-in conical burr grinder and numerous adjustable settings so you can flex your barista muscles and create custom coffee to suit your preferences and rival your local coffee shop.
Or if you want a less hands-on experience, why not choose a convenient one-touch machine that'll dispense any of your coffee shop favorites at the touch of a button. The Jura ENA 8 will dispense the perfect latte, cappuccino, espresso, macchiato and more, grinding beans and frothing milk automatically.
If you're looking for a similar entry-level espresso machine that's more modern in style, I'd recommend looking at the Breville the Bambino or the Bambino Plus, both of which make great espresso-based coffee. But unlike the Smeg machine, they have a sleek modern appearance and a more robust build quality, without a higher price tag.
Eco-friendly features
The chunky plastic exterior doesn't fill me with confidence that it's built to last, nor does it scream sustainability. What's more, it appears that you can't buy replacement parts from Smeg. So if something goes wrong with this machine, there's little you can do to extend the life.
On the plus side, there's minimal plastic packaging used in the box. It's mostly easy-to-recycle cardboard. And there is a two year warranty, but it's important to register the appliance to activate the warranty.
Should you buy the Smeg Espresso Machine?
This is a very straightforward machine to use, hence I'd recommend it for beginners who are just starting the journey of producing barista-style coffee at home. But, if you're a coffee connoisseur looking for an authentic barista-style machine, this isn't for you, there simply aren't enough adjustable settings.
It's not the most robust espresso machine on the market, but it does tick boxes if you're looking for something a bit different to the bland appliances in everyone else's kitchen. But keep in mind, you're paying extra for the style and appearance.
Helen McCue is a freelance contributor who trained as a Home Economist. After starting her career in the food industry, she moved into home appliance reviews, utilising her cooking skills and experience to put all kinds of products to the test, and over the years has reviewed hundreds of home and kitchen appliances for a variety of publications.
Having completely renovated her current house, Helen reviews kitchen appliances from her open plan kitchen at home in a beautiful Berkshire village. When she's not working, Helen can be found enjoying the local countryside or dreaming about her next house renovation project.