Smeg Ice Cream Maker Attachment review: petite, chic, and quick
If you own a Smeg stand mixer and you've thought about churning your own ice cream, I would take a look at their frozen bowl attachment. Simple and compact, it's everything you need.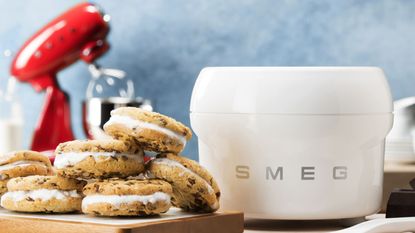 (Image credit: Future)
I love this small and stylish ice cream maker. It's perfect if you already own a Smeg Stand Mixer. The frozen bowl is one of the smallest I've tested, so it's easy to store and quick to churn creamy frozen desserts.
Reasons to buy
+

Stylish

+

Quick

+

Easy to use

+

Small footprint
Reasons to avoid
-

Limited capacity

-

Only for Smeg stand mixers
You can trust Homes & Gardens. Our expert reviewers spend hours testing and comparing the latest products, helping you choose the best for you. Find out more about how we test.
Sign up to the Homes & Gardens newsletter
Decor Ideas. Project Inspiration. Expert Advice. Delivered to your inbox.
Thank you for signing up to Homes & Gardens. You will receive a verification email shortly.
There was a problem. Please refresh the page and try again.
There's nothing more satisfying than churning your own homemade ice cream. If you can do it in style, even better. If you can do it in under ten minutes, you're probably using the Smeg Ice Cream Maker Bowl Attachment.
Before I give this ice cream maker its well deserved praise, I would like to clarify something. This is a bowl attachment, so only works if you already own the Smeg stand mixer. As long as you do, we can get into the ice cream details. If you don't, you'll have to buy the stand mixer to use this and that's a lot of money that you could spend one of my other, favorite ice cream makers.
This is also small, so you'll only ever make a pint of ice cream in one go. If you're ice cream obsessed like me, this can be helpful for portion control. Left to my own devices, I'd have a stand freezer to rival commercial ice cream stores.
Simple, stylish, and so very 'Smeg', here's everything you need to know about their ice cream maker attachment.
Specifications
Swipe to scroll horizontally
| | |
| --- | --- |
| Dimensions: | 9.45 x 9.45 x 7.48 inches |
| Weight: | 5.5 lbs |
| Freezing type: | frozen bowl |
| Material | plastic and stainless steel |
| Capacity | 1 pint |
Unboxing
Smeg has a reputation for using lots of polystyrene and plastic packaging. This isn't the best example of environmentally friendly packaging, but it's not bad. I'd like to see them use less polystyrene in the future.
You will need to chill the bowl attachment 18 hours in advance of churning. In instances like this, I would recommend storing the bowl in your freezer all of the time, so that you're never caught out. This is quite shallow and small, so if you're going to make room for a frozen bowl attachment, you should be able to make room for this one. My top tip – and one I use at home – is to put bags of frozen food inside it.
Who would it suit?
The biggest distinguishing factor for this Smeg ice cream maker is whether or not you already own the Smeg 1950s stand mixer. If you don't have one, or haven't set aside $400 dollars to buy one of these already, you won't get any use out of this bowl attachment.
If you already own a Smeg stand mixer and want to make pint-sized batches of ice cream, this is a great investment. The bowl is smaller than most other frozen bowls, so it's quicker too. In short, if you're after small amounts of ice cream in under ten minutes, this is the one for you.
What is it like to use?
After chilling your bowl for 18 hours, you're almost good to go. There's an attachment that you need to place on the tilt head, which is magnetic, so you'll know when it's in place. Next, you need to place your frozen bowl into place. Handing it with cold hands can get painfully chilly, but you shouldn't have to do it for long.
With your frozen bowl into place, insert the churning attachment, and lower the head of the stand mixer. It will slot into place perfectly. However, these plastic attachments feel a little cheap and flimsy. They can get the job done, but I used them with a lot of caution.
Before adding any mixture to your frozen bowl start churning on a low setting. If you wait until your mixture is in, there's a risk that it will freeze and break the attachment when it tries to move.
Test 1: Ice Cream
I have a standard vanilla ice cream recipe, which I used for all the ice cream makers that I tested. I whisked one cup of whole milk with ¾ cup of granulated sugar. Once dissolved, I added two cups of heavy cream and two teaspoons of vanilla paste. This mix needs to be around 40 degrees Fahrenheit, refrigerator temperature, before adding it to the bowl.
When it was ready, I slowly poured it into the churning bowl and set my timer for 15 minutes. I was in the same room as the ice cream maker the whole time, but at around seven minutes, the sound changed pitch. It was lower and the whirring was slower. That can only mean that the ice cream is thick. By eight minutes, my ice cream looked ready to eat. It was smooth and creamy, but not as cold as other ice creams that I tested. That might sound strange, but it tasted more like soft serve than a refreshing, hard ice cream.
Vegan Ice Cream
I use the same recipe for vegan ice cream as I do for dairy. I just substitute vegan alternatives like oat milk and vegan cream into the recipe. This took a couple of minutes longer than the dairy ice cream, but in just over 10 minutes, I had made some impressive vegan ice cream. It melted really quickly and when I put it in my bowl, within a couple of minutes, the cream was beginning to turn to a liquid. I would recommend putting it in the freezer for 20 minutes and then taking it out to scoop and enjoy.
Frozen Yoghurt
This is one of the easiest tests of any ice cream maker. I emptied a pot of Greek style yoghurt into the frozen bowl attachment and in 11 minutes, I had a thick frozen yogurt. This is the Smeg's greatest success. It made incredible frozen yogurt. It wasn't too icy or crystallised. The texture was even better than the ice cream.
Sorbet
Normally I would test ice cream makers with raspberry sorbet, but I had lots of lemons that needed using in my refrigerator. I heated the juice of four lemons with one cup of water and 12 tablespoons of granulated sugar. Once everything had dissolved, I stored this in the refrigerator overnight.
I poured my sorbet mix into the frozen bowl attachment and, again, in just over ten minutes, my sorbet was thicker than slushy. It wasn't perfect, but by 15 minutes, I was pleased with the texture. It was a little grainy and you can see in the above image that some of the water froze to the side. Given that this is a small ice cream maker, you can't really afford to lose any of your frozen mixture, so I spent a while chipping it off, which didn't end up looking great.
If you'll be experimenting with frozen desserts that have a higher water content, frozen bowl attachments like this won't work well. You'll need the Ninja Creami or Cuisinart ice cream makers.
Cleaning, Storage, and Maintenance
As I mentioned earlier, this is compact and easy to store. I'd recommend always keeping it in your freezer, so that you're never caught out. Waiting 18 hours for ice cream isn't worth it. Luckily, this is one of the smallest freezer bowl ice cream makers on the market.
It's easy to clean. You can't put it in the dishwasher, but it's really only the bowl and churning attachment that need to be washed. Use warm soapy water and make sure that the bowl is fully dry before replacing it in the freezer.
How does it rate online?
Amongst Smeg stand mixer owners, this is a really popular attachment. Reviewers and customers alike praised it for it s size and speed. Lots of people were able to make tasty, light frozen desserts in a small about of time.
People felt that the price tag was a little too high and that it wasn't as intuitive as other ice cream makers, but I think those people were beginners all round. This isn't a complex ice cream maker attachment and it's really easy to use.
How does it compare?
KitchenAid also make incredible stand mixers and a frozen bowl attachment. In a taste test, the KitchenAid would win. It was an all-round success and didn't struggle with the same water separation as the Smeg. It's nice to look at too.
However, the KitchenAid ice cream maker was bigger and slower. It's harder to store and, if you don't need to make big batches of ice cream, you won't need a bowl that big. The Smeg still did a really good job.
If you want to go for an even smaller frozen bowl attachment, the ZOKU ice cream maker makes single-servings. It's extremely rustic and you make your ice cream without the help of a motor. It's cheaper than the Smeg and even easier to store, but your ice cream won't taste as good.
---
Should you buy it?
If you own a Smeg stand mixer, I wouldn't hesitate to buy this. For the cost of an ice cream maker $100 is relatively cheap. It looks good and will be easy to store. If you take into account the fact that this makes great ice cream, it's an easy yes.
However, if you don't own the stand mixer, there are other options that will cost you less money than the stand mixer and bowl attachment. They'll make you better, more versatile frozen desserts too.
How We Test
There's a clear, step-by-step process in how we test all of our appliances. All of our experts are well-established product testers, bringing with them the expertise needed to discern whether these are worthy investments for your home.
For ice cream makers, we researched the best products on the market. We wanted to look for appliances that were good value for money with exceptional results. We took these to our test kitchen and, over the course of a few days, tested these on ice cream, non-dairy ice cream, sorbet, and frozen yogurt. We made notes on the whole process from unboxing to cleaning up to make sure that we didn't miss a thing. All of these ice cream makers were tested alongside each other, so we could make direct comparisons between them and their results.
Sign up to the Homes & Gardens newsletter
Decor Ideas. Project Inspiration. Expert Advice. Delivered to your inbox.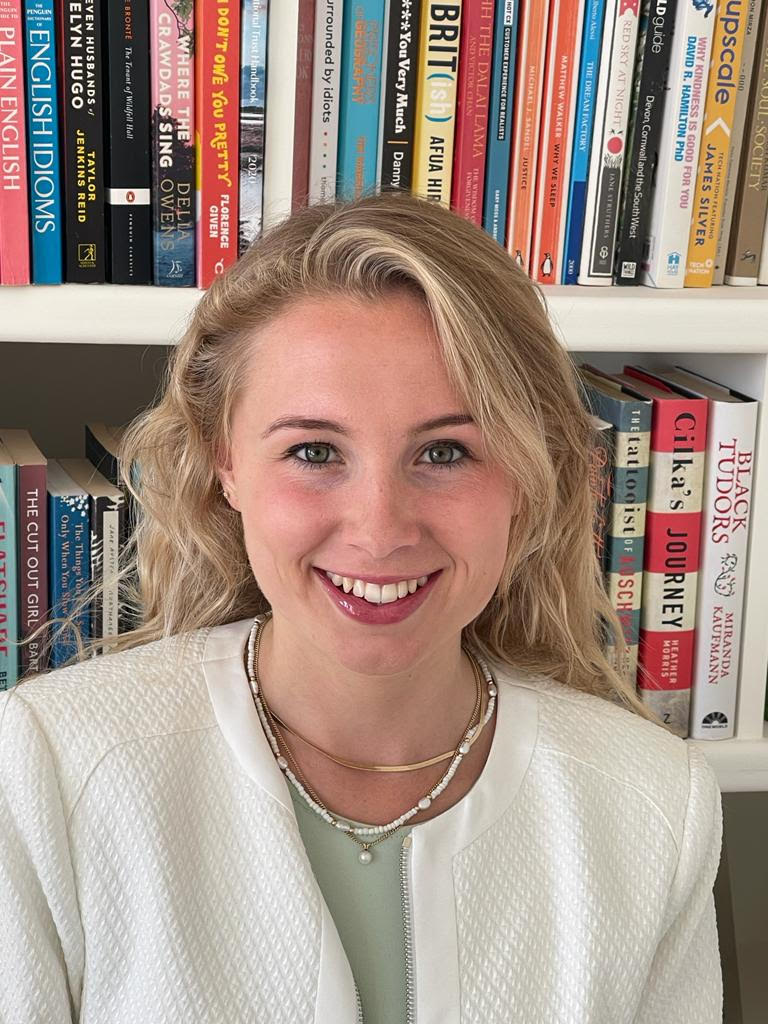 Laura is our eCommerce editor. Before Homes & Gardens she studied English at Oxford University. Alongside her studies, she qualified as a barista and trained as a master perfumer. This makes her our certified expert for all things coffee, candles, and fragrance. She has passed our five-step tests to become a certified Customer Advisor, making her our resident expert. Laura has worked for luxury retail brands, reinforcing the importance of quality and style over quantity and fads. She looks for products which have been designed with thoughtful finishes.