Tineco Pure One S15 Pet Smart cordless vacuum review
We tackled Tineco's first pet vacuum through messes big and small. Here's where it was flawless, and failed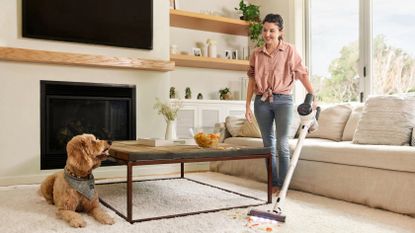 (Image credit: Tineco)
Tineco's first dedicated pet vacuum is a powerhouse of a cleaning device with an anti-hair wrap floorhead with LED lights and a unique Dust Sensing technology that indicates just how clean your floors are. It was a delight to use until it came time to run it through larger pieces of debris, like cereal or food bits.
Reasons to buy
+

iLoop Dust Sensor detects hidden dirt and automatically adjusts power

+

Convenient floor dock to store upright, and built-in accessory storage

+

LED display indicates dirt level, battery, suction power, and possible malfunctions

+

Lightweight

+

Built-in LED headlights
Reasons to avoid
-

Struggles to suction up large pieces of cereal

-

Only chargeable through floor dock

-
You can trust Homes & Gardens. Our expert reviewers spend hours testing and comparing the latest products, helping you choose the best for you. Find out more about how we test.
Our pets are truly our best friends, but they sure can wreak some havoc on our floors, especially if they shed.
Tineco has previously established itself as a connoisseur of smart vacuums with a slew of bells and whistles that offer a premium experience, but its first offering is dedicated to pet owners (and those perhaps with ample long hair) is equally exciting.
I spent the last few weeks whisking the Tineco Pure One S15 Pet cordless vacuum around my home to see how it compared among the best vacuum for pet hair. When I clean I've been compulsively keeping an eye on the iLoop Smart Sensor to guide me through to make sure I haven't missed a spot, rather than seeing what the LED floorhead lights illuminate. And in the end, I notice my floors are clearer and cleaner.
It was clear pretty early on in my testing that Tineco has created one of the best cordless vacuums on the market. It excels in a lot of areas: innovation, performance, and power. However, in the event of a staged mess, it did manage to create a bit of headache.
Keep reading as I go into detail about what the Tineco Pure One S15 Pet is like to use and the features that make it a standout in my forthcoming review.
Who will love the Tineco Pure One S15 Pet?
While marketed to pet owners, the Tineco Pure One S15 Pet will appeal to a number of people and homes. It's a dust-sucking beast on carpets while crumbs and very small debris handle well on hard floors. It's lightweight and exceptionally easy to maneuver.
It's marketed as a top choice for pet owners, with special tools for pet hair, and an upgraded anti-hair tangle floor head. Those with allergy sensitivities will like the varying filtration options that won't expel more allergens out into the air with a beefed-up 5-stage filtration.
The accompanying floor dock is also great for anyone who wants to create a home charging base for their vacuum, without having to meddle with any pesky installation on walls. Plus, every piece and accessory has its own place to live, so you're never having to worry about misplacing small attachments or figuring out where to put them.
Tineco smart vacuums are also supremely tech-forward from the iLoop Smart Sensor tech that provides real-time feedback on the level of dust being suctioned up and serves as a sort of guide to how clean your floors are to its smart-app integration that logs your cleaning times, and lets you know when its time to clean your dust bin or replace a filter.
Tineco Pure One S15 Pet: Specifications
Maximum power: 500 watts
Dust capacity: .47L
Cordless: Yes
Runtime: Up to 40 minutes
Charge time: 3-4 hours
Noise: <80 dBA
Weight: 6.8lb.
Filter: HEPA and reusable pre-filters (5-stage HEPA filtration)
Warranty: 2 years
Attachments: Mini power brush, S15 charger docking, Pre-filter x 2, Hair cleaning tool, Crevice tool, Direct-drive anti-tangle brush, 2-in-1 dusting brush
Tineco Pure One S15 Pet: design
One of the most distinct and noticeable design choices happens right out in the box. When the Tineco Pure One S15 arrived at my doorstep, I had to do a double take that this compact box, just slightly bigger than a box of shoes, or say, booties, if we're being specific, was indeed a vacuum cleaner. It was neatly packaged in two layer, with cardboard packaging and each piece wrapped in plastic.
The fascinating result of the smaller box packaging is that the tube length was cut in half, and had to be snapped together. The bottom half is the only part of the machine made from aluminum, as opposed to plastic. Once the tube is in place, the brush head and detachable handheld click into place as normal. The company said the two-part tube was designed strictly for logistical purposes to fit in a smaller box.
The detached handheld houses the core functions of the machine, from the 5-stage filtration system, motor, and removable battery, .47L dust bin, and iLoop Technology.
The floorhead is designed with both soft and stiff bristles that work best for carpets, but are mighty effective on hardwood floors, with four LED lights to guide your path. The floor head easily swivels around for maximum maneuverability with two small wheels at the rear.
Each piece easily snaps together and releases with a one-touch button, including the attachments, which connect to both the tube and the handheld.
To operate the vacuum, you will simply press down on the trigger once for continuous power and then press it again to stop. The LED display will indicate battery life and suction level. If you leave it on AUTO, it will adjust accordingly to the dust it detects, while the MAX power button gives it a powerful boost.
Directly across from the power operation, is a lever that releases the dust bin. A "door" opens and the dust contents drop out. Once the dust bin is full, I found it easiest to separate the handheld from the tube to bring it over to the trash can. The pre-filter is housed in the center of the dust bin, and can sometimes cause larger pieces to get stuck that need to be scooped out. The dust bin also utilizes an electrical component which means it can't be rinsed with water to clean.
It's also quite easy to connect to wifi, with a barcode on the back of the removable battery.
Tineco Pure One S15 Pet: features and functions
iLoop(TM) Smart Sensor Technology
Perhaps the core reason to go with Tineco tech: This unique technology detects hidden dirt and automatically adjusts suction power in real-time, and is the main selling point of Tineco that other brands don't offer. A colorful band around the outer rim turns from red to blue to signify a clean floor, for a guided cleaning experience and reassurance that your floors are actually getting clean.
Smart Suction and Battery Control
The auto feature makes the most efficient operation of your battery life and will adjust the power for you, depending on the volume of dirt passed through the iLoop sensor, rather than the surface it detects. Using the smart suction is said to prolong the battery up to four times longer. The battery can last for up to 40 minutes, which isn't amazingly generous but has been enough to get through my cleaning sessions.
Zero-Tangle Tech
The specially-designed brush head targets hair messes and traps hairs without wrapping. A unique dual comb design combined with oblique bristles in a V-shape actively separates and removes hair from the brush roll directly into the tank to target hair messes without clogging the roller.
LED Screen and App
The Tineco is one of a few vacuums that offer an LED screen to clearly indicate battery percentage, suction level, WiFi connection, potential blockages or errors, and the iLoop sensor status. The accompanying app displays the same information as well as your cleaning history, the number of dust particles collected, dust bin and pre-filter usage, the option to create cleaning reminders and connects with all your Tineco devices. It can also integrate with Amazon Alexa to get device information like battery level, reminders to clean, and cleaning reports. It is not necessary to utilize the app to enjoy the cleaning power of the S15 Pet.
Filtration
The vacuum features a five-stage HEPA configuration starting with Cyclone technology that separates large particles within the dust bin. A mesh filter blocks hair and dust, while PureCyclone Technology separate air and dust to avoid suction loss and clogging, a pre-filter, and then a HEPA filter captures 99.97% of particles and emits out clean air.
The smart app tracks filter use to let you know when you should clean it, but a good rule of thumb is monthly for the pre-filter, and every six months for the HEPA filter.
Floor Dock
The home base for the Tineco Pure One S15 is a white plastic floor dock called the FreeStnd. The vacuum can only charge through the floor dock but does so upright. It has space to hold up to three attachments, such as the crevice tool, 2-in-1 one dusting brush, and mini-power brush.
The Pure One S15 battery lasts up to 40 minutes; it's removable so you can purchase additional batteries if you need extra cleaning time. Cleaning with the attachments uitlize the full 40 minutes, while the floor head uses battery life faster. If you use max power, the timing goes down to as short as 10 minutes.
Attachments
Each attachment features a quick-release lock that makes it easy to attach and remove any of the tools in one click. The Mini Power Brush, was effective for cleaning stairs, tackling pet hair, and ingrained dirt. The 2-in-1 dusting brush features a wide brush for upholstery that switches to a soft brush for hard surface cleaning. A crevice tool is standard for those hard-to-reach areas.
For vacuum maintenance, it includes a secondary filter, and a little brush is also included to clean the brush rolls and dust bin since hair does wrap around the brush roll.
The Pantry Test
I trialed the Tineco through what I call the Pantry Test, the unscientific test that uses common pantry staples to test the suction capabilities of our vacuums. I arranged a quarter cup of cereal, a quarter cup of rice, and a tablespoon of sugar to see how the vacuum handled food particles large and small. Not only does this method demonstrate the suction power across common sizes of debris, but gives you a chance to see how the iLoop sensor operates. It was going great until it wasn't.
The Pantry Test on carpet
I had to run this test twice. The first time, everything appeared to be suctioned up, it took some effort, but when I turned off the vacuum, rice, sugar, and other dust particles from the rug puddled onto the floor. I had noticed that the iLoop stayed blue most of the time, and wasn't indicating it noticed dirt, but I wanted to clean it all up in one shot. Then I noticed the Dust Sensor Malfunction indicator on and realized that right away the cereal pieces clogged the machine. As I troubleshoot what was wrong, I realized the S15 is not built to clean up pieces of larger pieces like cereal or spilled dog food. Testing it again, I was able to see the rice and sugar be suctioned up as intended. And the hair, well the vacuum snatched that right away from the carpet.
The Pantry Test on hardwood floors
We had even more lackluster results on hard floors. The vacuum mostly pushed the cereal and rice around. It wasn't until I reangled the vacuum, it absorbed the sugar, and some of the rice, but mostly left a mess.
How does the Tineco Pure One S15 Pet rate online?
The Tinceo Pure One S15 Pet is brand new to the market, and consumer reviews are still scarce. Early reviewers through Amazon's Vine Voice program approve of the vacuum and mention its elegant design and superior suction. Still, they comment that battery power does not seem to last the full promised 40 minutes.
How does the Tineco Pure One S15 Pet compare to other models?
The Tineco Pure One S15 is available in three configurations, which differ in their attachments. The Pet model that we tested, an Essential and a Pro. The Pro comes with everything the Pet model does, but with the addition of an LED Soft Roller Brush for hard floors. The Essentials model is a little more basic in its accessories as it only has 2-in-1 Dusting Brush, Crevice Tool, and Charging Dock. Everything else is the same.
I tested an earlier version of this vacuum last year, the Tineco Pure One S12 with the same iLoop technology, and performance-wise I didn't see too many changes. It even performed similarly in pick up with the Pantry Test, except the cereal pieces didn't block the sensor. The main differences are the option between a continuous trigger or an off switch and a wall dock connection, but connecting to wifi, and the app experience have definitely improved, and the floor dock is much more convenient.
I imagine the Pure One S15 is designed to compete directly with the Dyson V15 range, which launched in March 2021. The two even share a similar model name, even though Dyson's most recent launch from summer 2022 is dubbed V12, an interesting switch.
The Dyson V15 uses a Piezo sensor to collect information on the number of particles collected based on particle size , which feels sort of gimmicky once you're getting your cleaning going, but it also affects the suction level and battery of the vacuum. The Dyson V15 (and V12) models both feature and a never-before-seen green laser (as opposed to LEDs) to show dust particles in your path that are undetectable to the naked eye. While the only way to see the counter on the amount of dust gathered is via the Tineco app, the Pure One S15's iLoop Sensor guides you to how much debris is left. Another key difference between the two in use is that The Tineco utilizes both a a single trigger press for continuous operation, while Dyson vacuums require you to keep your finger on the trigger the entire time.
Tineco Pure One S15 Pet: Final Thoughts
For deep routine cleaning, the Pure One S15 Pet is a great machine. On carpets, it culls all the little nasties and allergens buried deep while on floors, the LED headlights make it easy to see dust and whatever specks that have collected on hard floors. Plus, getting an understanding of how much dirt is detected, is both satisfying and encouraging to clean more often. It's a useful guidepost to see the cleanliness of your floors.
But a big moment of pause for me is its lackluster ability to pick up sizeable pieces of debris, such as rice and cereal. Before this, I was prepared to rate the vacuum an almost perfect score, now I've whittled it down to a 3.75 out of 5 stars. Not only could it not pick up large pieces of debris, but it blocked the channel, and made an even bigger mess after I thought I had vacuumed up a physical mess as it all poured out the second I lifted the vacuum.
Plus, being a Pet vacuum, you would think a vacuum like this should handle kibble pieces approximately the same size as cereal. My dog is very good at dropping kibble all outside bowl and not intending to gobble up what didn't touch his bowl -- he's picky.
Now, this all depends on use. Just using it casually (i.e. did not try to create an extra messy obstacle), I had no issues with the S15. Though you expect to vacuum up mounds of intended mess, I've used others that can go through all the challenges, no matter how artificial. Otherwise, I'll think you'll get on just fine with the lightweight and powerful smart vacuum.
Tineco Pure One S15 Pet: where to buy
About this review and the reviewer
Jaclyn is the US eCommerce editor across the homes titles at Future, including Homes & Gardens, where she specializes in a variety of topics ranging from vacuums to mattresses. She spends her days tracking the latest buzzworthy releases and testing a variety of products to determine whether they are worth bringing into your home. All reviews are based on real-life experience of using these products around the home.
The Tineco Pure One S15 was tested in a traditional home with a mix of hardwood floors, carpets, and area rugs. A small non-shedding dog lives in the house but still manages to track in his fair share of dirt. The device was tested over a period of several weeks.
As with all our reviews the Tineco Pure One S15 has been tested first-hand in our home, using it just as you would so you know exactly what you are buying. The products are given to us free of charge and we test them for as long as possible before forming our reviews. In this particular case, we are able to keep the vacuum, which will enable us to continue to use the product and gives us the opportunity to return to our reviews for updating, so you can keep up-to-date with how it's fared over a period of time.
Sign up to the Homes & Gardens newsletter
Decor Ideas. Project Inspiration. Expert Advice. Delivered to your inbox.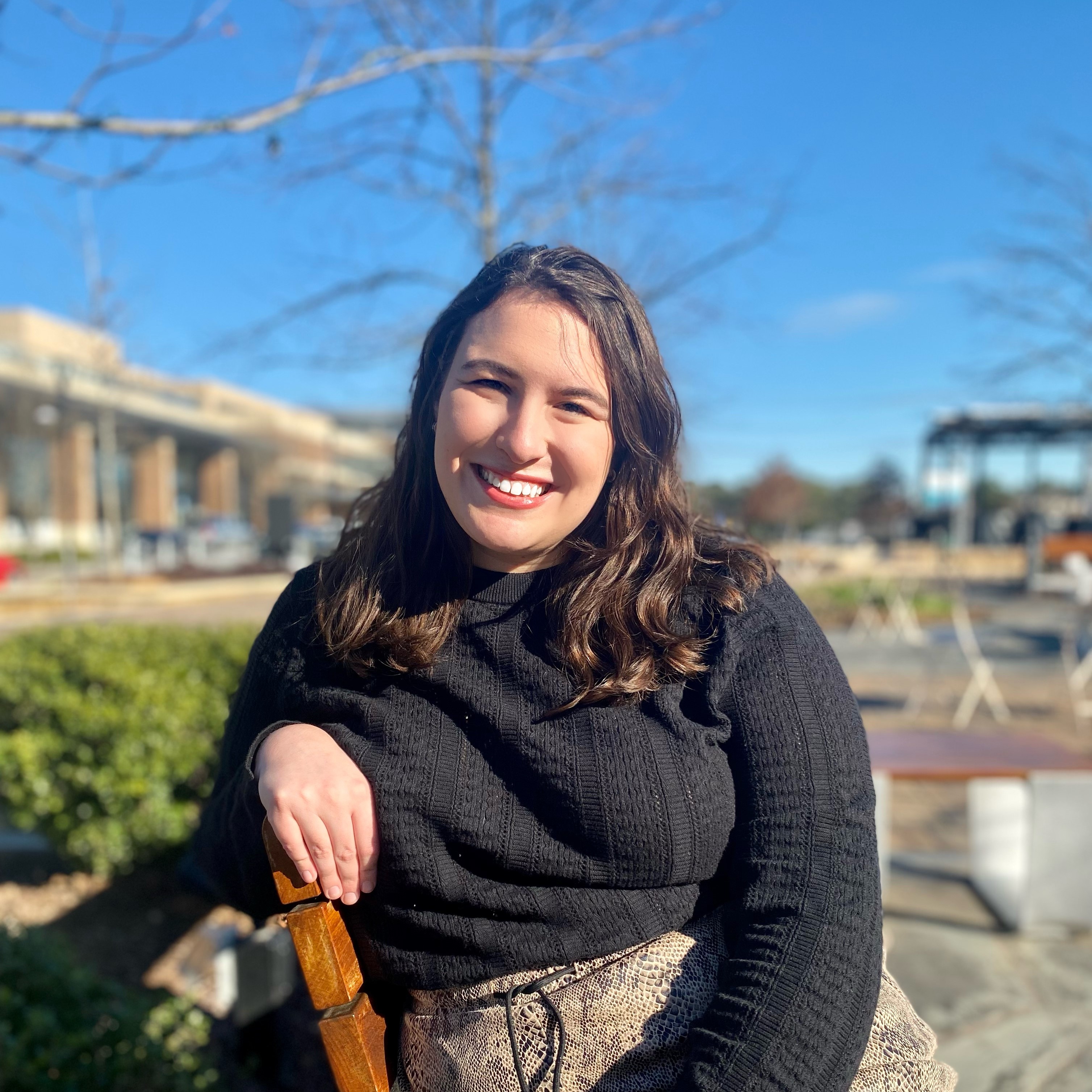 Jaclyn is H&G's eCommerce editor and oversees all things shopping. She's also a bonafide sleep expert, and previously managed all sleep content on Homes & Gardens and Real Homes– in fact, she has passed our five-step certification process to become a verified customer advisor on mattresses. She regularly scouts out the best of the best for buying guides to help you fill your home with only the best. She joined the team in January 2021. She has previously worked with Apartment Therapy, The Kitchn, The Spruce, The Spruce Eats, and MyDomaine. When Jaclyn's not working, she loves browsing real estate listings, unwinding with a chilled glass of Rosé, and entertaining her Cavapoo, Reese.