The Wacaco Picopresso is a pocketful of coffee perfection
Perhaps the smallest coffee maker you can buy, the Wacaco Picopresso is somehow brilliant. It makes exceptional espressos on the go, entirely convincing our barista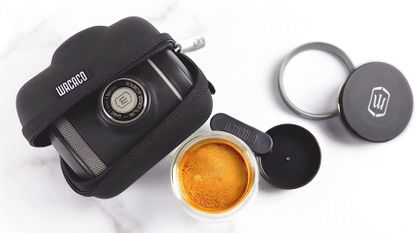 (Image credit: Wacaco)
If you're on the go and still want quality coffee, look no further. This premium, durable espresso maker is perfect for coffee lovers. You'll want to own a grinder and some coffee scales though.
Reasons to buy
+

Small footprint

+

Really premium packaging and feel

+

Easy to use

+

Makes great espresso
Reasons to avoid
-

No milk frothing

-

Need to clean between espressos

-

Requires a grinder and scales
You can trust Homes & Gardens. Our expert reviewers spend hours testing and comparing the latest products, helping you choose the best for you. Find out more about how we test.
Sign up to the Homes & Gardens newsletter
Decor Ideas. Project Inspiration. Expert Advice. Delivered to your inbox.
Thank you for signing up to Homes & Gardens. You will receive a verification email shortly.
There was a problem. Please refresh the page and try again.
A pocketful of Picopresso is every coffee connoisseur's dream. It's the most compact espresso machine on the market, but it doesn't feel inferior to Picopresso's countertop competitors.
As a barista, I have high standards when it comes to espresso makers. I wasn't going to give this an easy ride just because it's portable. I took the Wacaco Picopresso to our test kitchen to go toe to toe with Breville and Casabrews espresso machines which are at least ten times the weight, size, and cost.
Whilst this can only make espressos and needs hot water from another appliance, it's an excellent option if you want to invest in one of the best espresso machines on the market.
The hand-pump mechanism produces beautifully smooth, well-extracted coffee. If you're on the go, off on holiday, or know you only want espresso rather than any other style, this is a perfect little machine.
Specifications
Swipe to scroll horizontally
| | |
| --- | --- |
| Dimensions | 4.17 x 3.07 x 2.8 inches |
| Weight | 0.77 lb |
| Portafilter capacity | 18 g |
| Tank capacity | 80 ml |
| Materials | Aluminium and plastic |
| Pressure | 18 bars |
| Type | Hand pump |
Unboxing
It's rare that an unboxing experience is truly pleasurable. This was like unboxing an Apple iPhone, but better. The thick, satin box feels ultra-premium. Inside, the Picopresso and its case look really smart. The box has a sponge inside to secure and protect it. This would be a bit tricky to recycle if I didn't want to keep the box. On first sight, howver, it's the perfect present for a coffee fanatic.
It comes with a travel pouch, an aluminium funnel, and an aluminium palm tamper. This is best tamper that I've received with a machine. All of the useful accessories fit into the box and can sit inside the piston, so that you won't lose them. It felt ultra-durable in my hand, too.
What is it like to use?
Easy is an understatement. I like to watch videos to work out how to use small appliances, but the instructions were so clear for this, I didn't need to. To start, I unscrewed the bottom. I then placed the funnel on top as I scooped 18g of coffee into the double walled basket. I used the Wacaco manual grinder and scales to make sure that I got my measurements perfect. I think 18g was the limit for what the portafilter can hold, which is perfect for a double shot.
Before screwing the portafilter basket in, Wacaco recommends that you pump boiling water through the espresso maker to warm it. This doesn't take long and gives you good practice for when you make coffee. To get started on your espresso add 50 ml of hot water into the barrel and screw the portafilter into place. I twisted the front button to free the pump and, after pumping over a coffee cup for a few seconds, I saw smooth espresso pouring out of my Picopresso. You need to have steady hands for this, because it's entirely held, pumped, and controlled by you.
Testing espresso
Rather than use electricity to attain the pressure of an espresso machine, the piston uses a hand pump to create 18 bars of pressure, which then forces the hot water through the basket. This whole process took about a minute in total. That's a little longer than an espresso machine, but there was no warm-up or set-up required. There's no way of measuring how much water you're adding in, because there's no watermark. If you want to be totally precise you'll need to measure out 50 ml of boiling water beforehand.
However, for such a tiny, rough-and-ready machine, it produces unbelievable espresso. My espresso had a lovely crema on top. I was really impressed at how intense and smooth my shot was given how quickly I extracted it and how quiet this little espresso machine was.
However, here we reach the obvious drawback with this machine. In all our other espresso machine reviews I also test americanos and cappuccinos. Here, however, there's only one test. There's nothing else to make with this: it doesn't have a steam wand, so it's pure espressos or nothing. It's an expert in espressos though.
Cleaning, Storage, and Maintenance
This is just as easy to take apart as it is to put together. It's not dishwasher safe, but it's simple fill a sink with warm, soapy water and clean each part individually. Make sure you give the piston a thorough dry, otherwise it'll leak water if you put it into your bag when left damp and unscrewed. As small appliances go, it's really easy to clean.
As a portable espresso maker, this is designed to be easy to store. It packs back into itself and zips up in a neat case. It couldn't be more compact. It's the size of a can of cola in total, so you should have room for it almost anywhere. The only maintenance that this will need is thorough cleaning. I'd soak the basket in a dilution of water and vinegar or cleaning liquid every week for a deep clean.
How does it rate online?
Users love the Picopresso. I found that most user reviews were from people who want coffee whilst they travel and those who are tight on space. Almost everyone commented on how premium it felt; it's a really impressive espresso maker.
Some reviewers found hand washing a little cumbersome, so wouldn't recommend it for those in a rush. It's true. You'll need to wash, dry and reassemble the components carefully, but to be fair, every machine requires proper cleaning and maintenance. Unlike the Nanopresso, which has an add-on feature for single-serve coffee, the Picopresso can only handle ground coffee. A number of users said that they would like to have a feature for coffee pods in the future, especially for those who don't own grinders.
How does it compare?
If you're looking at the Picopresso, you'll be looking for less expensive, smaller espresso machines. That puts the Picopresso in competition with Breville's Bambino Plus. You can see in the image above that they look almost ridiculous on a countertop. The Bambino Plus is compact, but it looks like a behemoth next to the Picopresso. For taste, there's nothing between the two in terms of espressos. They both made a really good shot. Both require you to own either a coffee grinder or pre-ground coffee too.
If you only wanted to make espressos, I would choose the Picopresso. It's small, portable, and less of an investment. It's also great in the mornings, because it's close to silent. However, if you don't need your espresso maker to be portable, the Bambino Plus can froth milk and boil water itself. It doesn't need you to power it, nor does it require as much cleaning between coffees. Both are brilliant espresso makers, but they serve different people.
Who would it suit?
This is perfect if you're often travelling for work or away at the weekends. It can deliver café quality coffee on the go. You'll need a kettle or hot water tap nearby, but this means it will work in hotels and holiday homes. You'll want to have a home grinder and scales to make perfect, consistent coffee.
If this is your first espresso machine, or you have small countertops, this compact, relatively inexpensive espresso maker is the perfect place to start. However, if you want all the bells and whistles of a full-sized machine, such as an integrated grinder, steam wand, and hot water boiler, this might not be the one for you. Powerful machines are always going to offer more variety, but the Picopresso might make you reconsider whether you need a big espresso machine.
Should you buy it?
Absolutely. If you need a present for your coffee-crazy friend or you want to treat yourself, I would recommend the Picopresso time and time again. It's unbelievably compact, effective, and durable for just over $100. It's different to the classic espresso maker model and can't froth milk, but it can make you an exceptional espresso.
How We Test
Every espresso machine that we recommend has been put through its paces by our team of experts. Laura, a trained barista, used this espresso machine in our test kitchen.
We have a series of standard tests which we put every espresso machine through. These include espresso, Americano, and cappuccino. We make sure that we taste the coffee, so that we can judge the flavour, as well as evaluate the process. We look at everything from unboxing to cleaning, so you know what to expect from your espresso machine. For more detail about how we test you can visit our dedicated page.
Sign up to the Homes & Gardens newsletter
Decor Ideas. Project Inspiration. Expert Advice. Delivered to your inbox.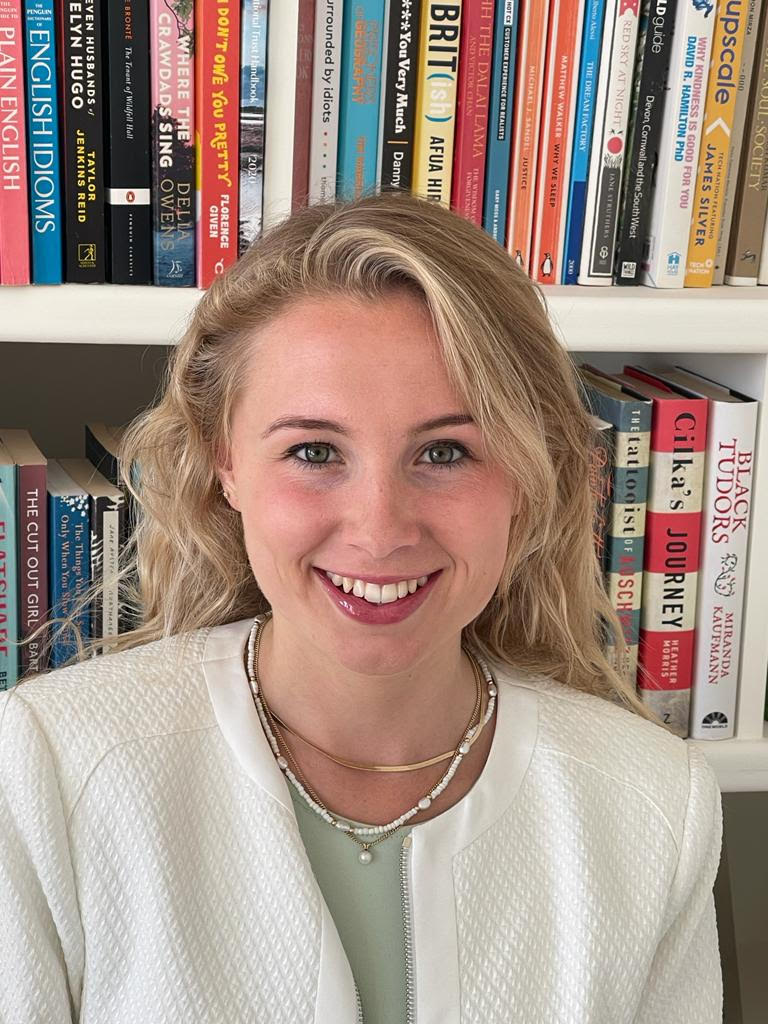 Laura is our eCommerce editor. Before Homes & Gardens she studied English at Oxford University. Alongside her studies, she qualified as a barista and trained as a master perfumer. This makes her our certified expert for all things coffee, candles, and fragrance. She has passed our five-step tests to become a certified Customer Advisor, making her our resident expert. Laura has worked for luxury retail brands, reinforcing the importance of quality and style over quantity and fads. She looks for products which have been designed with thoughtful finishes.