Smeg Personal Blender review: for petite, chic kitchens
Perfect for small spaces, the Smeg personal blender is chic but substantial. Available in a range of colors, it's a good choice for soups, smoothies, or shakes.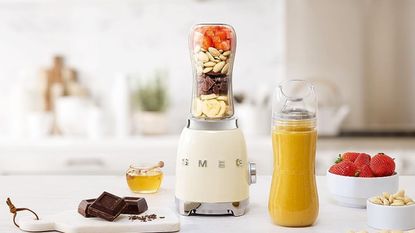 (Image credit: Smeg)
Smeg took all the bulk and baggage out of blenders when they created this sleek and stylish model. Not only is it stunning it's a powerhouse for blending soups, smoothies, and dips. It's not the best blender, but it's one of the best single-serve blenders on the market.
Reasons to buy
+

Looks stylish

+

Available in a range of colors

+

Useful, portable bottles

+

Small footprint

+

Easy to store
Reasons to avoid
-

Only two speed settings

-

Expensive

-

Ice crushing is fiddly
You can trust Homes & Gardens. Our expert reviewers spend hours testing and comparing the latest products, helping you choose the best for you. Find out more about how we test.
Best known for their pretty, premium products, Smeg makes some of my favorite kitchen appliances. Their beautiful personal blender is no exception. Slim and stylish, it's almost everything that a single-serve blender should be.
A good blender is a kitchen essential. If it's well-designed, it will slot effortlessly into your everyday life. You'll use it when you wake up in the morning for your smoothie bowl, serve-up soup at lunch, and whizz up hummus for an appetizer in the evening.
I used the Smeg personal blender in my home for a month. Anyone who knows me will know that I blend almost anything. Beetroot? Blend it. Carrots? Blend them. Coffee smoothies? Blend them (trust me). You can make some incredible things with a small appliance.
I loved using this Smeg personal blender. It's a durable, daily appliance which is one of the best single serve blenders on the market. If you have a small apartment and money to spend on your blending routine, it's a good choice, but it's expensive and not without its quirks.
Should you buy it?
If you're all about style and capacity conscious, this is the blender for you. I fell in love with its looks, but the way it whips up a pretty good smoothie and delicious soup in seconds has made it irreplaceable in my kitchen. It's expensive and it isn't cordless like some other models, but I love it nonetheless. If you have other Smeg appliances, this will complete your kitchen look.
Who would it suit?
Smeg always suits a luxury kitchen. Their premium products deliver on quality and style. If you have a small and chic kitchen, this lightweight blender is perfect. It's easy to store and light enough to lift up onto high shelves without putting a back or shoulder out.
The portable bottles make this an on-the-go essential. If you make smoothies, shakes, soups, and dips on the regular, you'll find the versatile design endlessly useful. The two speed settings don't sound like much, but they're all you need for daily blending tasks.
Specifications
Swipe to scroll horizontally
| | |
| --- | --- |
| Dimensions | 5.5 x 5.5 x 13 inches |
| Weight | 4 lbs |
| Capacity | 20 oz |
| Speed settings | 2 |
| Materials | Stainless steel, plastic |
| Colors | Cream, green, pink, blue, red, black, white |
Unboxing
Unboxing this told me everything I needed to know about the beautiful Smeg blender. The box was lightweight and I was pleased to find it contained completely recyclable packaging. Each component was wrapped in paper bags, keeping all the parts clean and scratch-free without any single-use materials.
This comes with two bottles, made from Tritan Renew Plastic. This means that they're made from recycled plastic. Looking at them, you wouldn't guess it; they're clear and as high-quality as plastic can get.
The bottles double-up as a blending vessel, so, once you've used them to whizz up a smoothie, you can screw on the lid (provided) and take your drink with you on the go. Each bottle is even engraved with Smeg logos. It's a small touch, but it's these little extras that make a product an extra-special essential.
What is it like to use?
Blenders are all about speed. Super-fast smoothies, swift soups, and express shakes are easy work for the Smeg personal blender. Not only is it perfect practically, it looks gorgeous on my countertops. I had it on display, just so that I could keep looking at it. That's how I know this is something special.
To make sure that the Smeg was technically perfect, I put it through its paces. Over the course of a month, I made over 40 different smoothies, five different soups, and countless servings of hummus. I used tough foods, fibrous roots, and frozen fruits, so that I could find the talents and limits of this blender.
Test 1: Smoothie
I judge a blender on its smoothies. They're a quick and easy way to hit your nutrition goals, but if it's lumpy and poorly blended, it can be hard to stomach. I first tested the Smeg personal blender on my go-to vanilla blueberry shake recipe. This has oats and frozen blueberries in, both of which have tough skins to break up. It also has a scoop of protein powder which, if poorly blended, will be gritty, or worse, lumpy.
I added two bananas, a handful of frozen blueberries, a scoop of vanilla protein, two tablespoons of oats, and a splash of oat milk to the bottle. I whizzed up these ingredients on the fastest speed, for a minute, and watched as all the ingredients break down.
The blender was a little noisy (I recorded 106 dBA, which you'd need to shout to be heard above), but it didn't need to run for long. The top got a little warm after I'd blended a few different smoothies, one after the other, but it's not often that you would do this your day-to-day.
After a minute, I lifted the bottle off because some of my protein powder had stuck to the side. I put the lid onto the blender and gave it a good shake. With a few seconds more blending, the protein powder had seamlessly integrated into my drink. This isn't really a fault with the Smeg, because most blenders find it tough to get through protein powder without a little help. When I find a good one, you'll know about it.
Test 2: Soup
Some blenders can handle hot ingredients, but they are expensive and industrial. The Smeg blender isn't suitable for hot ingredients, but don't let that stop you from making it your soup sous chef.
If you make time to prep and cool ingredients you can use it to make soup. This takes more planning time, but a homemade soup is hard to beat. I wanted to test the Smeg blender on tough fibrous vegetables, like spinach and ginger, so I made a 'Souper Green' recipe.
I blended a cup of peas, a cup of water, two cups of spinach, half a courgette, and, a carrot with a handful of mint, knob of ginger, and a teaspoon of garlic paste. When I set these in front of the blender, it looked like it didn't stand a chance at getting through all my vegetables, but, magically, it did.
I used the fastest speed setting, number two, for two minutes and my soup was close to perfect. It was thicker than a store-bought carton and there were some small bits of spinach. I couldn't see the spinach, but when I bit down on the soup, the spinach created a slight crunch. The next time I made this soup, I split the ingredients into two batches and my soup was much smoother. When I tried this with a more simple tomato soup, it was flawless.
The whole time this was blending, I was holding it down, but it doesn't need to be. I read reviews where other people hadn't noticed this feature and stood by their blender the whole time, so don't let that be you. If you lock the bottle down, you can take your hands off and walk away from the blender, perfect if you want it to run for a little longer.
Test 3: Hummus
Hummus is an excellent test of a blender's capacity, because chickpeas are large and have skins. Plus, garlic needs to be well integrated in hummus or you'll get intense chunks that will linger on your tongue for days.
I poured a can of chickpeas, one tablespoon of lemon juice, a teaspoon of cumin, pinch of salt, and dessertspoon of tahini into the bottle. When I held it down to blend I spotted that the chickpeas nearest the blade whipped up into a velvety paste. Every minute, for three minutes, I lifted the bottle, gave it a shake and blended the hummus again. If I didn't remove the bottle at intervals, the chickpeas would never break down, but it isn't much trouble.
I was surprised at how thick and delicious this hummus was. I made it for some friends and they couldn't tell the difference between store bought texture and my homemade one (obviously it tasted better too).
Test 4: Crushed ice
Ice is potentially the toughest test for any blender. The Smeg blender didn't struggle with frozen fruit, so I was fairly confident that it would crush ice without any issues. I filled this just over half way with large ice cubes and blended it on second speed. It blended a small bowl of crushed ice, but struggled to get through all of the cubes. The crushed ice that I did get was a really fine texture, although it melted a little around the blade, forming an almost solid crushed ice block. The trick for crushed ice in this blender is using small batches. This is a little annoying, because it's time consuming having to empty and re-fill the bottle, but it's worth it.
Cleaning, storage, and maintenance
The beauty of a simple, single-serve blender is in the cleaning as much as in the blending. This comes into two parts, the bottle and the blender, which means that washing up takes seconds. Even better, if you want to take your smoothie on the go, the bottle has a lid with a handle, so it becomes a useful everyday accessory which you can take with you to the gym, to work, or on a walk, saving time and washing up. The Smeg blender bottles are $60 at QVC if you want to invest in more, but that's very expensive for a plastic bottle.
As I said, I kept my blender on the countertop. It's small, sleek, and stylish, so I didn't mind having it on display. It has useful cord storage underneath the motor and the base is lightweight, so if you needed to pack it into a small space, you could. I tried lifting it onto a high shelf and it was easy. This is only 4 lbs, so it's no heavier than a flour or sugar bag.
How does it rate online?
The Smeg blender averages 4.9 stars on Google reviews, which says a lot about this personal blender. It's generally popular amongst reviewers and customers alike. Most people complemented the style, of course, and found that it cuts through fruit and vegetables expertly. Most people made use of the bottle, keeping it in the refrigerator door if they'd blended in advance, or taking it it with them on a walk.
Where the blender receives the most critique is on jobs where there's less liquid, especially with ice. Most people found the constant reloading tedious and frustrating, especially because this is a relatively expensive blender, with expensive accessories too. If you're shopping on a budget, this isn't the one for you.
How does it compare?
In our guide to the best blenders on the market this is probably most similar to the the Beast Blender. This has all the aesthetic qualities of the Smeg blender, so it's the closest style rival for the Smeg appliance. It also comes with a portable converter, saving on washing up.
The Beast Blender is still better for a couple reasons. First, it's much stronger when it comes to ice crushing. You don't need to add little batches and you can just blend everything at once.
The smoothie and soup functions were comparable, so if that's all you will use the blender for, the deciding factor will be aesthetics. The only extra that the Beast offers a hydration system; it can infuse water and make iced teas.
If I was given a choice between the two, I would genuinely choose the Smeg blender. The blending vessel is easier to clean (the ribs in the Beast make it hard to feel like you've done a thorough job). I don't crush ice much and personally prefer the retro style. I own lots of Smeg kitchen appliances and I'm a fan of co-ordination too.
How we test
At Homes & Gardens we pride ourselves on testing every appliance we recommend to you. I tested this blender, in my home, for over a month. I made smoothies, shakes, dips, soups, and ice cones every week, so that I could pick up the useful features and flaws in this blender. That way, if you choose to use one in your home, you won't have any nasty surprises. If you'd like to find out more, you can read all about how we test blenders on our dedicated page.
Sign up to the Homes & Gardens newsletter
Decor Ideas. Project Inspiration. Expert Advice. Delivered to your inbox.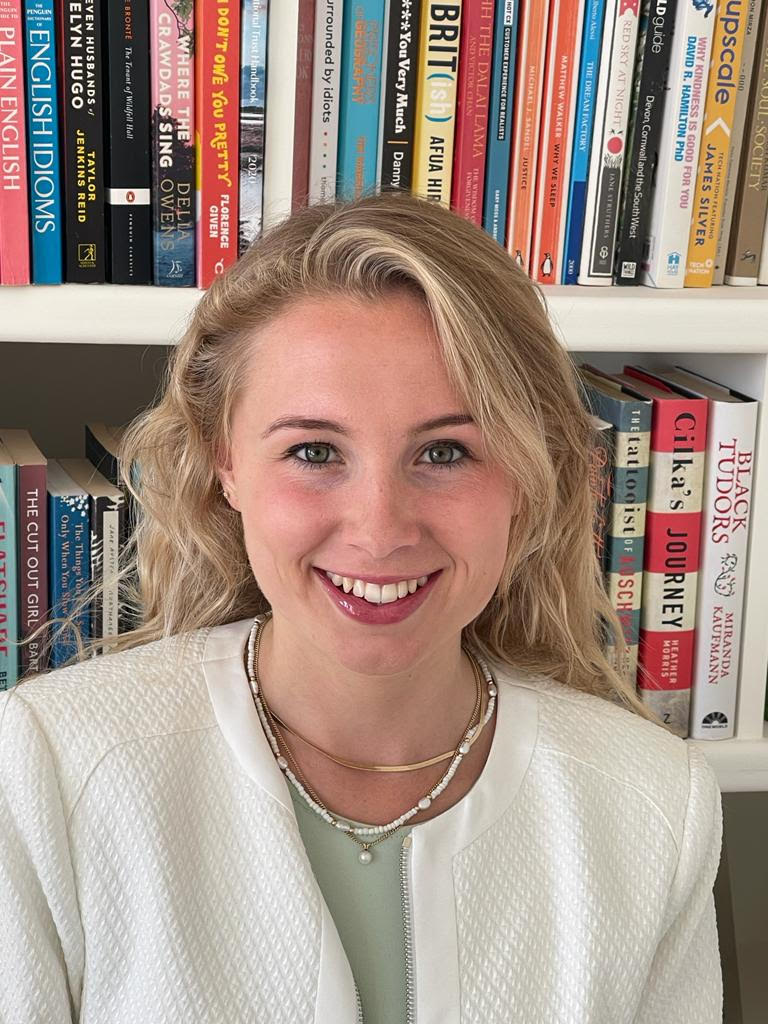 Laura is our eCommerce editor. As a fully qualified barista, she's our expert in all things coffee and has tested over thirty of the best coffee makers on the market. She has also interviewed Q-Graders and world-leading experts in the coffee industry, so has an intimate knowledge of all things coffee. Before joining Homes & Gardens, she studied English at Oxford University. Whilst studying, she trained as a master perfumer and worked in the luxury fragrance industry for five years. Her collection of home fragrance is extensive and she's met and interviewed five of the world's finest perfumers (also known as 'noses'). As a result of this expansive fragrance knowledge, she always puts quality and style over quantity and fads. Laura looks for products which have been designed simply and with thoughtful finishes.