5 rules to follow to enhance natural light in a small, dark entryway
Brighten up your small entryway with more natural light to make your home more welcoming and less dark and gloomy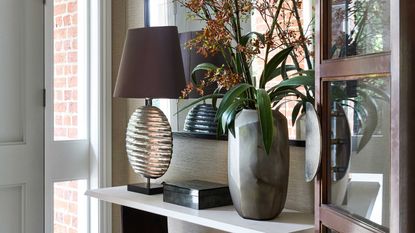 (Image credit: Future PLC)
Entryways act as the gateway into your home, and when they are filled with light they can create a welcoming and inviting presence for you and your guests. As your entryway strikes a first impression of your home, it is important to not use the space as a drop zone or dumping ground for your items, so your entryway must be both practical and stylish.
When designing or updating a small entryway lacking in light, you should seek ways to increase natural light. This will make your entryway feel more like a key part of the home as opposed to just a passageway between the front porch and living space.
Enhancing natural light levels in an entryway, specifically in small, dark spaces, can come from many different areas, not only the original light source but also how the natural light floods and bounces within the room. Our experts have explored the five best methods for you to start when maximizing entryway natural light levels.
How to enhance natural light levels in a small dark entryway
There is not only one way to increase natural light to your entryway. A layered approach will allow you to benefit from a multitude of methods and bring depth and substance to your entryway.
1. Use clever lighting fixtures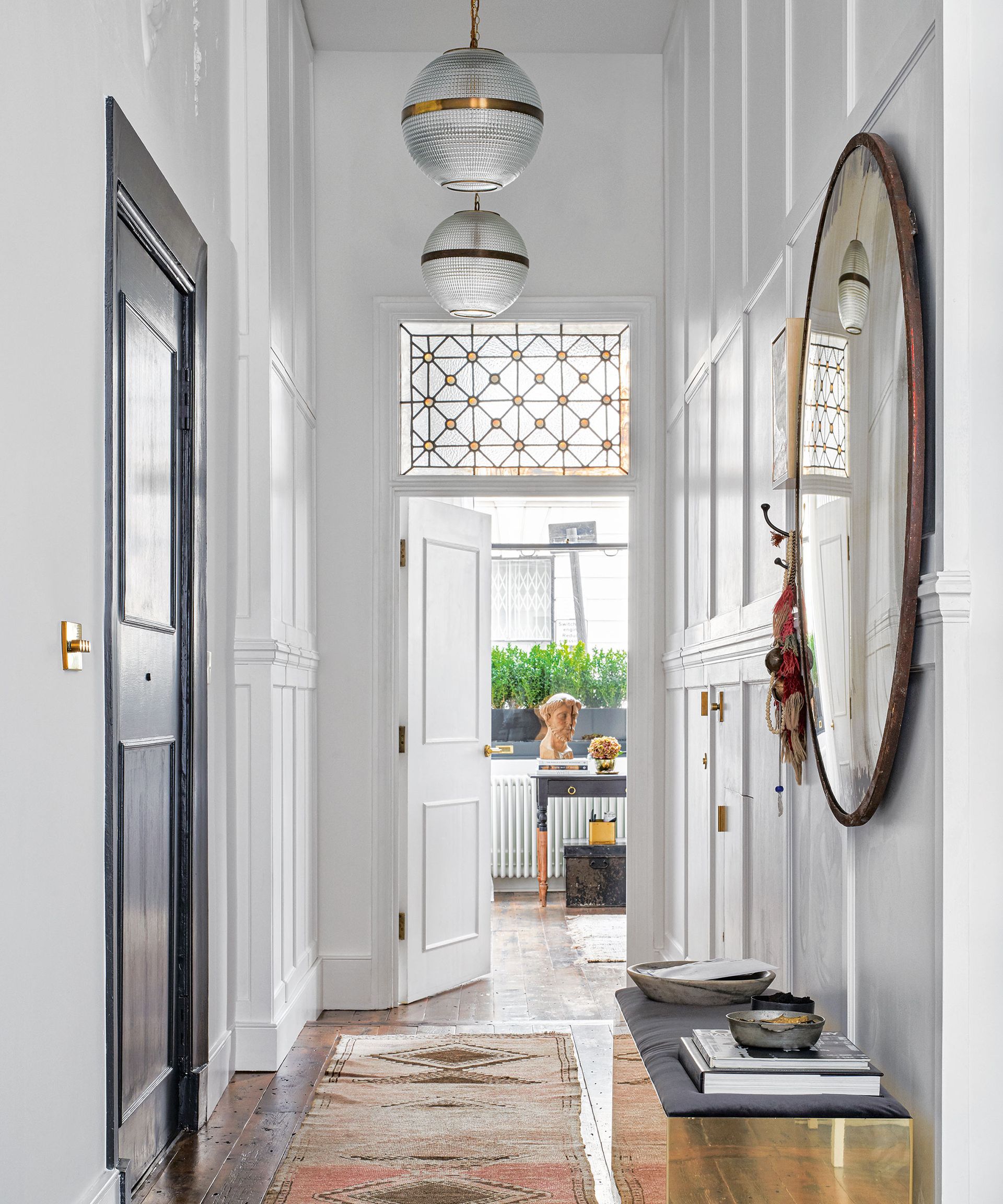 Enhancing natural light doesn't mean solely relying on sunlight. Incorporating strategic artificial entryway lighting can also help brighten a small, dark entryway. Place table lamps or floor lamps near corners or areas lacking natural light to fill in any gaps. Ensure that the light fixtures have a warm, white light tone to mimic natural daylight as closely as possible.
According to interior designer Ariella Duker, incorporating fanlights above the front door and glass sidelights around it are excellent ways to allow natural daylight to flood into dark spaces without compromising privacy.
Consider decorative pendant lights or chandeliers, like this chandelier from Wayfair, that can serve as beautiful focal points. Moreover, wall sconces with warm, ambient lighting can create a cozy ambiance during the evening hours.
Ariella Duker is a former fashion stylist, and Sotheby's-trained art historian-turned-interior designer.
2. Declutter and reconfigure furnishings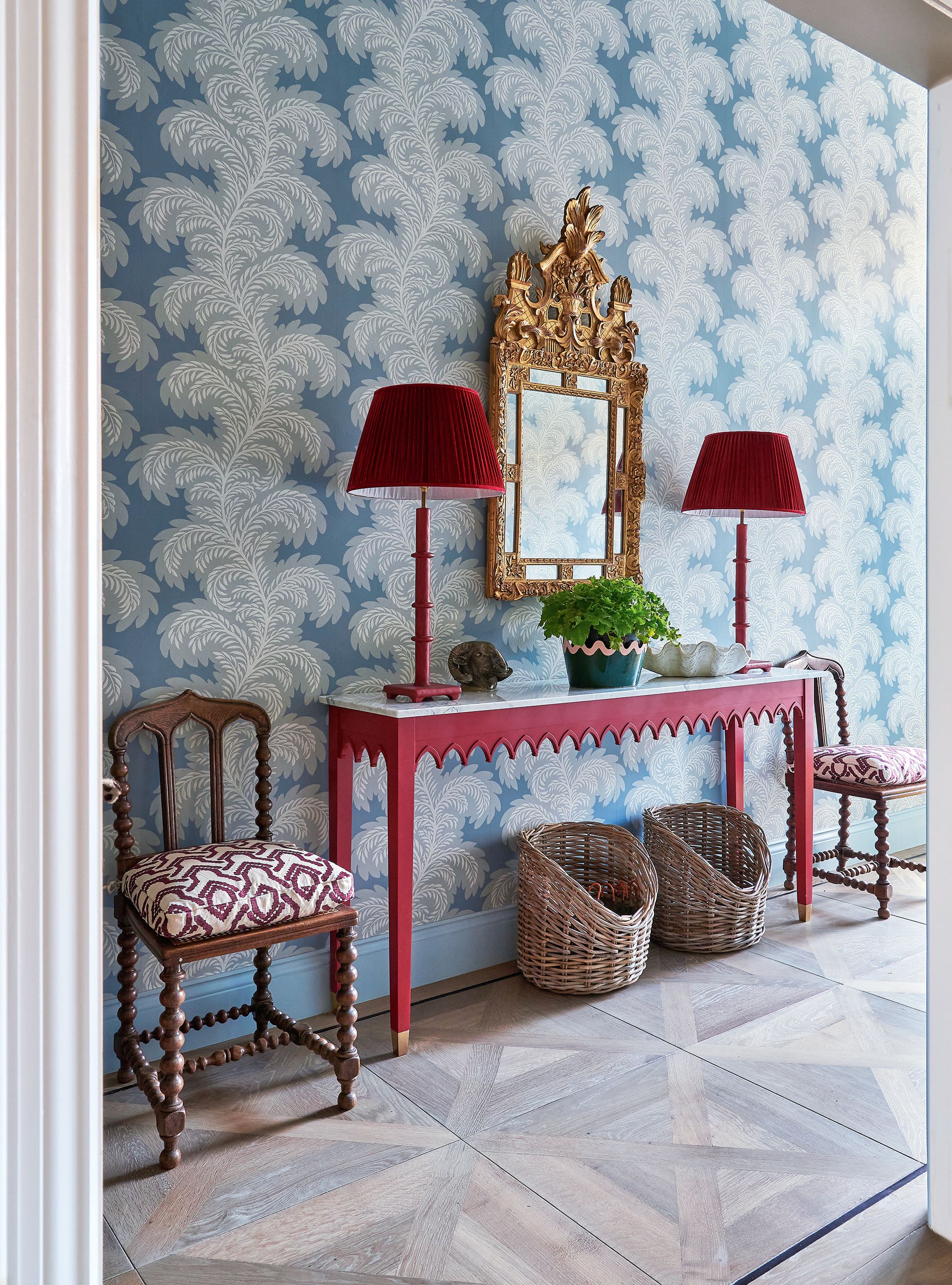 One of the key rules you should employ to enhance the natural light is to simply declutter the entryway, unblocking any natural light sources.
Eileen Roth, organizing expert, founder of Everything in its Place, and author of Organizing for Dummies, available at Amazon, suggests that you start by removing all of your items and furniture out of your entryway so that you can clearly see the areas that natural light floods in through your light sources such as windows and doors.
Consider rearranging or removing any obstacles that may be hindering the flow of light into the space. By maximizing the openness and minimizing visual obstructions, you can allow more light to penetrate the entryway, creating a brighter atmosphere.
Eileen Roth is an organizing expert, speaker, and author of Organizing For Dummies who has years of experience in organizing both commercial and personal properties, and mentoring in time management.
3. Optimize mirror placements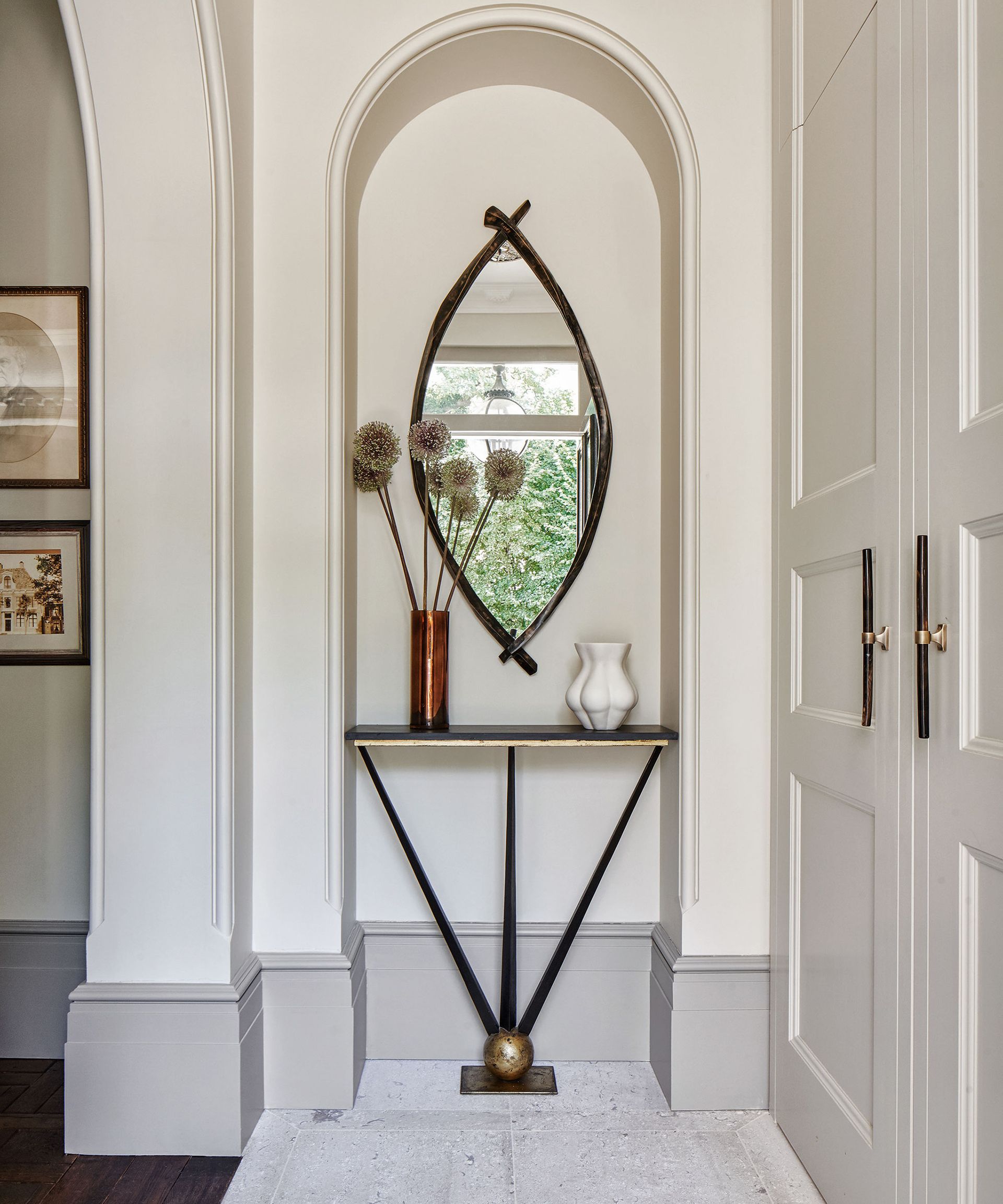 Enhancing natural light in a small, dim entryway is a fundamental aspect of creating an inviting space. A strategic approach involves the placement of mirrors, which can effectively amplify available light sources. When considering optimal mirror placement, it's essential to adhere to the following techniques for the best outcomes.
'To maximize the brightening effect of mirrors, position them directly across from your entryway's primary light source,' says home improvement expert Tommy Mello. 'Whether it's a well-placed window or a glass door, this positioning ensures that light is not only reflected but also dispersed uniformly throughout the entryway.'
The mirrored surface acts as a virtual portal, redirecting and diffusing natural light, illuminating the space and creating an atmosphere of spaciousness and warmth. We like this Gleaming Primrose Mirror from Anthropologie which is available in a wide range of sizes for a small entryway. An excellent trick is to place a mirror on the wall so that it reflects a chandelier, creating the illusion of two, rather than one beautiful light fixtures.
Tommy Mello is an entrepreneur, a home service/DIY expert, and the founder of A1 Garage Door Service, a leader in the home service industry. Founded in 2007, A1 Garage Door Service has grown to be a leader in the home-service industry.
4. Try mirrored furniture
As well as strategically placing mirrors, try incorporating mirrored furniture pieces, such as consoles, cabinets, or even decorative wall mirrors, as they serve a dual purpose in enhancing light and promoting the aesthetic of the entryway. These reflective surfaces not only brighten the space but also create an illusion of expanded dimensions.
Mirrored furniture, like this Fruitvale 47.2'' Console Table from Wayfair, effectively bounces light around the room, diminishing the feeling of confinement often associated with small, dark entryways. This technique harmoniously combines functionality with style, resulting in a more luminous and visually appealing entry space.
5. Install a skylight
Provided that both your budget and the structure of your home allow, installing a skylight is one of the best ways to bring natural light into any dark space, including small entryways for the ultimate transformation.
'Skylights are essentially windows installed on the roof, allowing sunlight to directly enter your entryway from above,' says interior designer Ana Coddington, 'and a well-placed skylight floods the entryway with abundant natural light, eliminating shadows and creating a cheerful, inviting atmosphere.'
This addition not only brightens the space but also adds a touch of architectural elegance. Skylights are a popular choice for small, dark entryways as they not only provide ample natural light but also give an illusion of spaciousness by opening up the ceiling.
Ana Coddington is the Lead Interior Designer for Archival Designs. She has over 10 years of experience with consultations, CAD software, and space planning, helping to create unique and stylish homes.
FAQs
How can I make my entryway look bigger?
One way to make your entryway look bigger is by using bright colors for your walls. While some colors brighten up an entryway effectively, you may prefer to opt for more neutral tones on the white and pastel color spectrums if you're less confident with color. Feature walls including feature wallpaper will make the room look smaller as it draws the eye to that one wall.
What is the best lighting to mimic natural light?
Lighting that produces a minimum of 5000K are the closest in producing the effects of natural light. They are however more attuned to natural daylight than natural sunlight. These light fitting produce a more neutral, white light rather than the warmth aesthetic given by sunlight.
---
By following these five rules, you can drastically improve the natural light in your small, dark entryway. Each method contributes to a brighter, more open-feeling space, with skylight installation being the standout solution for unparalleled luminosity. Say goodbye to dim entryways and welcome the uplifting effects of natural light.
Sign up to the Homes & Gardens newsletter
Decor Ideas. Project Inspiration. Expert Advice. Delivered to your inbox.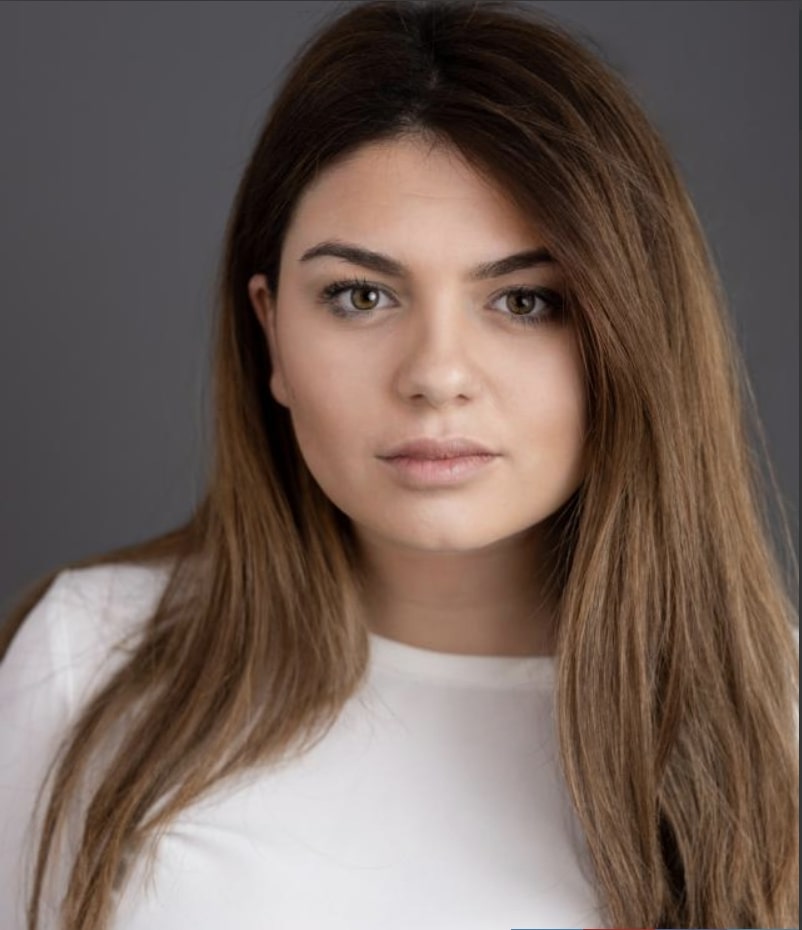 Seraphina is a contributing editor at Homes & Gardens, writing Solved features on organizing and storage. She loves to decorate and also grow her own produce from her home in London. Her previous experience includes working at Women's Health and Fabulous Magazine.