How to make the most of dead space in your living room – according to interior designers
Don't let dead space put a dampener on your living room – here's how to make the most of missed opportunities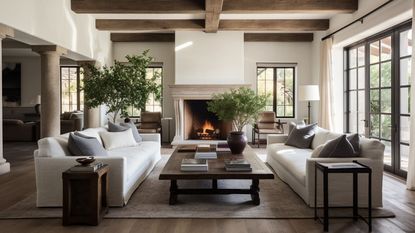 (Image credit: Superdwell)
Dead space in living rooms can leave the room feeling lofty or unfinished, taking away from the cozy, lived-in feeling many of us aspire to create.
From living room storage to functional decor, there are several ways you can bridge the gap while adding to the space, rather than adding just for the sake of making the room feel cluttered.
We talked to interior designers and home organizers to learn how they tackle dead space and leave the room more functional than they found it.
How to make the most of dead space in your living room
The first step to dealing with dead space in living rooms is to define how you use the space and work out what could best elevate your daily life. If you are trying to reduce living room clutter, for instance, then storage in that empty spot could be useful. If, on the other hand, you want more places to sit or host, then additional seating may be the answer.
1. Place a slim console behind the sofas
When arranging living room furniture, you should do your best to avoid having pieces pushed up against walls. This layout, however, often leaves dead space behind your seating.
To deal with this conundrum, Erica Fecundo, interior designer at Hauslein suggests using 'a slim console table behind the sofa to hold lamps, photos, or books, while also acting as a creative way to divide your living room into larger or open-floor plan spaces.'
Couple a table with storage with some console styling tips, and you'll have an effective space filler that doesn't clutter up your living room.
2. Create a cozy reading corner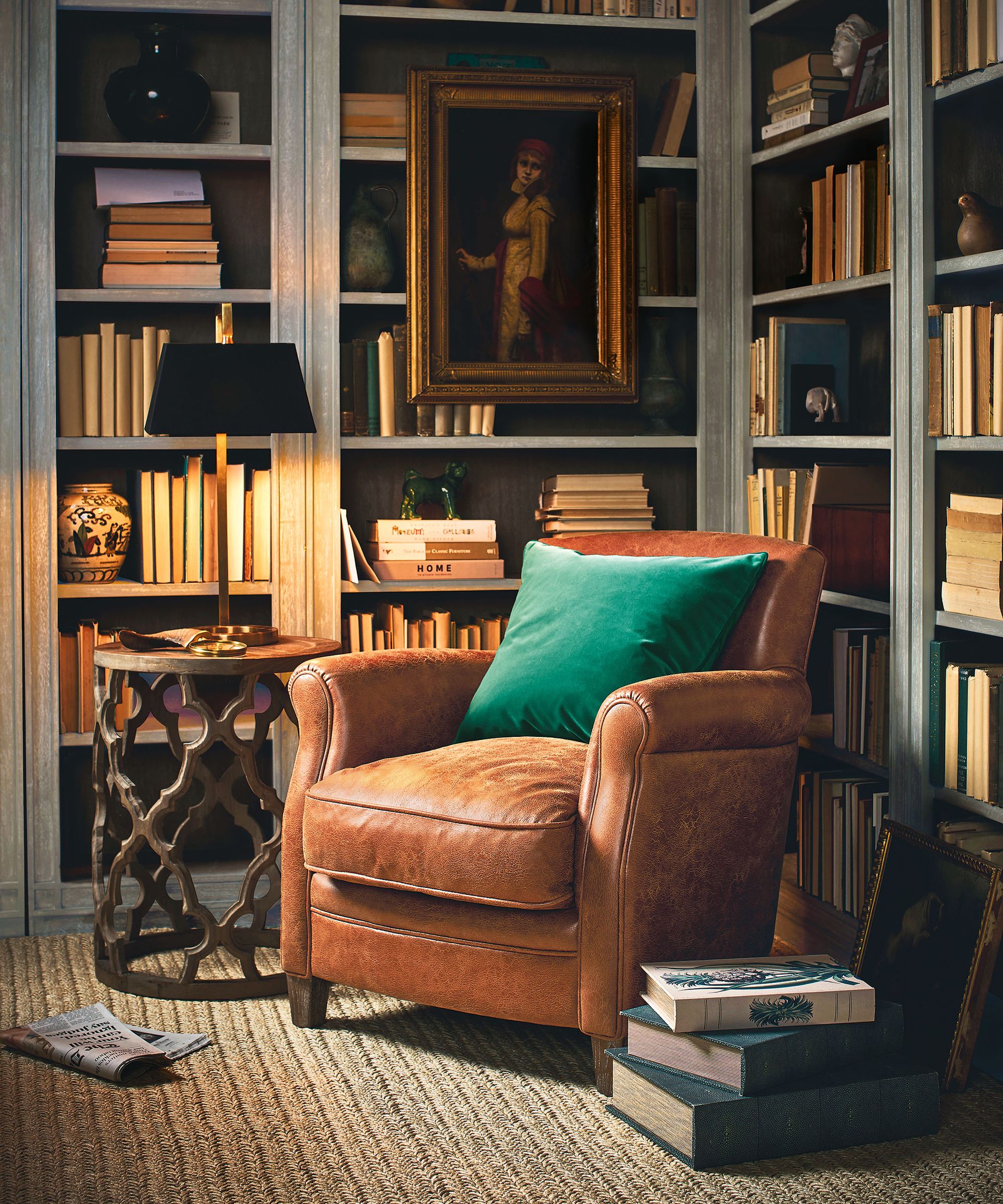 Cozy corner ideas have become more and more popular in recent years, and are a great way to fill an empty corner or repurpose a lesser-used area of a living room, says Cyble Rizwan of Persimmon Design.
'Transform an empty corner into a cozy reading nook with a comfortable chair, a small bookshelf, and soft lighting for a comfy spot to read, relax, or do hobbies in your spare time.'
3. Use a storage ottoman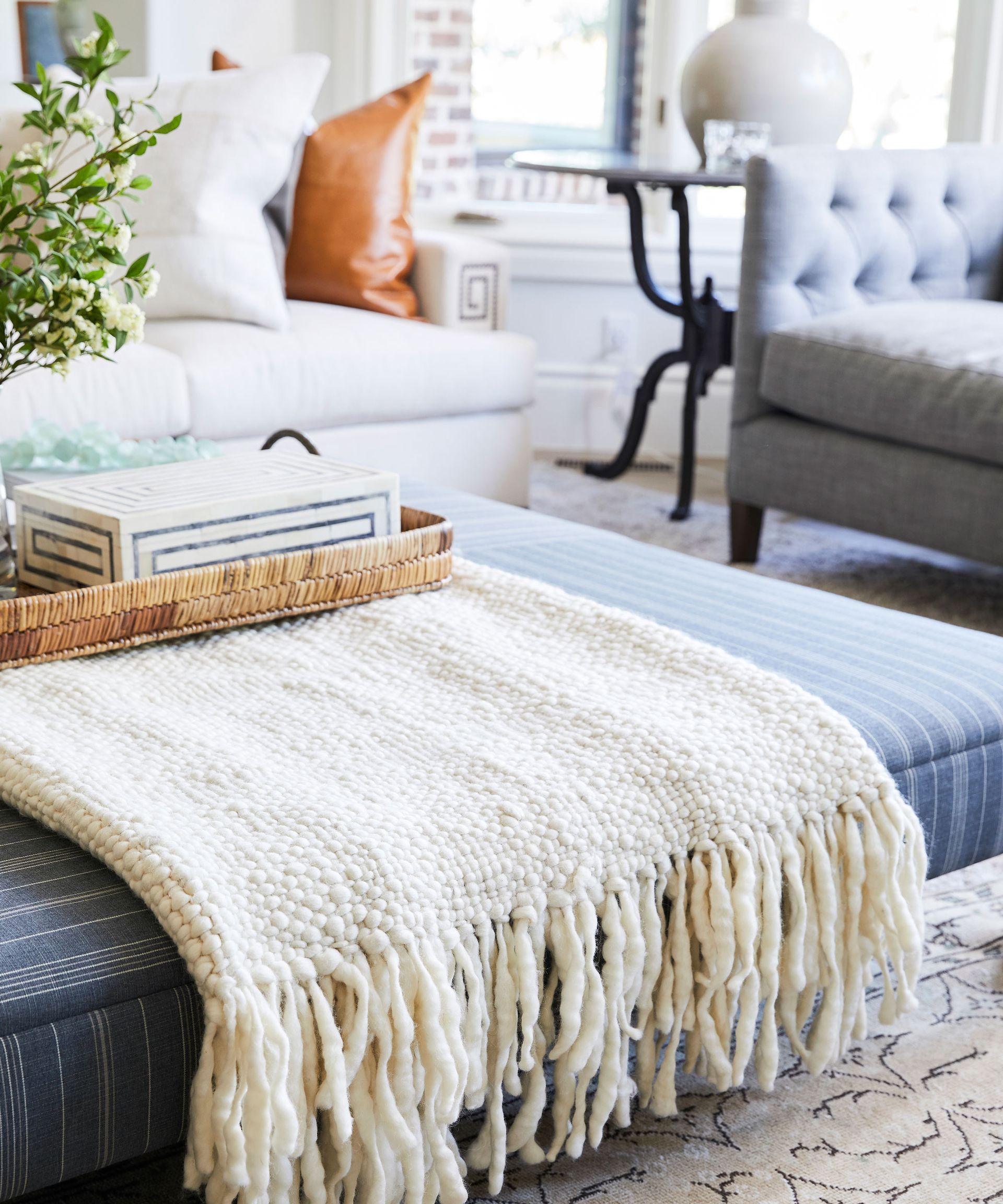 We love multi-purpose furniture, and storage ottomans are a godsend for living room dead space. Why? It adds additional seating and fills in a blank gap with something practical.
Fillip Hord, professional organizer and co-founder of Horderly, agrees: 'It is a great opportunity to get creative with your furniture like having a couch or ottoman with storage space for toys or blankets.
'Really try to avoid nonfunctional furniture pieces like a side table with no storage, as this can make dead space too.'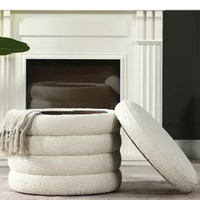 Round Storage Ottoman | Was $273.99, Now $139.99 at Ashley
This storage ottoman stool is perfect for a small living room, offering a little extra space to store unused blankets and pillows while also offering a convenient place to sit.
Horderly founders Jamie and Fillip Hord started Horderly in 2015. Jamie grew up type A, organized to the T. Fillip caught the entrepreneurial bug in grade school. Together, they combined their passions to bring the joy of an organized home to people around the country. Our dynamic founders and their talented team have taken on every organizing challenge presented.
4. Install shelving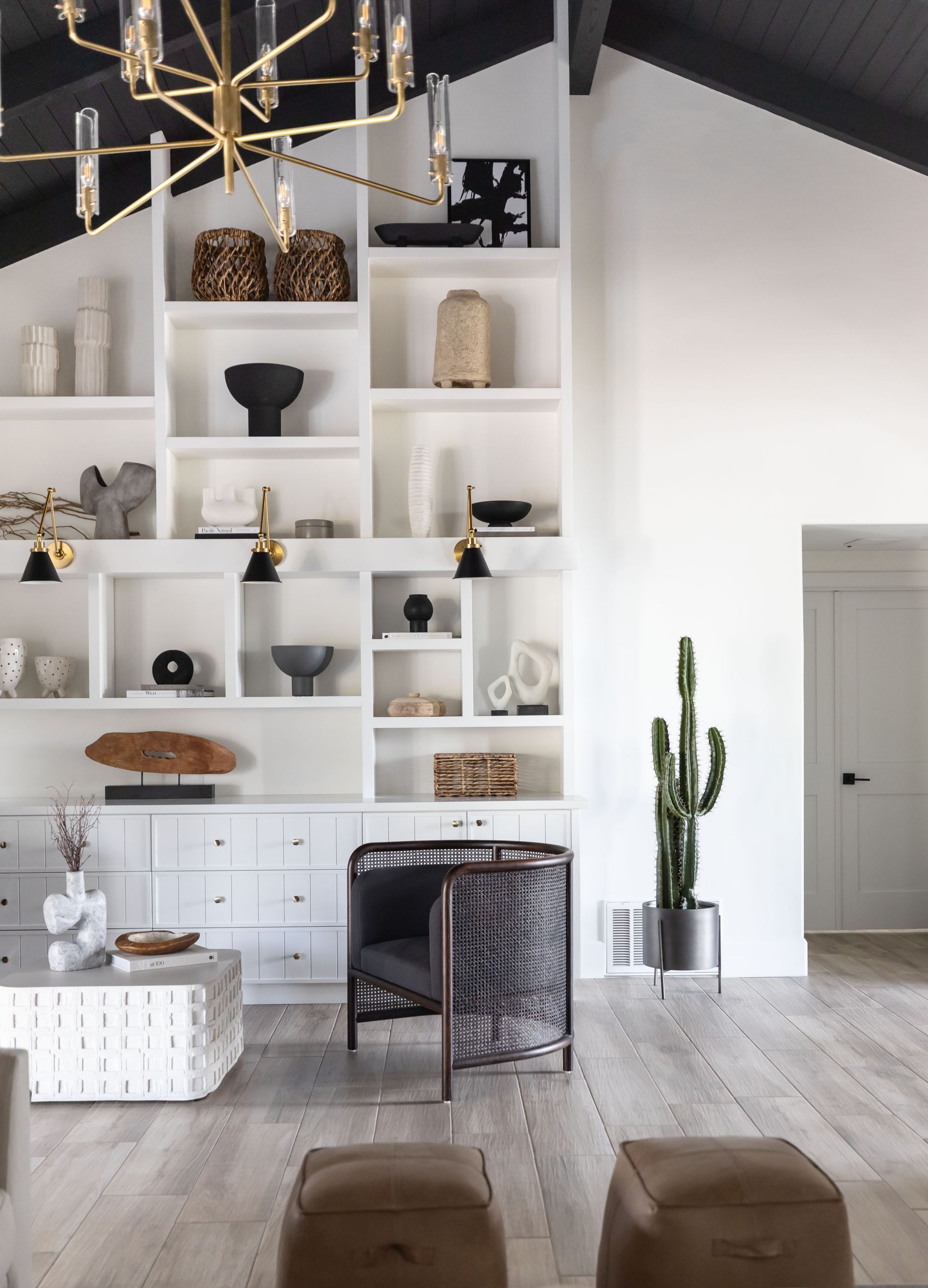 An obvious space filler for dead space on walls is living room shelving to display trinkets and family mementos, says Cyble Rizwan of Persimmon Design.
The beauty of shelving, they explain, is the fact you can fit it anywhere – from dead space around a TV to empty alcoves not quite large enough to fit furniture into. Going bespoke is best for this when you can, but there are some great sets available online to get you started.
5. Use space under windows for extra seating
The main event of any living room should be the living room seating, so adding in more to fill dead space is never a bad option, Erica Fecundo, interior designer, continues.
'Underutilized areas beneath windowsills or along hallways adjacent to living rooms are ripe for transformation. I like to add in bench seating with built-in storage underneath for a dead space filler that is both functional and inviting, helping to make a living room feel cozy,' she says.
6. Fill space with plants
Any room looks better with a little bit of greenery, so consider filling in gaps with the best indoor plants, recommends Millie Hurst, Solved section editor for Homes & Gardens. Plants, coming in a range of sizes, means they are perfect for both awkward small shelving spots and filling out large empty corners or gaps between furniture.
If you have less of a green thumb, then consider going faux when decorating with plants – just be sure they are good quality so they don't look too different from the real thing.
Millie Hurst is Section Editor at Homes & Gardens, overseeing the Solved section, which provides readers with practical advice for their homes. Millie has written about and tried out countless cleaning and DIY hacks in the six years since she became a journalist, and has worked in both London and New York.
FAQs
How do I make my living room look less empty?
If your living room looks sparse, it may be that your furniture is not large enough for the space. Sizing up your furniture to fix the room proportions, or adding in additional furniture such as storage, side tables, or soft furnishings to make the room look cozier can all help to bulk out the space and make it feel less echoey.
What is dead space in a house?
Dead space is any area of your home that is empty, or not used very well, making the area redundant. These could be awkward corners, unused storage, or even whole rooms that don't get much use. It is a good idea to think about why you are not using this space, and how you can improve or change it to get better functionality from it to make the most of every inch of your home.
---
Besides adding in some functional storage and furniture, it can help to avoid some common living room layout mistakes to make sure you are making the most of the space you have.
Neglecting the basic interior design rules, like flow, balance and scale, can result in dead space that might actually be easily fixed with some quick furniture rearranging. It could be that you can adjust your space without adding anything new.
Sign up to the Homes & Gardens newsletter
Decor Ideas. Project Inspiration. Expert Advice. Delivered to your inbox.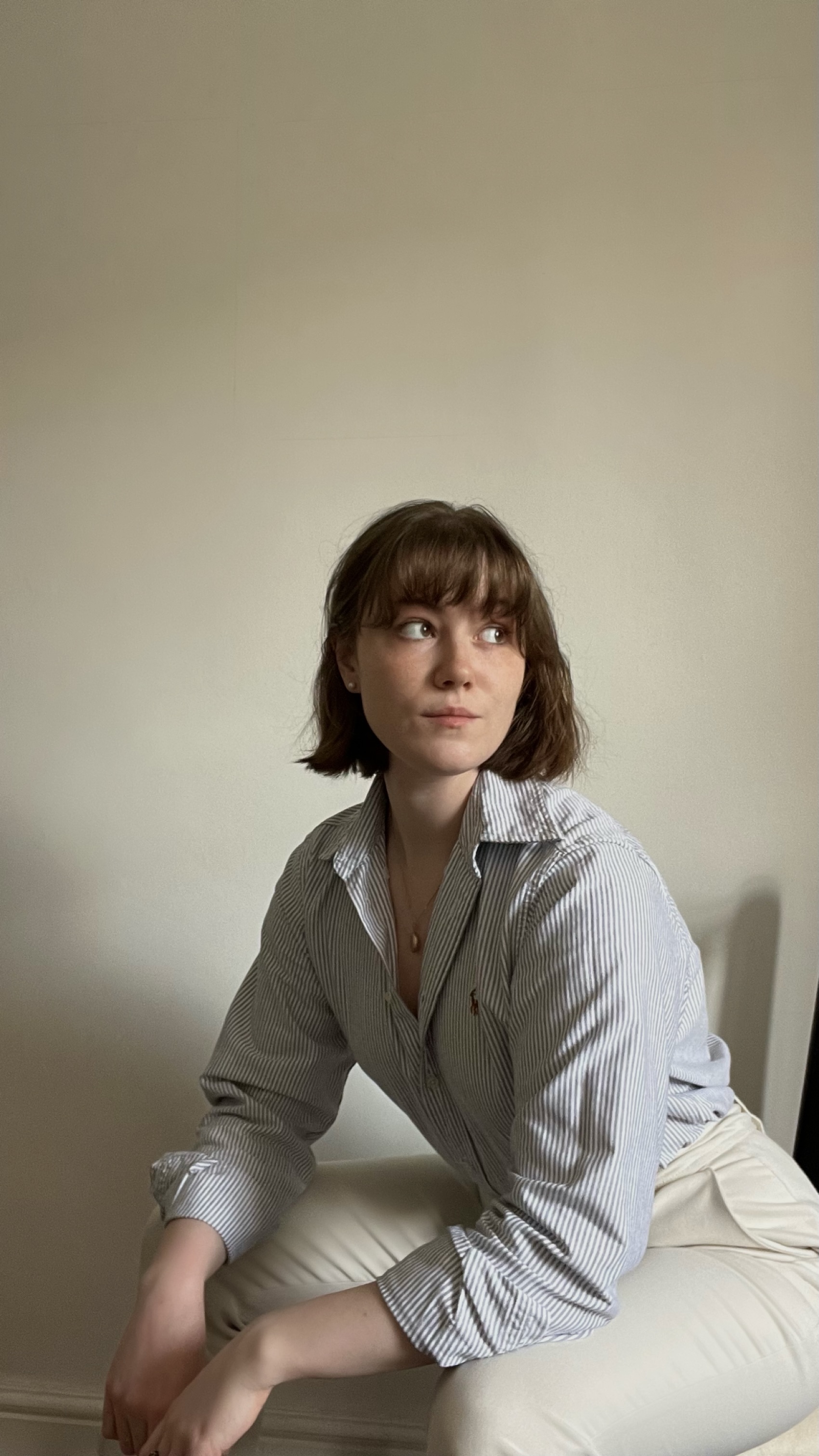 Chiana has been at Homes & Gardens for a year, having started her journey in interior journalism as part of the graduate program. She spends most of her time producing content for the Solved section of the website, helping readers get the most out of their homes through clever decluttering, cleaning, and tidying tips – many of which she tests and reviews herself in her home in Lancaster to ensure they will consistently deliver for her readers and dabbles in the latest design trends. She also has a first-class degree in Literature from Lancaster University.