How can I make my small living room cozy? 15 expert design tricks to exploit
There are so many ways to make a small living room cozier, from finding space for a reading nook to a place to gather for movies or drinks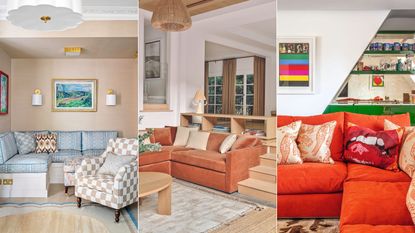 (Image credit: Henry Prideaux / Jacqui Seerman / Samantha Todhunter / Jonathan Bond)
No matter the season, we all appreciate being able to retreat into a calming, cossetting space.
Assuming you're at peace with the compact proportions of your small living room, and are not looking to make your small living room look bigger, what's the next best thing? Finding ways to make your compact living space look cozy.
Everyday spaces have a direct impact on behaviour, says Lily Bernheimer, an environmental psychology consultant and author of The Shaping of Us. In the book, Bernheimer describes how curved forms engender higher levels of calm than angular furniture and how house plants – real, not fake – can reduce blood pressure and increase attentiveness. A good argument for cozy living room ideas. Some studies suggest that the rush to tear down walls to create large open-plan living spaces in homes can have a negative effect on happiness; in this scenario, consider using glass windows, screens or partitions to carve out a semi-enclosed space, recommends Lily in her book.
But what else can you do to make your small living room look cozy? We asked interior design experts, and this is what they recommend.
How can I make my small living room cozy?
If you've spent any time looking at what colors make small living rooms look bigger, you'll know that it's generally lighter shades. Conversely, advancing colors, such as warm tones of red, violet, orange and yellow, give the appearance of coming towards you – and it's these strong tones that can make a room feel really cozy and intimate, says interior decorator Emma Deterding, founder and creative director of Kelling Designs.
'We particularly love a deep earthy orange which creates a snug effect in a room but you could also have the same result with colors such as navy blue and emerald green as long as they are rich in tone.'
Just be careful when choosing this kind of shade in any south-facing small living rooms. 'Warmer tones risk making the room feel uncomfortable in the summer months so opt for a darker shade to cool down a south-facing room such as a charcoal blue.'
1. Invest in a snug sectional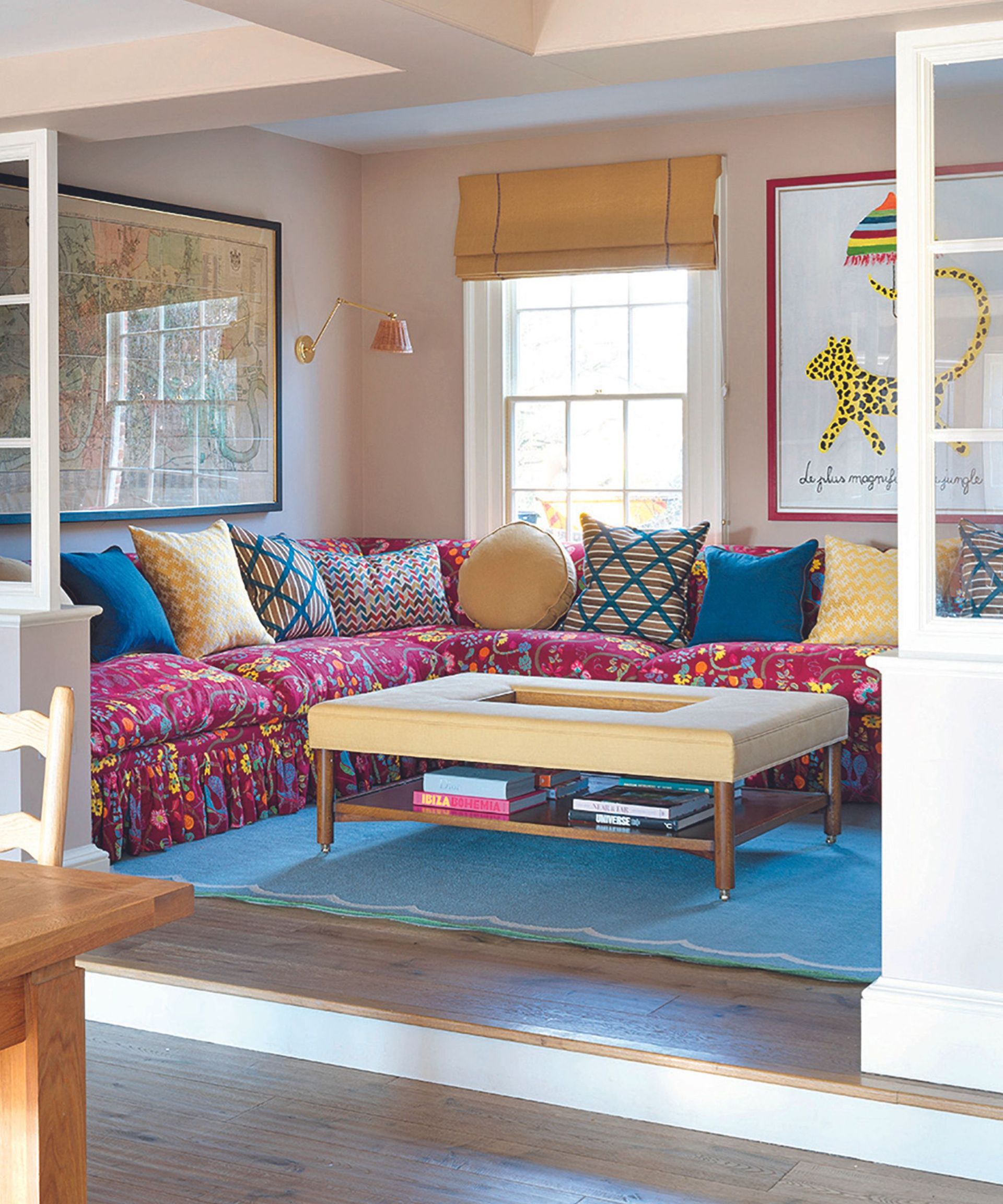 Informal seating areas of kitchens keep the team at interior design specialist Salvesen Graham busy.
'In this Georgian house we switched the kitchen and seating area around so that this small living room area, which was once the kitchen, became a seating area with a huge sectional and practical fitted joinery,' explain co-founders Mary Graham and Nicole Salvesen.
Sectional living room ideas can look too modern in a traditional decorating scheme but a clever play was to upholster this one in a colorful Josef Frank fabric and detail it with a pretty gathered skirt – it adds a softer, more classical silhouette which is in keeping with the rest of the snug.
2. Use color contrast and a linked layout
Another way to organize small living room layouts and give a clear sense of purpose is to use color as the defining feature. With broken plan living room ideas, it's possible to create a sense of separateness even without the physical features of doors and walls by embracing contrast.
In this room by Polly Ashram which sits in the middle section of a line of rowhouses, she used the lack of natural light to create a cozy small TV room.
'Don't be afraid to go for a different color or a rich, dark textured wallpaper,' she says. 'Use this color on the joinery and woodwork and then add some oversized sofas, a giant footstool or ottoman, and you can create a mini movie room.'
'I like to keep the footstool almost kissing the sofa so you need to squeeze past or almost climb in to reach the sofa, says Octavia Dickinson, interior designer.
3. Color match furniture with walls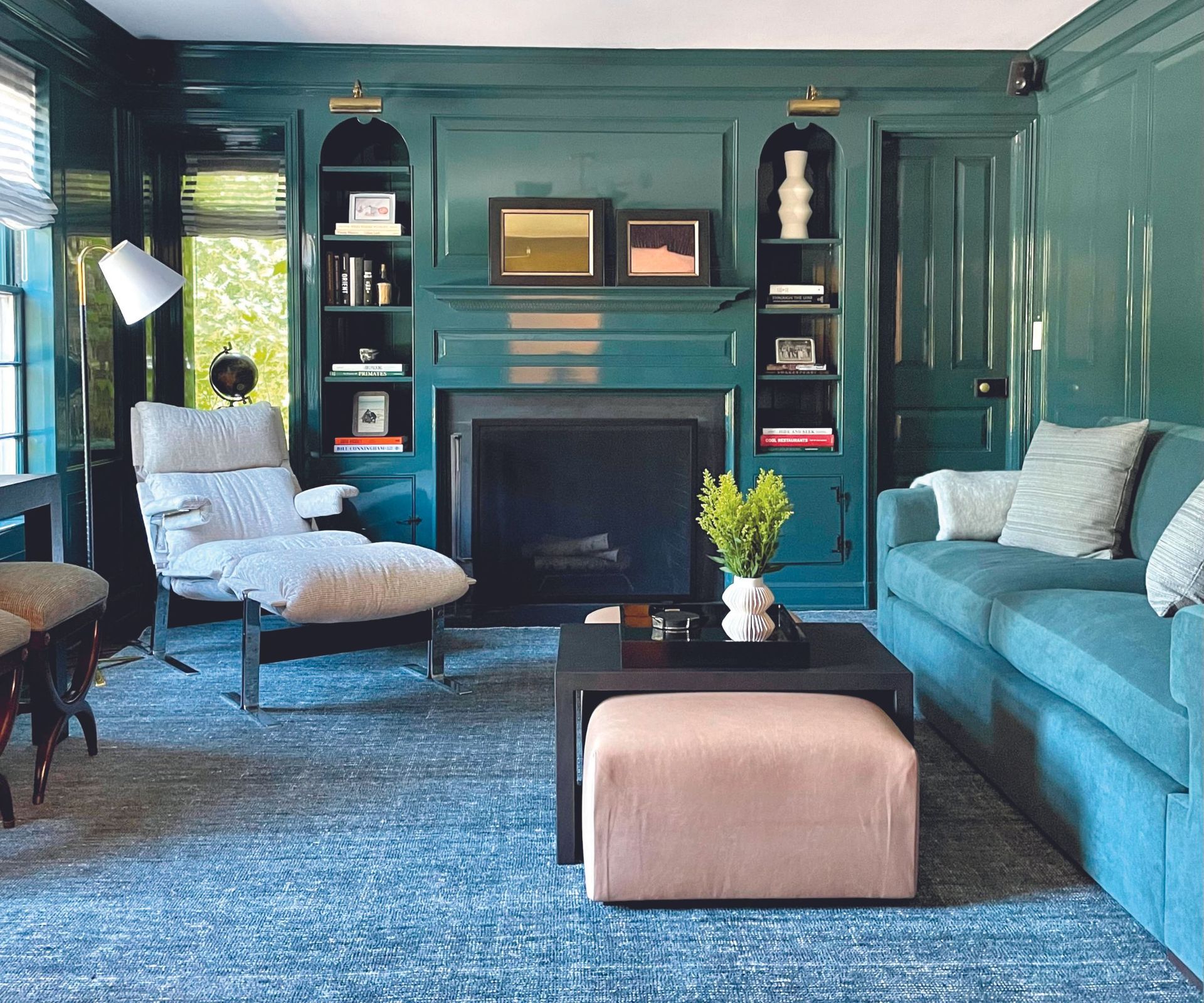 Painting walls with a gloss paint finish is a clever way to subtly bounce light around, as demonstrated in this den by New York-based Studio AK.
'The panelling and trim were painted in a rich Benjamin Moore color,' say co-founders Anna Baraness and Kristin Tarsi. 'Then we played with the history of the house by layering modern and pre-war era furniture. Finally, to make it feel cozy, we added a sofa in a velvet the same tone as the walls.'
Anna Baraness and Kristin Tarsi
Studio AK's principals Anna Baraness and Kristin Tarsi run a full-service interior design firm, specializing in renovating and furnishing high-end residential projects. Current projects include apartments in Manhattan and homes in Washington D.C., Silo Ridge, Charlottesville, and Palm Beach.
4. Give alcoves a purpose
As everyone has learned over the last few years, rooms are increasingly multi-purpose so it's a good idea when starting on some space planning to consider all eventualities and possible uses for every spare inch.
Doing so will also make a small living room feel more cozy.
This is how interior designer Samantha Todhunter came up with a plan for a mini kitchen and small home bar to maximize a quirky alcove in the colorful study at the top of this house. Using contrasting shades of orange and green on the sofa and joinery adds a lively, cozy zing to the room, while decorating with mirrors allows for warm light to be reflected around the room at night.
5. Divide an open-plan space into smaller, cozier living rooms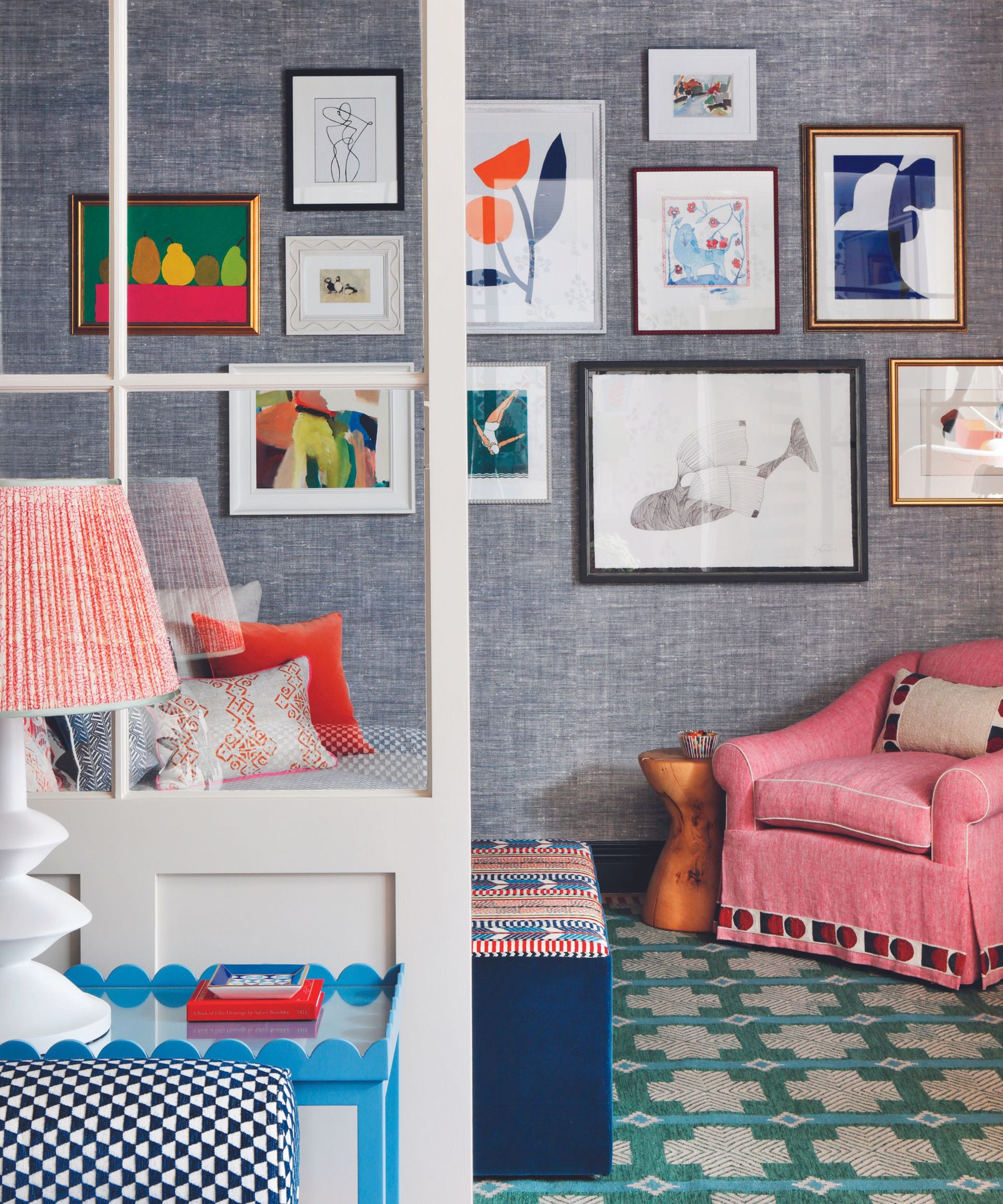 Large or cavern-like rooms often risk feeling the opposite of cozy and present a risk for those thinking about taking down dividing walls. In historic buildings, structure helps to give rooms proportions and a sense of scale.
One way to overcome this and introduce coziness is to install a partition, such as the one the Sarah Peake of Studio Peake designed for this basement room. She has turned the space into a home movie theater but chose glazed panels to ensure that enough natural light filtered through from the main room.
6. Turn an awkward space into a useful, cozy one
Take advantage of existing architectural features to create nook beds or reading nooks out of otherwise poorly used spaces. Fitting an upholstered bench under a bay window, layering with cushions and adding some good lighting will instantly result in an inviting place to sit and read.
Cath Beckett and Liv Wallers, co-founders of Yellow London, designed this cozy small living room spot using a dynamic Christopher Farr Cloth design on the window seat cushion and a lively wallpaper by Ottoline for an extra splash of color.
7. Choose dark, moody colors for walls and furniture
Dark and moody colors or a palette based on Scottish baronial decorating – rustic greens and deep reds – are perfect for a small cozy living room in a country house.
Louise Wicksteed, design director at Sims Hilditch, recommends using a dark shade where there isn't much light. It creates a 'cozy, cocooned aesthetic', she says.
'Heavy plaids and natural wools enhance this feeling, creating an informal, welcoming escape. To lift the space, consider painting wooden beams in a 50/50 emulsion of water and a neutral paint,' she adds.
8. Swap standalone furniture for fitted
Standalone furniture is no match for bespoke joinery when it comes to creating a super cozy small living room that takes advantage of every inch of space.
This generous alcove in a house by Turner Pocock has been cleverly converted into a relaxing place to wind down with a movie or a good book.
The decision to take the green all over the walls, ceiling and trim as distinct from the white in the wider room reinforces the sense of the space being a place to escape from the rest of the house – being present but cut off from the hubbub.
9. Build in sectional, wallpaper the ceiling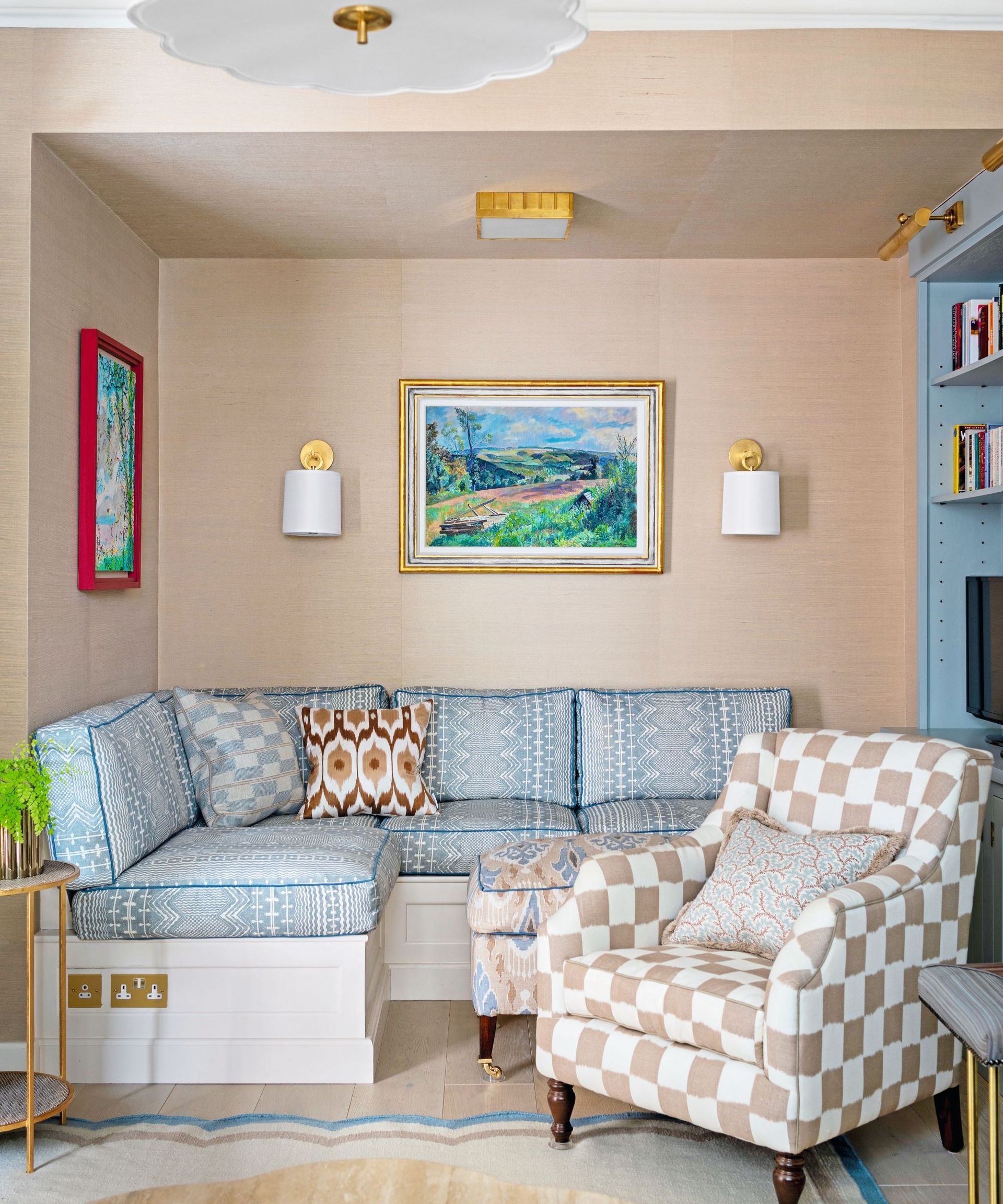 The middle of rowhouses – where the wall has been removed between the two downstairs rooms – is often wasted space. Lacking in light, it can be reduced to a area without purpose.
Henry Prideaux reconfigured the floor plan of this house – after creating a more generous sitting room, he converted the remaining area into a small cozy living room with a downstairs toilet behind.
Small living room storage has been cleverly included:
'The built-in sofa has storage under each section,' says Henry. 'An upholstered ottoman adds extra comfort.'
For a cocooning effect, ceiling wallpaper matches that of the walls.
Having met when working together at The Studio Harrods (the eponymous luxury lifestyle store's inhouse interior design service) in 2010, with a shared passion for interiors, Henry Prideaux (above) and Amy Paice later joined forces to launch small independent practice Henry Prideaux Interior Design to provide a professional service for private residential, and boutique commercial clients.
10. Line the walls with book shelves
Hardworking houses benefit from built-in storage, and bookcases are the best investments.
Not only do they use otherwise dead space – including that which lies above a door – but they lend character to a room.
The joinery in this small home library/small cozy living room, decorated by Sarah Fox of Fox Interior Design, is painted in Farrow & Ball's Lamp Room Gray, which acts as a calming backdrop for books and art to stand proud.
'I love blues and grays from the gray-green end of the spectrum – the colors work well with the light and provide a sense of calm,' says Sarah.
11. Layer with soft furnishings and artwork
When it comes to thinking about what's needed to create the right environment for a small, cozy living room, it should feel 'like you are wrapped up in a vast, cozy blanket', recommends interior designer Octavia Dickinson.
Layering 'cushion after cushion' in different shades, sizes, plains and patterns with thick trims and surrounding the space with lots of picture lights and wall lights will create a relaxing and inviting ambience, she says.
Creating a cozy small living area within an open-plan space requires careful consideration of small living room lighting and layering, adds Melissa Hutley of interior design studio Hutley & Humm.
'We would design joinery specific to the room that allows for books, paintings and photographs to be displayed and suggest adding wall lights to closets and shelves,' she explains.
Choose warm and comforting fabrics such as velvets, wool, boucle and soft cotton. 'Add cashmere throws on sofa arms and use an upholstered ottoman rather than a hard-edged coffee table for cozy seating with feet up.'
12. Embrace the coziness of the sunken sofa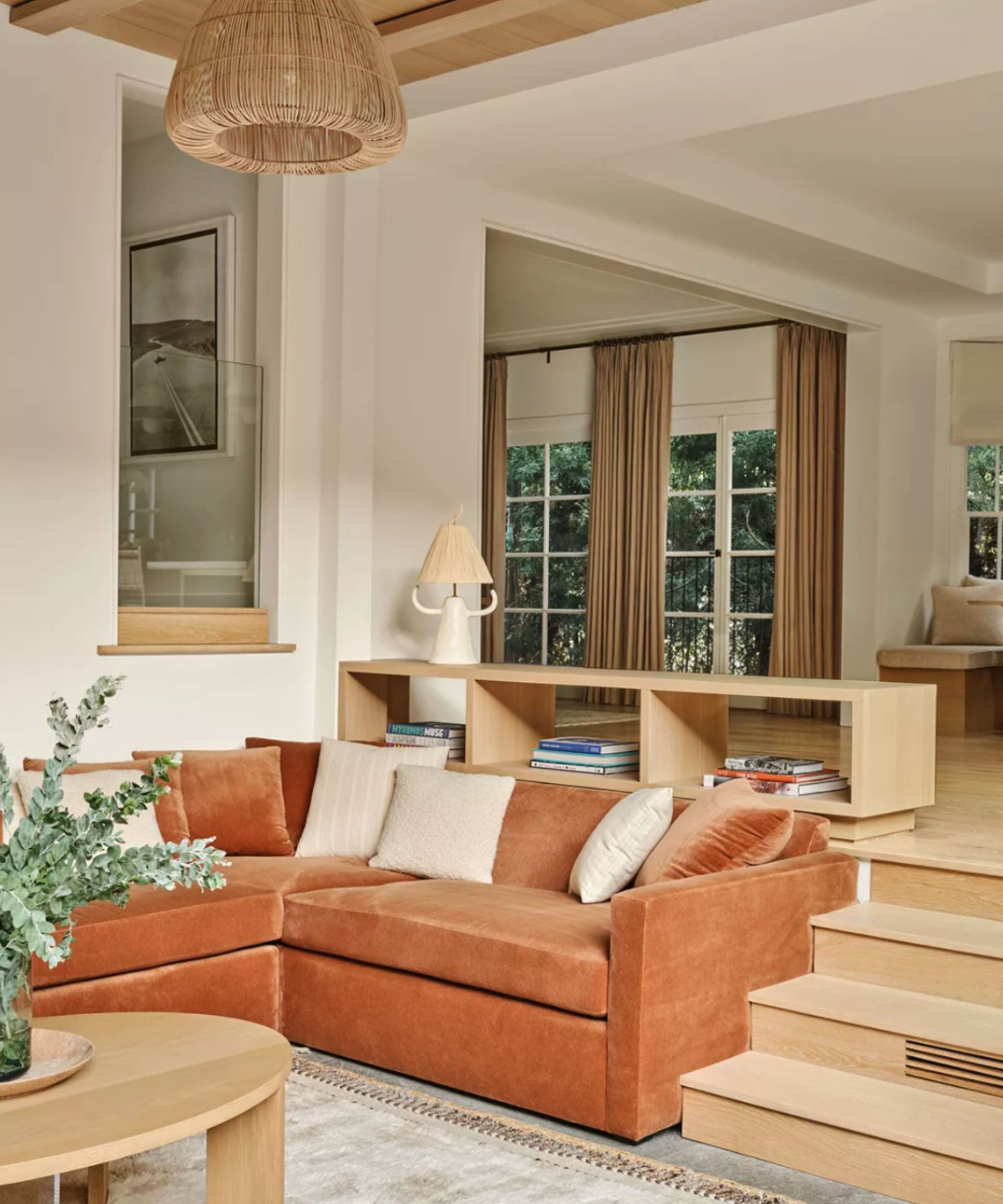 Buying the right couch for a small living room is important of course, but if you can incorporate architecture in an open plan space to allow for sunken sofas, or conversation pits as they are sometimes known, you will make a small living room feel cozy.
'The architectural transition from one room to the next is important,' says interior designer Jaqui Seerman who adds that they 'embraced with open arms' this existing sunken seating area.
'Stepping down into a space adds a level of drama. We love how in this home we took a modern approach, it doesn't feel like the intimidating pits of the past, it feels fresh and fun.'
13. Make a small living room cozy with clever lighting
Zoning is key to making the most out of smaller spaces, and can up the cozy factor. This can be done in many ways, adding new flooring or lighting, but here Dunning & Everard has clad the walls in timber planks in Farrow & Ball's Drop Cloth.
'We created the room by extending the kitchen/breakfast area in this house,' says Stephanie Dunning. 'We wanted to create a space where the owners could watch the changing weather across the valley.'
'Small living room lighting should be low level for a cozy atmosphere; add lamps for ready. Candles are lovely. Then layer up throws, rugs and pillows,' says Sarah Ward, founder, Ward & Co.
14. Clad walls and ceilings in warm wood
Dark wood paneling on walls has long been a surface of choice for those wanting a classical, enveloping feel to a room.
But for a more contemporary look, take inspiration from this scheme by designer Cortney Bishop.
'The cladding brings freshness to the space,' she says. 'The level of finish, soft and silky, is in contrast with the rustic wood.'
When hanging a flat-screen TV on the wall in such a room, she recommends framing it so that it sits flush.
'I also think through materials to encase the TV so that it feels like it was intended to be part of the space.'
Interior Designer
Interior Designer
Cortney Bishop
Cortney Bishop, principal design and owner of Cortney Bishop Design, founded the full-service interior design firm in 2007. She holds a BBA in business marketing from the University of Georgia, and pursued her design career by blending her passions for travel, art, fashion and music. Her wide-ranging talent and innate ability to mix patterns and hues has resulted in a robust portfolio of diverse, inspiring residential and commercial projects, each reflective of a client's lifestyle, personality and aesthetic.
15. Make a cozy basement space feel included
Movie rooms in basements are popular but the most important element to consider is how they connect to the rest of the house – if the access is too hidden, they'll soon become an expensive error.
Hannah Hampton incorporated the steps to the basement from the kitchen rather than the entryway so the space felt integral to the living spaces.
'We added layers of texture and tones from the reclaimed brick walls, the exposed concrete stringer and the wraparound iron on the stair treads,' she adds.
How do you make a small living room cozy on a budget?
To make a small living room cozy on a budget, paint is your friend. Living room paint ideas to consider for coziness include warm and/or spice shades, and deeper colors that advance. After that, layering pillows, living room rugs and throws will make your small space feel cozier, as will low level lighting dotted around the room – choose warm-colored bulbs or lampshades.
Our favorite small space book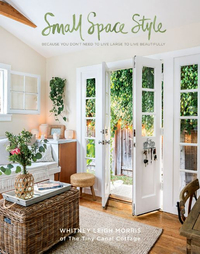 Small Space Style: Because You Don't Need to Live Large to Live Beautifully, from $7.99 at Amazon
Interior design maven Whitney Leigh Morris makes living in under 400 square feet look elegant and effortless. In her book, Whitney shares more than 200 ideas and practices for making any tiny space efficient and stylish.
Chapters center around living, sleeping, eating, and bathing, featuring real-life examples from Whitney's own delightful and sophisticated cottage in Venice Beach, California, as well as home tours of some of her favorite tiny houses, micro apartments, and beautiful, efficient small spaces.
---
To make a small living room feel cozy, color is clearly key: the warmer and deeper shades are, the cozier your space will feel. However, without good lighting, they can also feel dingy, so ensure you plan a layered scheme that includes dimmable light fittings on walls and tables, but ditch that overhead. Lastly, consider layout carefully, placing furniture in a sociable position around a coffee table or footstool.
Arabella is a freelance journalist writing for national newspapers, magazines and websites including Homes & Gardens, Country Life, The Telegraph and The Times. For many years she has specialized in writing about property and interiors, but she began her career in the early 2000s working on the newly launched Country Life website, covering anything from competitions to find the nation's prettiest vicarage to the plight of rural post offices.