Small home library ideas – 10 creative solutions for compact spaces
Give your books the space and recognition they deserve with our top small home library ideas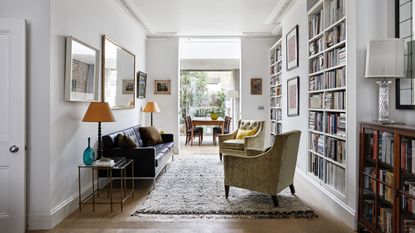 (Image credit: Future)
Sign up to the Homes & Gardens newsletter
Decor Ideas. Project Inspiration. Expert Advice. Delivered to your inbox.
Thank you for signing up to Homes & Gardens. You will receive a verification email shortly.
There was a problem. Please refresh the page and try again.
Small home library ideas can create a designated, inviting space in your home for reading and book displays, both enhancing the enjoyment of reading and making a real stand out feature of your wonderful collection of books.
From a cozy reading corner in a living room, to adaptable bookshelf designs, home library ideas allow for you to get creative with the existing space in your home.
Small home library ideas are all about embracing clever storage designs and how you can make the most out of existing rooms and furniture pieces in your home.
No matter the size of your space, when designing a home library, you want to celebrate your book collection, whether that be through dynamic storage designs, creating a cozy, secluded reading area, or transforming how you read at home through innovative lighting and display ideas.
Small home library ideas
We explore our top small home library ideas to provide you with some inspiration for your space, from clever bookshelf ideas to sneaky repurposing of underused corners.
1. Optimize the space available
Rather than creating a whole separate room for small home library ideas, optimizing the space available in environments where you already spend a lot of time, such as a living room or bedroom, allows for you to regularly view and appreciate your book collection in existing, comforting areas.
In this living space, a traditional bookshelf design is taken one step further with the books being displayed above the doorway. This not only creates a unique, striking feature, but it is a practical way to extend shelving designs as your book collection grows over time - one to consider for living room bookshelf ideas.
2. Add comfort with a reading chair
An essential for reading nook ideas, a reading chair creates a comforting and cozy environment for you to sit back, relax and enjoy your book.
Whether you purchase a designated reading chair for your small home library, or use an existing lounge chair or armchair in living room or bedroom, it can create an inviting, relaxed area for reading.
In this home, the lounge chair is simply placed beside the compact library and desk area. The tall green plant creates a sense of separation between the two spaces, with the wall light providing practical downlighting for when reading. A compact space but with varying elements, being clever with your accessories and layout ideas can create a charming small home library design.
3. Enhance a corridor space
'If you are struggling to find areas in your home for your small home library, creating an eye-catching bookshelf in a corridor, hallway or landing can add a unique element to a space that we often just pass through,' says Homes & Gardens' Editorial Director Sarah Spiteri.
In this hallway, the painted blue bookshelf creates a striking focal and talking point as you enter the home. Seeing a book shelf as your first walk into a space can create an inviting and welcoming atmosphere, so when planning book storage ideas for your small home library, enhancing on high traffic areas will ensure a book collection is frequently looked on and appreciated.
4. Unite a study and home library
Integrating your home library into an existing study space makes perfect sense for small home library ideas and is a great option for office wall decor ideas.
An area which is often already fitted with bookshelf and shelving designs, using a home office or study space to accommodate and display your book collection can create an area that feels like your very own reading room and small home library.
To create a separate area to a desk space for reading, place a cozy reading chair by a window or create an inviting window bench seat.
5. Create a cozy nook in an open-plan space
A great option for open-plan living room ideas, establishing a room within a room through a cozy reading nook in an open-plan space can create a zoned area designated for reading and relaxation.
'No matter the size of your open-plan space, by planning out an separate area for book storage, and potentially additional seating, you can create an intimate retreat dedicated to your books and to reading,' says Jennifer Ebert, Homes & Gardens' Digital Editor.
The bookshelves and seating elements in this open-plan space take advantage of this walk through space, creating a cozy seating and library area as you journey through to the dining room.
6. Use a library ladder
Floor to ceiling shelving units are a great way to create much needed storage and display space in a small room.
By using tall shelving units and pairing them with a traditional library ladder, you can create a unique small home library.
Whether you integrate your book storage into an existing display unit, like in interior designer Elnaz Namaki's apartment shown above, or create a new, designated shelving area, a library ladder can add a fun and playful element to a room whilst also allowing you to extend your library to areas that were once out of reach.
7. Combine books and decorative accessories
For ideas on how to style a bookcase for your small home library, combing your favorite reads with decorative accessories and ornaments can create an elegant display that beautifully showcases your identity.
Organizing a bookshelf in this way is also great for saving on space in a room, by combing books and decorative pieces together, you can have on one main viewing area in a room that is both a library and display space.
Ben Stokes, Founder and Interior Designer at KAGU Interiors states, 'the styling possibilities for a bookcase are endless, they can offer much more than just a place to store your books. Shelves are the perfect platform to showcase favorite decorative items and styling them can be an art in itself.'
From houseplants, to vases and candles, you can make your small home library stand out with the help from accessories and decorative pieces.
8. Elevate your home library with paint
A simple way to add color and personality to a room or piece of furniture, using paint ideas in your small home library can add an eye-catching element of interest to the space.
Paint can also be used to distinguish a separate, small home library space within a room. Using color blocking techniques and extending paint to the ceiling and floor can mark a section of a room that is specifically for books and for reading.
Whether you match your bookshelf with the paint used throughout the room, or pick a contrasting color for added impact, using paint can make your small home library both blend in and stand out.
9. Extend and transform a cupboard space
If you have room either side of a large storage cupboard or unit, extending the design and building coordinating shelving units is a great for storage ideas and to make use of empty space.
Framed by matching bookshelves, the large cupboard in this room has also been innovatively transformed to house a study space, with the snug stool being able to neatly slot within.
Perfect for a small home library, re-configuring a cupboard in this way to create a sheltered seat space can create a cozy, cocooned area where you can sit and read.
10. Don't forget about lighting
This may seem obvious, but getting the lighting ideas right for your small home library is essential if you want to be able to comfortably read and relax.
Whether you position your reading chair and shelving by a window to make the most of lots of natural light, or use floor and wall lamps to light up a cozy corner, you want to be able to read your book no matter what time of day or night.
How do I build a small library at home?
Home libraries don't need to be thought of as a luxury or grand, large rooms with lots of wooden shelving and hundreds of books, they can be bespoke and tailored to your book collection and the space available in your home.
Building a small library at home can be as simple as buying some shelving and placing them in an area that can be viewed and appreciated often.
Using additional elements such as key lighting pieces, a reading chair and book styling ideas can enhance the design, and create a cozy space where the beauty of books is at the forefront.
How do you make a small home library cozy?
Having an area where you can for small home library ideas will ultimately make the space feel cozy and inviting, and accessorizing with cushions and throws will enhance on this feeling of comfort.
Lighting is also very important for feelings of coziness in a home library. Choosing specific lighting designs, from practical task table lamps to large floor lamp designs can make the space feel inviting and comfortable when sitting down to read.
Lastly, considering the location of your small home library can also amplify on an atmosphere of coziness; from a cozy reading corner in a living room, to hidden library within a cupboard.
Sign up to the Homes & Gardens newsletter
Decor Ideas. Project Inspiration. Expert Advice. Delivered to your inbox.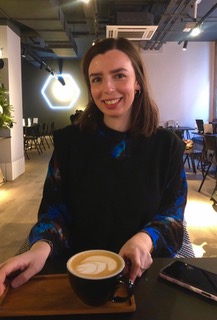 Zara joined Homes & Gardens in February 2022 as a Content Editor. After studying English Literature at University, she worked as an Ecommerce Website Editor, Content Writer and Buying Intern at multiple independent businesses within the luxury retail and lifestyle sectors. Her role at Homes & Gardens unites her love, experience and passion for the world of design and desire to create inspiring written content. She enjoys nothing more than discovering new trends, brands and products, whether that be in fashion, interior design or lifestyle.