20 small living room storage ideas – clever ways to clear clutter in a compact space
Smart and stylish small living room storage ideas that show how practical can mean beautiful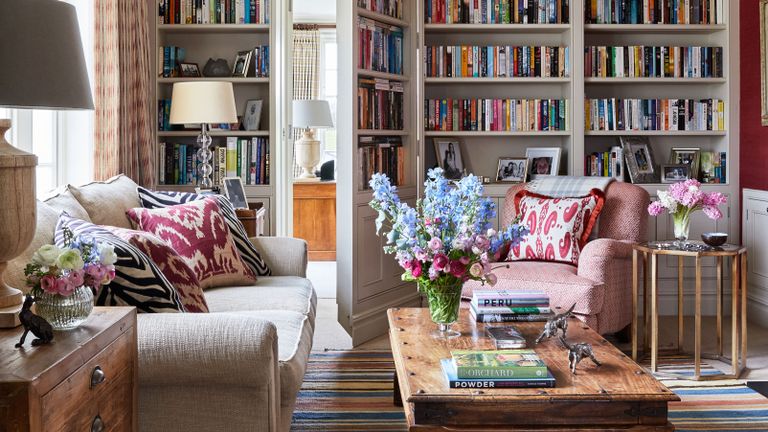 (Image credit: Future / Davide Lovatti)
Modern life requires that the main room of the home fulfil a multitude or functions – from offering somewhere to relax and dine to office space, so well-planned small living room storage ideas are the key to a practical and stylish scheme.
Whether you opt for streamlined built-in cabinets or striking free-standing designs, our inspiring storage solutions and small living room ideas will help ensure this room meets your every need.
Small living room storage ideas
These are the very best small living room storage ideas. They will make your space feel neat and organized, but still warm, welcoming and elegant.
1. Create sleek alcove storage to correct a small room's proportions
By lifting these alcove storage cabinets off the floor in this small living room, the narrow proportions of the alcoves are somewhat mitigated. What's more, the proportions of the focal wall itself are corrected – had they been lined up with the top of the fire surround as is traditional, the room would have felt much taller and therefore narrower.
2. Pick a stand-out piece from your favorite era
Mid-century modern furniture is a design classic and will look stunning whether your home is period or more modern. The shape of a mid-century sideboard lends itself well to small living room storage – they always have a mixture of drawers and cupboards – and of course the large top can be utilized well too.
What we love about this room is the juxtaposition of the glass and metal coffee table with the sideboard – two different eras and two different looks but they both work so well together.
3. Place mirrors behind shelves to enhance space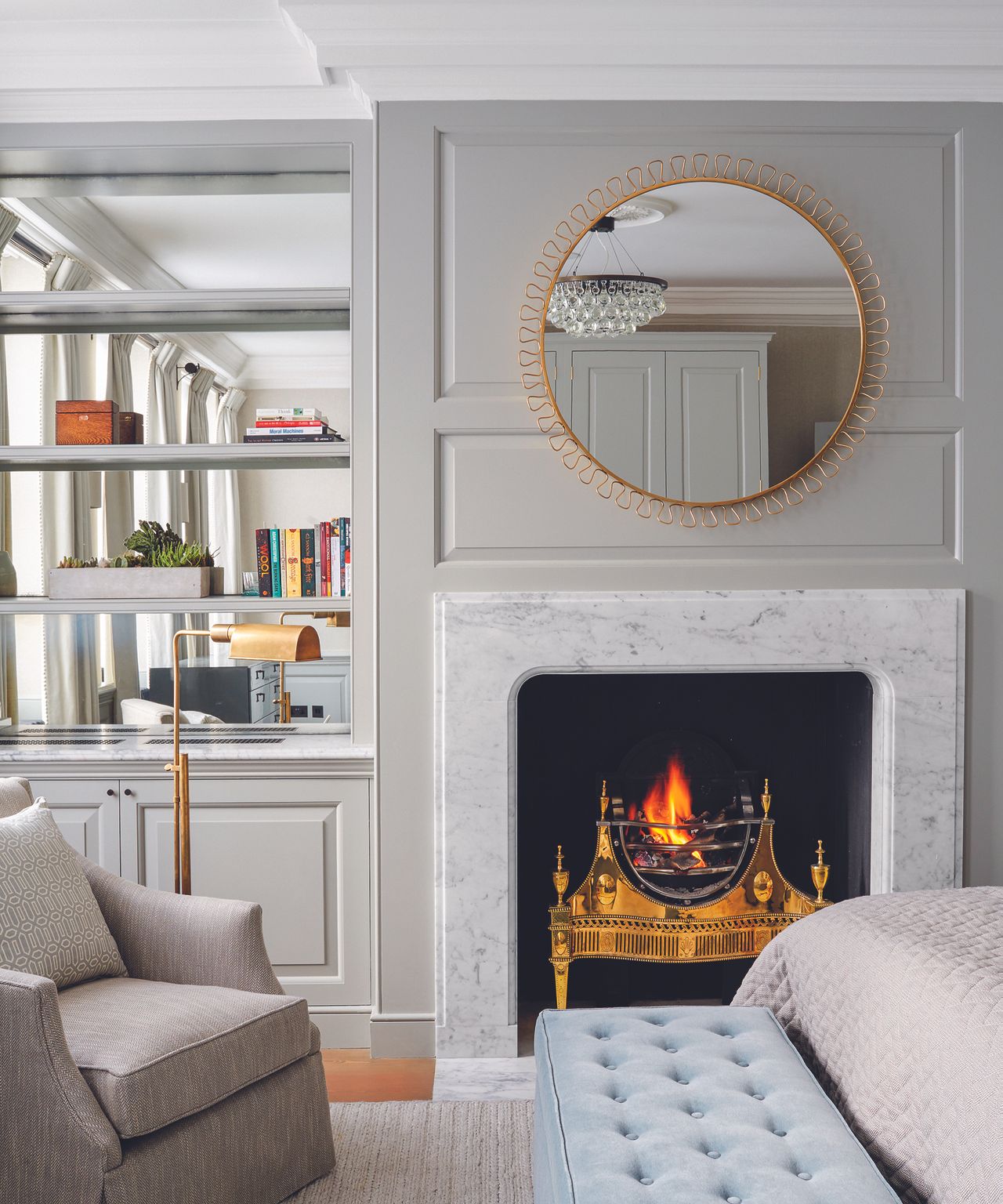 This clever trick is a really useful apartment living room idea for making small living room storage appear less bulky. Putting the mirrors behind the shelves enhances the light in the room, makes the alcoves seem wider and brighter, and also reflects the display on the shelves beautifully.
4. Use small living room storage to go broken-plan
We often mention utilizing the space each side of your fireplace and this is how you do it when it's the main feature of a long living room or open plan space, as interior architect and furniture designer, Alison Henry, explains:
'In this mews project, the idea was to allow you to see the space architecturally – the full length, width and height – and to maximize the natural light available. We managed to achieve this with the use of sliding pocket doors to give privacy when required, as well as bespoke shelving and storage either side of the chimney breast. The feature fireplace visually divides the space, conceals the AV requirements, and creates enough shelving for personal items such as photos, books, and decorative pieces.'
5. Build bespoke cabinetry to fit storage in a small living room
Bespoke cabinetry is brilliant for creating storage that is specifically tailored to your needs. Think about adding a full wall of large units in your living room.
A TV in the middle surrounded by storage is a practical solution and can be softened with the addition of books and favorite pieces. Put some storage, such as DVDs, paperwork and books, behind doors. When planning lighting for a small living room, try lighting open shelves and niches for more decorative items.
'A fitted unit will provide 30 to 40 per cent more storage than a comparable free-standing piece, but the size of the units you choose should depend entirely on the space. Avoid anything too bulky in a small room,' says Barbara Genda, founder, Barbara Genda Bespoke Furniture.
6. Color coordinate your display
Clever living room paint ideas are a great way to make a small space feel much larger. Help shelves to recede back into the wall by painting them the same shade as the wall behind. When decorating small spaces, group similar items together in categories or you risk the shelves looking too busy in the room. Only display things that you find attractive to look at.
7. Make the most of existing features
If your property is old it will no doubt have characterful nooks and crannies for storage. They may be strange spaces with wonky shelving and awkward corners inside, but use them nonetheless.
You can give them a new lease of life by covering the panelling in fabric or wallpaper, or put in glass so you can see your wares through it.
8. Choose slimline small living room storage to enhance space
The design of a classic lamp table is important in a small living room. If you want to create a spacious feel then choose a design that doesn't have a solid body – if you can see through it, it won't take up space visually and will help to make that corner feel bigger. It's all about tricking the eye.
9. Use a niche corner
Converting an awkward alcove into a storage nook can transform dead space into a bijou library. Add a door if you are looking for a more streamlined effect or simply enjoy the colorful interest that the spines of the books provide. Any carpenter should be able to fit shelves in this style.
10. Introduce symmetry for neatness
Shelving units can look glam and luxurious if you get the design right as shown by Carole Malloy and Michael Berzsenyi, interior designers at Josephine Design House based in Atlanta, Georgia – and we think this matching pair of brass designs are spot on.
Symmetry in interior design works its magic here. You can use units like this to showcase your favorite collectibles and why not put a vintage style wall light above them too?
Brass is the metallic to be using this year so pop in some extra storage pieces too to keep the look cohesive.
11. Create the perfect fit
Bespoke bookshelves and cupboards neatly fill the space around a chimney breast. This neutral living room color scheme has been brought to life by the display of books, while the concealed storage at the lower level is practical.
12. Create a one-off look with modular living room storage
A free-standing unit doubles as a room divider, creating a discreet office in this living area – its open design allows light to flow freely through the space. The beauty of this type of storage is that it offers a tailor-made solution without the price tag of a bespoke design. Not only can it be put together to fit any size of room, but a statement piece can also act as a work of art.
'The modular concept means that the furniture can be adjusted to suit all circumstances and combined in a variety of ways,' says Ian Weddell, chief executive officer of USM Modular Furniture. Make sure your room dividers are positioned in an area where they are not likely to get knocked, particularly with children around, and look for ones that can be connected to the ceiling to provide more support.
13. Add an ornate cabinet
An elegant dresser brings a boldly decorative silhouette to any room. It complements furniture with clean, modern lines to give an on-trend, old-meets-new feel. Glass-fronted display storage requires an ordered approach; use the visible shelves for accessories and conceal practical pieces in the drawers.
14. Hide messy cables with a wall unit
Technology is an important factor in most living rooms, from Wi-Fi access to background music, and the trend is towards totally concealed solutions. Although many modern systems claim to be wireless, there's no getting away from charging docks, routers and aerials, all of which require cables.
To keep these hidden, incorporate dedicated spaces for all the media you use within your small living room storage ideas, specifying small insets in the backs of shelves and cupboards to allow cables to run behind fittings.
If you are fitting a wall of storage that incorporates a space for your television, allow sufficient room should you decide to invest in a larger model. Try not to create too big a gap, as your television will look awkwardly small.
15. Go for dramatic accents
Small living rooms need not shy away from bold colors. Dark shades add flair and provide instant impact. Opting for wall-to-wall shelving in a strong color will provide a focal point for the whole room. Use a soft backdrop of taupe to keep the scheme understated while allowing furniture to sing out.
16. Have furniture made to fit
Make use of the width of a whole wall with bespoke shelves, which mixes display shelves with closed cubbies, so you can show off decorative items and hide away everyday mess, too.
Plus, with a bespoke design, it's easy to coordinate it to the style of the room with small details such as wood coving or trims, or help it blend into the wall by using a uniform color.
17. Elevate your shelving
If floor space is at a premium, a wall-hung shelf could be the answer. Utilize the space above the couch to hang a single floating shelf. This is a great option for displaying your favorite artwork or objects, and it is a real feature in itself.
18. Install a window seat – with storage
Window seats are a brilliant small living room storage solution.
Tara Benet, a New York-based interior designer, explains their best asset: 'Window seats are an attractive way to integrate hidden storage. This is especially true for certain spaces that double up as playrooms or home offices, where there is lots of clutter that needs to be stowed away.'
For quick, regular access, have doors built into the front of the window seat; for storage that's hidden, design in a lift-up lid beneath cushions. In both cases, dividers or shelves within the window seat will help make the storage truly versatile.
19. Hideaway a home office in small living room storage
With the doors shut on this home office unit it looks like a normal cabinet, perfectly at home in a living space; open them and you have a fully-functioning home office.
Hidden desks and secret home office ideas are perfect for post-pandemic home working.
20. Pick a color theme in an open-plan space
If your living space is open-plan and compact, it's really important to keep a theme running between the spaces. The easiest way to do this is to pick colors, materials or even furniture eras with which to furnish your space, as in the room above.
Doing so will create cohesion and blur the divisions between the zones, creating the feeling of an overall, much larger space.
How do I create storage in my small living room?
Whether you crave a more clutter-free, minimal interior or simply want some extra spots to stash away occasional items or everyday detritus, it can sometimes be hard to work out where to store the seemingly never-ending accumulation of household items.
And if your living space is small, or you have little in the way of built-in storage, it can sometimes be hard to see how to improve things without spending some serious money
Take time to plan your furniture, considering the functions you need and use the most. Going bespoke will allow for a totally tailored finish, but you'll also find stylish options on the high street.
In living spaces, opt for pieces that can double up as a discreet study area with a pull-out desk. Mila Podiablonska of Absolute Interior Décor suggests opting for coffee tables and ottomans with plenty of space beneath or inside to help you declutter, while sofa beds are great multi- functional pieces.
Try to avoid over-cluttering an area – if a modest unit is all that will fit, don't try to put too much in and make the most of it as a feature without filling the wall space above or to the side. The aim is to make the best of the space available to you, adding maximum storage but without eating into your room too much.
With that in mind, take stock of what items need to be stored and have a ruthless clear out. Bear in mind your budget as well, as you might not want to invest in beautiful built-in shelving if you are not planning to stay in your present home long-term.
Be realistic about what will suit the room and your purse and make it a worthwhile investment.
What storage should every small living room have?
In small living rooms, hard-working furniture is a must. Fortunately, there are plenty of options that combine practicality with aesthetic appeal, from concealed storage to streamlined shelving.
Don't shy away from making a big statement in a small space. Striking furniture will make an impact and hard-working pieces that conceal storage or double up on function will maximise your home's efficiency. Interior designer Natalia Miyar suggests a bold approach. 'Proportion is so important; I like to use large-scale furniture as it makes a space seem bigger and more luxurious,' she says.
'The key is to choose carefully. Buy a few large, impactful pieces rather than cluttering a space with lots of small items.' Bespoke or standalone shelving is a simple way of creating storage, as well as acting a room divider. Open shelves can also inject a sense of spaciousness in compact rooms.