How to organize belts – 6 professional organizer-recommended methods to store unruly accessories
No matter how big a belt collection you have, there is an organizational method to keep any of these unwieldy accessories neat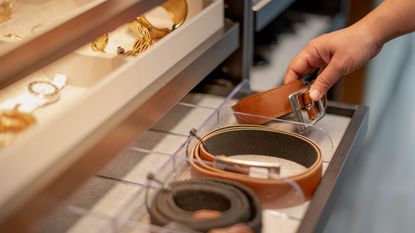 (Image credit: Getty Images)
Sign up to the Homes & Gardens newsletter
Decor Ideas. Project Inspiration. Expert Advice. Delivered to your inbox.
Thank you for signing up to Homes & Gardens. You will receive a verification email shortly.
There was a problem. Please refresh the page and try again.
Belts are one of those awkward accessory categories where you either have one or two or a whole collection. That said, they're always tricky to find the right spot for, especially when they unravel and fall around your closet.
No matter how many you own, there are some quick closet organization ideas experts rely on to organize belts in a way that will not damage them while making them easy to find and pull out each morning.
Among the typical closet organizers professionals always use, such as bins, there are some smart belt storage options designed specifically for the task.
How to organize belts
Here is what the pros prefer to do based on the space and collection they are working with.
1. Keep them straight with a belt hanger
Raychel Klein, professional organizer, Kon-Marie consultant, and founder of RayBayBay suggests using a designated belt hanger to help keep your belts straight, easy to find, and protect them from damage.
'I like to buy a hanger specifically designed for hanging belts with hooks, like this belt hanger from Amazon,' she recommends. 'Be sure you buy enough hangers or get a hanger that has enough slots/hooks for the number of belts you own to avoid having to stow belts in different parts of your closet, making them harder to pick between when getting dressed,' she adds.
'You can then further categorize them by style (e.g. dressy, casual, golf), or by color.'
2. Display them with wall-mounted belt hangers
If you are trying to organize a small closet with lots of clothes and don't have the rail space to hang your belts, then a wall-mounted storage option is your next best bet, says Stephanie Gisondi-Little, personal stylist and closet organizer at ComposedCo.
'My number one choice is always a hanging option, ideally well-mounted to a wall space and installed inside a closet.
'Belt racks made of wood and/or metals such as this belt rack from The Container Store will outshine plastic's weight bearing and general deterioration over time. As with organizing any closet space, purchase racks for the number of belts you want to keep on hand (because you actively love and ideally wear them) as opposed to buying for all you have on hand (and never wear).
'Check the capacity of the rack, don't be afraid to double up on hooks but also make sure to leave yourself a little wiggle room to incorporate one or two new pieces down the road.'
Stephanie is a self-proclaimed 'Fashion Therapist' having worked for top desgners such as Emanuel Ungaro and Nicole Miller while also helping clients with different needs across the style and budget spectrum refine their closets for a streamlined space full of clothes that truly work for them.
3. Use a drawer divider to keep belts tucked away
When organizing a small closet, you may wish to store your belts in a dresser instead, using a drawer divider to help keep your belts neatly wrapped up.
Jill Viglione, professional organizer and founder of Embrace Your Space likes to roll each belt with the buckle on the outside, stand them up, then place them side by side in a row in a dresser organizer.
'This technique works best with drawer dividers to keep belts in place or a divided-belt storage container with an individual compartment for each belt,' she says.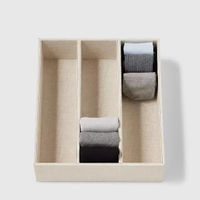 Marie Kondo Linen 3-Section Drawer Organizer | $19.99 at The Container Store
This sectioned drawer organizer is a simple way to define storage space inside a dresser or desk. Use the narrow compartments for sorting lingerie, accessories, or rolled-up socks.
4. Use hooks on the back of a closet door for odd belts
Making use of vertical space is a common home-organizing idea professionals always fall back on, and it is no different for organizing belts as Karina Toner, cleaning expert at Spekless Cleaning points out.
'If you only have a few belts to store, consider attaching a few hooks or pegs to a wall or the back of a closet door. You can hang your belts individually on these hooks, allowing you to easily see and choose the one you need without having to designate a lot of storage space such as a small accessories category.'
Karina is the Operations Manager at Spekless Cleaning, a trusted maid service based in Washington D.C. The team has over five years of experience providing top-quality cleaning services for both residential and commercial clients. Karina oversees every aspect of the business, ensuring that every client gets the same top-notch service and spotless clean every time.
5. Use space in a hanging shoe organizer
Similarly, if you have a shoe organizer on the back of your closet, you could designate some of the pockets to keep your belts, Karina Toner, cleaning expert adds.
'This method works well if you have limited drawer or closet space,' she says.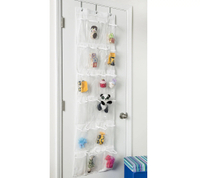 24-Pocket Over-Door Shoe Organizer | $19.99 at QVC
This over-door shoe organizer has transparent pockets, so you can easily see what shoes and accessories you have stowed away inside.
6. Use a storage bin to store belts on shelves
Last but not least, there is the common use of a storage bin – a storage product professional organizers can't live without – on a closet shelf to help keep your belts in one place, especially if you do not wear them very often, suggests professional organizer, Raychel Klein.
'To keep things simple, I often recommend that my clients corral their belts in a dedicated bin. No other accessories or categories should be in the bin and you should add a label to make them easy to find.
'You can simply roll up your belts and stack them. This is a great option for someone with fewer than 10 belts, making the bin manageable to keep neat and sift through.'
You could even consider upgrading to a luxury storage basket to make your shelf storage that little bit more stylish, too.
FAQs
How do you roll a belt up for storage?
When storing or packing belts, it can help to roll the end through the buckle first. Then, form a tight swirl and continue to roll until it looks like a cinnamon roll.
Is it better to roll or hang belts?
Whether you roll or hang belts will depend on the material the best is made out of. Real and faux leather belts are best hung up so you do not crack the leather or leave creases. Fabric belts, on the other hand, can be rolled to help conserve space.
---
Organizing belts doesn't have to be hard work. Using smaller storage options or integrating them into what you already have is a great option for those of us that have two staple belts and rotate them, while larger racks and hangers make sorting larger collections simple. Just remember to declutter first before investing in storage solutions to make sure you are not stowing away items that will just collect dust.
Sign up to the Homes & Gardens newsletter
Decor Ideas. Project Inspiration. Expert Advice. Delivered to your inbox.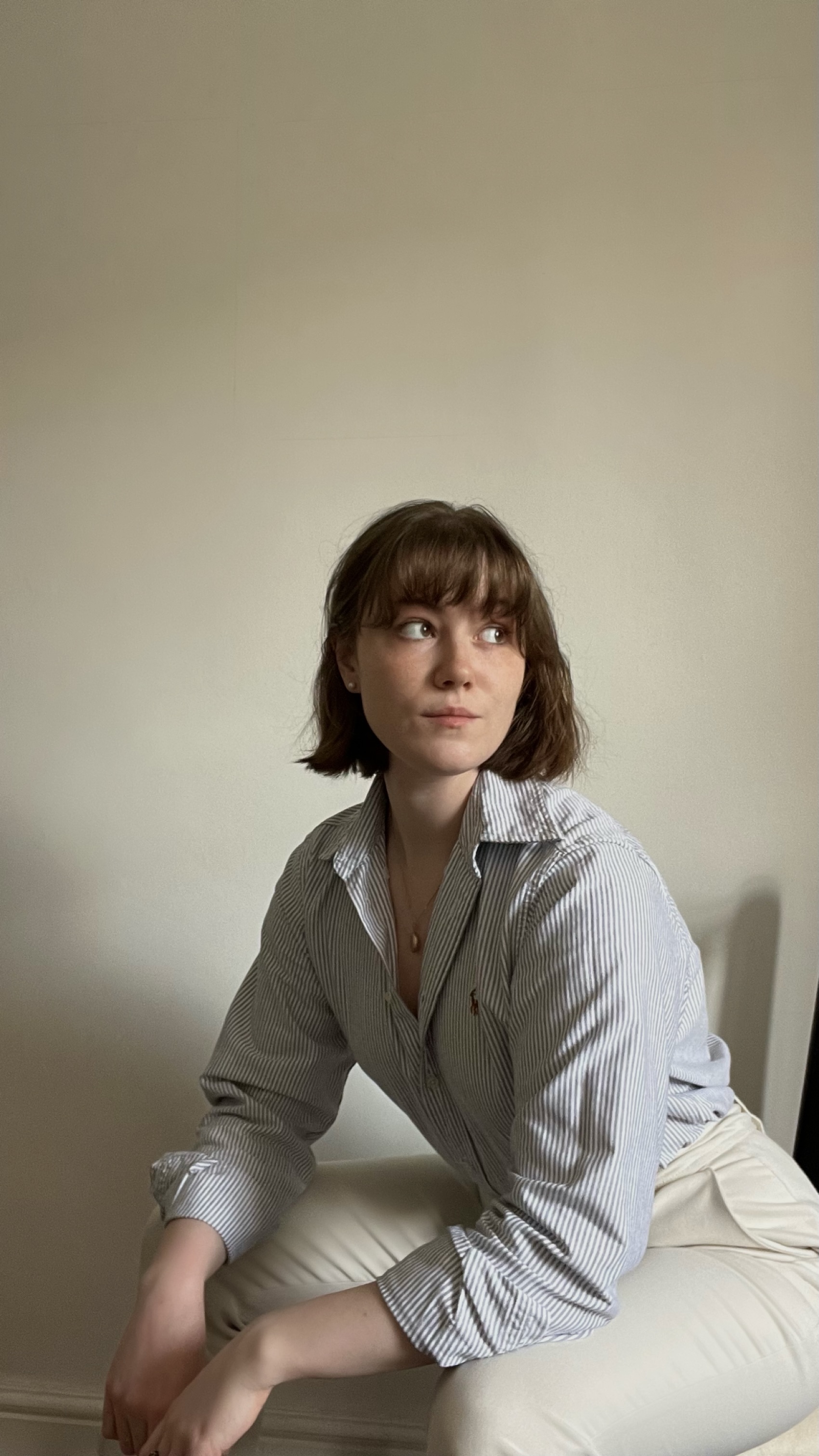 Chiana has been at Homes & Gardens for a year, having started her journey in interior journalism as part of the graduate program. She spends most of her time producing content for the Solved section of the website, helping readers get the most out of their homes through clever decluttering, cleaning, and tidying tips – many of which she tests and reviews herself in her home in Lancaster to ensure they will consistently deliver for her readers and dabbles in the latest design trends. She also has a first-class degree in Literature from Lancaster University.