How to organize a small closet with lots of clothes – without decluttering your collection
The physical size of your closet shouldn't dictate what you're allowed to have in your wardrobe – here's how to fit everything in neatly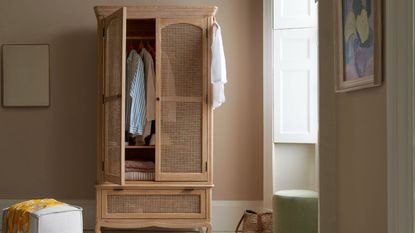 (Image credit: Loaf)
Sign up to the Homes & Gardens newsletter
Decor Ideas. Project Inspiration. Expert Advice. Delivered to your inbox.
Thank you for signing up to Homes & Gardens. You will receive a verification email shortly.
There was a problem. Please refresh the page and try again.
There is little as disheartening as having to declutter your clothing when it doesn't fit into your closet – even when you desperately want to keep hold of everything in your collection.
The good news is that there are some simple closet organizing ideas to make a little extra room in your existing closet, so you don't have to throw out fun clothing pieces that continue to bring you joy.
These organizing ideas from professional home organizers help fit more into a tiny space, so you do not have to unwillingly slim down your wardrobe.
How to organize a small closet with lots of clothes
Small closets can be incredibly hard workers when you use the right organizing tools and products to really get the best out of every inch of available space. Of course, decluttering clothes is one of the best ways to organize a small closet efficiently, but it is not essential if you find it overwhelming or you simply love every single thing you own (and fit in them all, too).
1. Establish zones to keep cramped clothes organized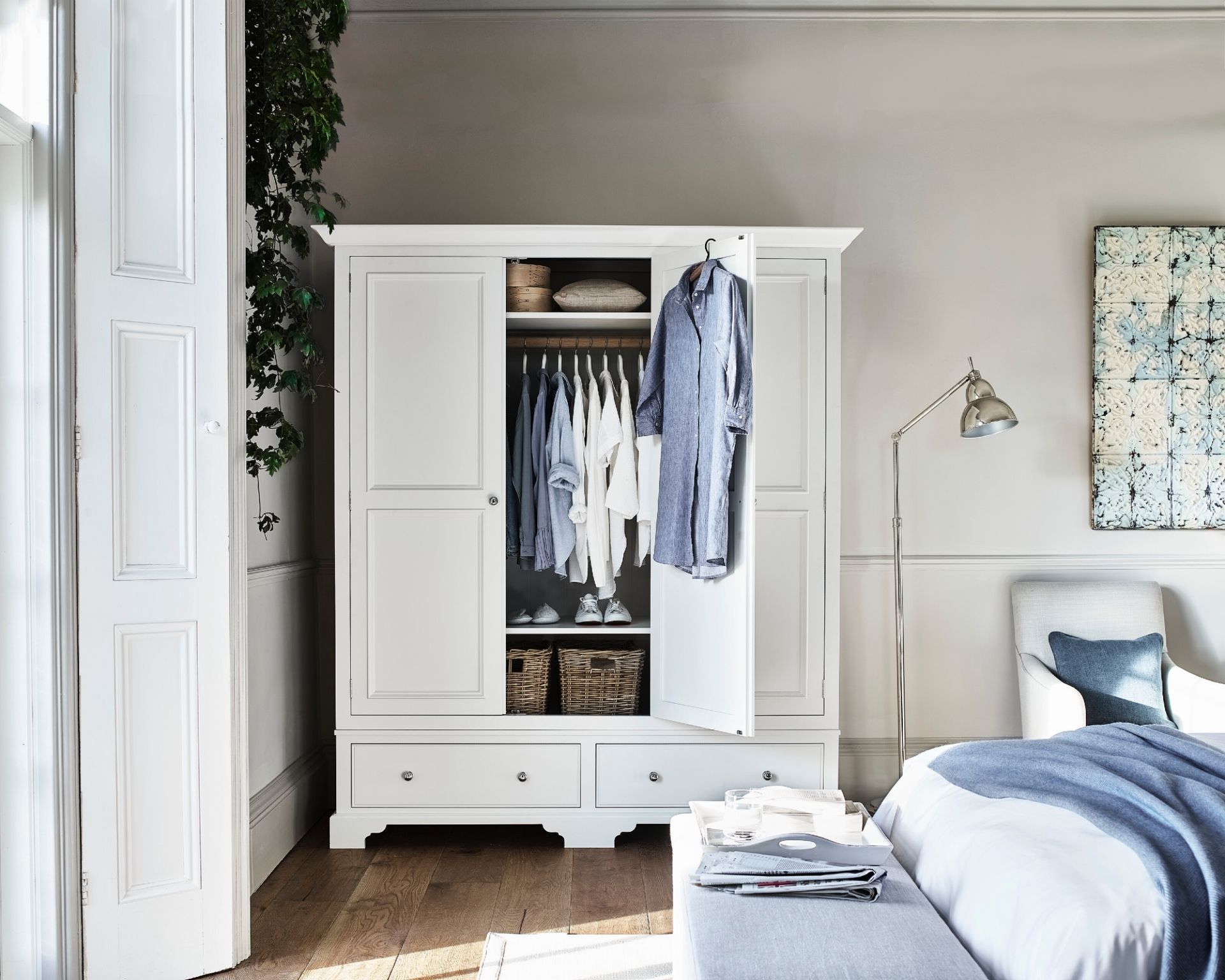 One of the biggest small closet organizing mistakes we make is forgetting to create zones.
Often, when trying to fit a lot into a tiny area, it can be tricky to see everything in one glance, so zones can help you locate approximately what you need and then dig through for the exact item, explains Nicole Gabai, professional organizer and founder of B. Organized.
'When you have a small closet, you might think it's too small for everything you have, but that's not always the case. Establishing zones and using the right storage products are great ways to help you keep things nice and tidy.
'Make sure you are using all your vertical space. If there is a large gap at the top or bottom of your clothes closet, add shelves or stacking boxes to take advantage of the height.
'I started thinking about zones when I lived in a tiny dorm room in college in New York City. I had all of my stuff right next to me, and there just wasn't enough space for everything. I was an art student, and I had art supplies, clothes for dressing up and dressing down, books, and homework supplies. The things I used most often, such as my in-season clothes and my current semester's art supplies, went into zone one in my closet and the drawers below. Zone two items, like out-of-season clothes and the art supplies I wasn't currently using, were kept in milk crates stacked high above the closet.'
Nicole founded B. Organized over 20 years ago and is a Golden Circle member of NAPO – the National Association of Productivity & Organizing Professionals.
2. Use layered hangers to store multiple things at once
One of the best space-saving closet techniques you can steal from organizers is to invest in good sets of clothes hangers. In a small closet, swap standard hangers for layered hangers, available at Amazon, as these have the ability to hold multiple items at once. These are your best bet for fitting more into a tight storage spot, says Courtney Finley, professional organizer and designer at Organized Designs.
'Try to keep like items together,' she says, 'such as cami tops, skirts, and trousers to keep your hangers organized and easy to use.'
Laura P. Barker, closet curator and stylist adds that 'matching, slim hangers will allow you to fit more in your space and also give it a boutique feel. The velvet ones are a great choice for keeping clothes in place when you are pulling them in and out in a tight spot, but The Container Store also makes slim wood hangers that can be a little sturdier and aesthetic looking – if that is important to you.'
Courtney Finley is a professional organizer and Interior Designer, holding a BFA in Interior Design.
3. Use all of the available space
Some of the best closet organizers you can buy for a small space are things that make use of the vertical storage space afforded to you by the closet walls and doors, Nicole Gabai, professional organizer points out.
This means using over-door hangers for accessories or shelf dividers and boxes to help get the most out of any shelf space or available floor space and thinking beyond simply what you can hang on the rail.
4. Rotate your seasonal clothing
'If you have a small closet, keep only the pieces in season that you are wearing right now in it and put away anything completely off-season in long-term clothes storage,' Laura P. Barker, closet curator, and stylist recommends.
'This will give you more space to see what you have and make getting dressed so much easier. A high shelf that's out of reach is a perfect place to store off-season items in a beautiful bin or box. You can even label it so you can see what's in there without having to open it up. Just make sure you clean all pieces before moving them into a storage box or separate closet to avoid stains setting and moths getting to them,' she adds.
5. Learn what to hang and what to fold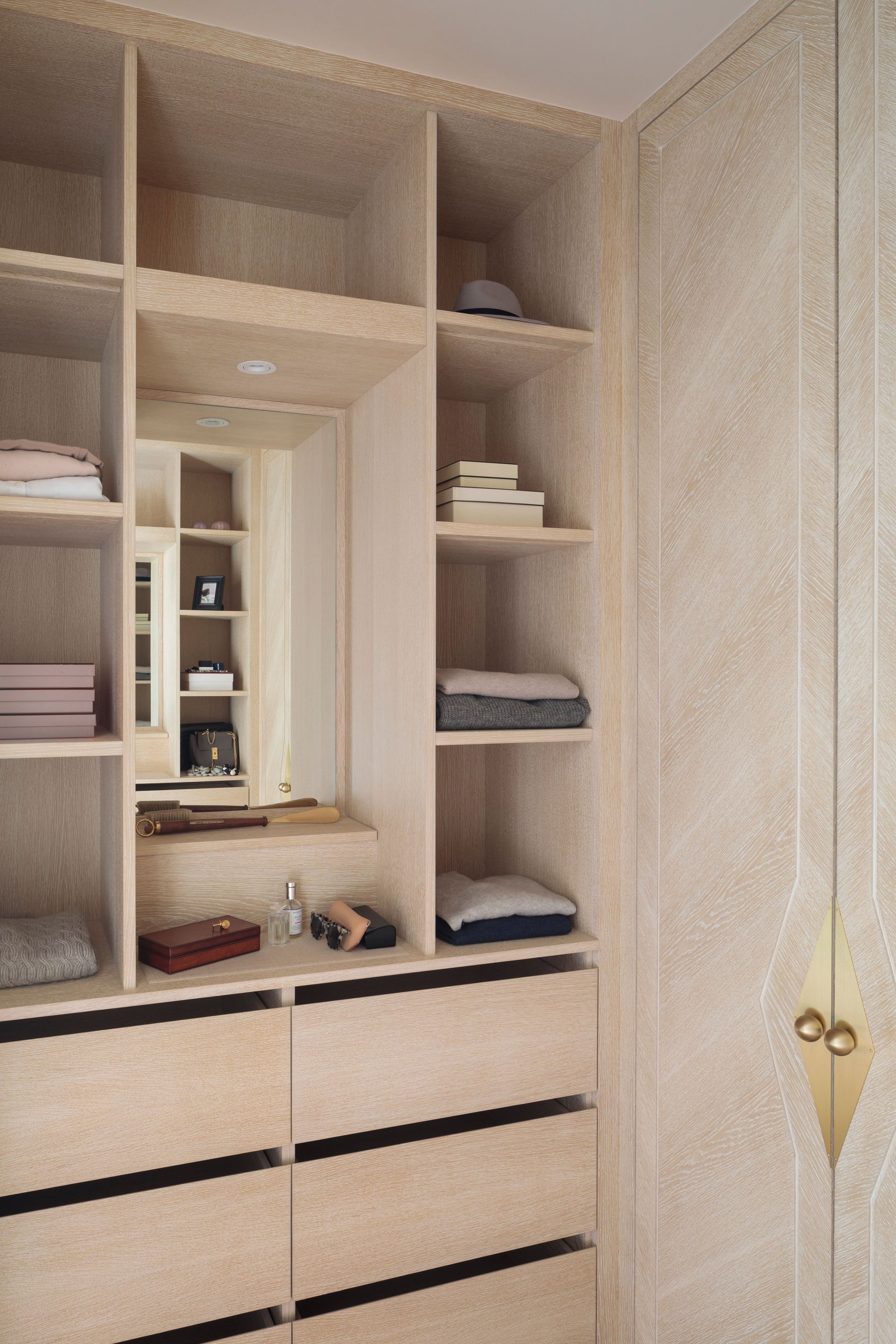 Not everything has to be hung in a small closet, and learning what you can get away with folding is a great way to make space.
'Some things you may want to fold onto shelves or into dresser storage might be t-shirts, thick knits, and sweatshirts that don't crease when rolled up or file folded,' Courtney Finley, professional organizer advises. Blouses, tops, jackets, skirts, and dresses are often best hung,' she continues, 'especially if they are made of delicate materials such as silk.'
Then storing folded items on shelves, the experts at California Closets suggest sorting your items by weight, then by color, and pile them about four or five high.
'Creating short stacks will naturally break up your items by season, making it easier to find the exact item you need on a given day. Short stacks also ensure that your piles will slip perfectly between your shelves,' they explain.
6. Use an overflow rack
If one small closet is just not enough, you can consider alternative clothes storage options such as an overflow rack that stands in your room.
Laura P. Barker, closet curator and stylist, likes to use a clothes rack to store and display her weekly capsule edit – 'I love the aesthetic they bring to a space,' she adds. 'A well-curated selection of clothes can really elevate your space and act as a decorative piece, especially when hung on beautiful hangers.'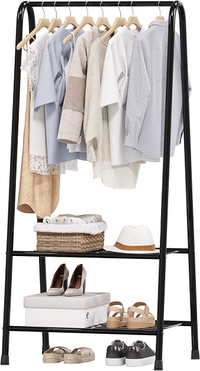 Portable Metal Clothes Rack | $34.99 at Amazon
This sleep clothes hanging rail has added storage for shoes, making it a truly stylish and practical addition if you need al little more space for clothes.
7. Double your hanging space with a drop-down bar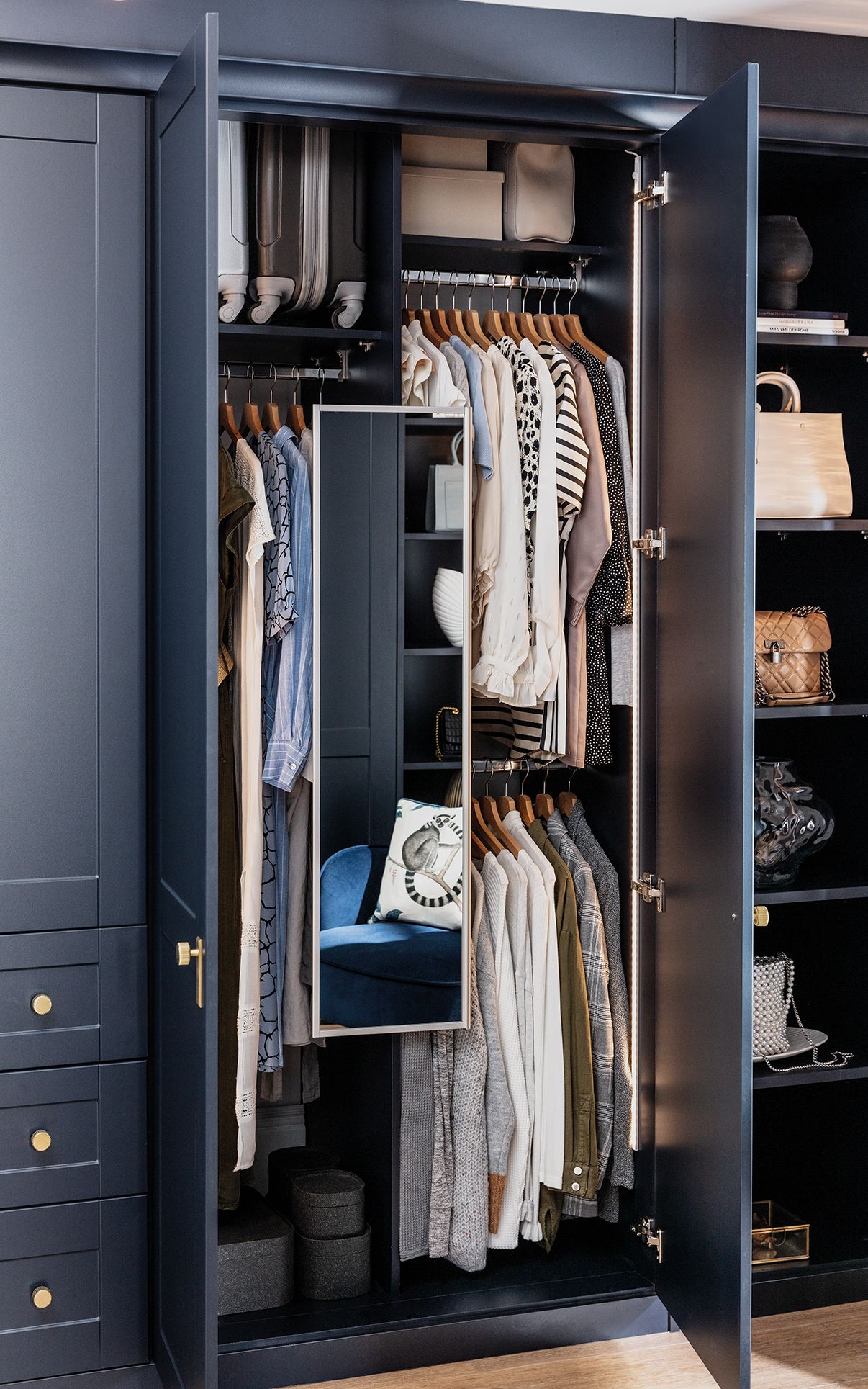 For built-in closets that are as tall as your room, it could be worth adding in a drop-down bar to double your vertical hanging space, proposes Felice Cohen, small space living expert and author.
'Pull-down clothes rails, like this from Amazon are often relatively inexpensive and can be fitted simply yourself with the right tools. They quickly double your hanging space, and the ability to lower it down means it is easy to access without having to climb on a chair too – so you are still likely to wear all of your clothing.'
Felice Cohen has lived in many small spaces throughout her life, meaning that she has become accustomed to living with only the necessities and decluttering what doesn't fit. Now, she uses those skills to help others declutter and organize their homes.
FAQs
How do I organize my closet in 30 minutes?
Pull everything out and lay it on a flat surface. Then, you can work through your collection piece by piece, putting everything that you are keeping back straight away, putting things you need to try on to the side, and getting rid of everything else. When putting clothes back, think about the order you want your closet to be in, and start sectioning off your clothes as they are returned to your closet.
What goes on the top shelf of a closet?
The top shelf of a closet should be dedicated to accessories, shoes, and luggage. Alternatively, if it is within easy reach, you can stack folded clothing here with shelf dividers to help keep it neat. Try to avoid storing non-wardrobe items on this shelf, however, as this can make your closet look more cluttered and render it a little less functional.
---
Organizing a small closet with lots of clothes and no decluttering is a challenging task, but it is entirely doable with the right products. If you are trying to organize a closet without buying anything, however, then consider what you can do with what you have, doubling up items on single hangers where possible (such as using one hanger for a few camis, or clipping two skirts together), and try dividing the closet into zones to make things easier to find. Folding items properly can free up more space on a rail than you might think.
Sign up to the Homes & Gardens newsletter
Decor Ideas. Project Inspiration. Expert Advice. Delivered to your inbox.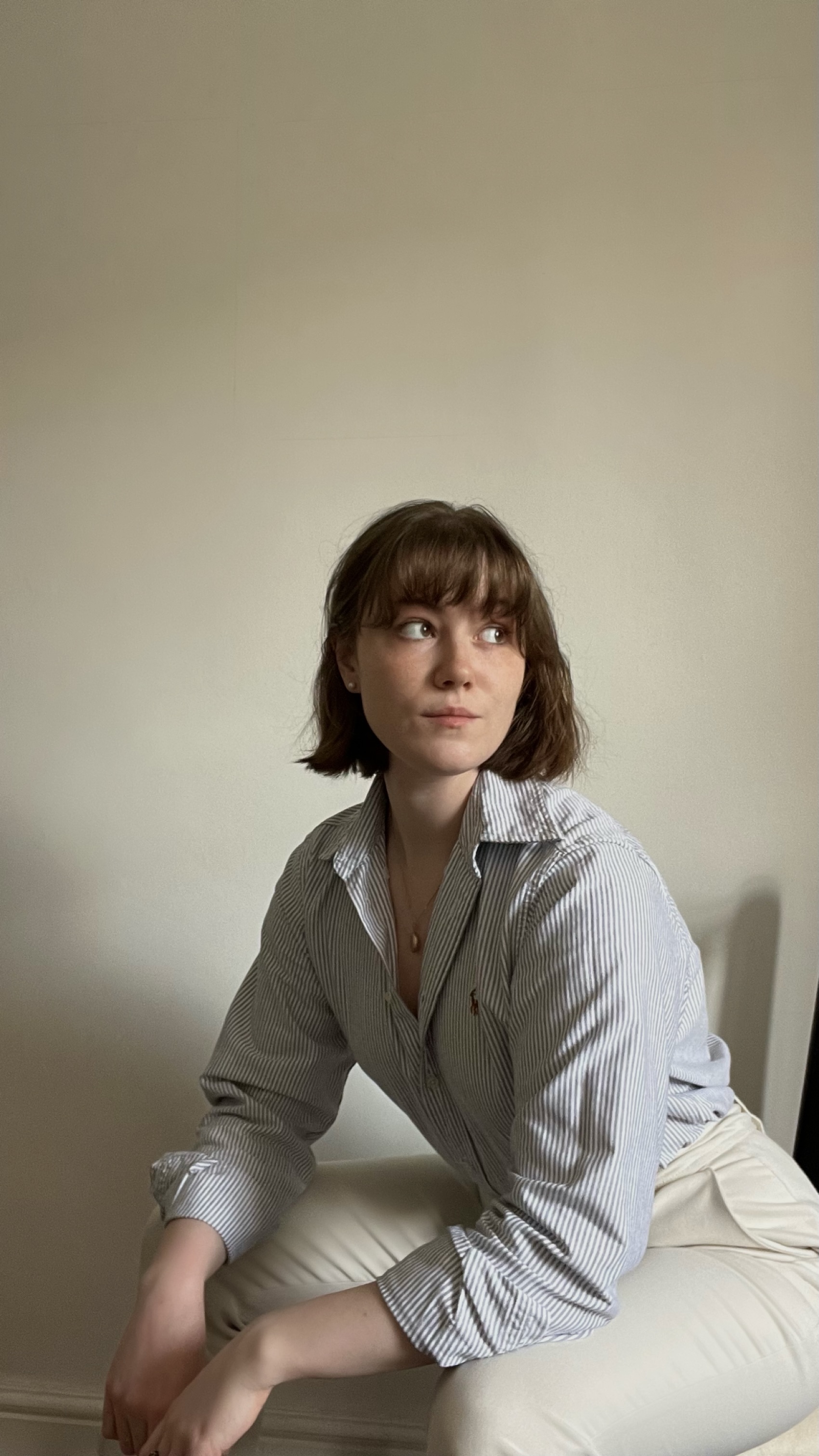 Chiana has been at Homes & Gardens for a year, having started her journey in interior journalism as part of the graduate program. She spends most of her time producing content for the Solved section of the website, helping readers get the most out of their homes through clever decluttering, cleaning, and tidying tips – many of which she tests and reviews herself in her home in Lancaster to ensure they will consistently deliver for her readers and dabbles in the latest design trends. She also has a first-class degree in Literature from Lancaster University.