How to pick dinnerware to match any occasion – three features to focus on
Picking one timeless set of dinnerware is more effective than swapping out for the season – here's what the experts pick for a timeless set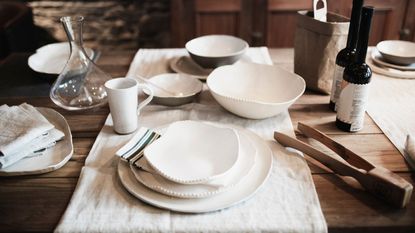 (Image credit: Getty Images)
Sign up to the Homes & Gardens newsletter
Decor Ideas. Project Inspiration. Expert Advice. Delivered to your inbox.
Thank you for signing up to Homes & Gardens. You will receive a verification email shortly.
There was a problem. Please refresh the page and try again.
When laying a table for a dinner party, trying to match your dinnerware to your decor can be a challenge, especially if you have bold dinnerware.
Having one set of neutral dinnerware that blends seamlessly into any season, however, be it summer or fall, helps when setting a table for any occasion – and designers often recommend a selective approach to picking up a new set from the store.
This is what designers look for in a timeless dinnerware set that will match any occasion, and set a strong foundation for your festive tablescapes year round.
How to pick dinnerware to match any occasion
When picking dinnerware sets to match any occasion, you need to think of versatility above anything else. As with anything else in the interior design world, opting for timeless appeal makes the item an investment piece, rather than a seasonal gimmick.
1. Choose neutral shades
It should go without saying that decorating with neutrals is the perfect timeless base, especially for a dinner table, says Artem Kropovinsky, interior designer and founder of Arsight.
'Neutral tones like whites, beiges, and light grays are timeless. These shades form the perfect canvas for any culinary masterpiece, and they allow you to play with table accessories based on the season or occasion.
It is important to avoid some common dinnerware color mistakes, however, and create a tablescape that is too bland, Artem continues. 'You want each dining experience to feel like exactly that – an experience. If neutrals seem too safe, consider dinnerware with subtle gold or silver accents. These can add a touch of opulence without being overly specific to a season – allow that to come through in your dining table decor.'
Based in New York, Artem Kropovinsky, founder of Arsight, has a decade of extensive and considerable global design experience. Prioritizing minimalism, sustainability, and authenticity, Artem, alongside his team of professionals, works on projects in the US and worldwide.
2. Play it safe with pattern
Decorating with pattern is a great way to add interest to a scheme, but can make a dinnerware set a little more difficult to pair to any season or occasion. Elizabeth Grace, interior designer and founder of Dream Home Making suggests playing it safe, and using timeless patterns, or omitting them altogether.
'The style of your dinnerware sets the tone for your gatherings, making it essential to select designs that resonate across occasions: embrace minimalist designs with subtle patterns or delicate embossments. These styles complement both casual brunches and formal celebrations with equal grace.
'Opt for traditional motifs like delicate florals, elegant filigree, or refined scalloped edges. Alternatively, introduce a singular accent color to infuse personality into your dinnerware. A deep blue rim or a touch of gold detailing adds a touch of opulence without constraining your versatility. Using these monochromatic schemes, such as a sophisticated black or elegant navy, exudes sophistication while effortlessly adapting to different settings.'
Elizabeth Grace is an interior designer, with an interior design degree from the University of Notre Dame. Elizabeth landed her first job as an intern with a leading firm in New York City, learning from some of the city's top designers. She currently works as an interior designer for both residential and commercial clients.
3. Only buy what you need
Understanding exactly how much dinnerware you need will not only help to organize plates in a kitchen and keep your cabinets tidy, but prevent you from oversetting your table, giving you more space for dinner table styling.
Atrem Kropovinksy suggests beginning with the basics: dinner plates, salad plates, soup bowls, and mugs. 'This allows you to cater to a typical meal without overwhelming your storage space,' he says.
'As seasons and events evolve, you can then add specialized pieces. For instance, a platter for Thanksgiving or dessert plates for summer get-togethers. By expanding thoughtfully, you avoid clutter and ensure every piece has a purpose.'
Set of two glazed ceramic plates
Brunello Cucinelli's plates have been meticulously handmade in the hamlet of Solomeo. This set of two is made from glazed ceramic, each with its own unique swirled patterns and textures.
FAQs
What type of dinnerware is best for everyday use?
If you want to have an everyday set of plates, then porcelain or stoneware plates are a good choice. These are affordable, sturdy options that can withstand constant casual use. These sets can then also be used for dinner parties when cared for well enough to prevent scratches and bought in a timeless color.
Is expensive dinnerware worth it?
Whether or not expensive investment dinnerware is worth it for you will depend on your lifestyle. If you like luxury, and frequently host, then an expensive artisanal set may be worth investing in to show off to guests. If you rarely host and use dinnerware more casually, then it may not be worth the risk of accidentally dropping and breaking it when washing up.
Ultimately, a good set of dinnerware can elevate a meal, making it look and feel more special, but this can often be done no matter the price of your dinnerware if you spruce up your serving skills – the choice is a very personal one.
---
It is not just the style of your dinnerware you want to focus on when picking a set to use for any occasion, Millie Hurst, Solved section editor for Homes & Gardens adds.
'When picking a dinnerware set for you to use on repeat, you want to invest in high-quality to make sure it will last. Bone china is considered incredibly durable, although it may not be dishwasher safe – something to consider to make cleaning up after a dinner party easier. Melamine dinnerware is a close second and is more affordable, too. Shop around and find a good investment set you are sure to love for years to come.'
Sign up to the Homes & Gardens newsletter
Decor Ideas. Project Inspiration. Expert Advice. Delivered to your inbox.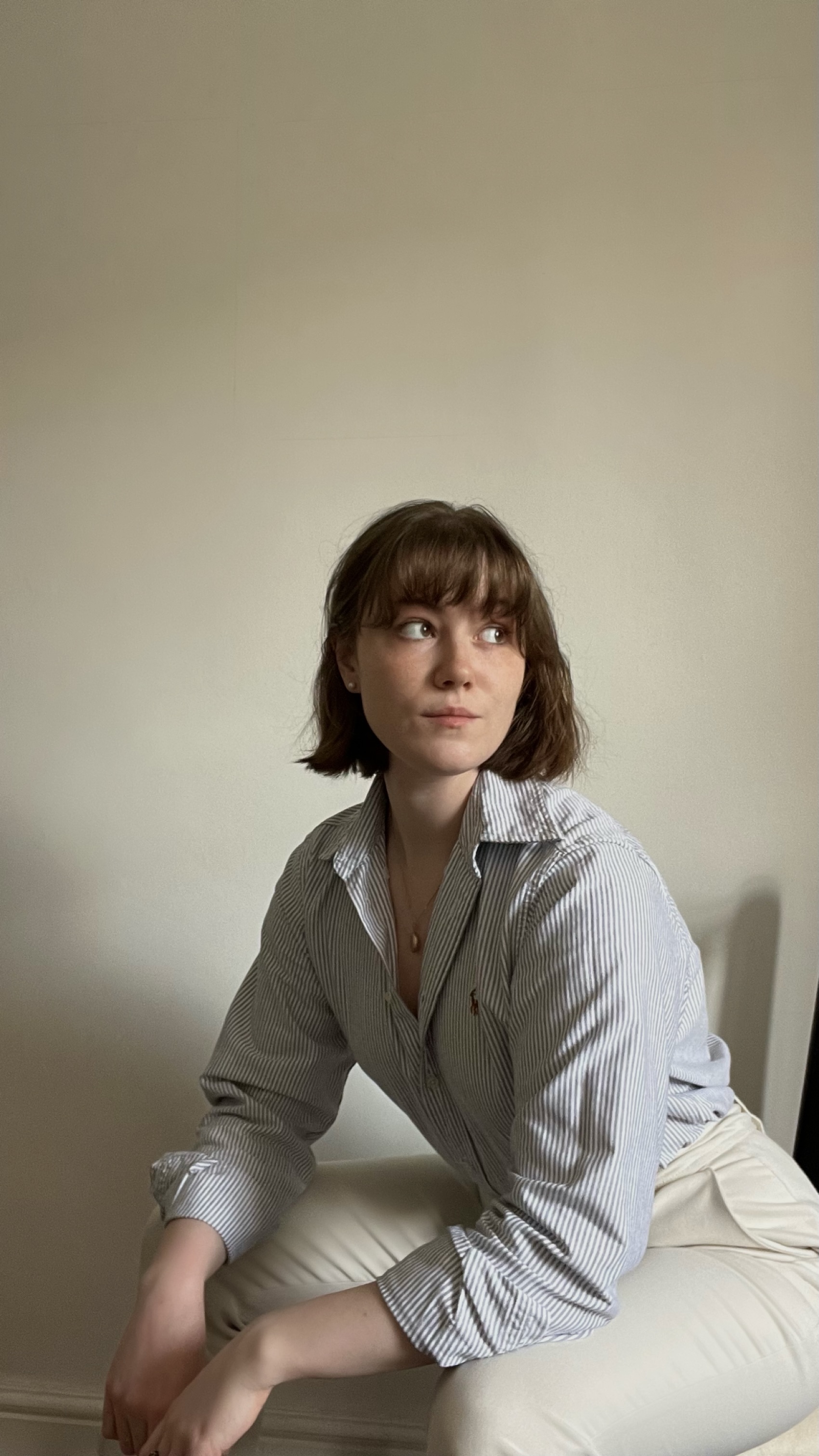 Chiana has been at Homes & Gardens for a year, having started her journey in interior journalism as part of the graduate program. She spends most of her time producing content for the Solved section of the website, helping readers get the most out of their homes through clever decluttering, cleaning, and tidying tips – many of which she tests and reviews herself in her home in Lancaster to ensure they will consistently deliver for her readers and dabbles in the latest design trends. She also has a first-class degree in Literature from Lancaster University.