How to organize plates in a kitchen – 10 ways to keep crockery under control
Professional organizers serve up their top tips for organizing plates in the kitchen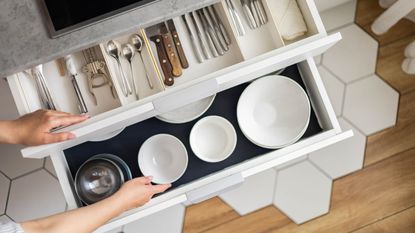 (Image credit: Getty Images)
If your cabinets are looking a little chaotic, it's time you learned how to organize plates in a kitchen properly. Not only will you end up with a neater, more orderly space, but you'll also likely find cooking – and your meal – more enjoyable, too.
By their very nature, plates tend to stack up (sorry), so it's worth undertaking a good sort before you start organizing kitchen cabinets or organizing kitchen drawers, depending on where you're storing them, to ensure you're not making space for items unnecessarily. Keeping a smaller, well-organized collection close to hand is much easier to manage, plus ensures a smooth transition from stove to plate – no one wants to eat lukewarm food, after all.
From kitchen storage ideas and decluttering tips to stacking and styling advice, We've quizzed the pros on the easiest ways to keep crockery under control.
How to organize plates in a kitchen
Before you start organizing plates in a kitchen, you'll want to think about where you're going to store them. Efficient cooking is one thing, but plating up – and clearing up – is equally as important a consideration when organizing a kitchen.
Along with utensils and appliances, everyday plates, dishes and crockery should take priority when it comes to assigning prime kitchen storage ideas. Our advice? Choose somewhere you can access quickly and easily, and close to the dishwasher or sink ideally, too.
1. Assess your crockery collection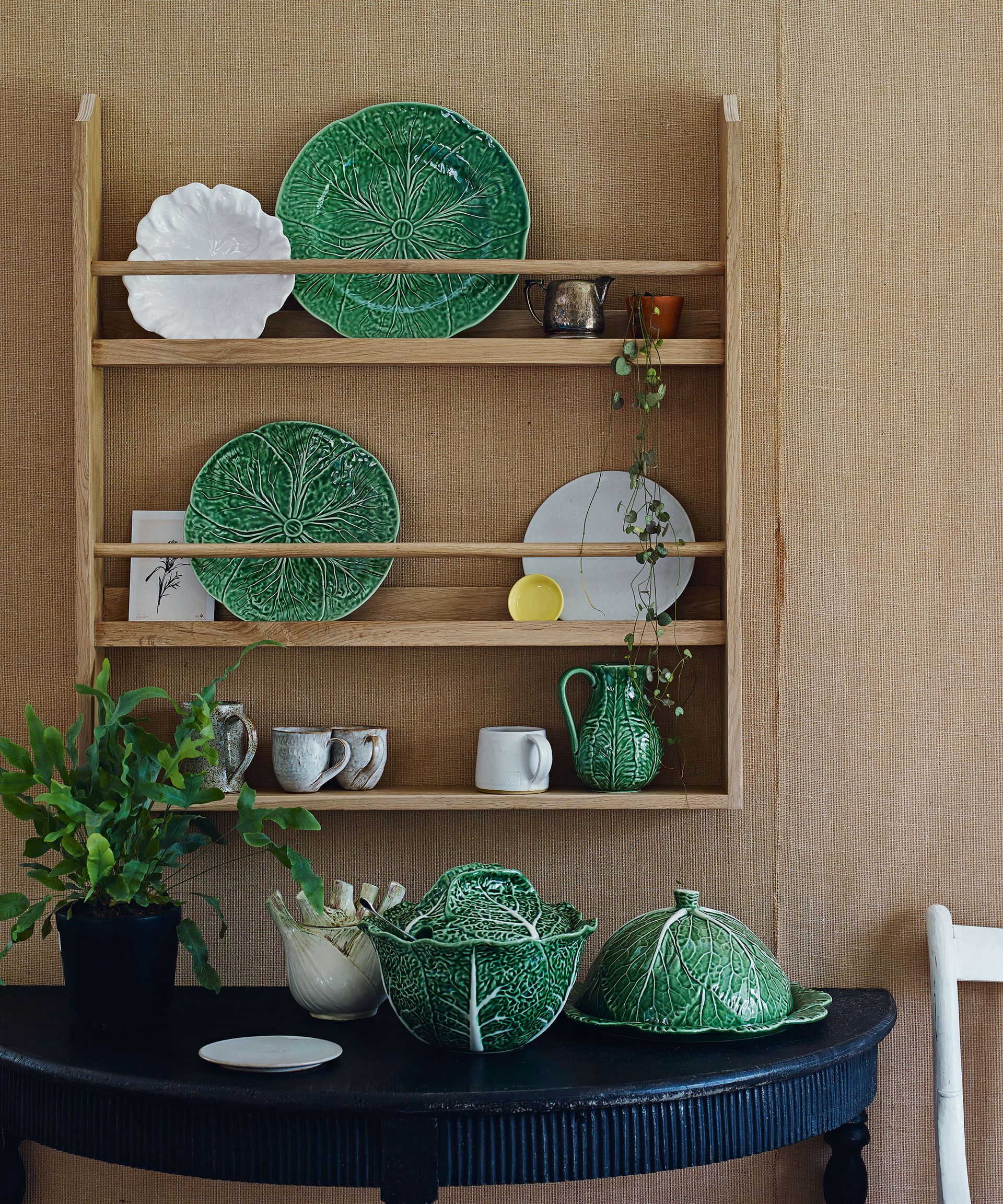 If it's a neat, tidy and well-organized kitchen you're after, overflowing cabinets need to be confronted… starting with your crockery collection. Start by getting rid of plates that are cracked or damaged. 'These can harbor germs so it's important from a hygiene perspective, as well as an organizational one', says Millie Hurst, section editor at Homes & Gardens.
Determine which plates and dishes you actually use – it's likely to be a lot less than you think. Do I use it? Do I need it? These are the most important questions to ask yourself when decluttering your home in general. If the answer is no, get rid. Before you throw or recycle anything, check its condition. If it's still pretty good, think about donating, instead.
2. Rehome lesser used plates
There's no point using up valuable shelf space with plates you don't use much – particularly if you're organizing cabinets in a small kitchen.
Dishes that you use less often, for special occasions, or keep for sentimental reasons should be kept out of the way, perhaps on a high shelf or on a sideboard in the dining room. Hopping up onto a step ladder or over to another room to grab them is ok if it only happens a few times a year', says professional organizer Amanda Wiss, founder of New York-based organizing service, Urban Clarity.
Kitchen planner Murat Yasher, director at House of Worktops, agrees and also recommends using plate protectors for anything fragile or expensive. 'These cushioned covers offer an additional layer of protection to prevent chips and breakages during long-term storage'.
3. Group by type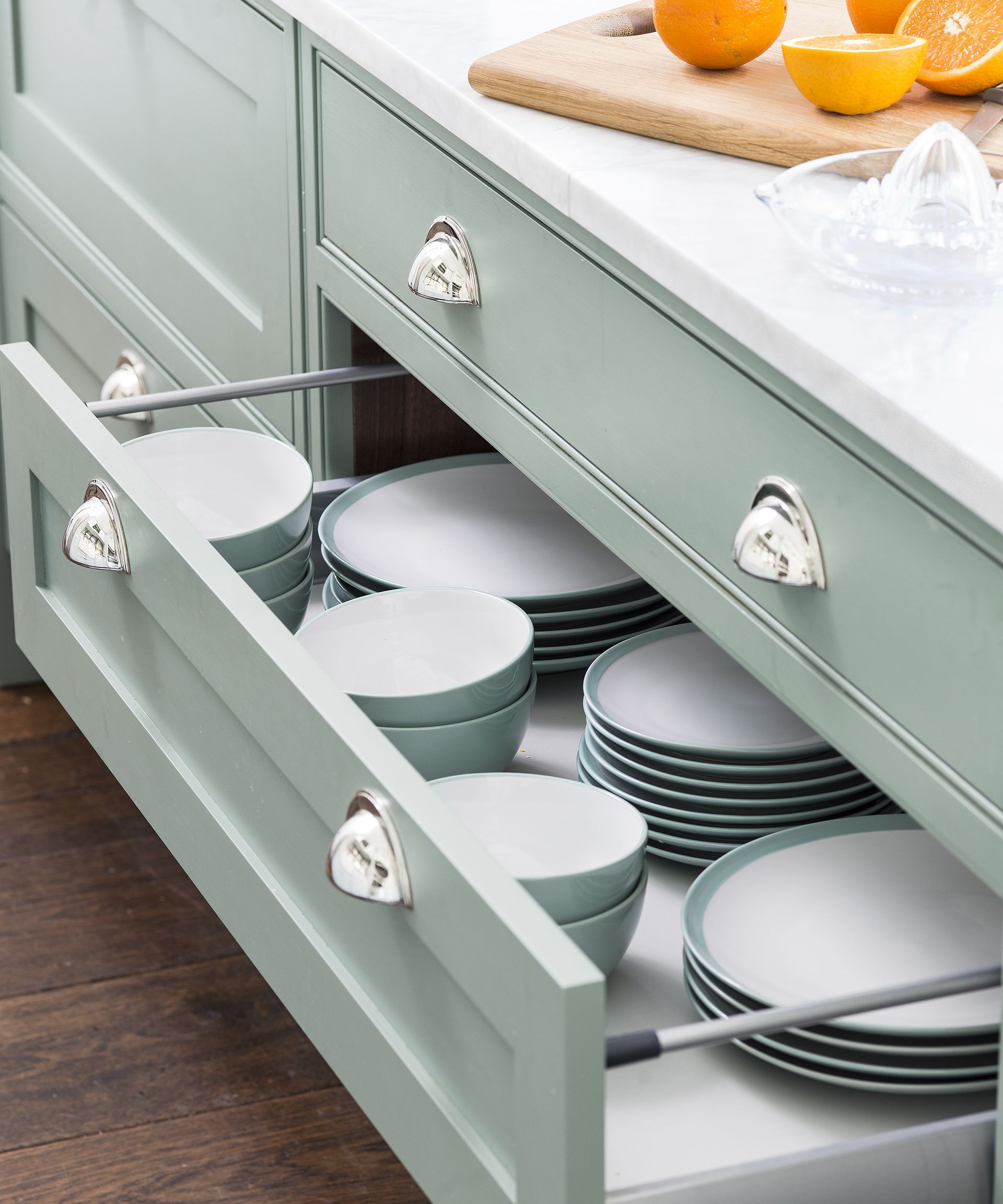 As you would when organizing Tupperware, group plates by type to ensure they stack well together. If you've got sets, keep them together, otherwise categorize them by style and size; side plates, dinner plates, serving platters, and so on.
4. Consider frequency of use
Whilst you're doing this, have a think about the plates you use everyday, and put them to one side. Creating a little sub-category will save you the hassle of rifling through stacks, resulting in time (and potential breakages) saved. Keep these in a place that's easy to reach. For most, this means mid-height shelves or drawers.
5. Position plates to suit your workspace
Whatever you're storing your plates in/on, you'll want to ensure they're sensibly positioned to ensure a functional kitchen layout. To do this, you'll need to think about how and where you tend to 'plate up'.
'Typically, you want dishes closer to the dishwasher in a drawer or cabinet that you can access easily (even when the dishwasher door is open). If you tend to serve from the table, it might be beneficial to have the dishes positioned between there and the dishwasher. Similarly if you tend to serve food to plates from the stove', says Houston-based professional organizer Mary Jo Contello, owner of Organized by MJ.
6. Display your prettiest plates on open shelving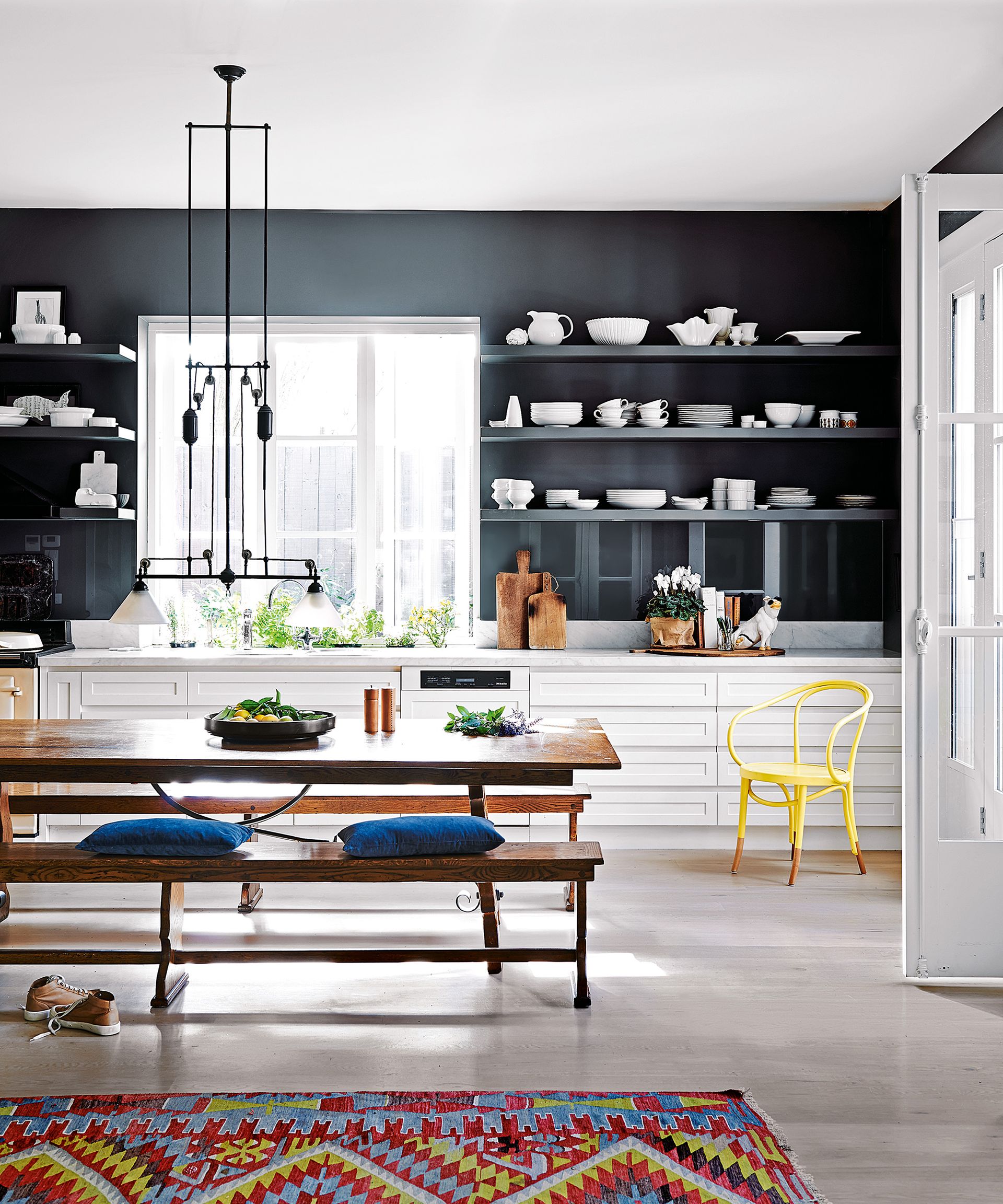 Plates don't necessarily need to be hidden away. In fact, incorporating decorative designs into open kitchen shelving ideas is a great way of introducing character into your cooking space, as well as keeping them close to hand.
'This method not only organizes your plates, but also adds a visually appealing element to your kitchen decor. You can arrange the plates in a pattern or group them by size, color or design, whichever brings you the most joy', says Seattle-based professional organizer and certified KonMari consultant, Raychel Klein, founder of RayBayBay.
It's worth noting that having crockery on display is an ongoing commitment – you'll need to keep them looking neat, tidy and clean if you want to keep your kitchen looking smart.
7. Store in a well-prepped drawer
Often disregarded, deep drawers are perfect for storing and organizing plates – assuming you've prepped them properly, that is. Effective kitchen organizers will stop plates sliding and chipping every time you open and close them.
'Unless you want your stacks sliding around every time you open and close it, drawer organizers designed specifically for plates are your best bet. They have slots or compartments to hold them upright, which saves on space and makes them easily accessible, too', says Raychel Klein.
Lining chinaware drawers with a pegboard is another clever hack. You can simply adjust the dowels to neatly separate your dinnerware sets, plates from bowls, and so on. Position your most-used crockery close to the front, so you're not having to reach across stacks to get to them.
8. Maximize space in kitchen cabinets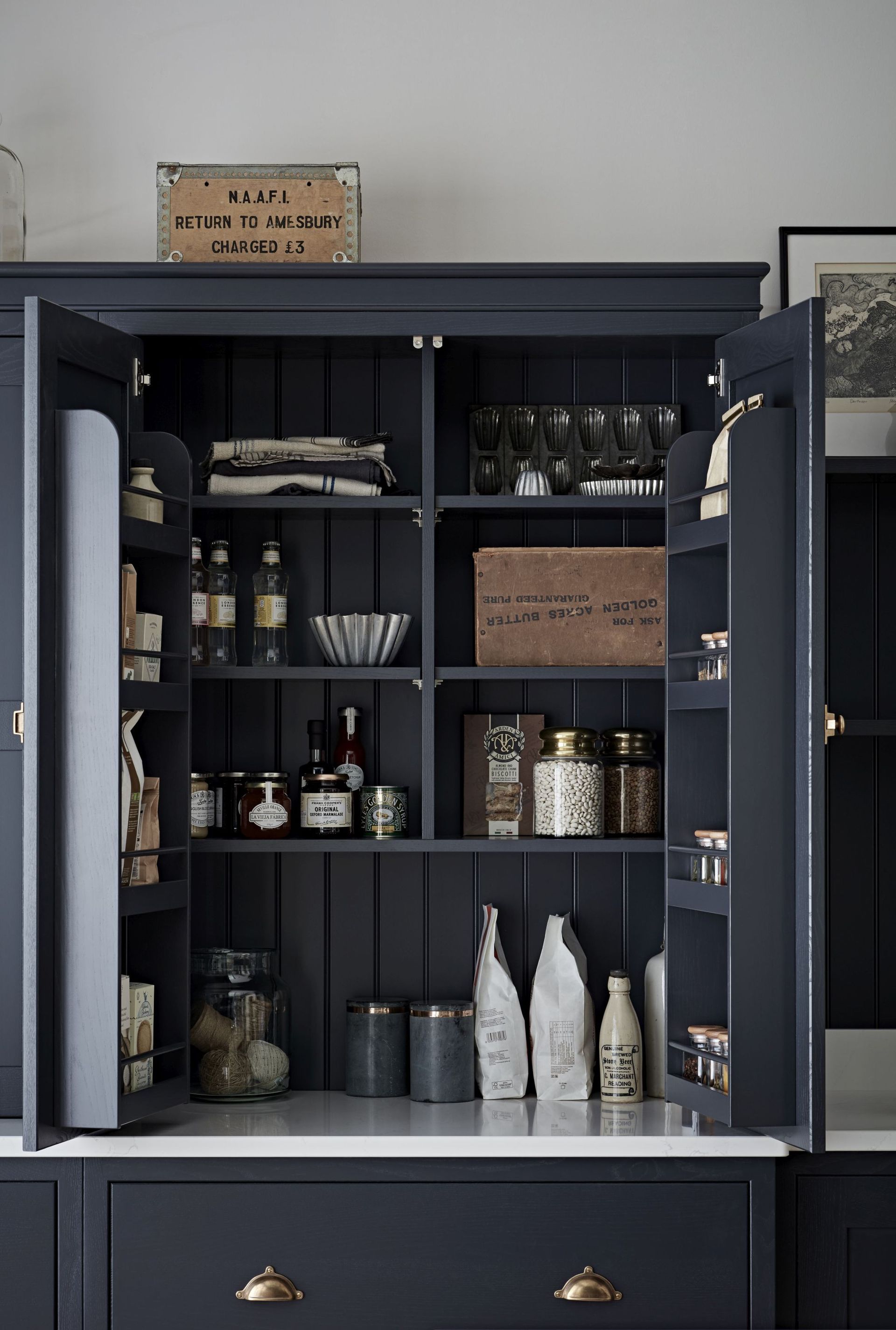 Kitchen cabinets should be approached in the same way as drawers; thoroughly prepped before you position plates inside. If you're stacking, start by measuring your tallest plate stack and adjust your shelves accordingly. This eliminates dead space and also stops you from adding to your collection unnecessarily.
If your shelves do not adjust, consider incorporating plate shelves, instead – these corner versions from Amazon are ideal for maximizing every inch of cabinet space. If you'd rather not position plates on top of each other, consider using plate dividers, or even a simple dish drying rack, to keep sets neatly divided', says Mary Jo Contello.
If you don't fancy reaching into cabinets every time, try these RoomTec pull-out cabinet organizers, also from Amazon.
9. Stack by shape and size
Whether you're storing in a drawer or a cabinet, stacking plates by shape and size is the most space efficient method, plus makes it easier to find what you need. If you're organizing small spaces, you can position smaller plates on top of bigger, similarly shaped ones, although ideally you'd reserve this only for those you don't use often.
'I would avoid stacking any category of dishes up too high; it makes the stack heavy and more cumbersome to get out. Risers are handy for separating categories, and also maximize vertical space', says Amanda Wiss.
10. Opt for a bespoke plate rack
It may be a pricier option, but going bespoke allows you to create storage exactly as you want it so it's definitely something to consider, particularly if you're organizing a small kitchen', says Millie Hurst. 'We've noticed a return trend to visible plate racks recently – install one on the wall or have it built into a cabinet or kitchen island to keep your everyday crockery close to hand'.
FAQs
Where is the best place to put plates in the kitchen?
This depends on the layout of your kitchen, but ideally you want to find a cabinet that's close to where you plate up, and to the dishwasher or sink.
Clients often ask where their plates should be placed and I generally suggest a bit of role play to get this answer. Stand in your kitchen, open the dishwasher and pretend you're unloading it… which cabinet feels most natural to unload dishes into, is easy to reach, and will fit the amount of dishware that you have? This is where your everyday dishes should live', says Amanda Wiss.
What is the best way to store dinner plates?
Risers are a great go-to when it comes to storing and organizing plates of any kind. Suitable in both drawers and cabinets, they allow you to separate your plates into different categories for easy access, and also maximize vertical space. Whether you use them or not, try not to stack plates up too high – It makes them more difficult to get out, which makes breakages more likely.
Sign up to the Homes & Gardens newsletter
Decor Ideas. Project Inspiration. Expert Advice. Delivered to your inbox.
For 10 years, Tara King worked as a Content Editor in the magazine industry, before leaving to become freelance, covering interior design, wellbeing, craft and homemaking. As well as writing for Ideal Home, Style at Home, Country Homes & Interiors, Tara's keen eye for styling combined with a passion for creating a happy – and functional – family home has led to a series of organization and cleaning features for H&G.