Professional chefs and home organizers share how to store bakeware to prevent toppling trays
These five bakeware storage tips are essential if you are tired of toppling cookie sheets and making a mess of your cabinets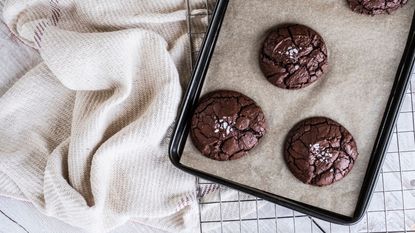 (Image credit: Getty Images)
There is little more infuriating in a kitchen than when your baking tins and trays all clatter around your cabinets, leading you to give up on organizing them all together.
When organizing a kitchen, tall trays and oddly shaped cake tins can make it tricky to fit everything perfectly into one space – not to mention having to stack trays, making you take everything out just to get what you need.
If you are tired of baking being this difficult before you even reach for your ingredients – these expert tips for how to store bakeware may be for you.
How to store bakeware
Much like organizing pots and pans or storing baking dishes, how you store your bakeware will make a huge difference as to whether you will use it or not. Bakeware that is awkward to reach and scattered throughout your kitchen will make you less likely to bake and result in wasted space in your kitchen and a failed hobby.
Here's how to make your baking process smoother.
1. Keep trays stored vertically
Laying baking trays flat means you have to file through them to find what you need and pull everything out whenever you need the middle one. Storing them vertically in a baking tray organizer, like this from Amazon, can minimize this effort, however, says Norah Clark, chef, qualified nutritionist, and founder of Yummy Tasty Food:
'Consider a vertical bakeware rack for storing items like baking sheets and cutting boards. These racks are designed to hold items upright, saving horizontal space and preventing them from sliding around.
'It's an efficient solution that keeps your bakeware accessible and visible. The vertical storage also minimizes the risk of items getting stuck or wedged together, which often happens when they're stacked horizontally.'
Norah Clark is a trained pastry chef and has worked at numerous luxury hotels such as The Ritz Carlton Hotel and The Savoy, in London. She is also a trained diet consultant and trained nutritionist and now dedicates her time to sharing her knowledge online on her food blog YummyTasteFood having taken time away from professional cooking to travel and relax.
2. Keep spoons and whisks on display
Bakeware isn't limited to your baking trays and cake tins. Your offset spatulas, palette knives, whisks, and mixing spoons all need a good accessible home, too.
Melanie Underwood, chef, founder, and CEO of Gather Culinary, uses a decorative utensil holder, such as this Acacia utensils pot from Amazon, to help keep their most used tools in easy reach and to prevent her baking tools causing clutter when organizing her kitchen drawers, making it simpler to get what she needs, such as cutlery, on an everyday basis.
Melanie Underwood is a chef from Loudoun County, Virginia, who teaches and host culinary retreats and camps. She opened The Four Seasons Hotel in New York and worked at The Plaza Hotel, Torre di Pisa, and other celebrated New York City restaurants.
3. Use drawer dividers or bins for smaller tools
Of all the kitchen organizers professionals always buy, drawer dividers are the most essential if you want to keep your bakeware in order, says Sarah Dunn, professional organizer and founder of Ready Set Organize: 'For smaller items like piping utensils, pallet knives, etc. I recommend drawer dividers so that each grouping of items has its own home.'
This is a great alternative if you are trying to keep your kitchen counters clear and don't want a utensil pot.
A few years ago, Sarah Dunn started helping friends declutter and organize their own spaces. Realizing that transforming one's environment leads to much greater and more consequential transformation, she founded Ready Set Organize, a team of eight organizers in San Diego, CA.
'On the other hand,' adds Andrea Brame, professional organizer and founder of This Modern Mess, 'if you want to grab everything quickly and move it about the kitchen, putting smaller tools in a labeled bin by purpose (cake decorating, seasonal cookie supplies, etc.) is perfect for easy access. Bonus: bins act like mini drawers, so you can reach items that would otherwise get lost.'
Andrea Brame started This Modern Mess to help other busy moms simplify their lives, declutter and organize their living spaces, bring back a sense of calm to their home, and enjoy less stressful family time
4. Consider a rolling cart
One of the best kitchen organizers is a rolling cart, especially if you are organizing a small kitchen and are running out of space for your less essential (but still loved) bakeware, shares Melanie Underwood, chef.
'It is very convenient and great for limited space,' she says. 'A bonus is it has wheels and can be moved around and the top can also be used for other storage or as a cutting board if you are short of prep space,' she adds.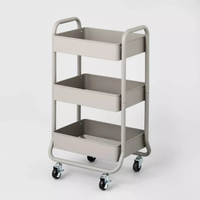 5. Use sheet dividers to stack bowls and tins
Mixing bowls and cake tins can be stacked, but they need to be protected if you want them to last, warns Jessica Randhawa, head chef and recipe creator at The Forked Spoon.
'If your cake tins are nestable, take advantage of that to save space. However, place a paper towel or a thin foam sheet between them to prevent scratches – much like when storing pans.
'You can also consider vertical dividers in deep drawers or cabinets for non-nestable types or springform pans. Vertical storage not only keeps them easily accessible but also avoids warping under the weight of items stacked on top when stacked horizontally.'
Jessica is the head chef, recipe creator, photographer, and writer behind The Forked Spoon, where you will find delectable family-friendly recipes for the everyday cook.
FAQs
How do you store baking pans in a small kitchen?
If you are short on space in a small kitchen, you can store baking pans in additional storage such as a rolling cart so that it can be moved around your space as you need it. You can also store baking pans in a shallow drawer in your kitchen, or inside of your oven when you are not using it to keep them out of the way and prevent them from collecting dust between uses.
How do you take care of bakeware?
If you want your bakeware to last, it can help to wash and store it correctly between uses. Once washed with warm water and dish soap, allow them to dry completely before stacking them to prevent rust from forming on them in your cabinets. When storing, try to stack them in a vertical organizer to prevent the pans from scratching one another in storage, or layer them with pieces of fabric and store them flat beneath your mixing bowls.
---
When you are storing your bakeware, where you store it in your kitchen can have a big impact on the flow of your space and how easy your tools are to use. Andrea Brame, professional organizer, suggests that, if you don't bake frequently, 'you should store baking supplies in a cupboard or drawer further away from the dishwasher and sink – instead reserve those prime spots for your most commonly used items, like plates or silverware or cooking pots, to minimize steps in the kitchen and make cooking and cleaning up more efficient for your family.'
If you bake often, give your tools a prime spot in your space to streamline your hobby.
Sign up to the Homes & Gardens newsletter
Decor Ideas. Project Inspiration. Expert Advice. Delivered to your inbox.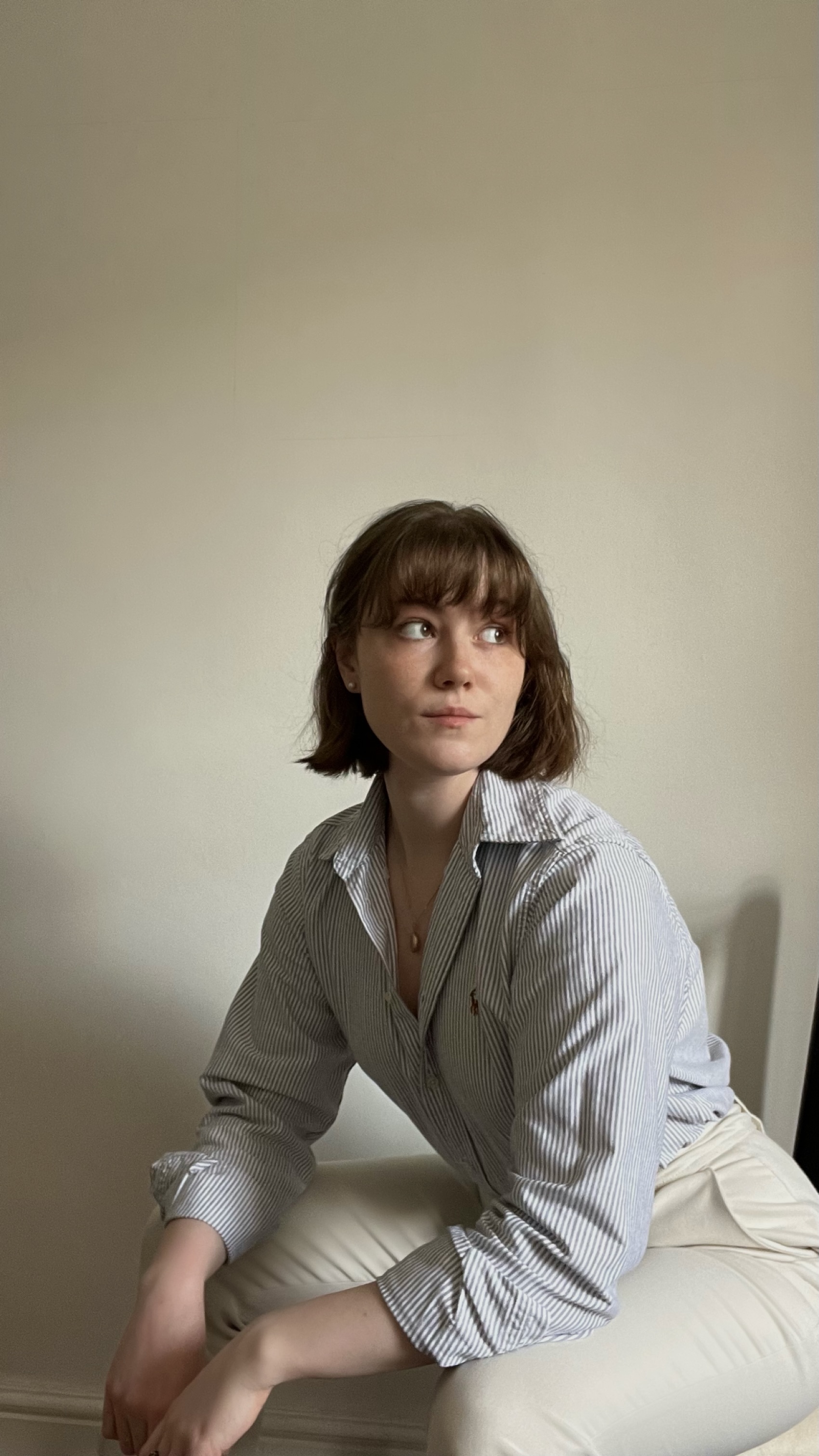 Chiana has been at Homes & Gardens for a year, having started her journey in interior journalism as part of the graduate program. She spends most of her time producing content for the Solved section of the website, helping readers get the most out of their homes through clever decluttering, cleaning, and tidying tips – many of which she tests and reviews herself in her home in Lancaster to ensure they will consistently deliver for her readers and dabbles in the latest design trends. She also has a first-class degree in Literature from Lancaster University.