5 things the most organized people have in their bathrooms
Professional organizers swear by these five bathroom organizing essentials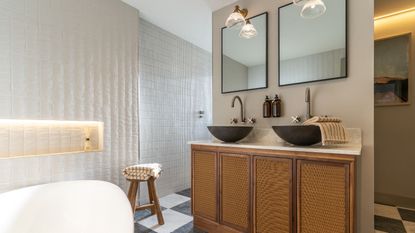 (Image credit: Minthouse)
There are so many storage products on the market nowadays that it can be hard to determine the essentials from the clutter – especially for practical spaces like bathrooms.
When organizing a bathroom, it is important to make your room work hard for you, so that the time you spend in there is relaxed and doesn't cause you to be overwhelmed.
To help, we talked to professional organizers to learn exactly what it is the most organized people have in their bathrooms so we can get our spaces in tip-top shape.
Things the most organized people have in their bathrooms
When it comes to home organizing, copying the tried and true methods of professionals is the best way to prevent wasting space and money on pointless organizers that actually make life harder. These are the five products organizers deem worthy of our bathrooms – and where you can find them.
1. Turntables in bathroom cabinets
Also a kitchen storage product professionals always buy, turntables are excellent organizers for deep bathroom cabinets with lots of stuff in them, says Heather Aiello, professional organizer and founder of The Organized You:
'We also like to use turntables under sinks,' she shares. 'These are great for holding hair products, lotions, or brushes. They can sit on top of a single drawer, or they can be on their own. When things are in a turntable it's much easier to access compared to when things get lost or fall to the back of the cabinet.'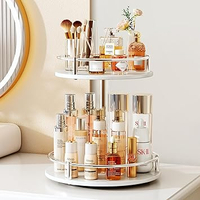 Rotating Organizer for Vanity | $39.99 at Amazon
This rotating organizer can be used both in your cabinets and on your vanity for simple bathroom storage that doesn't ruin the look of your space.
Heather Aiello is the founder of home organizing company in the Boston area, The Organized You. She believes in creating solutions that you can live with when she and her team leave your home – her goal is to develop a customized solution for you to maintain now and in the future. She is also a member of the National Association of Productivity & Organizing Professionals (NAPO) and various Boston area business groups.
2. Over-door storage racks
Particularly useful if you are organizing a small bathroom, over-door storage racks can make the most of the vertical space, making them a great space-saving option, shares Danielle Dorn, creative director at mDesign.
You can use mDesign cabinet door organizers, from Amazon, to store your awkwardly shaped hair supplies on the inside of a cabinet, for instance, or hang a large organizer over the back of a door if you don't have cabinet space in your bathroom.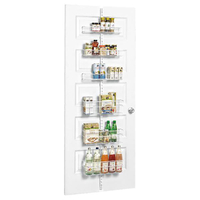 Elfa Utility Over The Door Rack | $139 at The Container Store
If you don't have bathroom cabinets, an over-door storage unit is perfect for adding a little more functionality to your bathroom.
3. Drawers under the sink
Bathroom cabinets can be huge wastes of space if they are not divided up properly, which is why professionals always add in some standalone drawers, such as these from The Container Store, to make use of their height, shares Heather Aiello, professional organizer.
'Bathrooms can easily become cluttered with the amount of hair and face products we tend to have. You can categorize your products and use each drawer for one category. This will help you find your items easily and prevent you from overbuying.'
4. Draw divider bins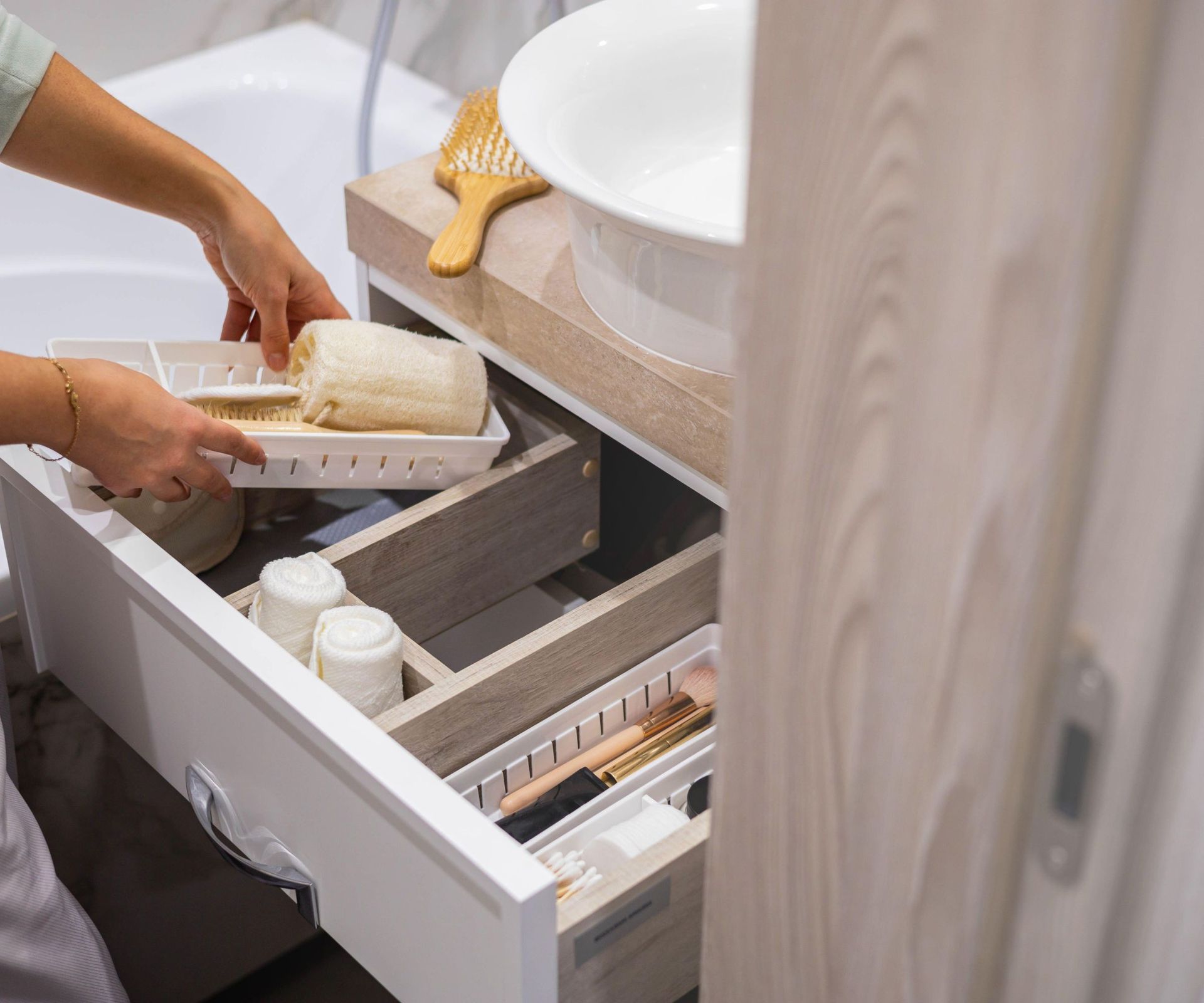 Organizing a bathroom vanity is a must if you want a streamlined bathroom, professional organizers say, so bins or dividers are a common find in their bathroom drawers.
Sarah Dunn, professional organizer and founder of Get it Dunn Professional Organizing loves these bathroom drawer organizers from Amazon:
'These are great because they help compartmentalize everything you'd store in your bathroom drawers – be it in your vanity or standalone. Now your hair ties, your floss, eye makeup, and everything else will have its own unique home.'
A few years ago, Sarah Dunn started helping friends declutter and organize their own spaces. Realizing that transforming one's environment leads to much greater and more consequential transformation, she founded Ready Set Organize, a team of eight organizers in San Diego, CA.
5. Woven baskets to hide bottles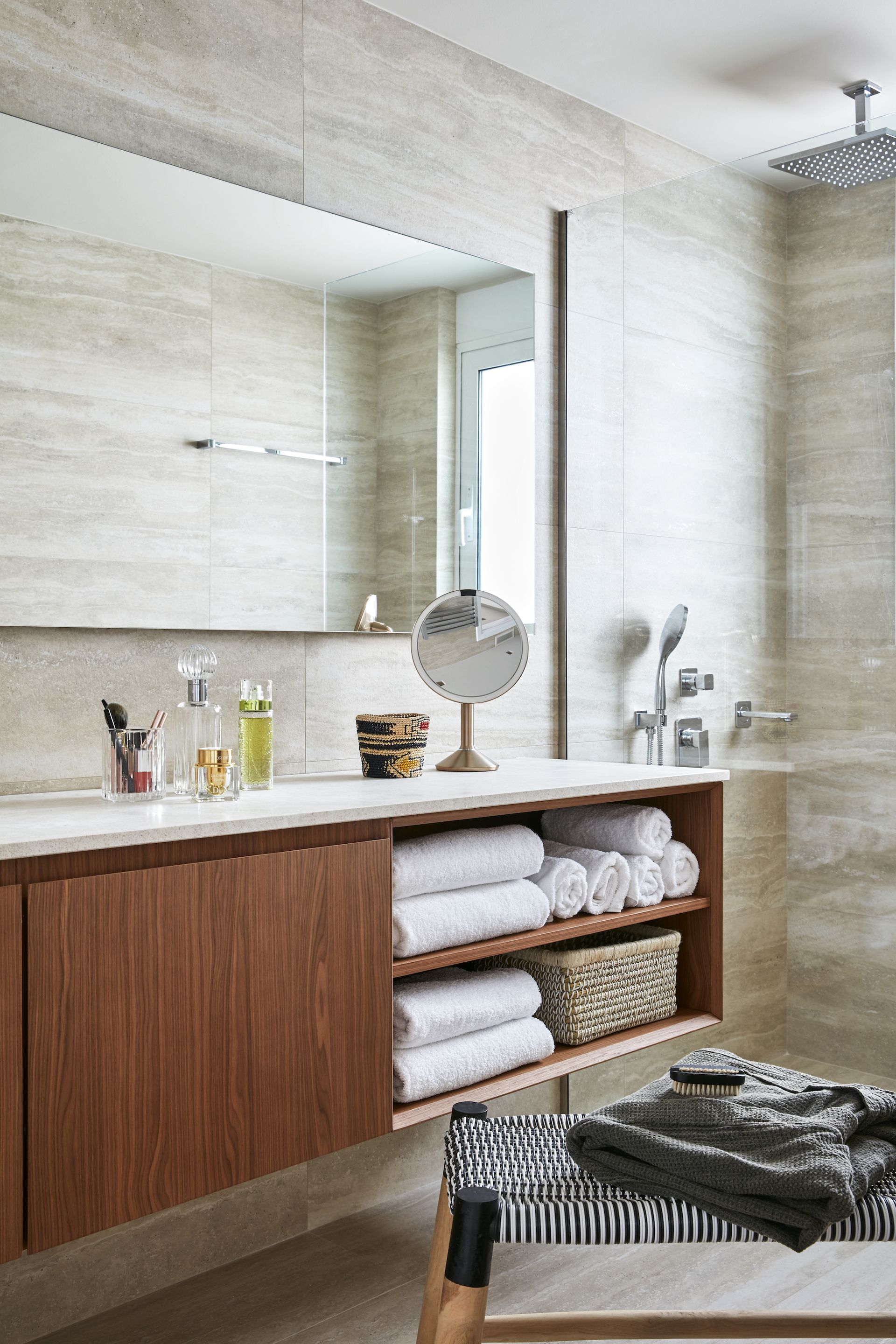 Although many organizers are clear to help you see what's in them easily, for storage that will be on display and not behind a cabinet door, pro organizers prefer more decorative woven storage baskets to maintain the aesthetics of the space.
For instance, Sabrina Gardner, professional organizer and owner of Salt by Sabrina, prefers a woven basket to help store products you are currently using such as soaps, product bottles, and washcloths to keep them in easy reach but also out of your line of sight.'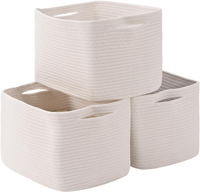 Woven Storage baskets | $34.95 for three at Amazon
These woven storage baskets come in sets of three for a uniform organizing scheme and are available in four colors to match any space
Salt by Sabrina empowers people by creating organizational systems and solutions to enrich lives through beautiful, functional and personal product design.
FAQs
What are the categories for bathroom organization?
When organizing products in a bathroom, it helps to split things into categories to make things easy to find. These categories are usually hair products, face products, shower products, oral care, medicines, and makeup. You may also have a linens category if you store your towels in your bathroom, or a travel category to keep smaller versions of items for your holidays.
What are the five steps for organizing a bathroom?
When organizing a bathroom, you'll want to follow five key steps: decluttering to remove excess products and trash, sorting to create categories of products to keep like items together, organizing to put products in a home, labeling to make sure everything is visible, and cleaning to make the space hygienic.
---
If you are left organizing a bathroom with no storage, then all is not lost. Many of these storage products can still be used on counters or elsewhere in your home to create space for your products. A turntable or stackable drawers, for instance, can be used decoratively on a counter when kept tidy, while over-door storage racks can be used on any door in your home.
Sign up to the Homes & Gardens newsletter
Decor Ideas. Project Inspiration. Expert Advice. Delivered to your inbox.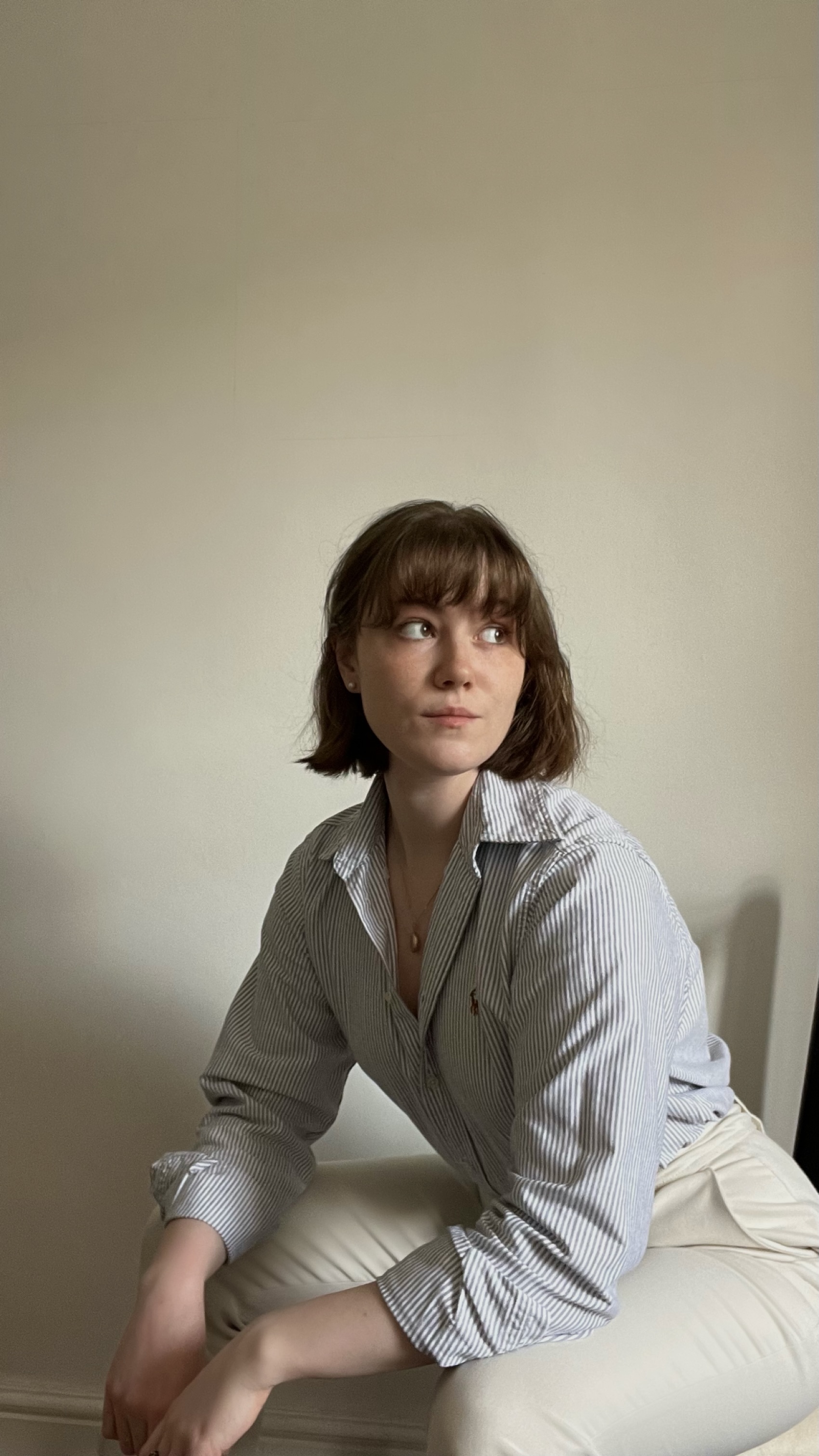 Chiana has been at Homes & Gardens for a year, having started her journey in interior journalism as part of the graduate program. She spends most of her time producing content for the Solved section of the website, helping readers get the most out of their homes through clever decluttering, cleaning, and tidying tips – many of which she tests and reviews herself in her home in Lancaster to ensure they will consistently deliver for her readers and dabbles in the latest design trends. She also has a first-class degree in Literature from Lancaster University.