5 things people with nice-smelling den rooms always do
Wondering how to make your den smell good? Try these top tips for keeping your den fresh and fragrant from interior designers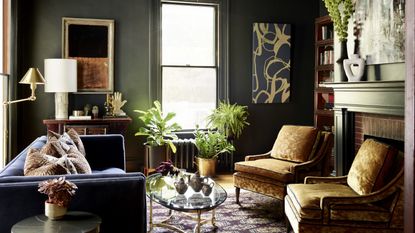 (Image credit: Jared Kuzia)
A den room is unlike any other space in the home. A lounge, creative space, home office, and playroom in one, it can take on many functions. Creating a den room in your house is a great alternative to simply using a spare bedroom as a storage room.
Dens help us recharge and relax, or focus on an important task. They can also be used by multiple family members for different reasons.
Given the multi-functional nature of these spaces, how do you keep a den smelling great? Add pets and children into the mix of all the other activities, and it can get busy in there, smell-wise.
Things people with nice-smelling den rooms always do
As part of exploring den ideas, adopt these things people with nice-smelling den rooms always do and enjoy a space that always smells fabulous.
1. They ensure good ventilation
This is the foundation of any nice-smelling room, including a den. In fact, dens especially need good ventilation because they get a lot of long-term use.
Artem Kropovinsky, an interior design expert and founder of Arsight, an award-winning interior design studio based in New York, says: 'Before introducing any aroma, ensure the base of your den has proper ventilation. Natural airflow can set the stage for any scent story you wish to tell.'
If your den smells a little musty, or perhaps it has absorbed the smells of food or of your pets, you will need to air it out thoroughly before you introduce any fragrance. If your den is windowless, then an air purifier is a must. Invest in a good one: when it comes to choosing your air purifier (on Amazon, for instance), make sure that the model you're going for will be able to cope with the room size of your den. You'll also be committing to replacing the filter every few months. For the sake of clean, fresh air, it's worth it.
2. They layer scents for a multi-dimensional effect
Scent layering is a technique beloved by interior designers and perfumers alike. Fragrance layering in a den works in exactly the same way as scent layering in perfume use. Artem explains the technique: 'Think of scenting as layering in design. Begin with foundational notes like sandalwood and then play with complementary accents, much like adding throw pillows or wall art.'
In practice, this might mean that you have a base layer scented candle or diffuser, in a grounding aroma of sandalwood, cedar, amber, or musk. Then, you can add more candles, reed diffusers, or essential oil diffusers, at Amazon, that are more focused on top notes. These can be floral, fruity, or 'clean', depending on your preference.
You can also play around with the idea of a den as a multi-functional space here. Think of the different ways it's used by different members of your family. Perhaps you use this room as a reading space? Consider adding a woody or leather-based fragrance to the book-lined corner of your den.
Do your kids like playing on the couch in this room? This would be a great area to introduce a cheerful citrusy aroma. Artem's advice is to 'recognize that in a multi-functional den, each corner has its unique aroma fingerprint. It's about addressing and harmonizing these individual notes.'
Of course, there is a point at which adding yet another fragrance will result in a cacophony of smells (and could give you a headache). Try to stick to two or three scents at a time.
Artem Kropovinsky, founder of the NYC-based Arsight, boasts over a decade of global interior design expertise in both residential and commercial projects. From transforming Brooklyn brownstones to reshaping Manhattan retail spaces, Arsight's portfolio showcases its design prowess on national and international scales
3. They go for natural fragrance whenever possible
Speaking of headaches: while strongly-scented essential oils can be as irritating as synthetic fragrances, on the whole natural room fragrances tend to be a little gentler and more agreeable if you're spending long periods of time in the den – for example, if it doubles up as your home office.
Artem recommends favoring natural aroma diffusers over synthetic ones. Lavender or chamomile can set a calm tone, while citrus acts as a refreshing note, especially for an energized workspace within the den.'
Cecilia Casagrande, the founder of Casagrande Studio, an award-winning Boston-area interior design firm, has another tip for keeping your den naturally fragranced: ''if we are lucky, the room already has a fireplace for that earthy winter aroma of a wood fire.' The woody-smokey scent of a fireplace tends to complement dens very well, creating a grounding and relaxing atmosphere. Even if your fireplace is not operational, placing a few cedar logs and/or charcoal pieces in it can help create the desirable fireplace fragrance.
4. They maximize the potential of houseplants and flowers
One of the best ways to make a den smell good is to fill it with live plants. 'To add a lovely smell to our client's rooms especially a multi-functional room like a den I always bring pretty planters to have fresh green plants, or a vase for cut flowers,' says Cecilia Casagrande.
Both planters and cut flowers in a vase will add visual appeal as well as contribute to adding a nice fragrance. Of course, if you just choose leafy green houseplants, you're unlikely to feel much of a difference in the scent department. No one has been able to prove that houseplants purify the air, so you will need to choose fragrant flowering species to add scent. Artem recommends white flowering indoor plants for maximum olfactory power: 'a well-placed jasmine or gardenia is both a visual and olfactory treat,' he says.
Bear in mind that flowering indoor plants need plenty of natural light or a grow lamp, at Amazon, in order to keep producing flowers.
Casagrande Studio is a full-service, award winning Boston-area interior design firm creating spaces that are beautiful, comfortable, and inspiring. Founded in 2015 by Cecilia Casagrande, the firm has grown into a collective of deeply experienced experts in style, decor, architecture, carpentry, fine painting, construction management, and artisans.
5. They are mindful of their textile choices
No matter how much effort you put into making a den smell good, if it has old carpets or a couch that hasn't been cleaned in ages, you won't achieve a nice-smelling space. Artem Kropovisnky reminds readers that, 'as fabrics can be scent sponges, it's essential to refresh them, much like you'd rearrange furniture for a new look.'
Cleaning a couch is easily achievable with some fabric cleaner and a sponge or brush; deep cleaning a carpet is easy to do using a dedicated carpet cleaner or a powerful vacuum.
If you don't have the time or inclination to clean your den regularly, you may be better off choosing materials that are odor-resistant. Leather doesn't absorb odors in the same way textile does, so choosing leather furniture for your den is a smart move. You might also want to forgo carpet altogether and opt for a few well-placed rugs on hard flooring instead.
FAQs
How do you make a den smell seasonal?
Easy! One of the easiest ways to make a den smell seasonal is by adding seasonal plants to your cut flower arrangement. This can be lavender, peonies, and eucalyptus in the summer and pine or fir branches in winter. In the fall, consider putting down a bowl filled with cinnamon, cloves, and other mellow spices that remind you of you favorite fall smells. Fresh-cut daffodils and lilac are effective additions during springtime.
If fresh-cut flowers aren't your thing, then there are always candles and diffusers. Choose smaller sizes if you plan to rotate our den fragrances with the changing seasons. We advise against leaving half-used candles and diffusers until next year: you likely will find that the scent has become weaker.
How do you keep a den smelling good when it's used as a family room?
Regular cleaning is really the only way you'll keep a den smelling fresh when it gets a lot of use by different family members. If you have no time to clean all the time, consider investing in a robot vacuum if you have carpeted flooring, and get furniture covers if you have young kids and/or pets.
---
Bathrooms are another space that benefits from some scent: consider ways to make your powder room smell nice for a pleasant environment for you and guests.
Sign up to the Homes & Gardens newsletter
Decor Ideas. Project Inspiration. Expert Advice. Delivered to your inbox.
Anna K. Cottrell is now a freelance writer, having previously been a Content Editor for Future's homes titles. She writes about interior design, property, and gardening. On H&G, she specialized in writing about property – buying, selling, renting – sustainability and eco issues.