6 things people with nice-smelling laundry rooms always do
Habits to copy for a crisp, clean scent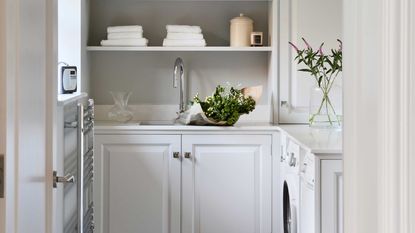 (Image credit: Simon Taylor Furniture)
Sign up to the Homes & Gardens newsletter
Decor Ideas. Project Inspiration. Expert Advice. Delivered to your inbox.
Thank you for signing up to Homes & Gardens. You will receive a verification email shortly.
There was a problem. Please refresh the page and try again.
Our laundry rooms should greet us with the subtle scent of freshly washed linen, but the reality is often less uplifting.
These highly functional spaces play host to everything from damp towels to stained clothes, not to mention the fact our washing machines and dryers smell less than fresh when not cleaned regularly.
Then, there's also the plumbing and ventilation to think about, as these impact how the laundry room smells. Here is what people with nice-smelling laundry rooms always do, so we can follow their lead and make doing laundry less of a chore, and more of a calming escape from the rest of the house.
Things people with nice-smelling laundry rooms always do
On the one hand, there are ways to deodorize, like mopping the floors and keeping the rubber of the seal mold-free, and on the other, there are ways to add fragrance.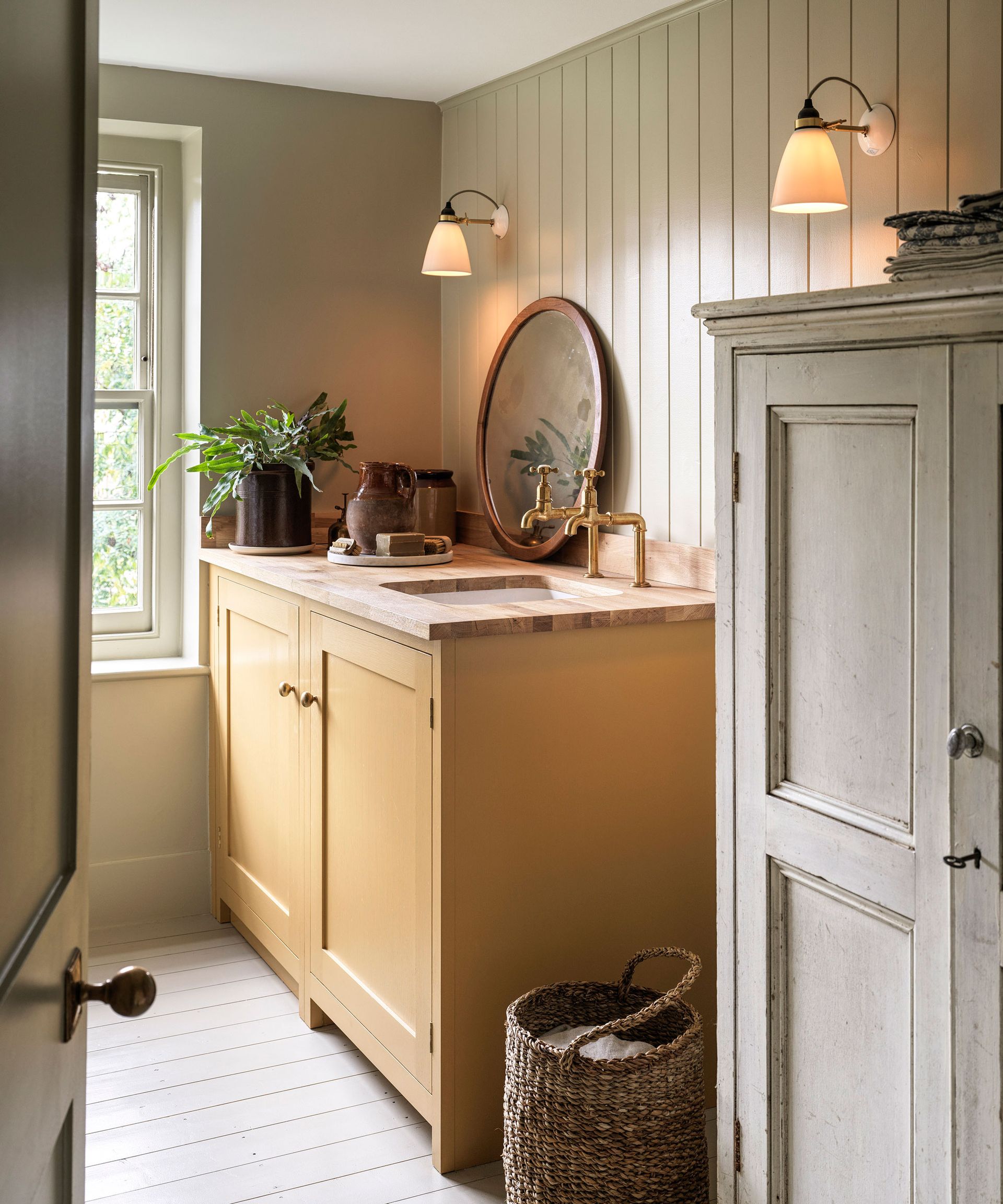 1. Clean the washing machine regularly
There is no escaping it: cleaning the washing machine every few months is essential for a nice-smelling laundry room. Use a baking soda and vinegar mixture and a hot wash or stock up on OxiClean washing machine-cleaning powder, at Walmart, which you can put in the drum like a laundry pod. This will prevent mold and mildew from developing, keeping musty odors from detergent residue to a minimum.
'Don't overload the machine with clothes – overloading it causes the fragrance to not stick. Smaller loads mean a better-smelling laundry room,' add Shira and Danna from Organize Dwell, an organizing company based in Miami.
Clean the lint trap of your dryer and remember to clean your dryer vent once a year to keep your dryer working efficiently and potentially prevent a fire.
Danna and Shira are sisters-in-law and the founders of Organize Dwell located in Miami, Florida. When they established their company in 2018, their mission was to streamline their clients' homes with beautiful and functional systems so that they can spend more time doing what they love. They believe that having an organized home isn't optional but essential.
2. Soothe with essential oils
Dab a few drops of essential oils onto a cotton ball and place in the cupboard under the sink or other hidden spots to create a pleasant smell. We think lemon and eucalyptus are great for a laundry room, but you could also use peppermint for an invigorating scent that also helps to get rid of mice, if that has been an issue in the past.
Essential oils can also be added to wool dryer balls, available at Walmart. Alternatively, you could create a lovely fragrance with essential oils in one of the best reed diffusers, which are a safer option than candles in a space where you have chemical cleaning products.
'A few drops of lavender oil on a cotton ball placed discreetly in the room can release a gentle, refreshing aroma,' agrees Linda Clark, aromatherapist at Scent Selective. 'Baking soda is also a great natural deodorizer; try leaving an open box in the room to absorb any bad odors.'
Linda is Scent Selective's resident aromatherapist who fell in love with natural perfumes for their many medical and spiritual benefits. The discovery of this passion led her to pursue a diploma in aromatherapy.
3. Clean laundry hampers (and keep them tucked away)
Keep odors at bay by cleaning laundry baskets and hampers regularly. These are areas we often forget to clean, but can harbor bacteria and germs, especially when made of fabric. Those with the most aesthetically pleasing spaces find ways to hide the laundry basket, keeping it neatly stowed away, so see if you can add more laundry room storage to keep hampers and cleaning products out of view. Alternatively, look for a laundry hamper with a lid.
4. Keep air flowing
Ensure your laundry room is well-ventilated to keep things smelling fresh. 'Adequate ventilation is crucial in preventing odors from lingering in your laundry room. Ensure that your laundry room has a well-functioning exhaust fan or window to allow fresh air circulation and remove any musty odors,' says Nick Haden, a certified aromatherapist and cleaning expert from Shoes Cleaning.

5. Empty the washing machine promptly
Not letting damp clothes linger in the washing machine is essential for avoiding musty odors. We have all forgotten about a finished wash load at some point and washing it all over again is bad for the planet and adds to bills.
'Schedule laundry time when you are available to hang clothes or transfer them to the dryer as soon as the machine completes its cycle,' advise Shira and Danna.
If clothes smell when you take them out of the washing machine, it could be due to a build-up of residue, so try using a laundry odor remover. You could also consider investing in one of the best dehumidifiers on the market to control moisture levels in the air, especially if you are air-drying any clothes. These help to get rid of mold, are often more energy-efficient than dryers and many come with a laundry mode designed to dry clothes quickly.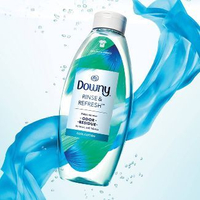 Downy Rinse & Refresh Cool Cotton | $6.99 at Target
Downy Rinse & Refresh is a breakthrough laundry odor remover that helps rinse away the smelly residue trapped within fabric fibers.
6. Speak to professionals when problems persist
Call in a professional to inspect your plumbing and ventilation system if the odors continue. You can be cleaning the washing machine and dryer frequently but smells will linger if there is a bigger issue in the plumbing or ventilation.
FAQs
Why does my laundry room smell bad?
'The most common reasons include a dirty washing machine, damp laundry left too long in the machine, poor ventilation, or plumbing issues,' says Logan Cox, assistant general manager at John The Plumber. 'A clogged drain or a dry P-trap under a sink can lead to a sewage smell. Regular cleaning and maintenance should help in eliminating these odors.'
---
A magnetic washer door holder, at Amazon is a good way to prevent mold by keeping the washing machine door ajar and allowing air to circulate.
Sign up to the Homes & Gardens newsletter
Decor Ideas. Project Inspiration. Expert Advice. Delivered to your inbox.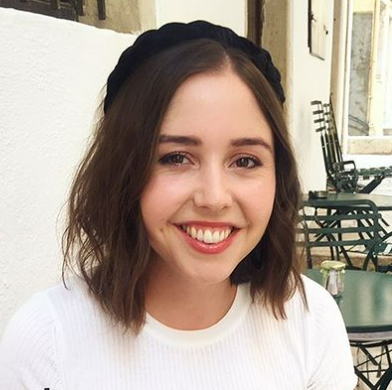 Millie Hurst is the Solved Section Editor at Homes & Gardens. She has six years of experience in digital journalism, having previously worked as Senior SEO Editor at News UK in London and New York. She then gained experience writing for women's magazines before joining Future PLC in January 2021. Millie has written for an array of homes brands including Livingetc and Real Homes and was formerly Senior Content Editor at Ideal Home before taking on the position of Section Editor with Homes & Gardens. She has written and edited countless features on home organization, decluttering and interior design and always hopes to inspire readers with new ways to enjoy their homes. She lives in Sheffield, South Yorkshire and loves to weave nature-inspired decor and nods to time spent in Italy into her own home.