Living room wall lighting ideas – 13 stylish looks for your walls
Looking for the best living room wall lighting ideas? Whether you are creating a classic or modern look, well-planned wall lighting can help you make a room shine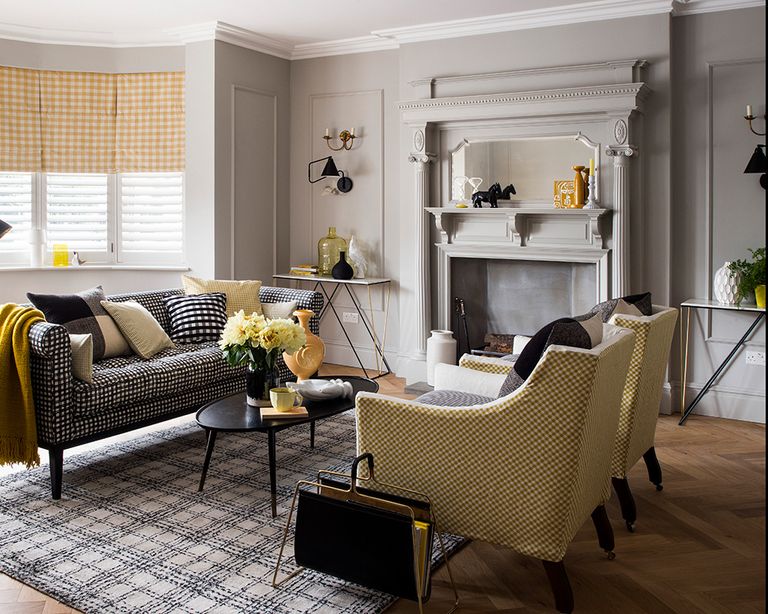 (Image credit: Paul Raeside)
Don't let a bad lighting scheme leave your living room in the dark – we have the low-down on the latest living room wall lighting ideas, technology and expert tips.
LIVING ROOM WALL LIGHTING IDEAS
1. Position an adjustable wall-mounted light
Good task lighting is essential when considering living room lighting ideas, especially if you want to read a book in a cozy corner. Think outside the box, particularly when sourcing lighting for a small living room – task lighting doesn't just have to be the conventional downlight. If you have an area free of wall-cabinets, why not utilise this space with a statement wall-mounted light that can be adjusted.
2. Consider placement
When planning living room lighting, placement is an all important factor. You are likely to use the room throughout the day, therefore mimicking natural light with well-placed lighting options is a favorable idea. Wall lights will help to replace that light once it's dark outside, giving the room a familiar ambient feel to that of the light during the day.
3. Light up an unused space
A great way to create an atmospheric scheme is to light the spaces that do nothing. The gap between your couch and the wall, the area behind the log basket or the empty bay window – all these are 'negative spaces' that can be lit and will help bring your room to life. The best light for these areas is something soft and diffused, so pick a semi-translucent shade that will create a subtle, warming glow.
4. Take a directional approach
Wall lighting is a clever way to create a more directional approach with fixed lighting. Choosing wall lights with adjustable rams allows you to concentrate pools of light exactly where you want them to shine, a great characteristic in open-plan living room ideas. Even when the lights are not in use you immediately know where the point of focus is, thanks to the positioning of the lights poignantly pointed towards a plush couch.
5. Think outside the box with a swing-arm light
Negate the need for bright, glaring light with adjustable wall lights – perfect for creating a cosy spot for bingeing on a box set with the family. Swing-arm wall lights can be adjusted into the perfect position for reading or working. Mounted on an unused wall, they add interest and intrigue to the space.
6. Use wall lighting in a small living room
'Consider different types of light fitting, not just the light they provide,' advises Peter Bowles, founder and MD, Original BTC. 'Wall-mounted lights are great space-savers in small living rooms and low-ceilinged rooms, and are ideal for creating a clean, boutique look.' 
7. Banish the pendant
Banish the overpowering light hanging from the centre of the room and go for wall lights that can be easily adapted to different moods and activities. This means a mixture of swing-arm lights and a few statement or discreet wall lamps, depending on the size of your living room.
8. Invest in flattering wall downlights
Putting a light fixture on the wall is an effective way of introducing more light into your room, increasing the ambience. Wall lights generally provide a flattering glow and are perfect for a spot of evening entertaining, or to highlight a much-loved piece of artwork.
9. Instill a warm glow
Use a series of wall lights to bring attention to a bookcase, artwork, or even a fireplace. Wall lights are an excellent, unintimidating choice for a small space, and therefore are often chosen as the light of choice in a cozy snug or reading nook.
10. Make an impression
Lighting need not blend into the background. Make a feature out of a wall lighting scheme by turning it into a work of art. Invest in a piece you love and have it standout in a simple living room scheme.
11. Carefully consider where you need light
Pick wall lights suited to your lighting needs. 'Wall lights can be primarily for practical use, or they can be mostly decorative,' explains lighting experts at Pooky. 'If you want them to provide general light in a living room, then go for translucent lamps which will give a nice diffuse light.'
12. Choose an attractive design
Pick a wall light that will look good at eye level. According to the experts at Pooky: 'The right height for wall lights is about 5ft (or around 1.5m) above the ground – though this can vary according to the proportions of your room.' So it is imperative that you make sure you choose a light that looks good in your particular room if you want to make a lasting impression.
13. Pair up matching wall lights
Pair up wall lights for a tailored look, or to create symmetry. Most wall lights work really well when paired in a living room. This could mean placing them right next to each other in the middle of a wall so that they form a single, structured feature, and provide plenty of ambient light.
WHERE SHOULD LIVING ROOM WALL LIGHTING BE PLACED?
Place wall lights in areas were you want to mimic the effects of natural light, or want dappled ambient light that provides a soft glow. Alternatively, use swing-arm or adjustable wall lights in spaces that are dedicated to reading or working.
The ambient (general) lighting is usually provided by wall lights and table lamps, so make sure you have sufficient power points, including some in the floor if you have a large room. While diffuse linen shades provide soft side light, the current trend for solid shades produces up-and-down light, generating far less ambient lighting, so you may need more wall lamps in your room. An adjustable wall-mounted lamp, ideally with an articulated head that can be angled where you need it, is useful for reading.
HOW DO I CHOOSE LIVING ROOM WALL LIGHTS?
The first thing you need to consider is how much light you will need in the room. 'When choosing the type, positioning and number of wall lights, take into consideration the amount of light from other sources, including natural light, and work how much light you'll need your wall sconces to provide,' advises lighting experts at Pooky. As all interior designers know, it's always a good idea to give yourself plenty of options for creating different moods in a room by having multiple sources of light – and it's well worth investing in dimmable switches.
'Lighting rarely gets the consideration it deserves, but actually the lighting scheme can make or break the aesthetics and functionality of a living room, so it pays to plan it meticulously from the offset,' comments Graeme Smith, conceptual designer at Second Nature and Metris.