The best places to buy a vacation home in Mexico – the most beautiful spots in a stunning country
The best places to buy a vacation home in Mexico are some of the most gorgeous places we've ever seen, anywhere – the perfect investment into amazing vacations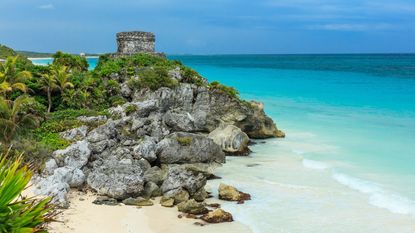 (Image credit: Sorin Colac / Alamy Stock Photo)
The best places to buy a vacation home in Mexico will truly take your breath away. There is so much to choose from in beautiful Mexico that it can be difficult to know where to start if you are planning on spending the summers, or even retiring there. Whichever of these gorgeous destinations you choose, prepare to see some stunning white beaches and picture-perfect towns.
We've asked world-leading real estate experts to give their view on how to buy a house in Mexico – and choose the most beautiful destinations.
1. The best place to buy a vacation home in Mexico: Puerto Vallarta
Puerto Vallarta proves that you really can have it all – the beach, a beautiful town with plenty of culture, and a community that will make you feel right at home.
Javier Rodriguez, of Guadalajara Sotheby's International Realty, strongly recommends the town as a vacation home destination: 'Puerto Vallarta is a world tour destination for many reasons', he explains, with the beaches coming first. Havier also praises the town's 'picturesque historic center' and 'magnificent views of the Bay of Banderas', which all contribute to making this city 'a unique and unforgettable destination.'
Best of all, Puerto Vallarta doesn't feel too much like a modern resort; Javier says that the area 'still has a sensibility of past years, cobblestone streets, and a river crossing a part of the downtown area.' Those who want a more active vacation will appreciate the 'surrounding mountains vistas' as well as opportunities for 'fishing, swimming, skiing, and boating year round.'
Javier particularly recommends Puerto Vallarta as a long-term investment that benefits from 'very accepting' ex-pat communities and an 'active cultural life', as well as nightlife, casinos, and malls – 'all within direct flights non-stop from USA and Canada, commercial and private.'
There really is something for everyone, and homes come in a 'huge variety for all the different tastes and budgets. From high-end private gated communities, oceanfront villas, ocean view modern apartments or houses, to nice colonial-style houses or condos.'
Whether you'll be buying for yourself to rent out, the market is 'very active' in this area. And the average home price of $370,000 is very forgiving for a luxury destination.
2. The runner-up so close to home: Baja California
If you live on the West Coast, it would be a shame not to check out Baja California. As Mauricio Umansky, CEO of The Agency, points out, Baja is 'under three hours from many cities of California', and 'the southern tip of Mexico's Baja California Peninsula offers a wide range of desirable enclaves.'
Mauricio's main recommendations are Cabo San Lucas and San Jose del Cabo – 'two popular destinations that offer everything one could dream of, including renowned golf courses, ultra-luxury resorts, fine dining, beautiful beaches, and more.'
You can also look into Todos Santos, 'just an hour's drive from Cabo along the Pacific Coast', which 'offers a natural paradise where the desert meets the Sierra Laguna mountains. This area is known for its local, laid-back vibes, with plenty of art galleries, shops, cafes, to meander.'
And, of course, don't forget 'the magical town of La Paz. Nestled around the Sea of Cortez, one of the world's most biodiverse bodies of water in the world, it is a natural wonderland. New luxury developments such as Puerta Cortes and Playa de La Paz offer understated luxury and unique, direct access to the Sea of Cortez.'
Home prices vary widely in this area, ranging from as little as $40,000 for a one-bed home around La Paz to over $6,000,000 for a luxury home.
3. Riviera Nayarit: so many gems to choose from
If you want even more choice, Mauricio recommends exploring the Riviera Nayarit beyond Puerto Vallarta: 'The state of Nayarit offers 192 miles of coastline and 23 coastal towns. Within the region, areas such as Punta Mita, Sayulita, Nuevo Vallarta, all present unique experiences for all types of visitors.
'With new luxury hotels and residential developments opening in the area, Riviera Nayarit is positioning itself as a new capital of luxury in Mexico.'
A home in Punta Mita will set you back around $200,000 – unless you're shopping for luxury, in which case prepare to pay as much as $2,000,000.
4. Playa del Carmen: refined living by the beach
If you're planning to vacation in Mexico as a family, Playa del Carmen is the place that will accommodate everyone, ensuring no one is bored.
Mauricio comments: 'Just south of Cancun and 40 miles north of Tulum, Playa del Carmen offers wonderful galleries and shopping on La Quinta Avenida. The region also boasts many adventurous activities such as ziplining, diving, and snorkeling on the reefs surrounding the nearby island of Cozumel.
'For when the sun goes down, there is a wide array of nighttime entertainment from trendy bars and restaurants to beach clubs and concerts.'
5. Tulum: the old favorite that is still totally worth it
Finally, no list of the best places to buy a vacation home in Mexico is complete without Tulum – an ancient Mayan town built next to the ocean.
Some might argue that Tulum isn't quite what it once was, but as an investment opportunity, it cannot be beaten.
According to Mauricio, 'the once an off-the-radar locale kept secret by yoga lovers has since surfaced as a sought-after bohemian enclave. Here you can take in the ancient ruins, lush jungle and miles of white sandy beaches. Within the entire Riviera Maya region, new construction of villas and condos in residential communities and boutique hotel developments on the beach provides a wide range of investment opportunities.'
Home prices, as elsewhere in Mexico, vary widely but expect to pay upwards of $300,000 for a luxury property.
Is now a good time to buy a home in Mexico?
That will depend largely on your expectations. Mexico was once an off-the-beaten-track destination, but that's no longer the case. Demand for second homes among Americans has surged 100 per cent since the beginning of the pandemic, according to Redfin, and the trend has had an effect on buying overseas, with Mexico in particular experiencing a boom in foreign buyers.
In other words, prepare for a busy market. So, it's not a bad time to buy at all – but perhaps not quite as relaxed as, say, five years ago.
The other thing to prepare yourself for is that you will have to buy in cash – Mexico does not offer any home finance to buyers from overseas.
Is Mexico a safe destination?
As Laura Zapata, a real estate agent in the Puerto Morelos area, told The Escape Home, a community for vacation home buyers, 'people talk a lot about safety in Mexico, but overall it's a safe place to live. When people ask me about that I tell them they shouldn't have anything to worry about.'
Sign up to the Homes & Gardens newsletter
Decor Ideas. Project Inspiration. Expert Advice. Delivered to your inbox.
Anna K. Cottrell is now a freelance writer, having previously been a Content Editor for Future's homes titles. She writes about interior design, property, and gardening. On H&G, she specialized in writing about property – buying, selling, renting – sustainability and eco issues.