8 foods you shouldn't put in a blender
There are plenty of very obvious things you shouldn't put in a blender, but here are a few that you may not have realised will do more harm than good…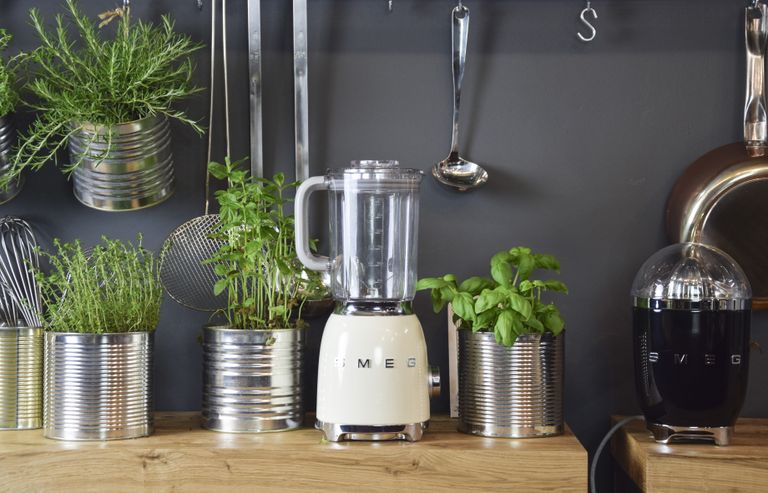 (Image credit: Smeg)
Every one of our best blenders will make light work of sauces, butters and dips, batters and smoothies and even grind seeds and spices. Not forgetting margaritas, mousses, milkshakes. A blender is far more versatile than many people credit, but it isn't a replacement for all other kitchen gadgets, and it's important to recognize what blenders are not designed to tackle.
At best, putting the wrong thing in your blender will just result in a culinary fail, and the item(s) in question will need to be removed and the resultant mess cleaned up. At worst, you could seriously damage your machine. Dulled blades, busted lids and cracked jugs will not be covered by your appliance's warranty if the damage was caused by inappropriate use.
Do remember that each blender has different capabilities and some of the more powerful, professional-grade machines will be able to cope more easily with rock solid ingredients like ice and nuts. Consult the instruction manual for the specific blender you are considering before you buy.
To get the very best from your blender and keep it powering on for years to come, we've identified eight key items you should avoid blending at all costs.
1. Ice cubes
While there are plenty of blenders that are built for crushing ice with ease, some standard models will struggle with the hardness of ice cubes. The results may be rather lumpy or, worse, you could be left with a broken lid or pitcher.
Before you put the cocktail recipe book in the bin, there's an easy solution; just add at least one cup of water (aim to cover about half of the ice), which will give the blades the purchase needed to get the process going safely and smoothly.
Use the pulse button a few times to get things moving, then switch to the lowest setting for one or two minutes. Once you're done blending, sieve the ice to remove some of the slushiness, and pick out any lumps that didn't quite make the blade, before adding your favorite beverage.
2. Boiling liquids
Blenders are tightly sealed when in action to keep liquids contained. Really hot liquids give off steam, which can cause pressure to build up inside, ultimately leading to a lid explosion and, potentially, serious burns.
In most machines, the maximum recommended temperature of liquid foods that can be blended safely is 80°C but do consult the manual.
It's still possible to enjoy velvety smooth soups, broths and purees, just wait 10 minutes or so before you pop the cooked ingredients into your blender.
Reducing the capacity will also help – smaller batches leave more space for steam to circulate inside, but do take care when you open the lid.
Better yet, use one of our best immersion blenders, which can be put directly in the pan so there's less mess, too.
3. Too much
An overloaded blender won't just fail to do its job, it can also lead to liquids seeping out of every nook and cranny, creating a whole world of mess.
Each blender will specify a maximum capacity but, as a general rule, avoid filling the jug above the measurement markings on the side.
4. Potatoes
It might seem like a good idea to blend potatoes in pursuit of lump-free mash, but it is a big no-no. The blades will release too much starch, leaving a gloopy, glue-like mass that sticks to the roof of your mouth.
For fluffy potatoes without lumps, a ricer is your best bet, or just stick with a good old-fashioned masher and a little elbow grease.
Uncooked broccoli, especially the stalk, is another ingredient that doesn't fare well in a blender. Its fibrous construction results in shredded stringiness that's entirely unpalatable.
5. Nuts & coffee beans
Now this is very blender dependent as some of the more powerful options will have no problem grinding hard nuts and beans to dust.
Lesser powered models, anything under 1200w, will give them a good go, but the results can be very uneven, potentially ruining a decent pot of coffee and leaving you with nut butters too crunchy to spread.
However, even if the results are perfection, grinding dry, hard ingredients like these will take a toll on the blades, dulling them down and shortening their lifespan. Reach for the food processor or coffee grinder instead.
6. Whole foods
By this we mean unchopped foods, rather than healthy grains! Cutting solid ingredients into 1in cubes will make uniform blending easier.
The order you fill the jug can also yield a smoother blend, and putting solid, especially hard or frozen ingredients, into your blender first will lead to disappointment. Always put liquids, or the softest/moistest ingredients in first, gradually building to harder foods and finishing with any frozen items.
Pulsing the ingredients once or twice, leaving time between pulses for the harder ingredients to drop down onto the blades, will also produce smoother results.
7. Utensils
Turned the dial to max power but there's no movement inside the jug? While it may be very tempting to poke a spatula or wooden spoon handle down through the pouring hole to get things moving, resist at all costs. Sure, you'll think it'll be fine as long as you stop well clear of the blade, but it's surprising how quickly a blender can suction contents downwards into its vortex-like grip.
So, how to tackle a static situation? The safest solution is to turn the blender off, open the lid fully and then use a spoon or tamper to push the blockage down into the mix. Replace the lid, turn it back on, and repeat as many times as necessary.
8. Your fingers
This is basic common sense, but never, ever put your fingers into a blender while it is plugged in. Most blenders have an automatic safety function that prevents blending with the lid off, but there's always a chance of lock malfunction, and your digits just aren't worth the risk.
Linda graduated from university with a First in Journalism, Film and Broadcasting. Her career began on a trade title for the kitchen and bathroom industry, and she has worked for Homes & Gardens, and sister-brands Livingetc, Country Homes & Interiors and Ideal Home, since 2006, covering interiors topics, though kitchens and bathrooms are her specialism.