How to clean cast iron – remove rust, reseason and refinish
Discover how to clean cast iron pans, furniture and architectural features to keep them in good condition, remove rust and make them last a lifetime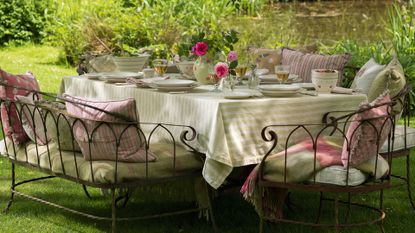 (Image credit: Susie Watson)
Knowing how to clean cast iron is essential to prevent it from going rusty and keep it looking good for years to come. Cast iron is a hugely versatile material that has so many uses, ranging from pans and skillets to fireplaces and decorative metalwork.
When deciding how to clean cast iron, you need to take into consideration the item's age and whether the metal has a painted or exposed surface to be sure to use the correct cleaning tips.
Unless enameled, cast iron pans and skillets are designed to be exposed and the surface seasoned with oil; fireplaces and stoves will be finished with iron paste or paint to protect the surface; and exterior metalwork will likely be painted.
'Iron is the fourth most abundant element in the Earth's crust, and one of the commonest metals found in older buildings,' says Douglas Kent, technical and research director at the Society for the Protection of Ancient Buildings. 'Properly maintained, ironwork can last for centuries.'
How to clean cast iron
The best thing to clean cast iron with is not always water. Cast iron is prone to rusting, so getting it wet is best avoided unless the metal is well protected by its surface finish or you plan to reseason or refinish it.
'Dust, grease and grime is best removed with a rag soaked in white spirit rather than water,' says Roger Hunt, author of Old House Handbook.
If you do get cast iron wet, it's vital that you allow the metal to thoroughly dry before refinishing or painting takes place.

While rust can be removed with a wire brush or wire wool, you should avoid the use of mechanical tools, particularly on delicate or decorative surfaces, as it may cause damage.

If you aren't sure how to clean cast iron antique items that are very worn or rusty, then you should hire a professional to restore them.
How to clean rusty cast iron
Cast iron that is not seasoned or finished will quickly begin to rust, especially in humid environments. The good news is that it is easy to clean rusty cast iron using wire wool or a wire brush.
While wearing protective gear, simply rub in a circular motion across rusty patches until the rust is worn away.
'If nuts and bolts are rusty, making them difficult to remove, try spraying with release oil and leave overnight,' says restoration expert Helaine Clare. These can then be replaced or cleaned.
Once you have removed rust from cast iron, you will need to either refinish or reseason the surface to help prevent it from going rusty again.
Does vinegar remove rust from cast iron?
Although wire wool is a tried and trusted rust-cleaning method, cleaning with vinegar can also remove rust from cast iron.
Simply mix equal parts of white vinegar and water and soak the item for up to eight hours, checking regularly, until all the rust is gone. Do not leave the item to soak for longer than needed.
Once the rust is removed, it is vital to dry it completely before reseasoning or refinishing.
How to clean cast iron with a painted finish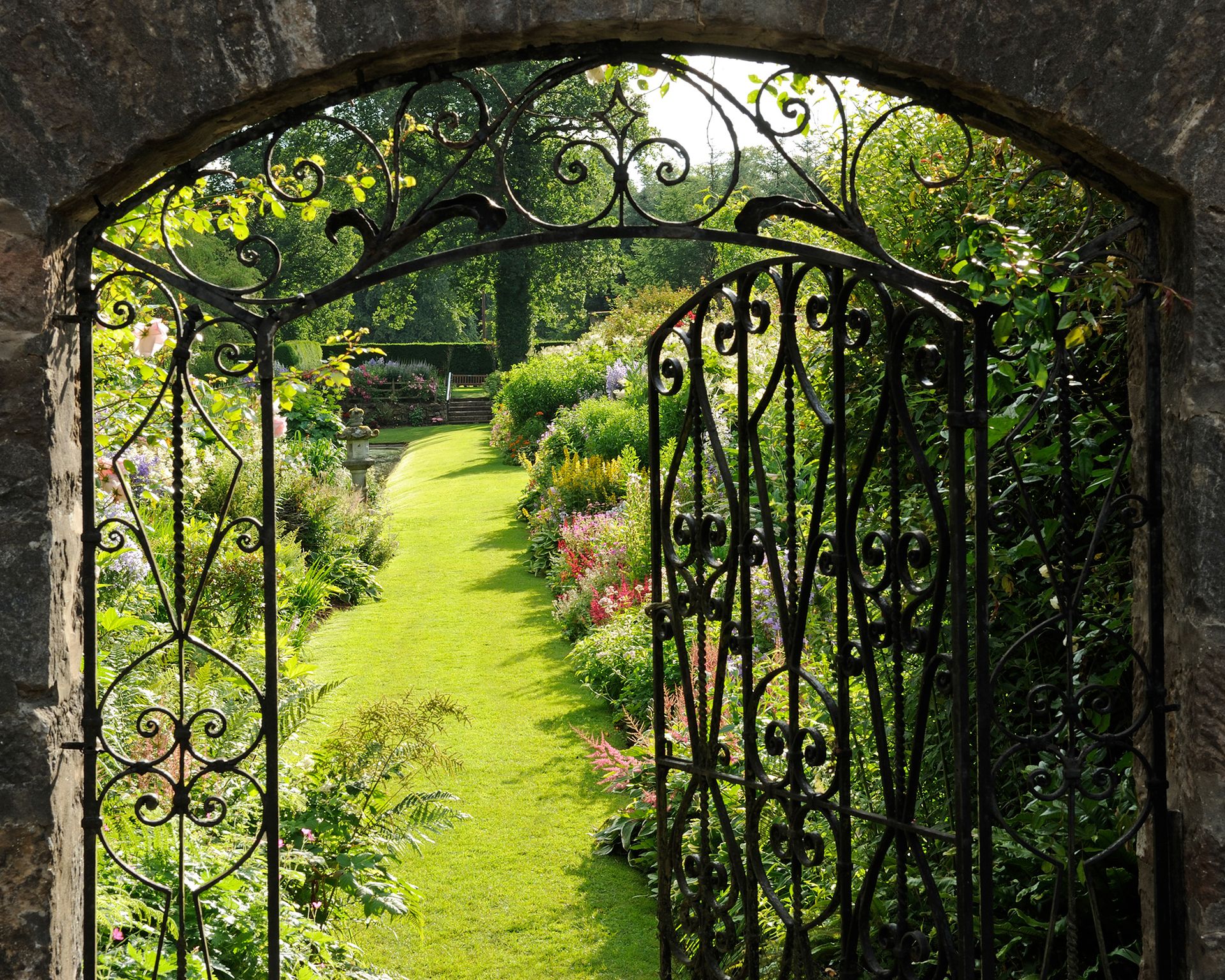 If painted cast iron is in good order and the paint hasn't flaked, then you can simply use a damp cloth to clean it. However, where paint is flaking and rust is showing through, you will need to strip it back and refinish.
'All loose paint and rust must be removed thoroughly,' says Hunt. 'Not all paint necessarily needs to be removed, though. In some cases, corroded areas may be prepared and then spot painted. Sound paint can simply be washed down, sanded to provide a key and then used as a base for new paint.'
Bear in mind that older paints often contained lead, so use a test kit to check before sanding, which creates harmful dust particles. If lead is present, use methods that don't create dust or fumes, like a solvent or caustic-based liquid stripper, and wear protection. If in any doubt, consult a professional.
'Failure to clean and prepare metal surfaces properly before painting is a key reason for deterioration and corrosion: any paint system used will only be as good as the surface beneath,' says Hunt.
How to clean cast iron pans
To clean a cast iron pan or skillet on a day-to-day basis, heed this advice from Le Creuset: 'Remove the pan away from the heat, and always allow it to cool for 5 to 10 minutes before filling with warm water and leaving it to soak for 15 to 20 minutes before washing.
'Use a dishwasher brush to remove any stuck on caramelized food debris. Do not plunge a hot skillet into cold water, as thermal shock may occur.'
While you can use soap to clean a cast iron pan or skillet, it is not recommended for daily use as the surface will need to be reseasoned afterwards.
After rinsing, wipe the skillet with a towel and then dry it on a low heat on the stove. Do not leave it to air dry, as this can promote rust. 'To avoid any rusting, and ensure your cast iron skillet is always ready for action, you can regularly coat-brush it with vegetable oil,' says James Robinson, Judge and Stellar product manager at Horwood.
If your cast iron pan or skillet has gone rusty, then use wire wool or fine sandpaper to remove it, then wash and reseason the surface.
How to season cast iron
After you have cleaned a cast iron pan or skillet, it's essential re reseason it to prevent rusting and ensure food doesn't stick to it. Seasoning is basically a baked-on layer of oil, which gives the pan its black, glossy finish.
'To reseason your cast iron skillet, just coat the pan with a thin layer of vegetable oil, heat in a hot oven at 400°F/220°C for at least 10 mins and leave to cool inside the oven,' says Horwood's Robinson.
How to clean cast iron fireplaces or wood-burners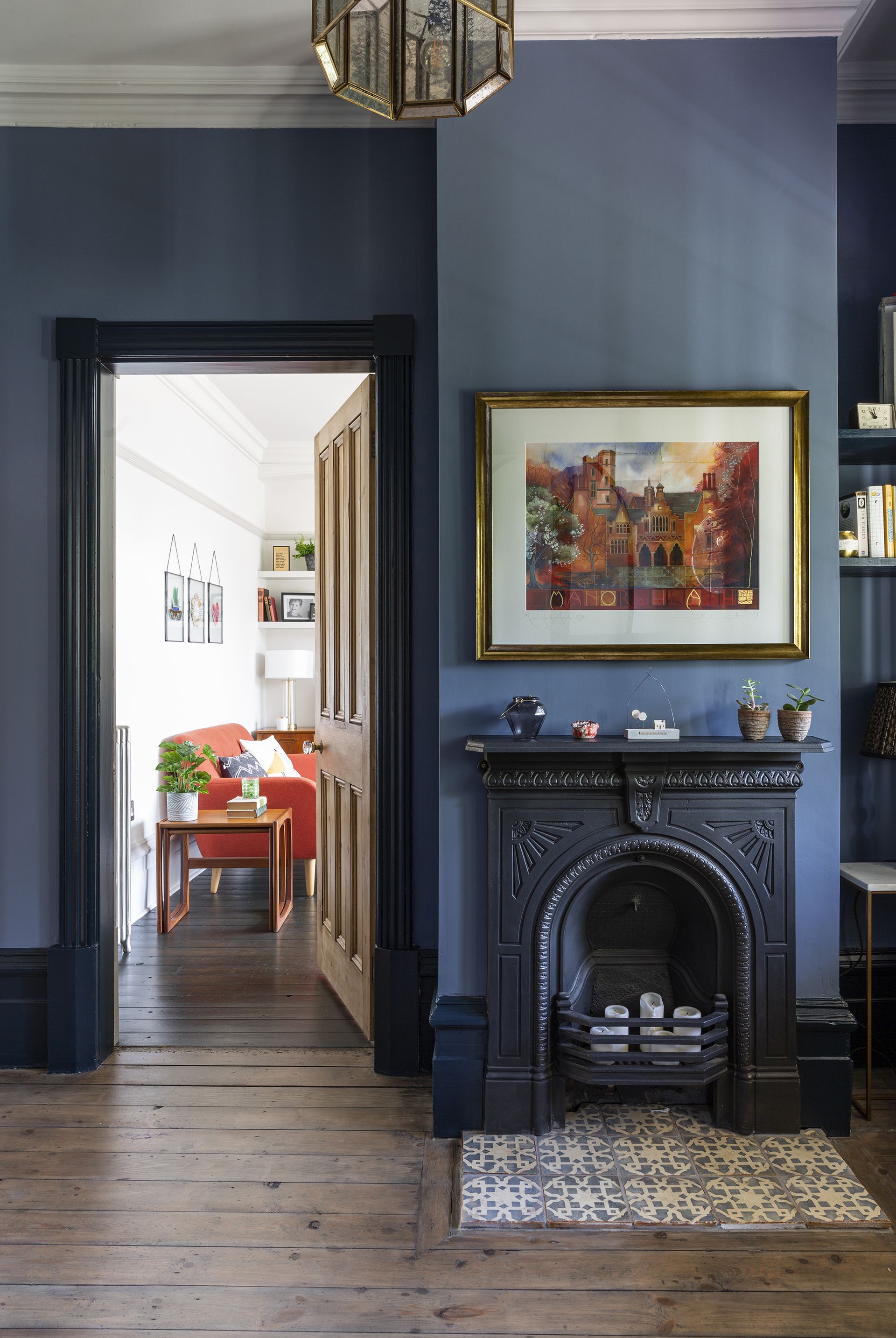 Over time, the glossy black finish of a cast iron fireplace or wood-burner can wear away, and the surface can develop rust spots, so it's important to clean it to keep in good working order.
However, you should avoid getting it wet, and wait until completely dry before applying paint or other finishes.
'To remove rust patches or stubborn marks, cut a pad of medium grade steel wool to rub away the rust and, wearing protective gloves, gently work away at it until it vanishes,' says Clare. 'With a brush and dustpan sweep up the mess, and use a clean shoe brush to clear dirt off the surface ready for painting or finishing.'
To finish a cast iron fireplace and give it that classic rich black finish, you should apply a protective iron paste or black grate polish. 'For a shiny finish, leave for at least an hour and then polish with a bristle brush, says Clare. 'Beware, grate polish easily rubs off on furnishings and clothing so use sparingly.'
After cleaning a wood-burner, you can use stove paint to restore its luster and give a long-lasting finish.
How to clean cast iron grills
Cleaning a grill made from cast iron can involve getting rid of a crust of burnt-on food. To clean a cast iron grill on a regular basis, invest in a long-handled wire brush. Simply fire up the grill, and when it gets really hot, use the brush to scrub it clean.
Alternatively, you could apply a vinegar solution or even make a paste using salt or so you can clean with baking soda – both will act as an abrasive. Apply the paste, then scrub the surface until clean.
If your cast iron grill has become rusty or has badly baked on food, then use wire wool to rub it off, then reseason by rubbing with a thin layer of oil before heating.
How to clean cast iron garden furniture
When better weather arrives, it's important to give your cast iron garden furniture a good clean and spruce up before using it and you might like to complete the task on the same occasion as cleaning an outdoor rug.
As cast iron garden furniture has a painted finish, you can usually wash it with hot soapy water and a cloth or sponge. Use a nylon brush to get into all the crevices.
Rinse the furniture with clean water and dry off with a fresh cloth to bring out the shine of the paintwork.
If your cast iron garden furniture has flaky paint or rust spots, these will need to be addressed through sanding and repainting.
As editor of Period Living, Britain's best-selling period homes magazine, Melanie loves the charm of older properties. I live in a rural village just outside the Cotswolds in England, so am lucky to be surrounded by beautiful homes and countryside, where I enjoy exploring. Having worked in the industry for almost two decades, Melanie is interested in all aspects of homes and gardens. Her previous roles include working on Real Homes and Homebuilding & Renovating, and she has also contributed to Gardening Etc. She has an English degree and has also studied interior design. Melanie frequently writes for Homes & Gardens about property restoration and gardening.